Yellow Leaves on Hibiscus Plants Causes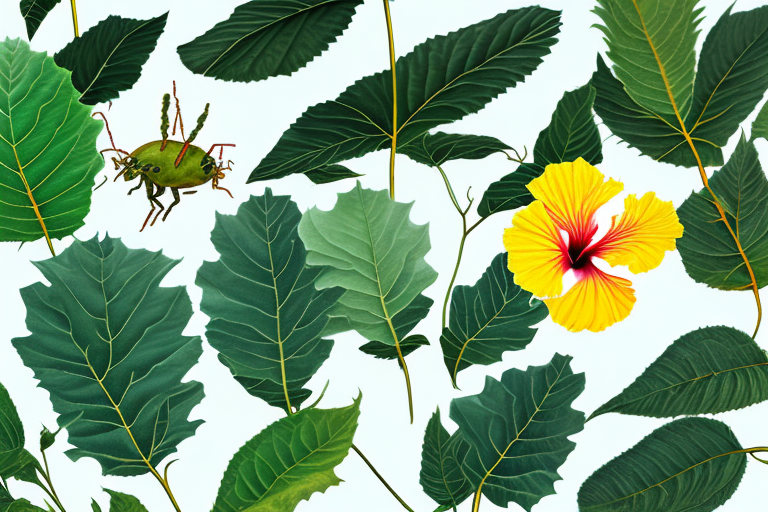 If you're a proud owner of hibiscus plants, you may have noticed a concerning sight – yellow leaves. Seeing these vibrant plants lose their color can be alarming, but fear not! In this article, we will explore the causes behind yellow leaves on hibiscus plants and provide you with valuable insights on how to prevent and treat this issue.
Understanding Hibiscus Plants
Before diving into the reasons for yellow leaves, let's first acquaint ourselves with these stunning beauties. Hibiscus plants are known for their dazzling, trumpet-shaped flowers and lush green foliage. They come in a variety of colors, ensuring a vibrant addition to any garden or indoor space. But there is so much more to these plants than meets the eye.
The Importance of Hibiscus Plants: Hibiscus plants bring numerous benefits to both our gardens and our lives. For starters, their showy flowers attract pollinators like bees and butterflies, thereby contributing to the overall health of your garden ecosystem. The vibrant colors and sweet nectar of the hibiscus flowers act as a beacon, inviting these beneficial insects to visit and pollinate other plants in the vicinity. This pollination process is essential for the reproduction of many flowering plants and the production of fruits and seeds.
Additionally, hibiscus plants have been used in traditional medicine for centuries due to their potential antioxidant and anti-inflammatory properties. The flowers, leaves, and even the roots of certain hibiscus species have been utilized in various herbal remedies to treat ailments such as high blood pressure, digestive issues, and even hair loss. The rich history of hibiscus in traditional medicine speaks to its cultural significance and the belief in its healing properties.
The Anatomy of a Healthy Hibiscus Plant: To understand why the leaves may turn yellow, let's take a closer look at the anatomy of a healthy hibiscus plant. A robust, flourishing plant possesses lush green leaves, strong stems, and vibrant flowers. The leaves are an integral part of the plant's overall health and vitality. They serve as the primary site for photosynthesis, the process by which plants convert sunlight into energy.
Healthy hibiscus leaves are typically a deep shade of green, indicating an abundance of chlorophyll, the pigment responsible for capturing sunlight. The presence of chlorophyll allows the plant to produce energy efficiently, promoting growth and development. In addition to their role in photosynthesis, the leaves also help regulate the plant's water balance through a process called transpiration. They release excess water vapor into the atmosphere, preventing the plant from becoming waterlogged.
Furthermore, a healthy hibiscus plant boasts strong stems that provide support and stability. These sturdy structures allow the plant to withstand wind, rain, and other environmental stressors. The stems also serve as conduits, transporting water, nutrients, and sugars throughout the plant. Without robust stems, the hibiscus would struggle to thrive and reach its full potential.
Lastly, the vibrant flowers of a healthy hibiscus plant are a testament to its overall well-being. These showy blooms are not only visually appealing but also indicate successful pollination and reproductive success. The flowers are often large and trumpet-shaped, designed to attract pollinators from afar. They produce nectar, a sweet reward for the visiting bees, butterflies, and hummingbirds. The successful pollination of hibiscus flowers leads to the formation of seeds, ensuring the plant's continued existence and genetic diversity.
By paying attention to these characteristics, you can quickly identify any signs of distress in your hibiscus plant. Yellow leaves, for example, may indicate nutrient deficiencies, overwatering, pests, or even a lack of sunlight. Understanding the anatomy of a healthy hibiscus plant allows you to better care for and address any issues that may arise, ensuring the long-term health and beauty of these remarkable plants.
Common Symptoms of Unhealthy Hibiscus Plants
Spotting unhealthy hibiscus plants can be challenging, especially if you're not familiar with the warning signs. Let's explore the most common symptoms that indicate stress in your precious hibiscus.
Identifying Yellow Leaves
One of the most apparent signs of distress is when the leaves turn yellow. While this discoloration can be a result of various factors, it is crucial to look for additional symptoms to accurately diagnose the issue.
Yellowing leaves can be caused by nutrient deficiencies, specifically nitrogen. Nitrogen is essential for the production of chlorophyll, the pigment responsible for the green color in leaves. When a hibiscus plant lacks nitrogen, the leaves may start to turn yellow.
In addition to nutrient deficiencies, yellow leaves can also be a sign of overwatering. When the roots of a hibiscus plant are constantly saturated with water, it can lead to root rot, which in turn affects the overall health of the plant and causes the leaves to turn yellow.
Furthermore, yellow leaves can indicate a pest infestation. Certain pests, such as aphids or spider mites, feed on the sap of hibiscus plants, causing the leaves to lose their green color and turn yellow.
Other Signs of Distress in Hibiscus Plants
Aside from yellow leaves, keep an eye out for other noticeable symptoms such as stunted growth, wilting, leaf curling, or the presence of pests. These indicators can provide vital clues regarding the underlying problem, allowing you to address it promptly.
Stunted growth in hibiscus plants can be attributed to various factors, including insufficient sunlight, improper watering, or inadequate soil nutrients. It is essential to evaluate the plant's growing conditions and make the necessary adjustments to promote healthy growth.
Wilting is another common symptom of stress in hibiscus plants. This can occur due to underwatering, overwatering, or extreme temperature fluctuations. Proper watering practices and providing adequate shade during hot periods can help prevent wilting.
Leaf curling is often a sign of environmental stress. High temperatures, low humidity, or exposure to strong winds can cause the leaves of hibiscus plants to curl. Providing shade, misting the leaves, or creating a wind barrier can help alleviate this issue.
Pest infestations can also cause distress in hibiscus plants. Common pests that affect hibiscus include aphids, whiteflies, and mealybugs. These pests can weaken the plant, leading to stunted growth, yellowing leaves, and overall decline. Regular inspection and appropriate pest control measures can help prevent and manage infestations.
By paying attention to these common symptoms of distress in hibiscus plants, you can take proactive measures to address any underlying issues and ensure the health and vitality of your precious hibiscus.
Main Causes of Yellow Leaves on Hibiscus Plants
Now, let's dig deeper into the primary causes behind those dreaded yellow leaves. By understanding the root of the problem, you can take appropriate measures to ensure your hibiscus plants regain their radiant glory.
Nutrient Deficiencies
Hibiscus plants require essential nutrients to thrive. A lack of proper nutrition, such as a deficiency in iron, magnesium, or nitrogen, can manifest as yellowing leaves. To ensure your plants receive the necessary nutrients, consider incorporating a balanced fertilizer into your regular care routine.
Overwatering or Underwatering
Watering plays a vital role in maintaining the health of your hibiscus plants. Both overwatering and underwatering can lead to stressed plants with yellowing leaves. Achieving the perfect balance can be achieved by providing adequate drainage, watering deeply, and allowing the soil to partially dry before the next watering session.
Pests and Diseases
Unfortunately, hibiscus plants are not exempt from encountering pests and diseases. Common culprits such as aphids, spider mites, whiteflies, or fungal infections can cause yellowing leaves. Regular inspection and treatment with appropriate measures, like organic insecticides or disease control products, can help keep these issues at bay.
Prevention and Treatment of Yellow Leaves
The saying "prevention is better than cure" rings true when it comes to the health of your hibiscus plants. Adopting proactive measures can save you from the anguish of witnessing yellow leaves on your beloved plants.
Proper Watering Techniques
Mastering the art of watering can significantly impact the overall health of your hibiscus plants. Remember to water deeply, allowing the roots to access water and nutrients effectively. However, avoid oversaturating the soil, as this can lead to root rot and yellowing leaves. Consider using a moisture meter to determine your plant's water needs accurately.
Nutrient Management
To ensure your hibiscus plants receive the necessary nutrients, establish a regular fertilization schedule. Choose a balanced fertilizer specifically formulated for flowering plants, and follow the instructions on the packaging. Additionally, monitor your soil's pH levels to guarantee optimum nutrient absorption.
Pest and Disease Control
To protect your hibiscus plants from pesky invaders and diseases, practice preventative care. Regularly inspect your plants for signs of pests or diseases, and take immediate action to mitigate any issues. Introducing beneficial insects like ladybugs or using organic pest control methods can help maintain a healthy balance in your garden.
Expert Tips for Hibiscus Plant Care
Now that you are well-equipped with knowledge on preventing and treating yellow leaves, let's explore additional insights from experts in hibiscus plant care.
Seasonal Care for Hibiscus Plants
Adjusting your care routine based on the season can contribute to the overall well-being of your hibiscus plants. For instance, during the winter months, provide adequate protection from frost, and reduce watering to prevent root rot.
Pruning and Maintenance Tips
Regular pruning helps promote healthy growth and flowering in your hibiscus plants. Remove any dead or diseased branches, as well as spent flowers, to encourage new growth. Additionally, cleaning your gardening tools after each use helps prevent the spread of diseases.
By incorporating these expert tips into your hibiscus plant care routine, you can create an environment that fosters their health and beauty throughout the seasons.
Remember, even with the occasional yellow leaves, hibiscus plants are resilient and can bounce back with proper care and attention. Embrace the challenge of nurturing these stunning plants, and enjoy the rewarding experience of witnessing their vibrant colors thrive in your garden.