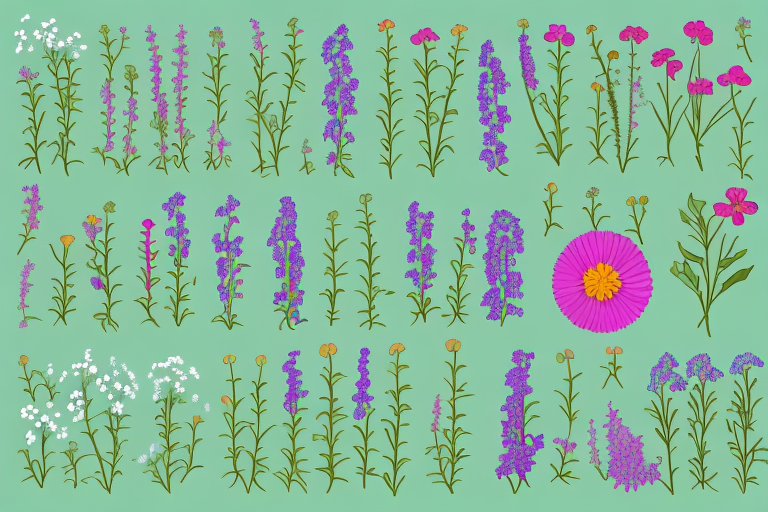 Verbena flowers are a stunning addition to any garden. With their vibrant colors and delicate petals, they bring life and beauty to any space. However, like any other plant, verbena flowers require proper care and attention to thrive. In this article, we will explore everything you need to know about verbena flowers care, from their origin and history to their propagation, common pests and diseases, as well as pruning and fertilizing techniques. So, let's dive in and discover how to keep your verbena flowers healthy and flourishing!
Introduction to Verbena Flowers
Before we delve into the care tips, let's take a moment to admire the beauty of verbena flowers. These lovely blooms have been captivating gardeners for centuries, thanks to their enchanting colors and delicate appearance.
Verbena flowers are not only visually stunning, but they also have a fascinating origin and history. Originating from the Americas, verbena flowers have a rich history dating back to ancient times. They were considered sacred by the Aztecs, who used them in various spiritual rituals. The Aztecs believed that verbena flowers had the power to ward off evil spirits and bring good luck to those who possessed them. This belief in the magical properties of verbena flowers has persisted throughout history, making them even more alluring to gardeners and flower enthusiasts.
Today, verbena flowers have become a popular choice for both professional gardeners and hobbyists alike, due to their versatility and stunning visual appeal. They are commonly used in flower beds, borders, and containers, adding a vibrant burst of color to any garden. Verbena flowers are known for their long-lasting blooms, making them a favorite among those who want to enjoy their garden's beauty for an extended period of time.
Origin and History of Verbena Flowers
As mentioned earlier, verbena flowers originated from the Americas. However, their popularity quickly spread to other parts of the world, including Europe and Asia. In Europe, verbena flowers were introduced during the 18th century and gained immense popularity among the aristocracy. They were often featured in elaborate garden designs, adorning the grand estates of the wealthy.
During the Victorian era, verbena flowers became a symbol of romance and femininity. They were commonly used in bouquets and floral arrangements, especially for weddings and other special occasions. The delicate and charming appearance of verbena flowers made them a perfect choice for expressing love and admiration.
Different Varieties of Verbena Flowers
With over 250 species and countless cultivars, verbena flowers come in a wide array of shapes and colors. Whether you prefer the vibrant and showy Verbena bonariensis or the delicate and charming Verbena rigida, there is a variety to suit every taste and garden style.
One popular variety of verbena flowers is the Verbena hybrida, commonly known as the garden verbena. This variety is known for its compact growth habit and profusion of blooms. Garden verbena flowers can be found in a range of colors, including shades of pink, purple, red, and white.
Another notable variety is the Verbena canadensis, also known as the Canadian verbena. This variety is native to North America and is known for its hardiness and ability to withstand harsh weather conditions. Canadian verbena flowers are typically bright red or pink, adding a cheerful touch to any garden.
For those who prefer a more subtle and elegant look, the Verbena rigida is an excellent choice. This variety features delicate clusters of small, lavender-colored flowers that create a beautiful contrast against its dark green foliage. Verbena rigida is a low-growing plant that is perfect for rock gardens or as a groundcover.
Regardless of the variety you choose, verbena flowers are sure to bring beauty and charm to your garden. Their vibrant colors and delicate appearance make them a favorite among gardeners around the world. Whether you're a seasoned gardener or just starting out, adding verbena flowers to your garden will surely elevate its aesthetic appeal and create a captivating floral display.
Understanding the Basics of Verbena Care
Now that you're acquainted with the beauty and diversity of verbena flowers, it's time to learn the essential care techniques that will ensure their healthy growth and longevity.
Verbena flowers, with their vibrant colors and delicate petals, are a popular choice for many garden enthusiasts. Their versatility makes them suitable for various landscaping designs, from flower beds to hanging baskets. To truly appreciate the beauty of verbena flowers, it's essential to understand the care they require.
Ideal Soil Conditions for Verbena
One of the keys to successful verbena flowers care lies in providing them with the right soil conditions. These plants thrive in well-drained soil that is rich in organic matter. A mix of garden soil and compost will create the perfect environment for verbena flowers to flourish.
When preparing the soil for verbena planting, it's beneficial to loosen it to a depth of at least six inches. This loosening allows for better drainage and root development. Additionally, incorporating organic matter into the soil improves its fertility and water-holding capacity, ensuring that the verbena plants receive the necessary nutrients and moisture.
Sunlight and Temperature Requirements
Verbena flowers are sun-loving plants that require a minimum of six hours of direct sunlight per day to thrive. Placing them in a location that receives ample sunlight is essential for their healthy growth and abundant blooming.
These hardy plants can tolerate a wide range of temperatures, making them suitable for various climates. However, it's essential to protect them from extreme heat and frost to prevent any damage to the flowers. During scorching summer days, providing some shade during the hottest hours can help prevent wilting and stress on the plants. In colder regions, covering the verbena plants with a frost cloth or moving them indoors during frosty nights can protect them from freezing temperatures.
Watering Needs of Verbena Flowers
Proper watering is crucial for the health of your verbena flowers. Keep the soil consistently moist but not waterlogged, as excessive moisture can lead to root rot. Water deeply once or twice a week, depending on the weather conditions and the moisture level of the soil.
When watering verbena plants, it's best to use a soaker hose or drip irrigation system to deliver water directly to the soil. This method helps prevent wetting the foliage, which can lead to fungal diseases. Watering in the early morning or late afternoon allows the plants to absorb the moisture before the heat of the day, reducing the risk of evaporation.
It's important to note that the watering frequency may vary depending on the climate and soil type. During hot and dry periods, verbena plants may require more frequent watering to maintain their vigor and prevent wilting. Regularly monitoring the soil moisture level by sticking your finger into the soil can help determine when it's time to water.
Propagation of Verbena Flowers
If you want to expand your verbena flower collection or share these delightful blooms with friends and family, learning about their propagation methods is essential.
Growing Verbena from Seeds
Growing verbena from seeds is a rewarding method that allows you to witness the entire life cycle of these beautiful plants. Start by sowing the seeds indoors in trays filled with moist seed-starting mix. Once the seedlings have grown a few sets of true leaves, they can be transplanted into individual pots or directly into the garden.
Propagating Verbena through Cuttings
Another popular propagation method for verbena flowers is through cuttings. Simply take a 3-4 inch stem cutting from a healthy verbena plant, remove the lower leaves, and place it in a pot filled with moist soil. Keep the cutting in a warm and bright location, ensuring the soil remains moist. After a few weeks, the cutting should develop roots and can be potted into its own container.
Common Pests and Diseases in Verbena
While verbena flowers are generally resistant to pests and diseases, it's essential to keep an eye out for any potential problems to ensure the health of your plants.
Identifying Common Verbena Pests
Some common pests that may affect verbena flowers include aphids, spider mites, and whiteflies. These tiny creatures can sap the plants of their vitality and cause unsightly damage. Regularly inspect your plants for any signs of infestation, such as distorted leaves, sticky residue, or visible pests.
Preventing and Treating Verbena Diseases
Verbena flowers can occasionally fall victim to diseases such as powdery mildew and root rot. To prevent these issues, ensure proper air circulation around the plants, avoid overwatering, and promptly remove any infected leaves or stems. If necessary, treat the plants with appropriate fungicides or seek advice from a local horticulturist.
Pruning and Fertilizing Verbena Flowers
Regular pruning and fertilizing are essential for maintaining healthy and vigorous verbena flowers.
When and How to Prune Verbena
Pruning verbena helps promote bushier growth and prolongs flowering. The best time to prune is in early spring or late winter before new growth begins. Trim back the plants to half their size, removing any dead or weak stems. This will encourage new growth and a more compact form.
Choosing the Right Fertilizer for Verbena
Verbena flowers benefit from regular fertilization to ensure abundant blooms. Incorporate a balanced slow-release fertilizer into the soil during planting, and then apply a water-soluble fertilizer every four to six weeks during the growing season. This will provide the necessary nutrients for healthy growth and vibrant flowers.
With the right care and attention, your verbena flowers will reward you with a spectacular display of colors and fragrance. Whether they are cascading from hanging baskets, spilling over the edges of containers, or adding a vibrant touch to the flower beds, these stunning flowers are sure to enchant all who see them. So go ahead, embrace the joys of verbena flowers care and let their beauty transform your garden into a blooming paradise!