Guzmania Flower Turning Brown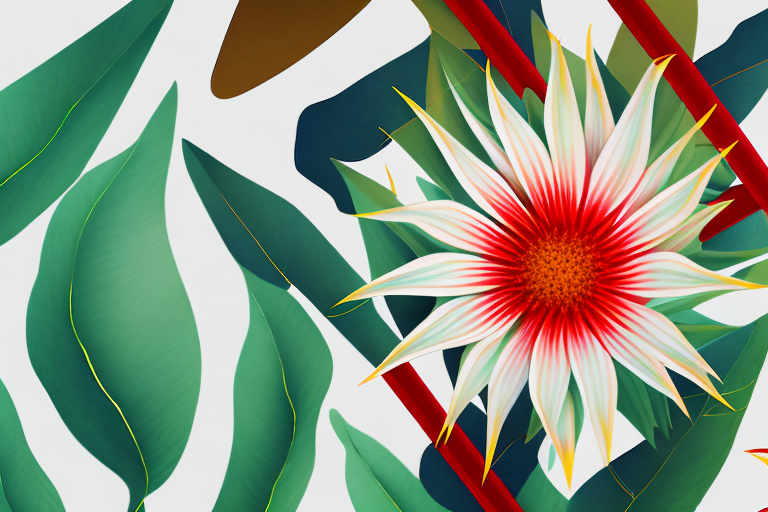 Do you have a gorgeous Guzmania plant that has suddenly started turning brown? Don't panic, this common issue can be easily resolved with a little know-how. In this article, we'll dive into understanding the Guzmania plant, explore the reasons behind browning, and provide you with steps to revive your lovely plant. So, let's uncover the secrets to keeping your Guzmania vibrant and healthy!
Understanding the Guzmania Plant
Before we delve into the reasons behind your Guzmania turning brown, let's take a moment to appreciate the beauty of this plant. Guzmania plants belong to the Bromeliaceae family and are native to the tropical rainforests of Central and South America. These stunning plants are known for their vibrant, colorful bracts that resemble flowers, making them popular as ornamental houseplants.
The Guzmania plant is truly a sight to behold. With its strikingly vibrant bracts that come in various shades of red, orange, yellow, and pink, it adds a burst of color and life to any space. These bracts can last for several weeks, making the Guzmania a long-lasting and visually appealing addition to your home or office.
Aside from their beauty, Guzmania plants have fascinating origins and unique characteristics that make them a captivating species. Let's explore further.
Origin and Characteristics of Guzmania
Guzmania plants are native to forested regions where they thrive in moist, tropical climates. These plants have adapted to their natural habitat in remarkable ways. One of their most distinctive features is the central rosette of leaves that forms a funnel-like structure or cup. This cup collects water naturally, allowing the plant to withstand dry periods and providing a habitat for various organisms.
Within the cup of the Guzmania plant, a miniature ecosystem exists. It becomes a microcosm of life, attracting insects, small frogs, and even tiny crabs. These organisms find refuge in the water-filled cup, creating a symbiotic relationship with the Guzmania plant. The plant benefits from the nutrients provided by the organisms, while the organisms find a safe haven and a source of sustenance.
Another fascinating characteristic of the Guzmania plant is its ability to adapt to different light conditions. In the rainforest, where sunlight can be filtered through the dense canopy, Guzmania plants have evolved to thrive in bright, indirect light. This adaptation allows them to make the most of the limited sunlight available to them, ensuring their survival in the competitive rainforest ecosystem.
Ideal Growing Conditions for Guzmania
To keep your Guzmania happy and healthy, you need to replicate its natural habitat as closely as possible. These plants prefer bright, indirect light and high humidity levels, similar to their rainforest homes. Placing your Guzmania near a window with filtered sunlight or using artificial grow lights can help provide the ideal lighting conditions.
Humidity is another crucial factor in the successful cultivation of Guzmania plants. Mimicking the high humidity levels of the rainforest can be achieved through various methods. Regular misting of the plant's leaves with water can help maintain the necessary moisture in the air around the plant. Alternatively, you can place the Guzmania on a tray filled with water and pebbles, ensuring that the water level does not reach the bottom of the pot. As the water evaporates, it creates a humid microclimate around the plant.
In addition to lighting and humidity, the Guzmania plant also requires well-draining soil that is rich in organic matter. This type of soil allows for proper root aeration and prevents waterlogging, which can lead to root rot. A good potting mix for Guzmania plants consists of a combination of peat moss, perlite, and orchid bark. This mixture provides the necessary nutrients and drainage for the plant to thrive.
By providing the ideal growing conditions for your Guzmania, you can ensure that it remains healthy and vibrant, showcasing its stunning bracts for years to come.
Common Problems with Guzmania Plants
Now, let's dig into the common problems that Guzmania plants can experience, which may result in browning. Understanding these issues will help you identify and address the underlying cause effectively.
Overwatering and Root Rot
Overwatering is a common mistake made by Guzmania owners. These plants thrive in moist but not waterlogged conditions. Excess watering can lead to root rot and ultimately result in browning leaves. Ensure that you allow the top few inches of soil to dry out between watering sessions and always use a well-draining potting mix.
Root rot is a fungal disease that affects the roots of plants, leading to their decay. When the roots are constantly submerged in water, they are deprived of oxygen, creating a perfect environment for the growth of harmful fungi. As the roots rot, they become unable to absorb water and nutrients properly, causing the leaves to turn brown.
To prevent root rot, it is important to provide proper drainage for your Guzmania plant. Choose a pot with drainage holes and use a well-draining potting mix. Additionally, avoid overwatering and allow the soil to dry out partially between waterings.
Nutrient Deficiencies
Guzmania plants require a balanced supply of nutrients to maintain their vibrant appearance. Inadequate fertilization or improper soil pH can lead to nutrient deficiencies, causing the leaves to turn brown. Regularly feeding your plant with a balanced fertilizer specifically formulated for bromeliads can help prevent this problem.
When Guzmania plants do not receive enough nutrients, they may exhibit signs of nutrient deficiencies. This can manifest as brown or yellowing leaves, stunted growth, or overall poor plant health. The most common nutrient deficiencies in Guzmania plants are nitrogen, potassium, and magnesium deficiencies.
Nitrogen is an essential nutrient for plant growth and is responsible for the production of chlorophyll, which gives leaves their green color. A lack of nitrogen can result in yellowing or browning of leaves. Potassium is important for overall plant health and helps regulate water balance within the cells. A deficiency in potassium can cause brown spots or edges on leaves. Magnesium is necessary for chlorophyll synthesis and a lack of magnesium can lead to interveinal chlorosis, where the tissue between the veins turns yellow or brown.
To prevent nutrient deficiencies, it is important to provide your Guzmania plant with a balanced fertilizer. Look for a fertilizer specifically formulated for bromeliads, as it will contain the necessary nutrients in the correct ratios. Follow the instructions on the fertilizer package for application rates and frequency.
In addition to fertilization, it is also important to maintain the proper pH level of the soil. Guzmania plants prefer slightly acidic soil with a pH range of 5.5 to 6.5. If the soil pH is too high or too low, it can affect nutrient availability, leading to deficiencies and browning of leaves. Test the pH of your soil regularly and make adjustments if necessary using products specifically designed to adjust soil pH.
Why is Your Guzmania Turning Brown?
Now that we've identified the common problems, let's explore specific reasons your Guzmania might be turning brown. Understanding the potential causes will help you tailor your approach to reviving your plant.
Lack of Humidity and Browning
As mentioned earlier, Guzmania plants thrive in high humidity environments. If you notice your plant's leaves turning brown at the tips or edges, this may be a sign of insufficient humidity. Consider using a humidifier or regularly misting the plant to create the ideal conditions for its growth.
Sunburn and Its Effects
Guzmania plants appreciate bright, indirect light but can suffer from direct sunlight exposure. If your plant is placed in a spot where it receives direct rays, it may develop brown patches or scorch marks on its leaves. Moving your plant to a more shaded location can help prevent further sunburn damage.
Steps to Revive a Browning Guzmania
Your Guzmania deserves to be restored to its former glory. Follow these steps to revive your browning plant and bring back its vibrant charm.
Adjusting Watering Practices
If you suspect overwatering or root rot is the cause of browning, take the time to refine your watering technique. Allow the top layer of soil to dry out before watering again. Ensure your pot has drainage holes to prevent water from accumulating at the plant's roots.
Modifying Light and Temperature Conditions
If your plant has suffered from sunburn, relocate it to a spot with indirect light. Ensure it receives enough bright but filtered light to maintain its vibrant color. Additionally, ensure the temperature around the plant stays between 65-80°F (18-27°C) to mimic its native environment.
Treating Nutrient Deficiencies
If you suspect nutrient deficiencies are causing the browning, start by fertilizing your Guzmania with a bromeliad-specific fertilizer. Follow the instructions on the product label and repeat the process every few weeks to replenish the required nutrients.
Preventive Measures for Healthy Guzmania
Now that your Guzmania is back on track, let's discuss ways to keep it healthy and thriving in the long run.
Regular Care Routine for Guzmania
Consistency and attention to detail are key when it comes to caring for Guzmania plants. Create a regular care routine that includes proper watering, maintaining humidity levels, and periodic fertilization. Regularly check for pests and diseases to catch any issues early and take appropriate action.
Signs of a Healthy Guzmania Plant
A healthy Guzmania plant is a sight to behold! Vibrant, green leaves with no browning or discoloration indicate a well-maintained plant. The central cup or rosette should be clean and free of debris. Regular production of new bracts or flowers also signifies a happy, thriving Guzmania.
By following these guidelines and understanding the needs of your Guzmania plant, you can prevent it from turning brown and keep it looking stunning for years to come. Remember, a little care and attention go a long way in keeping your plant healthy and happy!