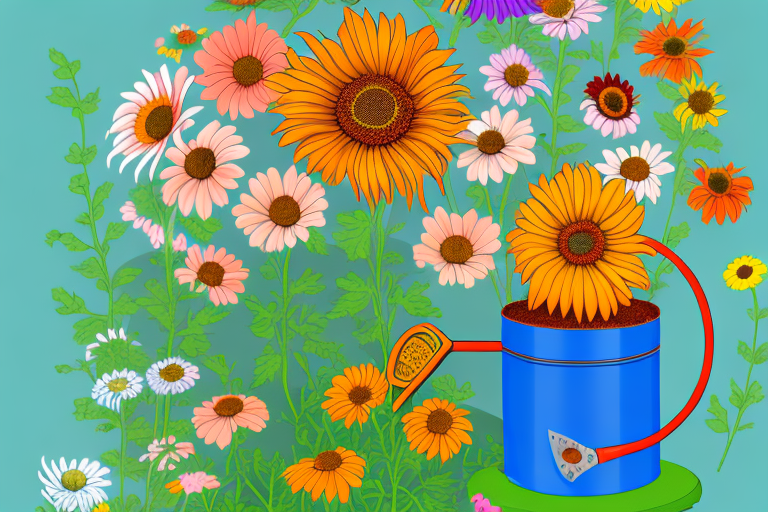 If you're looking to add a pop of vibrant color to your garden, the Mexican Sunflower is a fantastic choice. This stunning plant is not only visually appealing but also relatively easy to care for. In this article, we'll explore everything you need to know about Mexican Sunflower care, from understanding the plant's origins to tips on planting, routine maintenance, and even landscaping ideas.
Understanding the Mexican Sunflower
Before diving into the care and maintenance of Mexican Sunflowers, it's important to familiarize yourself with this unique plant. Originating from Mexico and Central America, the Mexican Sunflower is a member of the Asteraceae family. With its scientific name Tithonia rotundifolia, this sun-loving perennial is often referred to as the "Torch flower" or "Mexican Sunflower."
Origin and History of the Mexican Sunflower
The Mexican Sunflower has a rich cultural history. It has been cultivated for centuries by indigenous peoples in Mexico and was even considered sacred by the Aztecs. The Aztecs believed that the Mexican Sunflower had magical properties and used it in various religious ceremonies and rituals. They also used the plant medicinally, as it was believed to have healing properties.
When the Spanish conquistadors arrived in Mexico, they were fascinated by the beauty of the Mexican Sunflower and brought it back to Europe. It quickly gained popularity among European gardeners and became a sought-after plant in botanical gardens across the continent.
Today, the Mexican Sunflower is appreciated worldwide for its beauty and versatility in garden settings. It is often grown as an ornamental plant, adding a vibrant splash of color to gardens and attracting pollinators with its bright blooms.
Characteristics of the Mexican Sunflower
The Mexican Sunflower is characterized by its tall, sturdy stems that can reach heights of 4 to 6 feet. These strong stems enable the plant to withstand strong winds and heavy rainfall, making it a resilient choice for gardeners in various climates.
Its leaves are large, heart-shaped, and covered in coarse hairs that give them a slightly fuzzy texture. This unique feature adds to the overall charm of the plant and sets it apart from other sunflowers.
As for the flowers, they are brilliant orange or red in color and resemble miniature suns, hence the name Mexican Sunflower. These vibrant blooms not only add visual appeal to gardens but also serve as a valuable food source for pollinators. Bees, butterflies, and hummingbirds are attracted to the nectar-rich flowers, making the Mexican Sunflower an excellent choice for those looking to create a pollinator-friendly garden.
In addition to its beauty and ability to attract pollinators, the Mexican Sunflower is also known for its fast growth rate. Once established, it can quickly fill in empty spaces in a garden and create a lush, tropical look.
Overall, the Mexican Sunflower is a fascinating plant with a rich history and impressive characteristics. Whether you're a seasoned gardener or just starting out, this sun-loving perennial is sure to bring joy and beauty to your outdoor space.
Planting the Mexican Sunflower
Now that you know the basics of the Mexican Sunflower, let's move on to the first step in successfully caring for this plant: planting it. Here are some key factors to consider:
Ideal Soil Conditions
Mexican Sunflowers thrive in well-draining soil with a pH level between 6.0 and 7.5. It's important to prepare the soil by removing any weeds or grass and incorporating organic matter, such as compost or aged manure. This will help improve soil fertility and drainage.
When choosing a location for planting, keep in mind that Mexican Sunflowers have deep roots, so it's essential to provide them with enough space to grow. You can also consider adding a layer of mulch around the base of the plant to help retain moisture and suppress weed growth.
Additionally, if your soil is heavy or clay-like, you can amend it with sand or perlite to improve drainage. This will prevent waterlogged roots, which can lead to root rot and other diseases.
Sunlight and Temperature Requirements
As the name suggests, Mexican Sunflowers love the sun! They require at least 6 to 8 hours of direct sunlight each day to promote healthy growth and vibrant blooms. In areas with hot summers, it's advisable to provide some afternoon shade to protect the plants from scorching.
When it comes to temperature, Mexican Sunflowers are considered warm-season plants. They cannot tolerate frost and prefer temperatures above 50°F (10°C). If you live in a region with cooler climates, you can start the seeds indoors a few weeks before the last frost date and transplant them outdoors once the danger of frost has passed.
It's important to note that Mexican Sunflowers are not drought-tolerant. While they require well-draining soil, they still need regular watering to thrive. During hot and dry periods, make sure to provide them with sufficient water to keep the soil moist but not waterlogged.
Best Time to Plant
The ideal time to plant Mexican Sunflowers is in the spring after the last frost has passed. This will give the plants ample time to establish their root systems before the summer heat kicks in. If you live in a region with a longer growing season, you can also sow seeds directly in the garden in early summer.
Before planting, it's a good idea to soak the seeds in water overnight to help speed up germination. Once the seeds have sprouted, thin them out to ensure proper spacing between plants, usually around 12 to 18 inches apart.
When planting Mexican Sunflowers, you can either start them from seeds or purchase young plants from a nursery. If starting from seeds, sow them at a depth of ¼ to ½ inch in well-prepared soil. Keep the soil consistently moist until the seedlings emerge, which usually takes about 7 to 14 days.
Once the seedlings have grown a few inches tall, you can transplant them into their permanent location, ensuring they have enough space to spread out. Water the transplants well after planting to help them settle in and establish their roots.
By following these planting guidelines, you'll be well on your way to enjoying a beautiful display of Mexican Sunflowers in your garden. But remember, the journey doesn't end here. Stay tuned for the next step in caring for these vibrant flowers: watering and fertilizing.
Routine Care and Maintenance
Mexican Sunflowers require regular care and maintenance to ensure healthy growth and abundant blooms. Let's explore some key aspects:
Watering Your Mexican Sunflower
Proper watering is essential for the well-being of your Mexican Sunflowers. These plants prefer evenly moist soil, but be careful not to overwater as it can lead to root rot. During hot and dry periods, water deeply once or twice a week to ensure the root system receives sufficient moisture. Applying a layer of organic mulch around the base of the plant will help retain soil moisture and suppress weeds.
Pruning and Deadheading
To promote bushier growth and prolong blooming, it's important to prune your Mexican Sunflowers. Regularly remove any dead or faded flowers by cutting them back to a healthy set of leaves or side shoots. Additionally, pinching back the tips of the plants when they reach a height of 12 to 18 inches can help encourage branching and compact growth.
Dealing with Pests and Diseases
While Mexican Sunflowers are generally resistant to many pests and diseases, it's always wise to keep an eye out for any signs of trouble. Aphids, spider mites, and powdery mildew can occasionally affect these plants. If necessary, control infestations with organic insecticidal soap or neem oil. Proper spacing and good air circulation can also help prevent the spread of diseases.
Propagation of Mexican Sunflowers
If you're interested in propagating Mexican Sunflowers, there are two primary methods: growing from seeds or propagating from cuttings.
Growing from Seeds
Start seeds indoors about 6 to 8 weeks before the last frost date in your area. Sow them in individual pots or seed trays filled with seed-starting mix. Keep the soil consistently moist and provide warm temperatures (around 70°F to 75°F) for germination. Once the seedlings have developed a few sets of true leaves, they can be transplanted outdoors.
Propagating from Cuttings
If you already have established Mexican Sunflowers, you can propagate new plants from cuttings. Take 4- to 6-inch stem cuttings from healthy, non-flowering shoots. Remove the lower leaves and dip the cut end in rooting hormone powder. Plant the cuttings in a pot filled with moist potting soil and cover them with a plastic bag to create a humid environment. Place the pot in a warm location with bright, indirect light. After a few weeks, roots should form, and the new plants can be potted or planted outdoors.
The Mexican Sunflower in Landscaping
Beyond their individual beauty, Mexican Sunflowers can also be used to enhance your garden's overall aesthetic. Here are some ideas:
Companion Plants for Mexican Sunflowers
Pair Mexican Sunflowers with other warm-colored flowers like marigolds or zinnias for a visually striking effect. Their tall stature makes them an excellent backdrop for lower-growing plants like catmint, salvias, or ornamental grasses. Consider planting them alongside milkweed to attract monarch butterflies or near herbs such as basil and lavender to create a pollinator-friendly garden.
Design Ideas for Garden Landscaping
In garden landscaping, Mexican Sunflowers can be utilized in several ways. Create a vibrant summer border by mass planting them along a fence or as a natural screen to add height and visual interest. For a more eclectic approach, mix them with other bold-colored annuals and perennials in a cottage garden design. Mexican Sunflowers also work well in large containers, providing a stunning focal point on patios or balconies.
With its captivating flowers and low-maintenance nature, the Mexican Sunflower is a fantastic addition to any garden. Whether you're a seasoned gardener or a beginner, caring for these plants is a rewarding experience. By understanding their origins, providing ideal growing conditions, and implementing proper care techniques, you'll be well on your way to enjoying a stunning display of vibrant blooms year after year.