Hibiscus Plant Has Yellow Leaves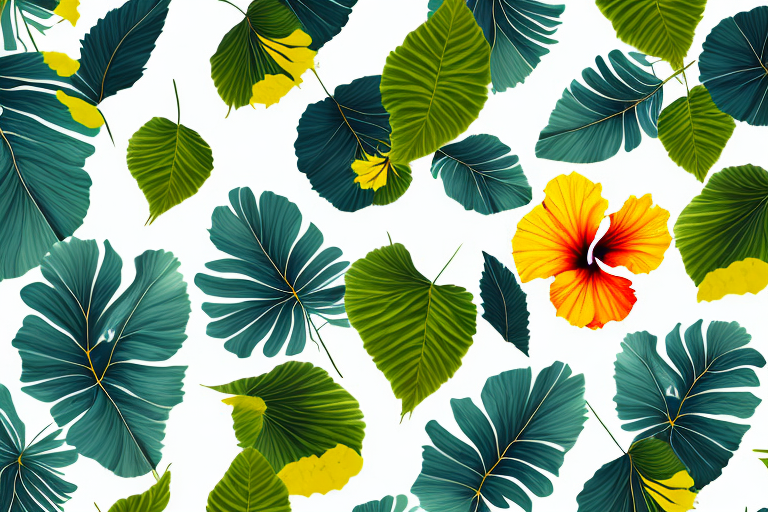 If you've noticed that your hibiscus plant has yellow leaves, you may be wondering what could be causing this troubling issue. Yellowing leaves can be a sign of several different problems, from environmental factors to pests and diseases. In this article, we will delve into the various causes of yellow leaves in hibiscus plants, providing you with an in-depth understanding of each possible culprit. By the end of this read, you'll be well-equipped to identify and address the underlying issues affecting your hibiscus plant's leaf color.
Understanding the Causes of Yellow Leaves in Hibiscus Plants
One of the first steps in resolving any plant issue is understanding the root cause. When it comes to yellow leaves in hibiscus plants, there are several factors to consider. Firstly, it's important to rule out any potential pests or diseases. We'll explore this topic further in the next section. Additionally, overwatering can lead to yellowing leaves, as well as nutrient deficiencies, temperature stress, sunlight exposure, soil pH imbalance, improper pruning techniques, and even environmental factors. By examining each of these factors, we can gain a comprehensive understanding of why your hibiscus leaves may be turning yellow.
One common cause of yellow leaves in hibiscus plants is pest infestation. Common pests that can affect hibiscus plants include aphids, whiteflies, and spider mites. These pests feed on the plant's sap, causing damage to the leaves and leading to yellowing. Regular inspection and treatment with appropriate insecticides can help control these pests and prevent further damage to the plant.
In addition to pests, diseases can also contribute to yellow leaves in hibiscus plants. Fungal infections such as powdery mildew and leaf spot can cause discoloration and yellowing of the leaves. Proper sanitation practices, such as removing infected leaves and providing adequate air circulation, can help prevent the spread of diseases and maintain the health of the plant.
Common Pests and Diseases that Cause Yellow Leaves in Hibiscus Plants
Pests and diseases can wreak havoc on hibiscus plants, causing their leaves to turn yellow. Some common culprits behind yellowing leaves include aphids, spider mites, whiteflies, and scale insects. These pests feed on the plant's sap, depriving it of essential nutrients and causing leaf discoloration. In addition to pests, hibiscus plants can also fall victim to various fungal, viral, and bacterial infections, each with its own set of symptoms. It's crucial to be able to identify these issues early on to prevent further damage to your hibiscus plant.
Aphids are small, soft-bodied insects that can infest hibiscus plants. They are usually found on the undersides of leaves and can quickly multiply, causing significant damage to the plant. Aphids suck the sap from the leaves, causing them to turn yellow and curl. They also excrete a sticky substance called honeydew, which can attract ants and promote the growth of sooty mold.
Spider mites are another common pest that can cause yellow leaves in hibiscus plants. These tiny arachnids feed on the plant's sap, causing yellow spots and stippling on the leaves. As the infestation progresses, the leaves may become discolored and eventually drop off. Spider mites thrive in hot and dry conditions, so it's important to maintain proper humidity levels and regularly inspect your plants for any signs of infestation.
Overwatering: A Common Culprit Behind Yellow Leaves in Hibiscus Plants
Overwatering is a common mistake made by well-meaning hibiscus owners. While these plants do require regular watering, excessive moisture can lead to yellow leaves. When the roots are constantly submerged in water, they may suffocate, preventing the plant from absorbing vital nutrients. This can result in stunted growth, yellowing leaves, and even root rot. It's essential to strike the right balance when watering your hibiscus, ensuring that the soil is moist but not waterlogged.
Nutrient Deficiencies: Identifying the Lack of Essential Elements in Hibiscus Plants
Yellow leaves in hibiscus plants can also be caused by nutrient deficiencies. When a plant lacks essential elements such as nitrogen, phosphorus, or potassium, its leaves may lose their vibrant green color. Nitrogen deficiency often shows up as pale yellow leaves, while phosphorus deficiency can cause dark green foliage with yellow veins. To address nutrient deficiencies, it's important to provide your hibiscus with a balanced fertilizer specifically formulated for flowering plants.
Temperature Stress: How Heat and Cold Affect the Color of Hibiscus Leaves
Extreme temperatures, both hot and cold, can impact the color of hibiscus leaves. High temperatures can cause leaves to wilt and turn yellow, especially if the plant is not receiving adequate moisture. Conversely, cold temperatures can lead to leaf discoloration and even frost damage. It's crucial to protect your hibiscus from extreme weather conditions and provide appropriate shelter or insulation when needed.
Sunlight Exposure: Finding the Right Balance for Healthy Hibiscus Leaves
While hibiscus plants require ample sunlight to thrive, excessive sun exposure can lead to yellowing leaves. Direct sunlight for prolonged periods can scorch the foliage and cause it to lose its vibrant green color. On the other hand, insufficient sunlight can also result in yellow leaves. Finding the right balance is key. Ideally, hibiscus plants should receive morning sun and partial shade during the hottest part of the day.
Soil pH Imbalance: The Impact on Leaf Color in Hibiscus Plants
The pH level of the soil plays a crucial role in a hibiscus plant's overall health and leaf color. An incorrect pH level can lead to nutrient deficiencies, inhibiting the plant's ability to absorb necessary elements. Typically, hibiscus plants thrive in slightly acidic to neutral soil. If the pH is too high or too low, it can cause yellow leaves. Regularly testing and adjusting the soil pH can help ensure optimal conditions for your hibiscus plant.
The Role of Improper Pruning Techniques in Yellowing Hibiscus Leaves
Pruning is an essential part of hibiscus plant care, but improper techniques can result in yellow leaves. When pruning, it's crucial to use sharp, clean tools and make clean cuts to prevent damage to the plant. Pruning at the wrong time of year or removing too much foliage can stress the plant, leading to leaf yellowing. Understanding the proper pruning techniques specific to hibiscus plants is essential for maintaining healthy foliage.
Environmental Factors: Understanding How Surroundings Influence Leaf Color in Hibiscus Plants
Various environmental factors can influence the color of hibiscus leaves. Air pollution, excessive dust, and even nearby construction can result in yellowing leaves. Additionally, improper placement of hibiscus plants, such as being too close to reflective surfaces or air conditioning vents, can also impact leaf color. By identifying and addressing these environmental factors, you can help your hibiscus plant maintain its vibrant green foliage.
Identifying and Treating Fungal Infections That Cause Yellow Leaves in Hibiscus Plants
Fungal infections can take hold in hibiscus plants, causing yellowing leaves and other symptoms. Common fungal infections include powdery mildew, leaf spot, and root rot. These infections thrive in environments with high humidity and poor air circulation. Swift identification and appropriate treatment, such as fungicides or natural remedies, are essential for combating fungal infections and restoring your hibiscus's leaf color.
Viral Infections: A Lesser-Known Cause of Yellowing Leaves in Hibiscus Plants
While less common, viral infections can also cause yellowing leaves in hibiscus plants. Viruses, such as the hibiscus mosaic virus, can be transmitted through sap-sucking insects or contaminated tools. These infections typically manifest as yellow patterns on the leaves, stunted growth, and distorted flowers. Unfortunately, there's no cure for viral infections, so prevention, such as maintaining good plant hygiene and using insect control methods, is crucial.
Bacterial Diseases: Recognizing the Symptoms That Lead to Yellow Leaves in Hibiscus Plants
Bacterial diseases can also lead to yellowing leaves in hibiscus plants. Bacteria, such as Xanthomonas campestris pv. hibisci, can cause leaf spots, wilting, and ultimately, leaf yellowing. Preventing the introduction of bacteria through proper plant hygiene and regular inspections is crucial. If bacterial diseases do occur, removing infected leaves and applying antibiotics or copper-based sprays may help control the spread.
Nematode Infestation: The Hidden Culprit Behind Discolored Leaves in Hibiscus Plants
Although less commonly known, nematode infestations can be the hidden cause behind yellow leaves in hibiscus plants. Nematodes are microscopic roundworms that can invade the plant's roots, disrupting its ability to absorb water and nutrients. As a result, the leaves may lose their green color and turn yellow. Avoiding nematode-infested soil and regularly inspecting the roots can help prevent and manage this problem.
Understanding Leaf Drop: When Yellow Leaves Signal a Serious Problem in Your Hibiscus Plant
Occasionally, yellow leaves can be a sign of a serious problem in your hibiscus plant. If the yellowing is accompanied by leaf drop, wilting, or overall decline in plant health, it may be a symptom of a more significant issue. Factors such as root rot, severe pest infestations, or even systemic infections could be at play. In these cases, it's crucial to take immediate action by consulting with a plant professional or horticulturist to determine the best course of action.
In conclusion, yellow leaves in hibiscus plants can have various causes, ranging from environmental factors to pests and diseases. By examining each possible culprit in detail, we've provided you with a comprehensive understanding of why your hibiscus leaves may be turning yellow. Remember, addressing the underlying issue is vital to restoring your plant's health and vibrant foliage. With proper care and maintenance, your hibiscus can once again thrive, showcasing its beautiful green leaves for you to enjoy.