Uses for Tea Bags in the Garden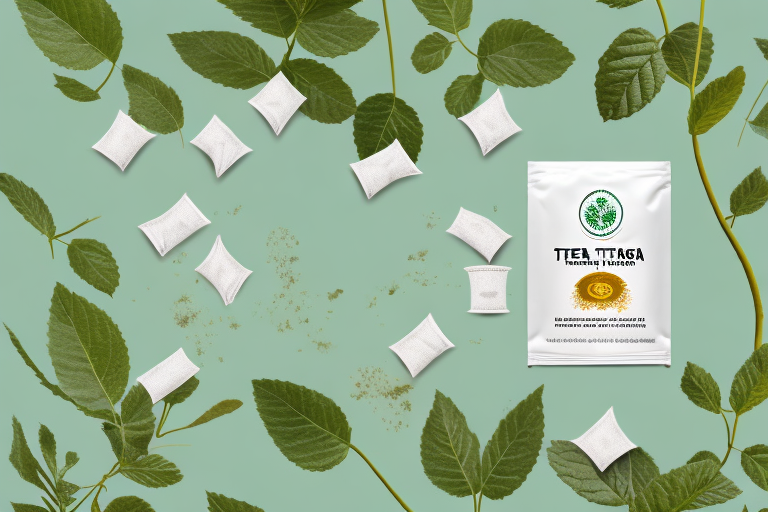 If you thought tea bags were only good for brewing a warm cup of tea, think again! These simple little sachets can actually be a valuable asset in your garden. With their nutrient-rich composition and countless practical uses, tea bags have become a popular and eco-friendly option for many green-fingered enthusiasts. Whether you're a seasoned gardener or just starting out, here are some innovative ways you can put tea bags to work in your garden.
Understanding the Nutritional Benefits of Tea Bags for Plants
Before we delve into the practical applications of tea bags in gardening, let's take a moment to understand the nutritional benefits they offer to our beloved plants. Tea bags are packed with valuable nutrients that can enrich the soil and promote healthy growth. The composition of tea bags varies depending on the type of tea but generally includes compounds like nitrogen, potassium, phosphorus, and trace minerals. These elements are essential for plant growth and can help improve soil fertility.
But what exactly are these nutrients and how do they contribute to the well-being of plants?
Nitrogen, for example, is a crucial nutrient for plants as it plays a vital role in their growth and development. It is responsible for the production of chlorophyll, the green pigment that allows plants to carry out photosynthesis. Potassium, on the other hand, helps regulate water movement within the plant and aids in the formation of strong stems and roots.
Phosphorus is another essential nutrient that plants need for energy transfer and storage. It is involved in various metabolic processes, including the production of ATP (adenosine triphosphate), which is the energy currency of cells. Trace minerals, such as iron, manganese, and zinc, may be present in smaller amounts but are equally important for plant health.
The Nutrient Composition of Tea Bags
Tea bags are usually made from tea leaves, which are rich in organic matter like tannins, polyphenols, and amino acids. These organic compounds break down over time, releasing nutrients into the soil. Additionally, some tea bags contain added nutrients like seaweed extracts or beneficial microorganisms that can further enhance plant health.
Let's explore the nutritional composition of different types of tea:
Green Tea: Green tea is known for its high levels of antioxidants, such as catechins and flavonoids, which can help protect plants from oxidative stress and disease.
Black Tea: Black tea contains theaflavins and thearubigins, which are antioxidants that can stimulate root growth and enhance nutrient uptake.
Oolong Tea: Oolong tea contains polyphenols that can improve soil structure and increase microbial activity, leading to healthier plant roots.
Herbal Tea: Herbal teas, such as chamomile or mint, can provide additional benefits like natural pest repellent properties or soothing effects on plant tissues.
How Plants Absorb Nutrients from Tea Bags
When tea bags are placed in the soil, the nutrients within them slowly leach out and become available to plants. This process is known as "composting in place." As the tea bags decompose, they release nutrients gradually, providing a steady supply of nourishment to nearby plants. The breakdown of tea bags also improves soil structure by increasing its water retention capacity and promoting beneficial microbial activity.
It's important to note that the rate at which tea bags decompose and release nutrients can vary depending on factors such as temperature, moisture levels, and the type of tea used. Some tea bags may break down faster than others, resulting in a more immediate nutrient release, while others may take longer, providing a slow-release effect.
In conclusion, tea bags offer a convenient and eco-friendly way to boost the nutritional content of your garden soil. By incorporating tea bags into your gardening routine, you can provide your plants with a steady supply of essential nutrients, improve soil fertility, and promote overall plant health.
Practical Ways to Use Tea Bags in Your Garden
Now that we've explored the nutritional benefits of tea bags, let's discuss some practical ways you can incorporate them into your gardening routine.
Tea bags are not just for brewing a warm cup of tea; they can also be a valuable asset in your garden. From enriching the soil to deterring pests, tea bags offer a range of benefits for your plants and the overall health of your garden.
Direct Application of Tea Bags to Soil
One of the simplest ways to use tea bags in the garden is to bury them directly in the soil around your plants. Before doing so, make sure to remove any staples or plastic elements from the tea bags. Simply dig a small hole near the base of your plant, place the tea bag in the hole, and cover it with soil. Over time, the tea bag will decompose, releasing its nutrients and enriching the surrounding soil.
As the tea bag decomposes, it adds organic matter to the soil, improving its structure and fertility. The nutrients present in the tea leaves, such as nitrogen, potassium, and phosphorus, are gradually released, providing a slow and steady supply of nourishment to your plants. This method is particularly beneficial for potted plants or those growing in nutrient-depleted soil.
Creating a Tea Bag Compost
If you have a compost bin or pile, tea bags can be a wonderful addition to your composting materials. Remove the staples or strings from the tea bags and then tear them into smaller pieces. Add these pieces to your compost along with other organic matter like kitchen scraps, leaves, and grass clippings. The tea bags will break down alongside the other compostable materials, contributing their nutrients and helping create nutrient-rich compost for your garden.
Composting tea bags not only reduces waste but also enhances the quality of your compost. The tea leaves contain tannins, which aid in breaking down organic matter and speeding up the decomposition process. The resulting compost will be rich in essential nutrients, promoting healthy plant growth and improving soil fertility.
Using Tea Bags as a Pest Deterrent
Tea bags can also serve as a natural deterrent against pests that might be wreaking havoc in your garden. Certain pests, like slugs and snails, can't stand the scent of tea. To keep them at bay, steep used tea bags in water and let the mixture cool. Then, spray the liquid around your plants or use it to create a protective barrier. The scent will help deter pests and protect your plants from potential damage.
In addition to slugs and snails, tea bags can also repel other common garden pests such as aphids, ants, and caterpillars. The natural compounds present in tea, such as polyphenols and caffeine, act as repellents, making your garden less attractive to these unwanted visitors. This natural pest control method is safe for both your plants and the environment, avoiding the need for harmful chemicals.
So, the next time you enjoy a cup of tea, don't throw away those used tea bags. Instead, give them a second life in your garden. Whether it's nourishing the soil, enriching your compost, or deterring pests, tea bags can be a valuable asset in your gardening endeavors.
The Environmental Impact of Using Tea Bags in the Garden
Aside from their numerous uses, tea bags offer a sustainable solution for gardeners who are conscious of their environmental impact.
Reducing Waste with Tea Bags
By using tea bags in your garden, you can help reduce waste and give these little sachets a second life. Instead of tossing them in the trash, you can repurpose them to benefit your plants and the environment simultaneously. It's a win-win situation!
The Biodegradability of Different Tea Bag Materials
When using tea bags in your garden, it's essential to consider the materials they are made from. Some tea bags are made using biodegradable or compostable materials, while others may contain non-biodegradable components like nylon or plastic. Opting for tea bags made from eco-friendly materials ensures that they break down naturally over time, leaving behind no harmful residue and minimizing their impact on the environment.
Case Studies: Success Stories of Using Tea Bags in Gardening
If you're still not convinced about the potential of tea bags in gardening, let's take a look at some real-life success stories from green-thumbed enthusiasts who have embraced this eco-friendly practice.
Improving Soil Quality with Tea Bags: A Case Study
In a recent gardening experiment, a group of gardeners incorporated tea bags into their soil for several months. The result? Lush and vibrant plants that flourished in the nutrient-rich environment provided by the decomposing tea bags. This case study highlights the significant impact tea bags can have on soil quality and plant growth.
Pest Control with Tea Bags: A Real-life Example
A gardener struggling with persistent slug infestations decided to try using tea bags as a deterrent. By implementing a barrier of steeped tea bag liquid around their garden beds, they succeeded in keeping the slugs at bay. This success story serves as a testament to the natural pest-repelling properties of tea bags.
Frequently Asked Questions About Using Tea Bags in the Garden
Can All Types of Tea Bags Be Used in the Garden?
In general, most types of tea bags can be used in the garden, including black tea, green tea, chamomile tea, and herbal tea bags. However, it's important to avoid using tea bags that have been treated with artificial flavorings or additives, as these may contain chemicals that could be harmful to plants.
Are There Any Potential Risks or Downsides?
When used correctly, tea bags pose minimal risks in the garden. However, it's crucial to remove any non-biodegradable components like staples or strings before using them. Additionally, if your soil is already nutrient-rich, using tea bags excessively may lead to an imbalance in nutrients. Therefore, it's always recommended to monitor the condition of your soil and adjust your tea bag usage accordingly.
So, the next time you enjoy a cup of tea, don't toss that used tea bag away. Instead, think about the countless possibilities it holds in your garden. From nourishing the soil to repelling pests, tea bags are a simple and eco-friendly tool that can help take your gardening endeavors to new heights. Give them a try and watch your plants thrive!