Hibiscus Leaves Turning Yellow and Falling Off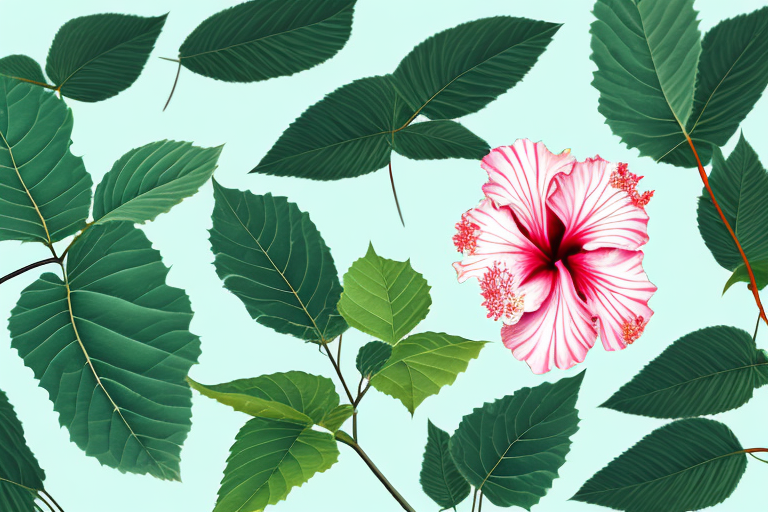 Is your hibiscus plant looking a little under the weather? Are its leaves turning yellow and falling off, leaving you worried and wondering what could be wrong? Don't panic just yet – there are many factors that can contribute to this common issue. In this article, we will explore the various reasons behind yellowing hibiscus leaves and discuss methods to diagnose and treat your plant's health. So grab your gardening gloves and let's dive into the world of hibiscus!
Understanding the Hibiscus Plant
Before we delve into the reasons for yellowing hibiscus leaves, it's essential to have a basic understanding of this beautiful flowering plant. Hibiscus, scientifically known as Hibiscus rosa-sinensis, is a tropical plant that adorns gardens with its vibrant and eye-catching blooms. It features large, colorful flowers in various shades like red, orange, yellow, pink, and even white.
Fun fact: The hibiscus flower is not just aesthetically pleasing; it is also used in many cultures for its medicinal properties. In traditional medicine, hibiscus is believed to have numerous health benefits, including lowering blood pressure, improving digestion, and boosting the immune system. Additionally, hibiscus tea, made from the dried petals of the flower, is known for its refreshing and tart flavor, often enjoyed both hot and cold.
The Anatomy of a Hibiscus Plant
Let's take a closer look at the anatomy of a hibiscus plant to better understand its needs and vulnerabilities. A hibiscus plant typically consists of three main parts: the roots, the stem, and the leaves. Each part plays a vital role in the overall health and growth of the plant.
The roots of a hibiscus plant are responsible for absorbing water and nutrients from the soil. They anchor the plant in place and provide stability. The stem, on the other hand, transports water and nutrients from the roots to the rest of the plant. It also supports the weight of the leaves and flowers. Finally, the leaves of a hibiscus plant are where photosynthesis takes place, converting sunlight into energy for the plant's growth and development.
Ideal Growing Conditions for Hibiscus
For a hibiscus plant to thrive and avoid yellowing leaves, it requires optimal growing conditions. Here are some key factors to consider:
1. Sunlight: Hibiscus plants thrive in full sunlight, so it's important to provide them with at least six hours of direct sunlight each day. Lack of sunlight can weaken the plant and lead to yellowing leaves.
2. Temperature: Hibiscus plants prefer warm temperatures between 60°F and 90°F (15°C and 32°C). They are sensitive to cold temperatures and may experience leaf yellowing if exposed to frost or chilly winds.
3. Soil: Well-draining soil is crucial for hibiscus plants. They prefer slightly acidic soil with a pH level between 6.0 and 6.5. Poorly drained soil can lead to root rot and yellowing leaves.
4. Watering: While hibiscus plants require regular watering, it's important not to overwater them. Waterlogged soil can suffocate the roots and cause yellowing leaves. It's best to water deeply and allow the top inch of soil to dry out before watering again.
5. Humidity: Hibiscus plants thrive in humid environments. If you live in a dry climate, consider misting the leaves with water to increase humidity around the plant.
Nutrient Deficiencies
One common reason behind yellowing hibiscus leaves is nutrient deficiencies. When a hibiscus plant lacks essential minerals like nitrogen, iron, or magnesium, it manifests through fading foliage. This can be easily remedied by providing the plant with a balanced fertilizer that suits its specific needs. Fertilizers formulated for hibiscus plants typically contain a higher concentration of phosphorus, which promotes healthy flowering and foliage.
Overwatering or Underwatering
Another factor that can cause yellowing leaves is improper watering. Overwatering or underwatering can both lead to stress in the plant, resulting in yellowed and drooping leaves. It is crucial to find the right balance and water your hibiscus plant consistently.
Pro tip: Before watering, always check the moisture level of the soil to ensure you're not over or underdoing it. Stick your finger about an inch into the soil. If it feels dry, it's time to water. If it feels moist, wait a day or two before watering again.
Pests and Diseases
Pests and diseases are the bane of every gardener's existence. Hibiscus plants are no exception, as they can fall victim to various insects and diseases, such as aphids, whiteflies, or fungal infections. These intruders and illnesses can cause stress to the plant and contribute to the yellowing of leaves. Regular inspection and appropriate treatment are necessary to keep your hibiscus plant healthy and pest-free.
Fun fact: Ladybugs are natural predators of aphids, which are common pests that attack hibiscus plants. Encouraging a population of ladybugs in your garden can help control aphid infestations without the need for chemical pesticides.
The Impact of Environmental Factors
In addition to nutrient deficiencies, watering issues, pests, and diseases, environmental factors can also affect the health of your hibiscus plant. Let's take a closer look at two significant factors:
Temperature and Light Requirements
Hibiscus plants thrive in warm and sunny conditions. Exposure to extreme temperatures, whether hot or cold, can cause stress and result in yellowing leaves. It is essential to understand the specific temperature and light requirements of your hibiscus plant to ensure its optimal growth and development.
During the summer months, when the sun's intensity is at its peak, providing sufficient shade or protection to your hibiscus plant is crucial. This can be achieved by placing it under a shade cloth or by strategically positioning it under a tree that offers partial shade. By doing so, you can prevent the leaves from getting scorched by the intense heat, which can lead to wilting and overall decline in plant health.
On the other hand, during the winter months, when temperatures drop significantly, it is important to protect your hibiscus plant from frost. Frost can cause severe damage to the plant, resulting in leaf discoloration and even death. To prevent this, you can cover your hibiscus plant with a frost cloth or move it indoors to a location with a more suitable temperature.
Soil Quality and Drainage
The soil quality and drainage directly impact the health of your hibiscus plant. Poor-quality soil or inadequate drainage can lead to waterlogged roots, causing root rot and yellow leaves. It is crucial to provide well-draining soil and consider adding organic matter to improve the overall soil quality.
When selecting soil for your hibiscus plant, opt for a well-draining potting mix that is specifically formulated for tropical plants. This type of soil allows excess water to drain away from the roots, preventing waterlogging and the associated problems it can cause. Additionally, adding organic matter, such as compost or well-rotted manure, can help improve soil structure and fertility, promoting healthy root growth and overall plant vigor.
Regularly monitoring the moisture levels in the soil is also essential. Overwatering can be just as detrimental as underwatering. To check if your hibiscus plant needs watering, insert your finger about an inch into the soil. If it feels dry at that depth, it is time to water. However, if it feels moist, it is best to wait a little longer before watering again.
By providing the right soil conditions and ensuring proper drainage, you can help prevent waterlogged roots and the subsequent decline in your hibiscus plant's health.
How to Diagnose Your Hibiscus Plant's Health
Now that we have explored the various factors that can contribute to yellowing hibiscus leaves, let's discuss how to diagnose your plant's health. Here are two methods you can use:
Visual Inspection
Start by visually inspecting your hibiscus plant. Take note of any yellowing or discolored leaves, as well as the overall appearance of the plant. Look for signs of pests or diseases, such as tiny insects or unusual spots on the foliage. This initial inspection will help you determine the potential cause of the problem.
Soil Testing
Another method to diagnose your hibiscus plant's health is through soil testing. By analyzing the soil's pH levels and nutrient composition, you can identify any imbalances that might be affecting your plant. Soil test kits can be purchased at garden centers or online, and they provide valuable insights into your hibiscus plant's nutritional needs.
Treatment and Prevention Strategies
Now that you have diagnosed the underlying issue causing your hibiscus leaves to turn yellow, it's time to implement treatment and prevention strategies. Here are some practical approaches:
Adjusting Watering Techniques
If improper watering was the culprit behind your hibiscus plant's yellowing leaves, adjust your watering techniques accordingly. Ensure that the plant receives adequate water without being waterlogged. Remember to check the soil moisture levels regularly to maintain the perfect watering balance.
Using the Right Fertilizers
If your hibiscus plant is suffering from nutrient deficiencies, using the right fertilizers is key. Choose a balanced and specifically formulated fertilizer for hibiscus plants. Follow the instructions on the package to ensure the correct dosage and application method. Regular fertilization will help replenish the missing nutrients and restore the plant's health.
Pest and Disease Control Methods
If pests or diseases are causing your hibiscus leaves to yellow, it's crucial to address the issue promptly. Use appropriate pest control methods such as organic insecticides or beneficial insects to eliminate unwanted visitors. For diseases, follow recommended treatment procedures, which may include pruning affected areas or using fungicides. Regular monitoring and prevention practices will help keep your hibiscus plant strong and vibrant.
With these strategies in your gardening arsenal, you can restore the health and beauty of your hibiscus plant. Remember, a little bit of care, attention, and know-how can go a long way. So don't fret if your hibiscus leaves are turning yellow – take action, diagnose the issue, and give your plant the TLC it deserves!