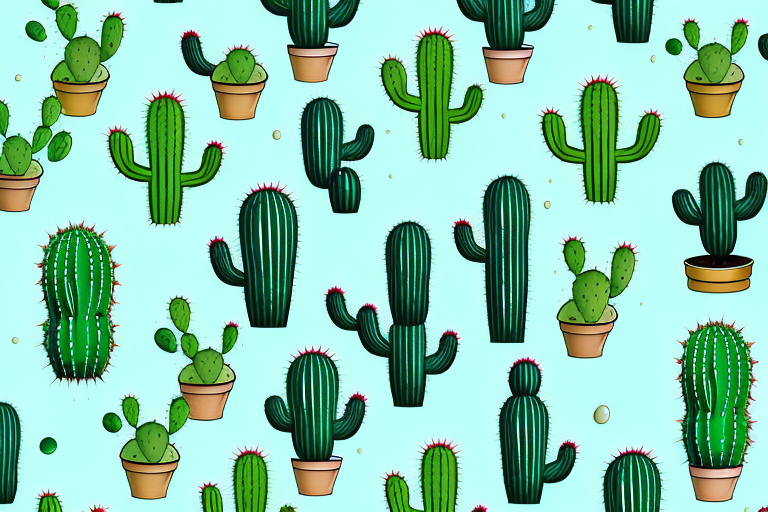 Welcome to a comprehensive guide on the fascinating world of Milk Plant Cactus! In this article, we will explore the unique characteristics, cultivation tips, benefits, traditional medicinal uses, decorative ideas, cultural significance, and much more about this captivating plant.
Understanding the Milk Plant Cactus: A Comprehensive Guide
Have you ever wondered about the intriguing Milk Plant Cactus? Well, you're in the right place! Let's embark on a journey to uncover the secrets of this remarkable succulent. Milk Plant Cactus, scientifically known as Euphorbia, is a diverse genus comprising various species with intriguing structures and growth patterns.
The milk-like sap found in Milk Plant Cactus has earned it its distinctive name. This sap plays an important role in the plant's survival, as it serves as a defense mechanism against herbivores and helps to heal wounds. However, it's important to note that this sap can be toxic if ingested or exposed to the skin, so handle the plant with care.
The Fascinating World of Milk Plant Cacti: An Introduction
Let's dive deeper into the fascinating world of Milk Plant Cacti. These plants are renowned for their ability to adapt to various environments and thrive in arid conditions. Their unique adaptations, such as succulent stems and reduced leaves, allow them to store water efficiently. This survival strategy makes them ideal for indoor gardening, as they require minimal watering and maintenance.
Milk Plant Cacti are visually captivating, with their diverse forms and colors. From the spiky and columnar Euphorbia trigona to the intricately branched Euphorbia lactea, each species offers a visual feast for plant enthusiasts. These plants are truly a testament to the beauty and resilience found in the natural world.
Unique Characteristics of Milk Plant Cactus: Exploring its Structure and Growth
When considering Milk Plant Cacti, it's important to understand their unique characteristics. The succulent stems of these plants are segmented, creating a striking architectural appeal. Additionally, some species develop attractive patterns and colors, adding to their allure.
Growth patterns vary among Milk Plant Cacti species. Some display impressive vertical growth, while others form sprawling clusters. Understanding these growth patterns is crucial for successful cultivation and propagation. By providing optimal growing conditions and following proper care techniques, you can witness the gradual transformation of these plants into stunning living sculptures.
Cultivating Milk Plant Cactus: Tips for Successful Propagation and Care
If you're eager to cultivate Milk Plant Cactus, we've got you covered! These plants are relatively easy to propagate and care for. Here are some tips to ensure successful growth:
Choose a well-draining potting mix to prevent waterlogged roots.
Find a location with bright, indirect sunlight, as excessive sun exposure can lead to sunburn.
Water sparingly, allowing the soil to dry out completely between waterings.
Feed with a balanced fertilizer during the growing season to promote healthy growth.
Handle with care and protect yourself with gloves when pruning or repotting, as the plant's sap can cause irritation.
By following these guidelines, you'll be on your way to successfully cultivating and caring for Milk Plant Cactus as a rewarding indoor plant.
The Benefits of Milk Plant Cactus in Indoor Gardening
Milk Plant Cactus offers numerous benefits for indoor gardening enthusiasts. Beyond their aesthetic appeal, these plants help purify the air by removing toxins and releasing oxygen. This makes them an excellent choice for those seeking to create a healthier living environment.
Furthermore, the low maintenance requirements of Milk Plant Cactus make them perfect for busy individuals or those new to gardening. Their ability to withstand a wide range of environmental conditions, including low humidity and fluctuating temperatures, ensures their adaptability to various indoor settings.
How to Choose the Right Variety of Milk Plant Cactus for Your Home
With a wide range of Milk Plant Cacti species available, selecting the right one for your home can be an exciting process. Consider factors such as size, growth habit, and care requirements when choosing a variety.
If you have limited space, opt for compact species like Euphorbia obesa or Euphorbia pugniformis. For those fond of dramatic statements, tall and columnar species like Euphorbia ingens or Euphorbia ammak can be the perfect choice.
Take into account the lighting conditions in your home, as some species prefer bright indirect light, while others can tolerate lower light levels. By understanding the specific needs and preferences of different Milk Plant Cactus varieties, you can find the perfect match for your indoor space.
Common Issues and Challenges in Growing Milk Plant Cactus: Troubleshooting Guide
Growing any plant comes with its fair share of challenges, and Milk Plant Cactus is no exception. However, armed with a troubleshooting guide, you can navigate these issues with confidence.
Some common problems you may encounter include root rot due to overwatering, etiolation caused by insufficient light, or pests such as mealybugs and spider mites. By addressing these issues promptly and providing the necessary care adjustments, you can ensure the healthy growth and vitality of your Milk Plant Cactus.
Exploring the Medicinal Uses of Milk Plant Cactus in Traditional Medicine
Throughout history, Milk Plant Cactus has played a significant role in traditional medicine practices. Native American tribes have utilized various species of Euphorbia for their medicinal properties. The sap from these plants has been used to treat skin conditions, alleviate pain, and even address digestive issues.
While the efficacy of these traditional uses should be approached with caution, exploring the historical significance of Milk Plant Cactus in traditional medicine offers a valuable glimpse into the cultural and botanical heritage of these plants.
Creative Ways to Decorate with Milk Plant Cactus in Your Living Space
Looking to add a touch of green and intrigue to your living space? Look no further than Milk Plant Cactus! Incorporating these plants into your home decor can unleash a world of creative possibilities. Here are a few ideas to get you started:
Create a stunning centerpiece by arranging different Milk Plant Cacti varieties in a decorative bowl or planter.
Hang trailing species, such as Euphorbia lactea cristata, in macrame plant hangers to add an eye-catching element to your walls.
Design a unique terrarium or miniature desert landscape using various Milk Plant Cacti, rocks, and sand for an artistic display.
By letting your imagination run wild, you can transform your living space into a lush and captivating oasis with the help of Milk Plant Cactus.
The Cultural Significance of Milk Plant Cactus in Native American Traditions
For Native American tribes, Milk Plant Cactus holds deep cultural significance. These plants are often used in religious ceremonies, symbolizing resilience and rebirth. Additionally, various parts of the plant, such as the wood and latex, have been incorporated into traditional rituals and offerings.
Understanding the cultural significance of Milk Plants Cactus in Native American traditions fosters a greater appreciation for the historical and spiritual connections between humans and nature.
Myth vs Reality: Debunking Common Misconceptions about Milk Plant Cactus
Unraveling the myths surrounding Milk Plant Cactus is crucial for accurate understanding and appreciation. Despite its name, Milk Plant Cactus is not a true cactus; it belongs to the Euphorbiaceae family. This distinction sets it apart from members of the Cactaceae family, while still sharing some similarities in terms of adaptations to arid environments.
By debunking common misconceptions, such as the assumption that all spiky succulents are cacti, we can develop a more nuanced understanding of the diverse plant species around us.
From Desert to Home: The Journey of Milk Plant Cacti as Houseplants
The journey of Milk Plant Cacti from their desert origins to becoming beloved houseplants is a testament to humanity's fascination with the natural world. These once exotic plants have found their way into homes worldwide, bringing a touch of the arid landscapes they call home.
The popularity of Milk Plant Cactus as houseplants can be attributed to their captivating beauty, low maintenance needs, and unique growth patterns. This enduring connection between humans and these desert dwellers adds to the rich tapestry of our indoor gardening traditions.
Harnessing the Beauty of Milk Plant Cactus: Stunning Landscaping Ideas
Milk Plant Cacti are not limited to indoor spaces; they can also be utilized to create stunning outdoor landscapes. Their ability to thrive in arid conditions makes them an excellent choice for xeriscaping, a landscaping technique that focuses on water conservation.
Imagine a landscape adorned with magnificent Euphorbia tirucalli, commonly known as a Pencil Cactus, or an eye-catching arrangement of contrasting Euphorbia mammillaris and agave species. These plants add texture, color, and a touch of desert elegance to any outdoor setting.
Exploring the Diversity of Milk Plant Cactus Species around the World
The world of Milk Plant Cacti is incredibly diverse, with a wide range of species found across various continents and ecosystems. From the African deserts to the tropical regions of the Americas, each species boasts its own unique adaptations and growth habits.
Exploring the diversity of Milk Plant Cactus species allows us to appreciate the evolutionary wonders of nature and the incredible ability of these plants to thrive in the face of adversity.
As we conclude our journey through the captivating world of Milk Plant Cactus, we hope this comprehensive guide has deepened your understanding and appreciation for these remarkable succulents. From their unique structures and growth patterns to their versatile uses in indoor gardening, medicine, and landscaping, Milk Plant Cacti continue to captivate and inspire plant enthusiasts worldwide. So, whether you're a seasoned succulent lover or a curious beginner, embrace the beauty and intrigue of Milk Plant Cactus and let your green thumb flourish in this succulent wonderland.