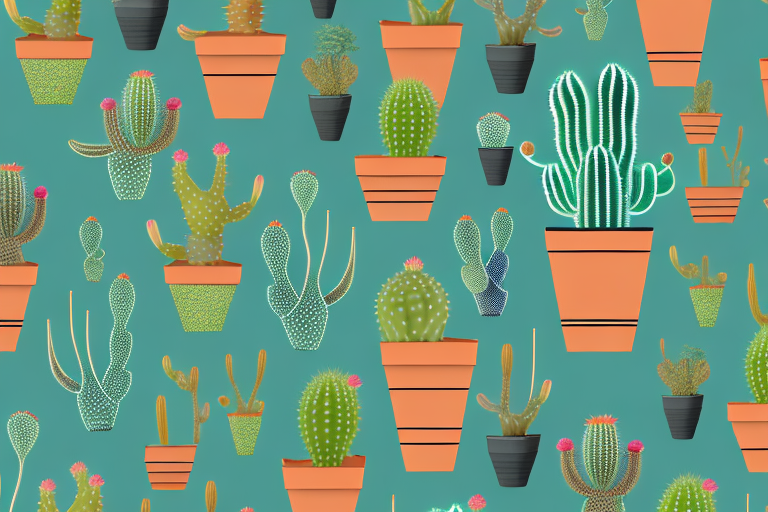 The fascinating and unique Fishbone Cactus, also known as Epiphyllum anguliger, is a striking plant that is sure to make a statement in any home or garden. Its distinct appearance, with wavy, serrated edges resembling a fishbone, sets it apart from other cacti. If you are considering adding this plant to your collection, it's important to understand how to care for it properly to ensure optimal growth and health.
Understanding the Fishbone Cactus
Before diving into the specifics of caring for the Fishbone Cactus, it's helpful to learn a bit about its origin and characteristics. Native to the tropical forests of Mexico, this epiphytic cactus grows naturally on trees and rocks, using its aerial roots to anchor itself. Its flat, segmented stems give it a unique appearance, resembling the shape of a fishbone. This charming feature is what inspired its common name.
Origin and Characteristics of the Fishbone Cactus
The Fishbone Cactus is native to the rainforests of Mexico. It belongs to the family Cactaceae and is a member of the Epiphyllum genus. This epiphytic cactus grows in a hanging manner, with long, arching stems that can reach up to 3 feet in length. Its stems are flat and composed of segments, giving it its distinct fishbone-like appearance. The stems are deep green in color and have wavy, serrated edges.
In its natural habitat, the Fishbone Cactus can be found clinging to the trunks of tall trees or nestled among rocks. Its aerial roots play a crucial role in its survival, as they not only anchor the cactus but also absorb moisture and nutrients from the surrounding environment. This adaptation allows the Fishbone Cactus to thrive in the often harsh and nutrient-poor conditions of the rainforest.
One of the most fascinating aspects of the Fishbone Cactus is its ability to produce stunning flowers. When conditions are just right, usually in the spring or summer, the cactus will reward its caretaker with an array of vibrant blooms. These flowers can vary in color, ranging from shades of pink and purple to white and yellow. The blooms are large and showy, adding a touch of elegance to the already unique appearance of the cactus.
Why is it Called the Fishbone Cactus?
The Fishbone Cactus gets its name from the shape of its stems, which bear a striking resemblance to the skeleton of a fish. The stems are flat and have undulating edges, giving them the appearance of fishbones. This unique characteristic sets the Fishbone Cactus apart from other cacti and makes it a popular choice for plant enthusiasts looking for something a little different.
Aside from its fishbone-like stems, the cactus also displays other interesting features. Its stems have small, fine hairs that help protect the plant from excessive sunlight and reduce water loss through evaporation. These hairs also give the cactus a soft, velvety texture, making it a delight to touch.
Another intriguing aspect of the Fishbone Cactus is its ability to propagate easily. With just a small section of stem, one can grow an entirely new plant. This makes it a popular choice for plant enthusiasts who enjoy propagating and sharing their plants with others.
Overall, the Fishbone Cactus is a fascinating plant with unique characteristics and a captivating appearance. Whether you're a seasoned plant enthusiast or just starting your green thumb journey, this cactus is sure to add a touch of intrigue and beauty to any collection.
Ideal Conditions for Fishbone Cactus Growth
Creating the right environment for your Fishbone Cactus is crucial for its growth and overall well-being. Here's what you need to know about providing the ideal conditions:
The Fishbone Cactus, also known as Epiphyllum anguliger, is a stunning tropical forest plant that is native to the rainforests of Central and South America. Its unique foliage, resembling fishbones, makes it a popular choice among plant enthusiasts. To ensure that your Fishbone Cactus thrives and remains healthy, it is important to pay attention to its specific needs.
Light Requirements
As a tropical forest plant, the Fishbone Cactus thrives in bright indirect light. Place it near a window with filtered sunlight to provide the perfect amount of light. The dappled sunlight that filters through the leaves of surrounding trees in its natural habitat is ideal for its growth. This type of lighting mimics the conditions it would experience in its native environment. Avoid exposing it to direct sunlight, as this can scorch the leaves and cause damage.
It's important to note that the Fishbone Cactus is not a fan of low light conditions. Inadequate light can result in weak growth and elongated stems. If you notice your cactus stretching towards the light, it may be an indication that it needs to be moved to a brighter location.
Temperature and Humidity Preferences
The Fishbone Cactus prefers temperatures between 60°F and 85°F (15°C-29°C). It can tolerate slightly cooler temperatures but should be protected from frost. In its natural habitat, the cactus enjoys a warm and humid climate. To replicate these conditions, it is advisable to maintain a consistent temperature and humidity level in the environment where your cactus is located.
During the summer months, when temperatures rise, it is important to provide adequate ventilation to prevent overheating. Opening windows or using fans can help circulate the air and maintain a comfortable temperature for your cactus. In terms of humidity, this cactus enjoys higher humidity levels, similar to its natural habitat. You can increase humidity by placing a tray of water near the plant or by using a humidifier. This will help prevent the tips of the leaves from drying out and ensure optimal growth.
Soil and Watering Needs
The Fishbone Cactus prefers well-draining soil to prevent waterlogged roots. A mixture of cactus potting mix and perlite or sand works well. This type of soil composition allows excess water to drain away quickly, preventing the roots from sitting in water for extended periods.
When it comes to watering, it's important to strike a balance. Too much water can lead to root rot, while too little can cause the plant to wither. The frequency of watering will depend on various factors such as the temperature, humidity, and the size of the pot. As a general rule, allow the top inch of soil to dry out between waterings. This will prevent overwatering and ensure that the roots have access to oxygen.
During the winter months when growth slows down, it is advisable to reduce watering. The Fishbone Cactus goes through a dormant period during this time, and overwatering can lead to root rot. It's always better to underwater than to overwater during this period.
Additionally, it's worth mentioning that the Fishbone Cactus is sensitive to the quality of water used for watering. Tap water that contains high levels of chlorine or other chemicals can be detrimental to its health. If possible, it is recommended to use filtered or distilled water to avoid any potential issues.
By providing the ideal conditions of bright indirect light, appropriate temperature and humidity levels, well-draining soil, and proper watering techniques, you can create an environment that promotes the healthy growth and well-being of your Fishbone Cactus. With its unique and fascinating appearance, this cactus will surely be a standout addition to your indoor plant collection.
Steps to Planting Your Fishbone Cactus
If you're ready to add a Fishbone Cactus to your collection or propagate a new plant, following these steps will help ensure success:
Choosing the Right Pot
When selecting a pot for your Fishbone Cactus, opt for one that has drainage holes to prevent water from pooling at the bottom. A shallow pot will accommodate the sprawling growth habit of the cactus. Consider using a terracotta pot, as it provides good airflow and allows excess moisture to evaporate.
Planting Process and Care
Start by filling the pot with well-draining soil. Carefully remove the cactus from its nursery pot, being mindful of its delicate stems. Gently loosen the roots, if necessary, and place the cactus in the new pot, making sure it sits at the same depth as it did in its previous container. Avoid burying the stems too deeply, as this can lead to rot. Give the cactus a gentle watering and allow it to settle into its new home.
Troubleshooting Fishbone Cactus Growth Issues
While the Fishbone Cactus is generally a resilient plant, it can face some common issues that can hinder its growth. Here are a couple of problems you may encounter and how to address them:
Common Pests and Diseases
Inspect your Fishbone Cactus regularly for signs of pests such as mealybugs, scale, or spider mites. If you spot any pests, you can gently wipe them off with a cotton swab dipped in rubbing alcohol. It's also essential to avoid overwatering, as this can lead to root rot and fungal diseases. To prevent these issues, ensure proper drainage and avoid letting water sit in the saucer beneath the pot.
Overwatering and Underwatering Symptoms
Overwatering or underwatering your Fishbone Cactus can lead to visible symptoms. If you notice the stems becoming soft and mushy, it's a sign of overwatering, and you should adjust your watering routine. On the other hand, if the stems appear shriveled and dry, it indicates underwatering, and you should increase the frequency of watering. Remember to always check the moisture level of the soil before watering to avoid these issues.
Propagating Your Fishbone Cactus
Propagating your Fishbone Cactus allows you to expand your collection or share this unique plant with friends and family. Follow these steps to propagate your cactus:
When and How to Propagate
Spring and early summer are the best times to propagate the Fishbone Cactus. Look for healthy stems that are at least 6 inches in length. Using a clean, sharp knife or scissors, cut the stem just below a joint or segment. Allow the cutting to callous over for a couple of days before planting it in well-draining soil. Keep the soil slightly moist and provide bright, indirect light. New roots should form within a few weeks.
Caring for New Plants
Once your new Fishbone Cactus plants have established roots, treat them as you would mature plants. Follow the same care instructions, ensuring they have the right light, temperature, and watering conditions. As they grow, you can transition them to larger pots to accommodate their expanding root system. With proper care, your propagated plants will flourish and become beautiful additions to your plant family.
Now that you have a comprehensive guide on Fishbone Cactus growth and care, you can confidently welcome this remarkable plant into your space. From understanding its unique characteristics to creating the ideal growing conditions and even propagating new plants, you are well-equipped to nurture this captivating cactus. Enjoy the beauty and charm that the Fishbone Cactus brings into your home or garden!