Pruning Tomato Plants for Maximum Yield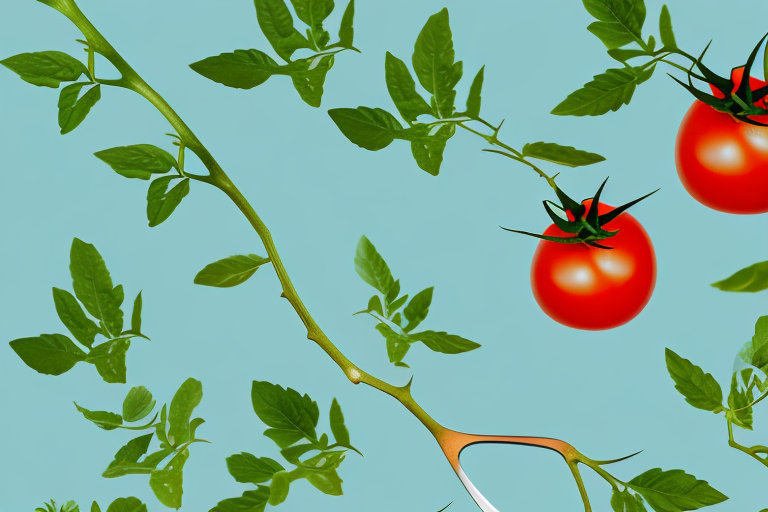 Growing tomatoes in your backyard garden can be a rewarding experience. There's something special about watching those vibrant red fruits ripen on the vine, knowing they will soon make their way into your meals. If you want to take your tomato-growing game to the next level, consider pruning your tomato plants. Pruning may seem intimidating at first, but with the right knowledge and techniques, it can greatly enhance your plant's yield and overall health.
Understanding the Importance of Pruning Tomato Plants
Pruning, simply put, is the act of selectively trimming certain parts of the plant. By removing specific branches, stems, and leaves, you can shape your plant, promote better airflow, and redirect energy towards fruit production. Pruning is not only about aesthetics, but it also helps your tomato plants reach their full potential.
When it comes to tomato plants, pruning is a practice that can significantly impact their growth and productivity. By understanding the importance of pruning and implementing it correctly, you can enhance the health, yield, and overall success of your tomato plants.
Boosting Yield Through Pruning
One of the main advantages of pruning tomato plants is the increased yield it can provide. By removing the suckers – the small shoots that grow in the leaf axils – you allow the plant to focus its energy on fewer, but larger, fruits. This results in larger, juicier tomatoes that are bursting with flavor.
When you remove the suckers, you create a more balanced distribution of resources within the plant. Instead of wasting energy on unnecessary growth, the plant can channel its resources towards developing robust fruit clusters. This targeted approach to growth ensures that each tomato receives an adequate supply of nutrients, resulting in a more bountiful harvest.
Furthermore, pruning helps control the plant's growth by creating a more manageable structure. It prevents sprawling and encourages vertical growth, maximizing the use of space in your garden. The more efficiently your plants grow, the more likely they are to produce an abundant harvest.
Another advantage of pruning for yield is the prevention of overcrowding. When tomato plants become overcrowded with foliage, the lack of airflow can lead to increased humidity, which creates a favorable environment for diseases to thrive. By pruning and thinning out excess foliage, you create better air circulation, reducing the risk of common tomato diseases.
Health Benefits for Your Tomato Plants
Pruning also plays a crucial role in maintaining the overall health of your tomato plants. By removing excess foliage, you increase airflow around the plant, reducing the risk of diseases such as powdery mildew or blight. Adequate airflow helps to keep the leaves dry, preventing the growth and spread of fungal spores that cause these diseases.
Additionally, pruning helps manage pests by making it easier to spot and treat any issues promptly. When your tomato plants are densely covered with foliage, pests like aphids, caterpillars, and mites can easily hide and go unnoticed. By pruning and maintaining a well-ventilated plant structure, you have a better chance of detecting and addressing pest infestations before they cause significant damage.
Furthermore, pruning can also help prevent the occurrence and spread of viral diseases. Many viral diseases affecting tomatoes are transmitted by insects, such as whiteflies or thrips. By pruning and removing infected leaves or stems, you can minimize the chances of these diseases taking hold in your tomato plants.
Overall, pruning is a proactive measure that promotes the overall health and vigor of your tomato plants. By implementing proper pruning techniques, you create an environment that encourages optimal growth, minimizes the risk of diseases, and maximizes the yield of delicious, homegrown tomatoes.
The Science Behind Tomato Plant Pruning
Now that you understand the importance of pruning, let's delve into the science behind it. Pruning tomatoes involves manipulating the distribution of energy and resources within the plant to optimize fruit production.
The Role of Photosynthesis in Tomato Growth
Photosynthesis is the process by which plants convert sunlight into energy. It is a fascinating biochemical process that occurs in the chloroplasts of plant cells. Within the chloroplasts, there is a green pigment called chlorophyll, which is responsible for capturing light energy from the sun. This energy is then used to convert carbon dioxide and water into glucose and oxygen. Glucose is a vital molecule that serves as a building block for the plant's growth and development.
In the case of tomato plants, leaves play a crucial role in the process of photosynthesis. They are the primary sites where chlorophyll is found, making them the main energy factories of the plant. The more leaves a tomato plant has, the more surface area it has available for capturing sunlight and carrying out photosynthesis.
By pruning excessive foliage, you allow the remaining leaves to receive more sunlight. This increased exposure to light promotes photosynthesis, leading to higher glucose production. With more glucose available, the plant has a greater energy reserve to allocate towards fruit production.
How Pruning Affects Plant Energy Distribution
When you remove unnecessary branches or suckers from a tomato plant, you redirect the plant's energy towards vital functions like fruit development. It's important to understand that a tomato plant has limited resources, including water, nutrients, and energy. By pruning, you help balance the distribution of these resources, preventing the plant from wasting energy on non-productive growth.
Unpruned tomato plants may have an abundance of branches and suckers that compete for resources. This competition can result in a dilution of energy, where each branch receives a smaller share of available resources. As a consequence, the plant may produce numerous small fruits that fail to reach their full potential.
However, by selectively pruning branches and suckers, you reduce the number of fruit-bearing sites on the plant. This allows the remaining fruits to receive a larger share of resources, resulting in larger and more flavorful tomatoes. Additionally, pruning helps improve air circulation around the plant, reducing the risk of diseases and pests.
Furthermore, pruning stimulates the plant to focus its energy on developing strong and healthy root systems. A robust root system is essential for nutrient uptake and water absorption, which are critical factors for overall plant health and fruit production.
In conclusion, the science behind tomato plant pruning is a fascinating study of energy distribution and resource allocation. By understanding the role of photosynthesis and the impact of pruning on plant energy, you can optimize the growth and fruit production of your tomato plants. So grab your pruners and get ready to unlock the full potential of your tomato garden!
When to Prune Your Tomato Plants
Timing is essential when it comes to pruning your tomato plants. Here, we'll explore how to identify the right time in the growth cycle and consider seasonal factors.
Identifying the Right Time in the Growth Cycle
It's best to start pruning your tomato plants when they are young, typically after the first 4-6 weeks from transplantation. At this stage, the plant has developed enough to sustain pruning without hindering its growth.
However, avoid pruning during extreme weather conditions or when the plant is experiencing stress, such as in the middle of a heatwave. Pruning during these times can place additional strain on the plant, potentially impeding its ability to recover.
Seasonal Considerations for Pruning
Throughout the growing season, your tomato plants will go through different developmental stages. Adjusting your pruning techniques accordingly can help optimize the plant's performance.
During the early stages, focus on removing the bottom leaves to prevent them from touching the soil and becoming susceptible to pests and diseases.
As the plant grows taller, continue removing suckers and any unnecessary foliage. Be mindful to strike the right balance – too much pruning can hinder growth, while too little can lead to overcrowding and poor airflow.
Step-by-Step Guide to Pruning Tomato Plants
Now that you know when to prune your tomatoes, let's walk through a step-by-step guide to ensure you get the technique right.
Tools Needed for Pruning
Before you start, gather a few essential tools: a pair of clean, sharp pruning shears or scissors and a clean cloth or disinfectant to prevent the spread of diseases.
Identifying Which Parts to Prune
First, focus on removing the suckers that form at the leaf axils, especially those that emerge from the main stem. These suckers divert energy away from fruit production and can weaken the plant.
Next, assess the overall plant structure and remove any branches or leaves that are damaged, diseased, or blocking airflow. Remember to keep the top few branches intact to ensure photosynthesis can still occur effectively.
Proper Pruning Techniques
When pruning tomato plants, make clean cuts just above the growth node using your sharp shears or scissors. This technique allows the plant to heal properly and reduces the risk of infection.
Remember to prune with purpose, having a clear goal in mind. Regularly step back and assess the plant's overall structure as you prune to ensure you're achieving the desired results.
Common Mistakes in Tomato Plant Pruning
Although pruning can be highly beneficial, there are a few common mistakes to avoid to ensure the success of your tomato plants.
Over-pruning and Its Consequences
Pruning too much, especially during the early stages of growth, can stunt the plant's development and reduce its overall productivity. Remember, a healthy balance is key.
Frequent, excessive pruning can result in plants with less foliage, exposing the fruits to direct sunlight. This can lead to sunscald, a condition where the fruits become discolored and develop sunburn-like patches.
Neglecting to Prune at the Right Time
Timing is crucial in pruning tomato plants. Neglecting to prune at the appropriate intervals can result in a messy, overcrowded plant that is more susceptible to diseases and pests.
Additionally, failing to prune suckers and damaged foliage promptly can hinder the plant's overall growth and fruit production. Stay attentive and prune diligently to ensure your tomato plants thrive.
Pruning your tomato plants may seem like an extra step, but the benefits it brings to both yield and plant health are undeniable. With a little patience and practice, you can master the art of pruning and watch as your tomato plants flourish, providing you with a bountiful harvest that will make your garden the envy of your neighbors. Happy pruning!