Celosia Plant Care Outdoors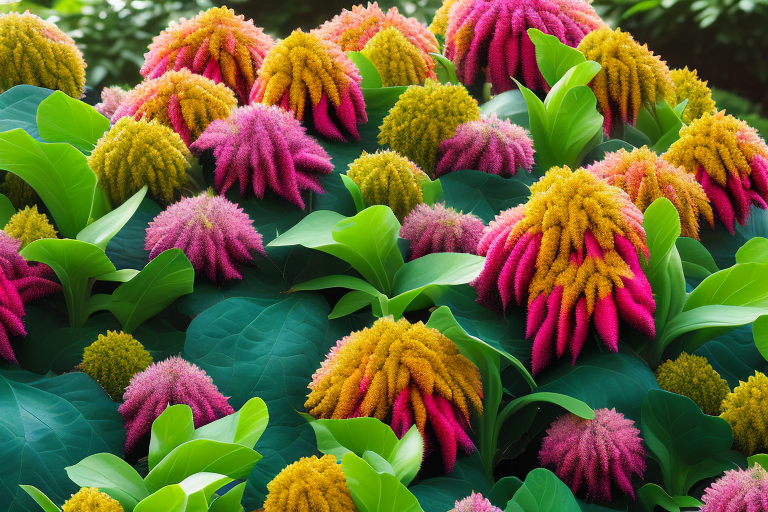 If you're looking to add a touch of vibrant color and unique texture to your outdoor garden, then the celosia plant is a great choice. These extraordinary plants are known for their striking flowers and feathery plumes that come in a variety of vibrant colors. In this article, we will delve into everything you need to know about caring for celosia plants in the great outdoors.
Understanding the Celosia Plant
The celosia plant is a fascinating and beautiful addition to any garden. Originating from tropical regions, this plant belongs to the amaranth family, which is known for its vibrant and diverse species. There are three main types of celosia—spicata, argentea, and cristata—each with its own distinct characteristics.
Origin and Varieties of Celosia
Let's delve into the origins and varieties of the celosia plant. Spicata celosia is known for its vibrant plumes that resemble flames. These stunning flowers come in various colors, including shades of red, orange, and yellow. Argentea celosia, on the other hand, has cone-shaped flower heads that give it a unique and eye-catching appearance. The flowers can be found in shades of silver, pink, and purple, adding a touch of elegance to any garden. Lastly, cristata celosia, commonly known as cockscomb, showcases crested blooms that resemble rooster combs. These fascinating flowers come in a wide range of colors, from deep reds to bright pinks.
Characteristics of the Celosia Plant
When grown outdoors, celosia plants can reach impressive heights of up to three feet. Their slender stems support the vibrant and unique flame-shaped flowers, giving the plant an exotic appearance. The vivid colors and intricate shapes of the celosia flowers make them a standout feature in any garden.
Aside from their visual appeal, celosia plants are also known for their ability to attract butterflies and hummingbirds. These delightful creatures are drawn to the bright colors and nectar-rich flowers, making celosia a great choice for those who enjoy observing wildlife in their outdoor space. The presence of these pollinators adds an extra level of beauty and liveliness to the garden.
In conclusion, the celosia plant is a remarkable addition to any garden. Its origins from tropical regions, along with its distinct varieties, contribute to its unique and captivating appearance. The height and vibrant colors of the celosia flowers make them a standout feature, while their ability to attract butterflies and hummingbirds adds an element of enchantment. Whether you are a seasoned gardener or just starting out, consider adding celosia to your outdoor space for a touch of elegance and natural beauty.
Ideal Outdoor Conditions for Celosia
Climate Requirements
Celosia plants thrive in warm weather conditions, making them an ideal choice for summer gardens. These plants prefer temperatures between 70 and 85 degrees Fahrenheit. The warm and sunny climate allows celosia to grow vigorously and produce vibrant blooms that add a splash of color to any garden.
If you live in a region with colder climates, you can still enjoy celosia by starting seedlings indoors and transplanting them outdoors once the weather warms up. This way, you can extend the growing season and ensure that your celosia plants have enough time to reach their full potential.
Sunlight and Shade Preferences
When it comes to sunlight, celosia plants are sun worshipers. They require at least six hours of direct sunlight daily to grow and produce their stunning blooms. The sunlight provides the energy needed for photosynthesis, allowing the plants to convert sunlight into food and fuel their growth.
Ensure that you select a spot in your garden that receives ample sunlight to keep your celosia plants happy and healthy. Avoid planting them in areas shaded by tall trees or buildings, as they may not receive enough sunlight to thrive. By providing them with the right amount of sunlight, you can enjoy a bountiful display of celosia flowers throughout the summer.
Soil Conditions and Drainage
Celosia plants prefer well-draining soil that offers sufficient moisture retention without becoming waterlogged. Sandy loam soil with a slightly acidic pH level of 5.5 to 6.5 is the perfect choice. This type of soil provides a balance between moisture retention and drainage, allowing the plant's roots to access water while preventing them from sitting in waterlogged conditions.
Before planting, amend your soil with organic matter, such as compost, to improve its overall quality and drainage. Organic matter helps to loosen compacted soil, allowing water to penetrate and roots to grow freely. It also adds essential nutrients to the soil, promoting healthy growth and vibrant blooms.
Proper soil preparation is crucial for celosia plants as it sets the foundation for their growth and development. By creating the ideal soil conditions, you can ensure that your celosia plants have a strong start and continue to flourish throughout the growing season.
Planting Celosia Outdoors
Celosia, also known as cockscomb, is a vibrant and eye-catching flowering plant that adds a splash of color to any garden. While it can be grown from seeds indoors, planting celosia outdoors allows it to thrive and reach its full potential. In this guide, we will explore the optimal time to plant celosia and the proper techniques for planting it in your garden.
When to Plant Celosia
Timing is crucial when it comes to planting celosia outdoors. The last frost date in your area serves as a reliable indicator for when it is safe to transplant your celosia seedlings into the garden. Planting too early can expose the young plants to cold temperatures, which can stunt their growth and damage their delicate foliage.
As a general rule of thumb, wait until the soil has warmed up and the threat of frost has passed before planting your celosia. This will give your plants the best chance of thriving and producing an abundance of stunning blooms.
How to Plant Celosia
Proper planting techniques are essential for ensuring the success of your celosia plants. Follow these steps to give your celosia a healthy start:
Prepare the planting area: Before planting, take the time to prepare the soil. Remove any weeds or debris from the planting area and loosen the soil with a garden fork or tiller. This will create a loose and fertile environment for your celosia plants to establish their roots.
Dig the planting hole: Dig a hole that is slightly larger than the root ball of your celosia seedling. This will give the roots ample space to spread out and grow. Additionally, ensure that the hole is deep enough so that the crown of the plant sits just at the soil level.
Plant the celosia: Gently place the celosia seedling into the hole, making sure that the roots are spread out and not cramped. Backfill the hole with soil, gently firming it around the base of the plant. Avoid packing the soil too tightly, as this can hinder root growth.
Water thoroughly: After planting, give your celosia a thorough watering. This will help settle the soil around the roots and provide the plant with the necessary moisture to establish itself. Keep in mind that celosia prefers well-draining soil, so avoid overwatering, as it can lead to root rot.
By following these planting guidelines, you can ensure that your celosia plants have the best chance of thriving and producing an abundance of stunning blooms. Remember to provide them with adequate sunlight, water, and regular fertilization to keep them healthy and vibrant throughout the growing season.
Ongoing Care for Outdoor Celosia
Watering Your Celosia Plant
Proper watering is crucial for the health and success of your celosia plants. They require regular watering, especially during dry spells. However, be careful not to overwater the plants, as excessive moisture can lead to root rot. Aim to keep the soil consistently moist but not waterlogged.
Fertilizing and Pruning Celosia
To encourage healthy growth and abundant blooms, fertilize your celosia plants every four to six weeks during the growing season. Use a balanced, water-soluble fertilizer and follow the package instructions for optimal results. Additionally, deadheading spent flowers and removing any yellowing or damaged leaves will promote continuous blooms and a tidy appearance.
Dealing with Pests and Diseases
Celosia plants are relatively resistant to most pests and diseases. However, they can occasionally attract aphids, spider mites, and snails. Regularly inspect your plants for signs of infestation, and if detected, treat them promptly using organic methods or insecticidal soap. Proper air circulation and watering at the base of the plant will also help prevent fungal diseases.
Winter Care for Celosia
Preparing Celosia for Winter
As the colder months approach, it's essential to prepare your celosia plants for winter. If you live in an area with freezing temperatures, celosia is typically grown as an annual plant. Before the first frost, carefully dig up your celosia plants, preserving as much of the root system as possible. Pot them in containers and bring them indoors to enjoy as houseplants until the following growing season.
Winter Maintenance and Care
During the winter months, provide your indoor celosia plants with bright, indirect sunlight and maintain a temperature range between 60 and 70 degrees Fahrenheit. Water them sparingly, allowing the soil to dry slightly between waterings. If desired, you can trim back any leggy growth and remove any dead or yellowing leaves to maintain their aesthetic appeal.
Now that you have a comprehensive understanding of celosia plant care outdoors, it's time to bring these captivating plants into your garden. With proper attention and care, you'll be rewarded with stunning blooms and a touch of tropical paradise right in your own backyard.