Hibiscus Tree Leaves Turning Yellow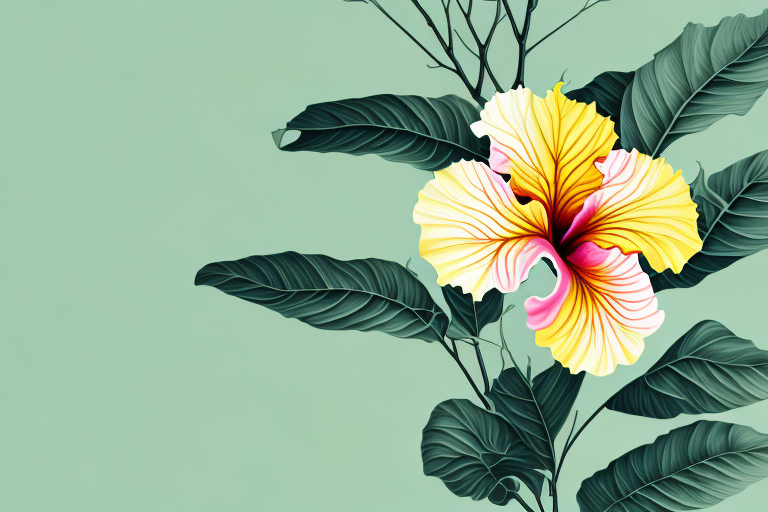 If you're a proud owner of a hibiscus tree, you may be dismayed to find that the leaves are turning yellow. Yellowing leaves can be a sign that something is amiss with your cherished plant. In this article, we'll explore the causes of yellowing hibiscus tree leaves in great detail, covering everything from common pests and diseases to environmental factors and nutrient deficiencies. By the end of this comprehensive guide, you'll have all the knowledge you need to diagnose and address the issue, ensuring your hibiscus tree remains vibrant and healthy.
Understanding the Causes of Yellowing Hibiscus Tree Leaves
Yellow leaves on hibiscus trees can stem from a variety of factors. By understanding these causes, you'll be better equipped to address the underlying issue. One common reason for yellowing leaves is improper care, including overwatering or underwatering. These practices can disrupt the balance of nutrients in the soil, leading to leaf discoloration. Similarly, nutrient deficiencies and imbalances can result in yellowing leaves. We'll delve deeper into these causes next, so you can pinpoint the exact problem and take appropriate action.
Another possible cause of yellowing hibiscus tree leaves is pest infestation. Insects such as aphids, whiteflies, and spider mites can feed on the leaves, causing them to turn yellow and eventually die. It is important to regularly inspect your hibiscus tree for any signs of pest activity and take appropriate measures to control the infestation.
Common Pests and Diseases that Cause Yellow Leaves on Hibiscus Trees
Pests and diseases are pesky culprits when it comes to yellowing hibiscus leaves. Common pests such as aphids, mealybugs, and whiteflies can infest your tree, causing damage and discoloration. Additionally, fungal infections like powdery mildew and leaf spot diseases can take hold, resulting in yellow patches on the leaves. It's crucial to identify and treat these issues promptly to prevent further damage. We'll explore identification and treatment methods for these specific ailments to help you rescue your hibiscus tree before it's too late.
One common pest that can cause yellow leaves on hibiscus trees is the spider mite. These tiny arachnids feed on the sap of the leaves, causing them to turn yellow and eventually fall off. Spider mites are often difficult to spot with the naked eye, but you may notice fine webbing on the affected leaves. To control spider mites, you can try spraying the leaves with a mixture of water and insecticidal soap or using a miticide specifically designed for spider mites.
Nutrient Deficiencies: A Leading Cause of Yellow Hibiscus Leaves
When it comes to maintaining healthy green leaves, proper nutrition is paramount. Nutrient deficiencies can manifest as yellowing leaves in hibiscus trees, signaling a need for intervention. Common nutrient deficiencies include nitrogen, phosphorus, potassium, iron, and magnesium. We'll discuss the symptoms of these deficiencies and offer guidance on how to address them effectively. By ensuring your hibiscus tree receives the proper nutrients, you'll be on your way to restoring its leaf color and overall vitality.
Nitrogen deficiency is one of the most common nutrient deficiencies in hibiscus trees. This essential nutrient is responsible for promoting leaf growth and overall plant vigor. When a hibiscus tree lacks nitrogen, its leaves may turn pale yellow and exhibit stunted growth. To address this deficiency, you can apply a nitrogen-rich fertilizer or incorporate organic matter, such as compost, into the soil.
Another nutrient deficiency that can cause yellowing leaves in hibiscus trees is iron deficiency. Iron is crucial for chlorophyll production, which gives leaves their green color. When a hibiscus tree lacks iron, its leaves may develop yellow or white veins, while the rest of the leaf remains green. To remedy this deficiency, you can apply iron chelate or iron sulfate to the soil, ensuring that the tree's roots can absorb the necessary iron.
Overwatering or Underwatering: How it Affects Hibiscus Leaf Color
Overwatering or underwatering can have drastic effects on the health of your hibiscus tree, including yellowing leaves. Both practices can disrupt the delicate balance of moisture and nutrients in the soil, leading to leaf discoloration. We'll explain how to strike the right watering balance and provide tips on proper drainage to prevent water-related issues. Armed with this knowledge, you'll be equipped to give your hibiscus tree the hydration it needs without drowning it or causing drought stress.
One common sign of overwatering is wilting leaves, which may seem counterintuitive. However, when a hibiscus plant is overwatered, the roots become waterlogged and are unable to absorb oxygen properly. This lack of oxygen can cause the leaves to wilt and turn yellow. On the other hand, underwatering can lead to dry, brown, and crispy leaves. When a hibiscus plant doesn't receive enough water, it struggles to perform essential functions like photosynthesis, resulting in leaf discoloration.
Environmental Factors that Contribute to Yellow Hibiscus Leaves
In addition to care practices, several environmental factors can contribute to yellow leaves on hibiscus trees. Extreme temperatures, be it scorching heat or frosty cold, can adversely affect leaf coloration. Sunlight exposure, particularly in the case of insufficient or excessive light, may also play a role. We'll delve into these factors in detail, helping you understand how to protect your hibiscus tree from environmental stressors and keep its leaves a lush, healthy green.
Identifying and Treating Fungal Infections in Hibiscus Trees
Fungal infections can wreak havoc on hibiscus trees, causing leaves to yellow and even drop prematurely. It's crucial to be able to identify common fungal infections such as powdery mildew and leaf spot diseases. Armed with this knowledge, you can take swift action to treat and manage these infections effectively. We'll discuss both natural and chemical treatment options, empowering you to combat fungal infections and restore your hibiscus tree's stunning foliage.
Pruning and Maintenance Tips to Prevent Yellowing Leaves on Hibiscus Trees
Proper pruning and maintenance are key to preventing yellow leaves on hibiscus trees. Regular pruning promotes air circulation and reduces the risk of diseases. We'll guide you through the process of pruning hibiscus trees, offering tips and techniques to ensure optimal results. Additionally, we'll provide key maintenance tips such as proper fertilization, watering, and pest control. By implementing these practices, you'll be well on your way to a lush and vibrant hibiscus tree without any unsightly yellowing leaves.
The Role of Soil pH in Maintaining Healthy Green Leaves on Hibiscus Trees
The pH of the soil plays a crucial role in the overall health and color of your hibiscus tree's leaves. An imbalanced pH can lead to nutrient deficiencies, which often result in yellowing leaves. We'll explain the ideal pH range for hibiscus trees and offer guidance on how to adjust soil pH if necessary. Armed with this knowledge, you can ensure your hibiscus tree has the optimal growing conditions to flourish and showcase its vibrant green foliage.
Improving Drainage: Key to Preventing Yellow Leaves on Hibiscus Trees
Proper drainage is another essential factor in maintaining healthy hibiscus tree leaves. Soil that retains too much water can lead to root rot and subsequent yellowing of leaves. We'll discuss practical methods to improve drainage, ensuring excess water can escape and prevent issues that may compromise the health of your hibiscus tree. By optimizing drainage, you'll significantly reduce the risk of yellowing leaves and create a favorable environment for your beloved plant.
Proper Fertilization Techniques for Vibrant, Green Hibiscus Tree Leaves
Fertilization is vital for supplying hibiscus trees with the essential nutrients they need for optimal leaf color and growth. We'll break down the different types of fertilizers and recommend specific formulations for hibiscus trees. Additionally, we'll provide guidance on when and how to fertilize, ensuring your tree receives the necessary nourishment without causing harm. Armed with this knowledge, you can nourish your hibiscus tree to showcase stunning green leaves that will be the envy of your neighborhood.
The Impact of Temperature Extremes on Leaf Coloration in Hibiscus Trees
The temperature extremes, be it hot or cold, can have a drastic impact on the coloration of hibiscus tree leaves. We'll explore the specific effects of temperature on leaf color and offer tips on how to protect your tree from extreme weather conditions. By mitigating the stress caused by temperature extremes, you'll ensure that your hibiscus tree remains a striking focal point in your garden, with leaves that flaunt a vibrant green hue.
Recognizing the Signs of Root Rot: A Common Culprit Behind Yellowing Leaves
Root rot is a common problem for hibiscus trees that can lead to yellowing leaves and, if left untreated, even death of the plant. Understanding the symptoms of root rot is crucial for early diagnosis. We'll discuss the signs to look out for and provide step-by-step instructions on how to manage and prevent root rot. By taking swift action, you can save your hibiscus tree from further damage and ensure its lush foliage remains a stunning sight to behold.
In conclusion, yellowing leaves on hibiscus trees can be indicative of various issues, ranging from improper care to pests, diseases, nutrient deficiencies, and environmental factors. By understanding the causes and implementing the appropriate remedies, you can restore the vibrant green color of your hibiscus tree's leaves and ensure its continued health and beauty. Use this comprehensive guide as your go-to resource, and let your hibiscus tree flourish, showcasing its stunning greenery and captivating blooms.