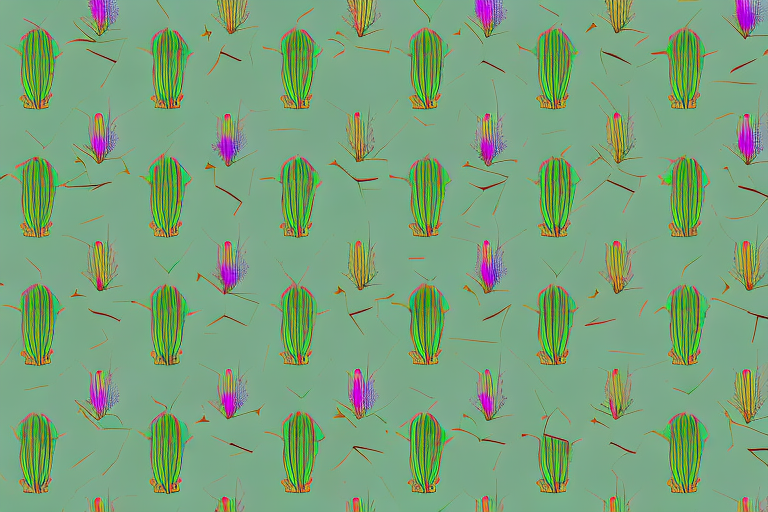 If you're looking for a unique and fascinating plant to add to your collection, the Euphorbia Trigona is a perfect choice. Commonly known as the African Milk Tree, this cactus species is native to the dry regions of South Africa. Its striking appearance and low maintenance needs make it a popular choice among both seasoned plant enthusiasts and beginners.
Understanding the Euphorbia Trigona
Before diving into the care and propagation of the Euphorbia Trigona, it's important to understand its origin and natural habitat. This cactus species is native to the northern regions of South Africa, where it thrives in the arid and rocky landscapes. It has also found its way into other parts of the world, including North America and Europe, where it has become a beloved addition to many households.
Origin and Natural Habitat
As mentioned, the Euphorbia Trigona is native to the dry regions of South Africa. It grows in rocky areas, making it well-adapted to poor and well-draining soil conditions. In its natural habitat, it can reach heights of up to six feet, with multiple branches spreading outwards.
The Euphorbia Trigona's ability to thrive in such harsh environments is a testament to its remarkable adaptations. Its deep roots allow it to access water sources deep within the ground, while its thick waxy skin helps to prevent water loss through evaporation. Additionally, its compact and columnar growth pattern helps it to maximize sun exposure, ensuring efficient photosynthesis even in the scorching heat.
Being a desert plant, the Euphorbia Trigona is well-suited to arid conditions and can tolerate high temperatures. It has also developed adaptations to withstand extended periods of drought, storing water in its stem. This water reservoir allows the plant to survive during times of water scarcity, making it a resilient and hardy species.
Unique Characteristics of Euphorbia Trigona
What sets the Euphorbia Trigona apart from other cacti is its unique appearance. Its stem features three distinct sides, each adorned with rows of sharp spines. These spines not only serve as a defense mechanism against potential threats but also help the plant absorb moisture from the atmosphere. By capturing dew and condensation, the spines channel precious water droplets down to the base of the plant, where they are absorbed by the roots.
Another interesting feature of the Euphorbia Trigona is its ability to produce a milky sap when injured. This sap contains toxic compounds that act as a defense mechanism against herbivores. The milky sap, also known as latex, serves as a deterrent, making the plant unpalatable and potentially harmful to animals. It's crucial to handle this plant with care and keep it away from children and pets to avoid any accidental exposure to the toxic sap.
Aside from its intriguing physical characteristics, the Euphorbia Trigona also plays an important ecological role in its native habitat. As a flowering plant, it attracts pollinators such as bees and butterflies, contributing to the overall biodiversity and health of its ecosystem. Its bright red flowers, which bloom at the tips of the branches, serve as beacons for these pollinators, ensuring the plant's successful reproduction.
In conclusion, the Euphorbia Trigona is a fascinating cactus species with unique adaptations and characteristics. Its ability to thrive in arid conditions, coupled with its striking appearance, has made it a popular choice for plant enthusiasts around the world. However, it's important to remember that this plant requires specific care and handling due to its toxic sap. With proper knowledge and precautions, the Euphorbia Trigona can be a rewarding addition to any plant collection.
Caring for Your Euphorbia Trigona
Now that you have a better understanding of this fascinating cactus, let's dive into its care requirements. By providing the right conditions, you can ensure your Euphorbia Trigona grows into a healthy and thriving plant.
Ideal Lighting and Temperature
The Euphorbia Trigona thrives in bright, indirect sunlight, mimicking the conditions it experiences in its natural habitat. Place it near a sunny window, but make sure to protect it from intense, direct sunlight, which can lead to sunburn. If you notice the stems turning yellow or brown, it may be a sign of too much sun exposure.
Temperature-wise, this cactus species prefers warm conditions. It can tolerate temperatures as low as 50 degrees Fahrenheit, but it thrives best in the range of 70-85 degrees Fahrenheit. Protect it from drafty areas and sudden temperature fluctuations, as these can stress the plant.
Watering and Feeding Requirements
When it comes to watering the Euphorbia Trigona, less is more. This plant is adapted to arid conditions, so it's best to underwater rather than overwater. Allow the soil to dry out completely between watering sessions and then thoroughly soak the soil, ensuring water reaches the roots. Avoid leaving the plant sitting in water, as it can lead to root rot.
As for feeding, the Euphorbia Trigona doesn't require excessive nutrients. Use a balanced cactus fertilizer during the growing season (spring and summer) and reduce or eliminate feeding during the dormant period (fall and winter).
Repotting Your Euphorbia Trigona
When it comes to repotting, do so sparingly. The Euphorbia Trigona prefers to be slightly root-bound. Repotting too frequently can lead to stress and may disrupt its growth. Aim to repot every 2-3 years or when the plant has outgrown its container.
When repotting, make sure to use well-draining soil specifically formulated for cacti and succulents. Protect yourself by wearing gloves, as contact with the milky sap can cause skin irritation.
Common Problems and Solutions
Even with proper care, the Euphorbia Trigona may encounter a few common problems. Here are some potential issues and how to address them:
Overwatering and Root Rot
Overwatering is the most common issue faced by Euphorbia Trigona owners. Remember, this cactus prefers to stay on the dry side. If you notice the stems becoming soft or mushy, it's a sign of overwatering. Allow the soil to dry out completely before watering again. If root rot has already set in, it may be necessary to repot the plant in fresh, well-draining soil.
Pest Infestations
Euphorbia Trigona can attract common houseplant pests such as mealybugs and spider mites. Regularly inspect your plant for signs of infestation, such as white cotton-like substances or tiny webbing. To combat these pests, wipe down the stems and leaves with a mild soapy water solution or use a natural insecticide specifically formulated for succulents.
Disease Prevention and Treatment
While the Euphorbia Trigona is generally disease-resistant, it can be susceptible to fungal or bacterial infections, especially if exposed to excessive moisture. To prevent diseases, ensure proper watering practices and avoid overhead watering. If you notice any signs of disease, such as black spots or lesions, remove the affected parts and treat with a fungicide if necessary.
Propagating Euphorbia Trigona
One of the joys of owning a Euphorbia Trigona is the ability to propagate it and share it with others. Here's a step-by-step guide to successfully propagate your cactus:
Step-by-Step Propagation Guide
Begin by selecting a healthy, mature stem for propagation.
Using a clean and sharp knife, make a clean cut below a cluster of spines, ensuring you have a significant portion of the stem.
Let the cutting dry and callus for a few days to prevent rotting. Place it in a warm and dry location away from direct sunlight.
Prepare a well-draining potting mix tailored for succulents and cacti.
Once the cutting has calloused, plant it in the potting mix, burying the base of the stem about an inch below the surface.
Water sparingly, keeping the soil lightly moist until you notice signs of new growth, indicating successful propagation.
Tips for Successful Propagation
Propagation can be a rewarding experience, but it requires some patience. Here are a few tips to increase your chances of successful propagation:
Ensure the cutting has fully calloused before planting it in the potting mix.
Provide warm and bright conditions, but protect the cutting from direct sunlight, as it can cause sunburn.
Be patient and avoid overwatering, as the cutting can be more susceptible to rot during the rooting process.
The Euphorbia Trigona in Home Decor
The Euphorbia Trigona not only adds a touch of natural beauty to any space but also offers some additional benefits that make it a favorite among interior decorators and plant enthusiasts alike.
Styling Tips for Indoor Spaces
With its unique structure and striking appearance, the Euphorbia Trigona can serve as a focal point in any room. Display it as a standalone plant on a side table or use it as part of a larger arrangement to create visual interest.
Consider pairing your Euphorbia Trigona with other succulents or cacti of varying shapes and sizes to create a mini desert garden in your home. The contrasting textures and colors will add depth to your indoor space.
Benefits of Having a Euphorbia Trigona at Home
In addition to its aesthetic appeal, the Euphorbia Trigona offers several benefits. Like many other plants, it helps purify the air by removing harmful pollutants and releasing oxygen. Having indoor plants, including the Euphorbia Trigona, can also improve mood, reduce stress, and promote a sense of well-being.
However, it's important to remember that this cactus species is toxic if ingested, so it's crucial to keep it out of the reach of children and pets.
In conclusion, the Euphorbia Trigona, with its unique structure, low maintenance needs, and striking appearance, is a fantastic addition to any plant collection. By providing it with the ideal lighting and temperature, watering and feeding it correctly, and addressing any common problems it may face, you can enjoy a thriving and healthy Euphorbia Trigona in your home.
Whether you're a seasoned plant enthusiast or a beginner, propagating this cactus can be a rewarding experience. Follow the step-by-step guide provided, and with a little patience, you'll have new Euphorbia Trigona plants to share.
Finally, remember to consider the Euphorbia Trigona's unique aesthetic appeal when incorporating it into your home decor. Whether used as a standalone statement piece or as part of a larger arrangement, it's sure to catch the eye and bring the natural beauty of the desert into your indoor space.
So go ahead, welcome a Euphorbia Trigona into your home, and enjoy the benefits of its presence for years to come!