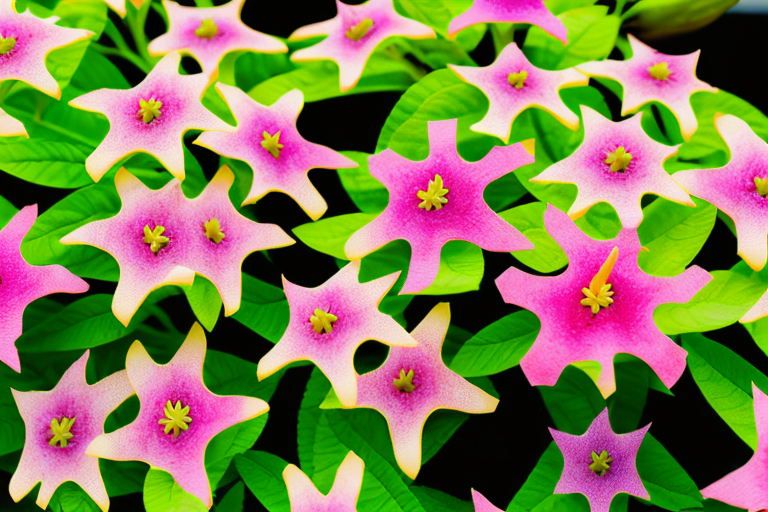 If you're a gardening enthusiast with limited space or simply want to add some beauty to your patio or balcony, growing pentas in pots is a fantastic option. These lovely and vibrant flowers are not only easy to grow, but they also attract butterflies, making your outdoor space a butterfly haven. In this article, we will dive into the world of pentas, discussing everything from understanding pentas to caring for them in pots. So let's get started!
Understanding Pentas: An Overview
Pentas, scientifically known as Pentas lanceolata, are gorgeous flowering shrubs that are native to Africa. They are commonly referred to as Egyptian Star Cluster or Star Flower due to their star-shaped blooms. These plants are available in a variety of colors, including shades of red, pink, white, and lavender, allowing you to create a vibrant container garden.
Pentas are not only visually appealing but also offer numerous benefits for container gardening enthusiasts. Their compact size makes them an excellent choice for small spaces, such as balconies or patios. Whether you have limited gardening space or simply want to add a splash of color to your outdoor area, pentas are a perfect fit.
One of the standout features of pentas is their remarkable heat and drought tolerance. These plants have evolved to thrive in hot and dry climates, making them an excellent choice for gardeners who live in regions with scorching summers. Even during prolonged periods without rainfall, pentas will continue to bloom and add vibrancy to your garden.
Another advantage of choosing pentas for container gardening is their ability to attract pollinators, especially butterflies. The nectar-rich flowers of pentas act as a magnet for these delicate creatures, bringing a touch of nature and beauty to your garden. Imagine sitting on your patio, surrounded by fluttering butterflies, while enjoying the captivating beauty of pentas in full bloom.
When it comes to maintenance, pentas are relatively low-maintenance plants. They require regular watering, especially during dry spells, but are generally not demanding in terms of care. This makes them an ideal choice for busy individuals or those who are new to gardening. With pentas, you can enjoy the beauty of blooming flowers without the stress of high maintenance.
In conclusion, pentas are a fantastic choice for container gardening. Their stunning star-shaped blooms, wide range of colors, compact size, heat and drought tolerance, ability to attract butterflies, and low-maintenance nature make them an ideal addition to any patio or balcony. Whether you're a seasoned gardener or just starting out, pentas will bring beauty and joy to your outdoor space.
Choosing the Right Pot for Pentas
Size Requirements for Pentas Pots
When it comes to selecting a pot for your pentas, size matters. A pot that is too small may restrict the growth of your plants, while a pot that is too large could lead to excessive moisture retention. Aim for a pot that has a diameter of at least 12 inches to provide enough space for the roots to spread. This size will also prevent the plants from becoming root-bound, which can hinder their growth and overall health.
Additionally, consider the depth of the pot. Pentas plants have long taproots that require a deep pot to accommodate their growth. A pot with a depth of at least 10 inches will ensure that the roots have enough room to establish themselves and access water and nutrients from the soil.
Furthermore, it is important to note that pentas plants are known for their bushy growth habit. They have a tendency to spread out and fill the space they are given. If you want to create a fuller and more vibrant display, opt for a larger pot that can accommodate multiple pentas plants. This will allow them to grow and intertwine, creating a beautiful and lush arrangement.
Material Considerations for Pots
When choosing the material for your pentas pot, consider both aesthetics and functionality. Terracotta pots provide a classic and rustic look, but they may dry out quickly due to their porous nature. If you opt for terracotta, make sure to monitor the soil moisture levels more closely. Regular watering may be required to keep the soil adequately moist, especially during hot and dry periods.
Alternatively, plastic pots are lightweight and retain moisture better, making them a practical choice for pentas plants. They are less prone to drying out quickly and can help maintain a more consistent level of soil moisture. This is particularly beneficial in regions with high temperatures or if you tend to forget to water your plants regularly.
Another material option to consider is ceramic. Ceramic pots come in a variety of colors and finishes, allowing you to choose the perfect pot to complement your garden or indoor space. They are generally more durable than terracotta and can retain moisture better than plastic. However, keep in mind that ceramic pots tend to be heavier, so make sure you choose a pot that is suitable for your desired location.
Whichever material you choose, ensure that the pot has drainage holes to prevent waterlogged soil and root rot. Proper drainage is crucial for pentas plants, as they prefer well-draining soil. If the pot you have chosen does not have drainage holes, you can create them yourself using a drill or by placing a layer of gravel at the bottom of the pot before adding the soil.
In conclusion, selecting the right pot for your pentas plants involves considering the size, depth, and material of the pot. By choosing a pot that provides enough space for root growth, proper moisture retention, and adequate drainage, you can ensure the health and vitality of your pentas plants, resulting in a stunning display of colorful blooms.
The Perfect Soil Mix for Pentas
Soil Composition and pH Level
Pentas thrive in well-draining soil that is rich in organic matter. A good soil mix for pentas in pots consists of equal parts of high-quality potting soil, coconut coir, and perlite. This mixture provides excellent drainage while retaining enough moisture for the plants to thrive. Additionally, pH levels play a crucial role in the health of your pentas. Aim for a slightly acidic to neutral pH range of 6.0 to 7.0 for optimal growth.
Enhancing Soil Drainage
To ensure proper drainage, consider adding a layer of small stones or pebbles at the bottom of your pot before filling it with the soil mix. This will prevent the drainage holes from getting blocked and allow excess water to escape. Additionally, regularly checking the moisture level of the soil is essential. Stick your finger about an inch into the soil, and if it feels dry, it's time to water your pentas.
Planting Your Pentas
When to Plant Pentas
The best time to plant pentas in pots is during the spring after the risk of frost has passed. This will allow the plants to establish their roots and grow vigorously during the warmer months. However, if you live in a warmer climate with mild winters, you can also plant pentas in fall or winter.
Step-by-Step Planting Guide
1. Choose a location that receives at least six hours of sunlight per day for your potted pentas. Place the pot where it will get ample sunlight, such as a sunny balcony, patio, or near a window. 2. Fill the pot with the soil mix, leaving about an inch of space from the top to prevent overflow during watering.3. Gently remove the pentas from its nursery container, being careful not to damage the roots. If the roots are tightly bound, gently loosen them to encourage outward growth.4. Place the plant in the center of the pot and fill the remaining space with soil. Press the soil gently around the plant to secure it.5. Water the newly planted pentas thoroughly, allowing the water to drain out of the bottom holes of the pot.6. Place a saucer underneath the pot to catch excess water and avoid staining your patio or balcony.7. Sit back, relax, and watch your pentas grow and bloom!
Caring for Potted Pentas
Watering Your Pentas
Proper watering is crucial for the health of your potted pentas. These plants prefer moderately moist soil, so aim to water them when the top inch of soil feels dry. However, be careful not to overwater, as pentas are susceptible to root rot. Always check the moisture level by sticking your finger into the soil before watering. If it feels dry, it's time to water. Remember, it's better to underwater than to overwater.
Fertilizing Your Pentas
To keep your potted pentas thriving and blooming throughout the season, regular fertilization is necessary. Use a balanced slow-release fertilizer that is specifically formulated for flowering plants. Follow the instructions on the packaging for the correct dosage and frequency of application. Avoid over-fertilizing, as it can lead to excessive foliage growth instead of flowers.
Pruning and Deadheading Pentas
Pruning and deadheading are essential tasks to maintain the appearance and health of your potted pentas. Prune your plants in the early spring or late winter before they start actively growing. Remove any dead or damaged branches to promote new growth. Deadheading, or removing spent flowers, will encourage the production of new blooms. Simply pinch off the faded flowers or use clean garden shears to improve the overall appearance of your pentas.
In conclusion, growing pentas in pots is a rewarding experience that brings beauty and life to any outdoor space. Understanding the basics of pentas, choosing the right pot and soil, planting correctly, and providing proper care will ensure your pentas thrive and dazzle with vibrant colors. So, grab your gardening gloves and get started on your journey to growing amazing pentas in pots!