Brazilian Jasmine Rocktrumpet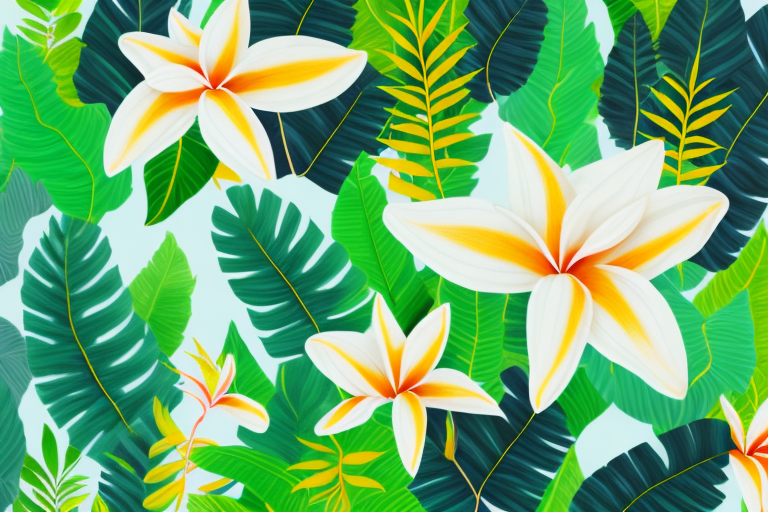 The Brazilian Jasmine Rocktrumpet is a captivating and vibrant flowering plant that adds a touch of elegance to any garden or landscape. With its exotic blooms and delicate fragrance, this plant is a favorite among gardening enthusiasts. In this article, we will delve into the fascinating world of the Brazilian Jasmine Rocktrumpet, exploring its origin, growing conditions, care, and significance. We will also share inspiring success stories and valuable lessons learned from failed cultivation attempts.
Understanding the Brazilian Jasmine Rocktrumpet
Origin and History
The Brazilian Jasmine Rocktrumpet, scientifically known as Mandevilla sanderi, is native to Brazil and other parts of South America. It was first discovered in the late 19th century by the horticulturist Henry Frederick Conrad Sander, who collected plant specimens during his travels. Sander was a passionate botanist who dedicated his life to exploring the rich biodiversity of South America.
During his expeditions, Sander came across the Brazilian Jasmine Rocktrumpet in the lush rainforests of Brazil. The plant's striking beauty captivated him, and he immediately recognized its potential as a garden ornamental. Sander meticulously documented his findings, describing the plant's growth habits, flower morphology, and preferred environmental conditions.
Upon returning to Europe, Sander introduced the Brazilian Jasmine Rocktrumpet to the horticultural community. His extensive knowledge and expertise in plant cultivation allowed him to successfully propagate and distribute the plant to various botanical gardens and nurseries across the continent. The popularity of the Brazilian Jasmine Rocktrumpet quickly spread, and it became a sought-after addition to gardens worldwide.
Botanical Description
The Brazilian Jasmine Rocktrumpet is a woody vine that can grow up to 10 feet in height. Its glossy, deep green leaves provide an attractive backdrop to its clusters of trumpet-shaped flowers. Each flower is delicately scented, emitting a sweet fragrance that fills the air. The blooms come in various shades of pink, red, and white, adding vibrant splashes of color to the landscape.
One of the most fascinating aspects of the Brazilian Jasmine Rocktrumpet is its ability to adapt to different environmental conditions. It thrives in full sunlight and well-drained soil, making it an excellent choice for gardens in warmer climates. However, it can also tolerate partial shade and more moderate temperatures, making it a versatile option for a wider range of gardeners.
The Brazilian Jasmine Rocktrumpet's growth pattern is another remarkable characteristic. As a vine, it uses its tendrils to climb and attach itself to structures such as trellises, fences, or arbors. This climbing habit not only adds vertical interest to the garden but also allows the plant to reach its full potential, showcasing its beautiful flowers at eye level.
When it comes to maintenance, the Brazilian Jasmine Rocktrumpet is relatively low-maintenance. Regular watering and occasional pruning to control its growth are usually sufficient to keep the plant healthy and flourishing. Additionally, applying a balanced fertilizer during the growing season can help promote vigorous growth and abundant flowering.
Overall, the Brazilian Jasmine Rocktrumpet is a stunning addition to any garden. Its vibrant flowers, glossy foliage, and adaptability make it a favorite among both novice and experienced gardeners. Whether used as a climbing vine or a potted plant, this South American beauty never fails to impress with its remarkable beauty and resilience.
Growing Brazilian Jasmine Rocktrumpet
Ideal Conditions for Growth
Creating the ideal conditions for the Brazilian Jasmine Rocktrumpet is essential for its successful growth. This beautiful flowering plant, scientifically known as Mandevilla sanderi, is native to Brazil and belongs to the Apocynaceae family. It is a vigorous climber that can reach heights of up to 15 feet, adding a touch of elegance to any garden or outdoor space.
The Brazilian Jasmine Rocktrumpet thrives in areas with warm temperatures, ideally between 65 and 80 degrees Fahrenheit. These warm conditions mimic its natural habitat, allowing it to flourish and produce an abundance of vibrant flowers. It requires at least six hours of direct sunlight each day, making it perfect for sunny locations in your garden. The more sunlight it receives, the more profusely it will bloom, creating a stunning display of color.
In addition to sunlight, the soil should be well-drained and rich in organic matter, providing the necessary nutrients for optimal growth. This plant prefers slightly acidic soil with a pH level between 5.5 and 6.5. Amending the soil with compost or well-rotted manure will improve its fertility and drainage, ensuring that the Brazilian Jasmine Rocktrumpet thrives.
Planting Techniques
Planting the Brazilian Jasmine Rocktrumpet requires proper preparation and care. Before planting, it is important to note that this plant is not frost-tolerant and should be grown in USDA hardiness zones 9 to 11.
Begin by selecting a location that meets the plant's sunlight and soil requirements. A trellis or a sturdy support structure should be in place to provide the necessary support for the climbing vines. Dig a hole that is twice the size of the plant's root ball, ensuring to loosen the soil at the bottom. This will allow the roots to penetrate the soil easily and establish themselves.
Gently remove the plant from its container and place it into the hole, ensuring that the top of the root ball is level with the surrounding soil. Position the plant in a way that allows it to climb and spread freely, without any obstructions. Fill the hole with soil, pressing it firmly around the plant to remove any air pockets. Avoid compacting the soil too much, as it can hinder water drainage.
Finally, water the plant thoroughly to help it settle into its new home. Provide enough water to moisten the soil around the root zone, but be careful not to overwater. Overwatering can lead to root rot and other fungal diseases. Once established, the Brazilian Jasmine Rocktrumpet is relatively drought-tolerant and only requires watering during periods of extended dryness.
Common Problems and Solutions
While the Brazilian Jasmine Rocktrumpet is relatively hardy, it can encounter a few common problems. One such issue is overwatering, which can lead to root rot. To prevent this, always ensure that the soil is well-drained and reduce watering during periods of heavy rainfall. Allow the top inch of soil to dry out between waterings to avoid waterlogged conditions.
Another issue to watch out for is pests, such as aphids and whiteflies, which can damage the plant's leaves and flowers. Regularly inspect your plants and apply appropriate insecticides if necessary. Alternatively, you can use organic pest control methods, such as introducing beneficial insects like ladybugs or spraying a mixture of soap and water to deter pests.
Pruning is also an important aspect of maintaining the Brazilian Jasmine Rocktrumpet. Regular pruning helps control the plant's size and shape, encourages bushier growth, and promotes better air circulation. Prune in early spring before new growth begins, removing any dead or damaged branches. Additionally, you can trim the plant throughout the growing season to shape it according to your preferences.
By providing the ideal growing conditions, proper planting techniques, and proactive pest management, your Brazilian Jasmine Rocktrumpet will reward you with an abundance of stunning flowers and lush foliage. Enjoy the beauty and fragrance of this captivating plant as it transforms your garden into a vibrant oasis.
Care and Maintenance of Brazilian Jasmine Rocktrumpet
Watering and Feeding
Proper watering and feeding are crucial for the health and vitality of the Brazilian Jasmine Rocktrumpet. During the growing season, it is important to water the plant consistently, keeping the soil slightly moist but not overly saturated. Applying a balanced liquid fertilizer every two weeks will provide the necessary nutrients to promote healthy growth and abundant blooms.
Pruning and Repotting
Regular pruning helps maintain the shape and vigor of the Brazilian Jasmine Rocktrumpet. Trim back any dead or damaged branches to encourage new growth and remove any competing vines. When repotting, choose a container that is slightly larger than the current one and use a well-drained soil mix. Repotting should be done every two to three years, typically in early spring when the plant is preparing for new growth.
The Significance of Brazilian Jasmine Rocktrumpet
Cultural and Symbolic Importance
Throughout history, flowers have held symbolic significance in various cultures. The Brazilian Jasmine Rocktrumpet embodies beauty, grace, and purity, making it a beloved symbol of love and devotion. Its vibrant colors and enchanting fragrance have captivated many, inspiring artworks, poems, and cultural celebrations.
Uses in Landscaping and Decor
The Brazilian Jasmine Rocktrumpet is a versatile plant that can be used in a variety of garden settings. Its beautiful blooms make it an excellent choice for creating focal points, whether in flowerbeds, containers, or trellises. It can also be trained to climb walls or fences, adding a touch of vertical interest to your landscape. With proper care and attention, this plant will reward you with its stunning display year after year.
Brazilian Jasmine Rocktrumpet: A Case Study
Successful Cultivation Stories
Many gardening enthusiasts have successfully cultivated the Brazilian Jasmine Rocktrumpet, each with their unique experiences and insights. One such gardener, Maria Garcia, shares her journey in growing this dazzling plant. Despite facing initial challenges, Maria persevered and learned to create the perfect environment for her plant, resulting in a flourishing vine that attracts hummingbirds and brings joy to her garden.
Lessons Learned from Failed Attempts
While success stories are inspiring, it is essential to acknowledge the lessons learned from failed attempts at cultivating the Brazilian Jasmine Rocktrumpet. Gardener John Thompson shares his experiences of struggling with inadequate sunlight, overwatering, and improper soil conditions. By reflecting on these challenges, John offers valuable advice to fellow gardeners, reminding them to prioritize the plant's specific needs and adjust their approach accordingly.
In conclusion, the Brazilian Jasmine Rocktrumpet is a remarkable flowering plant that entices with its beauty and fragrance. Understanding its origin, creating the ideal growing conditions, and providing the care it deserves will ensure its successful growth in your garden. Beyond its ornamental value, this plant holds cultural significance and serves as a source of inspiration for many. So go ahead and embrace the allure of the Brazilian Jasmine Rocktrumpet, and let this magnificent plant transform your outdoor space into a breathtaking oasis.