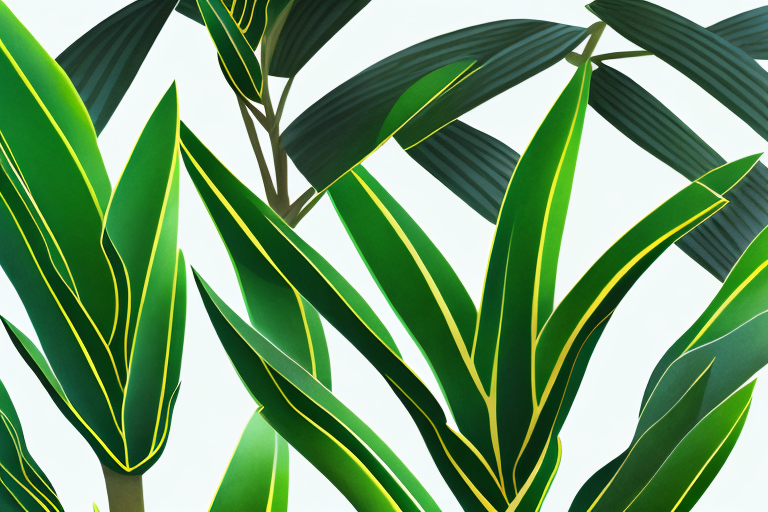 Are you looking for a fascinating and vibrant addition to your indoor garden? Look no further than the Dracaena plant flower! This beautiful flowering plant not only adds a touch of elegance to any space but also offers numerous benefits for your health and well-being. In this article, we will explore the wonders of the Dracaena plant, from its intriguing history and various species to its unique characteristics and how to care for it. So, let's dive in and discover the beauty of the Dracaena plant!
Understanding the Dracaena Plant
Origin and History of Dracaena
The Dracaena plant is not only captivating to look at but also has an intriguing history. Originating from tropical regions, such as Africa and Asia, the Dracaena plant has been admired for centuries for its lush foliage and stunning flowers. In ancient times, it was believed to possess mystical properties, making it highly prized among herbalists and healers.
Legend has it that the Dracaena plant was used by ancient civilizations for various purposes. Some believed that the plant had the power to ward off evil spirits, while others thought it could bring good luck and prosperity. The leaves of the Dracaena plant were often used in religious ceremonies and rituals, symbolizing purity and protection.
As trade routes expanded, the Dracaena plant found its way to different parts of the world. It became a popular houseplant in Europe during the Victorian era, where it was cherished for its ability to thrive indoors and add a touch of elegance to any room. Today, the Dracaena plant continues to be a favorite among plant enthusiasts and interior designers alike.
Different Species of Dracaena
There are numerous species of Dracaena, each with its own unique characteristics and beauty. From the lush Dracaena Fragrans with its broad, glossy leaves to the vibrant Dracaena Marginata with its striking red-edged foliage, there is a Dracaena plant for every plant enthusiast. Whether you prefer a compact Dracaena Compacta or an eye-catching Dracaena Reflexa, each species offers its own charm and allure.
One of the most popular species of Dracaena is the Dracaena Fragrans, also known as the Corn Plant. With its long, arching leaves and yellow stripes, it adds a touch of tropical elegance to any space. The Dracaena Marginata, on the other hand, is known for its slender, lance-shaped leaves with a deep red edge. It brings a bold and dramatic element to any room.
For those who prefer a more compact option, the Dracaena Compacta is an excellent choice. With its dense, bushy foliage and slow growth rate, it is perfect for small spaces or as a tabletop plant. The Dracaena Reflexa, also known as the Song of India, features thin, curving leaves that resemble the strings of a musical instrument. Its unique form and vibrant green color make it a striking addition to any plant collection.
Regardless of the species you choose, the Dracaena plant is known for its air-purifying qualities. It can help remove harmful toxins from the air, making it a beneficial addition to any indoor environment. Additionally, the Dracaena plant is relatively low-maintenance, making it an ideal choice for both experienced plant enthusiasts and beginners.
Characteristics of Dracaena Flower
Physical Attributes
The Dracaena flower is a true marvel of nature. Its elegant, elongated blooms create a sense of drama and sophistication. With colors ranging from vibrant purple and pink to subtle white, the Dracaena flower adds a burst of color and visual interest to any room. Not only that, but the aromatic fragrance emitted by its flowers creates a soothing and calming atmosphere.
As you gaze upon the Dracaena flower, you'll notice the intricate details that make it truly unique. Each petal is delicately shaped, with soft curves and subtle ridges. The center of the flower is adorned with a cluster of tiny, vibrant stamens, adding a touch of whimsy to its overall appearance. The petals themselves are velvety to the touch, inviting you to run your fingers along their smooth surface and revel in their delicate texture.
Flowering Cycle and Season
One of the unique aspects of the Dracaena plant is its flowering cycle. While it can take several years for a Dracaena plant to mature and produce flowers, once it reaches this stage, the blooms last for an extended period, bringing joy and beauty into your life. The flowering season typically occurs during the spring and summer months, allowing you to relish the vibrant colors and delightful fragrance during the warmer seasons.
During the flowering cycle, the Dracaena flower undergoes a fascinating transformation. It begins as a small bud, tightly closed, protecting the delicate petals within. As time passes, the bud slowly unfurls, revealing the beauty hidden within. The petals gradually open, stretching outwards towards the sun, as if reaching for its warm embrace. The process is a testament to the resilience and determination of nature, as the Dracaena flower emerges from its bud, ready to showcase its splendor to the world.
As the Dracaena flower blossoms, it attracts a myriad of pollinators, from bees and butterflies to hummingbirds. These creatures are drawn to the vibrant colors and enticing fragrance, making the Dracaena flower a hub of activity and life. The buzzing of bees and the fluttering of wings create a symphony of nature's orchestra, as they go about their important task of pollination.
Growing and Caring for Dracaena Plant
Dracaena plants, known for their stunning foliage and easy care, are a popular choice among indoor plant enthusiasts. To ensure the health and growth of your Dracaena plant, it's important to pay attention to various factors such as ideal soil conditions, watering requirements, and sunlight exposure.
Ideal Soil Conditions
Ensuring optimal soil conditions is crucial for the health and growth of your Dracaena plant. These plants thrive in well-draining soil that is rich in organic matter. A mixture of peat moss, perlite, and sand provides the ideal combination, promoting healthy root development and preventing waterlogged soil, which can lead to root rot.
Peat moss, with its high moisture retention capacity, helps to keep the soil moist without becoming waterlogged. Perlite, on the other hand, improves drainage and aeration, preventing the roots from suffocating. By adding sand to the mix, you further enhance drainage and prevent the soil from compacting over time.
Creating the perfect soil mix for your Dracaena plant not only ensures proper nutrient absorption but also allows the roots to breathe and grow freely, promoting overall plant health.
Watering and Sunlight Requirements
When it comes to watering your Dracaena plant, it's important to strike a balance. Overwatering can drown the roots and cause damage to your plant, while underwatering can lead to dehydration and wilting. To avoid these issues, it's crucial to monitor the moisture levels in the soil.
As a general rule of thumb, water your Dracaena plant when the top inch of soil feels dry to the touch. This indicates that the plant has utilized the moisture in the soil and is ready for another round of watering. However, it's important not to let the soil completely dry out between waterings, as this can stress the plant and affect its overall health.
Aside from proper watering, providing your Dracaena plant with adequate sunlight is essential for maintaining its vibrant foliage and encouraging optimal growth. These plants thrive in bright, indirect sunlight. Placing your plant near a window that receives ample natural light, but without direct sun exposure, is ideal. If you notice the leaves turning yellow or brown, it may be an indication that the plant is receiving too much direct sunlight, and you should consider moving it to a slightly shadier spot.
Dracaena plants are known for their ability to tolerate low-light conditions, making them suitable for various indoor environments. However, to ensure the best growth and overall health of your plant, providing it with sufficient light is crucial.
By paying attention to the ideal soil conditions, watering requirements, and sunlight exposure, you can create the perfect environment for your Dracaena plant to thrive. With its stunning foliage and minimal care needs, this plant is sure to bring beauty and life to any space.
Common Problems and Solutions
Pests and Diseases
Like all plants, the Dracaena plant is not invincible and can occasionally face pests and diseases. Common pests that can affect Dracaena plants include spider mites and mealybugs. Regularly inspecting your plant and practicing good hygiene can help prevent infestations. If an infestation does occur, treat it promptly with organic insecticides or by washing the affected leaves with mild soapy water.
Overwatering and Underwatering Issues
Overwatering and underwatering are common problems faced by Dracaena plant owners. Overwatering can lead to root rot and other fungal diseases, while underwatering can cause the leaves to dry out and wither. To combat these issues, ensure proper drainage of the pot and establish a consistent watering schedule. Remember to adjust your watering frequency based on factors such as humidity and the plant's current growth stage.
Propagation of Dracaena Plant
Step-by-Step Guide to Propagation
If you desire to expand your Dracaena plant collection or share the joy of these beautiful plants with friends, propagation is an excellent way to do so. The most common method of propagating a Dracaena plant is through stem cuttings. To propagate, carefully cut a healthy stem just below a leaf node, place it in a rooting hormone, and plant it in a well-draining potting mix. Within a few weeks, you'll begin to see new roots forming, indicating successful propagation.
Tips for Successful Propagation
Propagation can be an exciting and fulfilling process. To increase your chances of success, ensure that the cuttings are taken from healthy and mature Dracaena plants. Additionally, maintaining proper humidity levels and providing adequate warmth will help promote root development. Remember to be patient and provide the necessary care, and soon enough, you'll have newly propagated Dracaena plants to enjoy.
In Conclusion
The Dracaena plant flower is truly a remarkable addition to any indoor garden. From its captivating history and various species to its unique characteristics and care requirements, it offers a delightful experience for plant enthusiasts of all levels. So, why not bring a touch of elegance and natural beauty into your life by welcoming a Dracaena plant flower into your home? Your space will be transformed into a haven of tranquility and charm. Happy gardening!