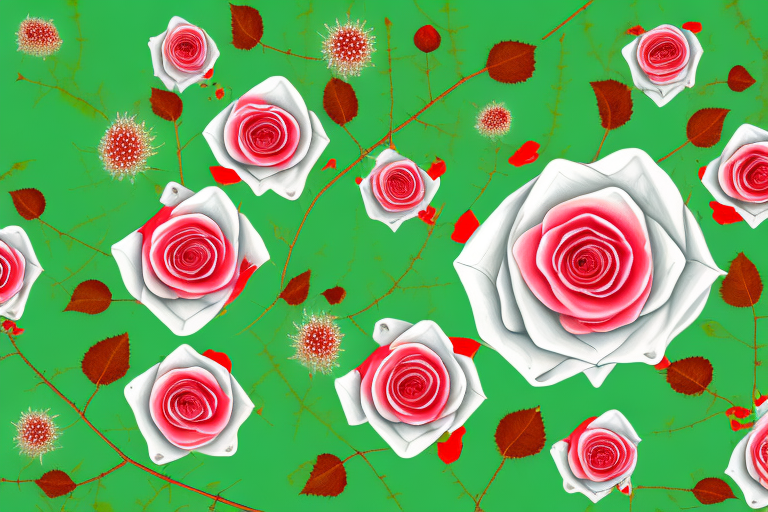 Roses are undoubtedly one of the most beloved flowers, adorning gardens and adding beauty to any landscape. However, even these elegant plants are not immune to the pesky pests that can wreak havoc on their health and appearance. One such pest that often plagues rose enthusiasts is the notorious white aphid. In this article, we will delve into the world of white aphids and explore their impact on our precious roses.
Understanding Aphids and Their Impact on Roses
Aphids, also known as plant lice, are tiny insects that belong to the Aphididae family. These minuscule pests can vary in color, but in the case of white aphids, as their name suggests, they possess a pale hue that can camouflage with the roses they infest. These soft-bodied insects have piercing-sucking mouthparts, which they use to extract sap from plants.
When it comes to rose plants, aphids can wreak havoc. Despite their small size, these voracious feeders can cause significant damage to the foliage, buds, and stems of roses, leading to stunted growth and deformed flowers. The piercing-sucking mouthparts of aphids allow them to penetrate the plant tissues and extract the sap, which weakens the plant and hampers its ability to grow and thrive.
Not only do aphids physically harm the roses, but they also leave behind a sticky substance called honeydew. This sticky residue can be found on the leaves, buds, and stems of infested roses. Honeydew not only makes the plant appear unsightly, but it also serves as a breeding ground for sooty mold. Sooty mold is a black, powdery fungus that grows on the honeydew deposits. It not only affects the aesthetic appeal of the rose plant but also interferes with photosynthesis by blocking sunlight from reaching the leaves.
Furthermore, the presence of aphids can attract ants. Ants are known to "farm" aphids by protecting them from predators and moving them to new feeding locations. This mutually beneficial relationship between ants and aphids can further exacerbate the infestation and make it more challenging to control.
It is important for rose enthusiasts to be vigilant and proactive in dealing with aphid infestations. Early detection and prompt action can help prevent extensive damage to rose plants. Implementing natural pest control methods such as introducing natural predators like ladybugs or using insecticidal soaps can be effective in managing aphid populations without harming the roses or the environment.
Identifying White Aphids on Roses
Spotting white aphids on your beloved roses may not be an easy task, as they blend seamlessly with the petals. These small insects, measuring only a few millimeters in length, can congregate on the undersides of leaves or the tender shoots of the plant. Their white coloration allows them to camouflage effortlessly, making it crucial to inspect your roses closely.
White aphids, also known as Aphis spiraecola, are a common pest that can wreak havoc on your rose plants. These tiny creatures have a soft body and are usually wingless, although some may develop wings under certain conditions. They feed by piercing the plant tissue and sucking out the sap, causing damage to the leaves, stems, and buds of your roses.
Physical Characteristics of White Aphids
White aphids have a distinct appearance that sets them apart from other pests. Their bodies are pear-shaped and may vary in color from pale yellow to light green. However, the most common coloration is white, which enables them to blend in effortlessly with the petals of your roses. This color adaptation serves as a protective mechanism, allowing them to avoid detection by predators.
These tiny insects have long, slender antennae and two tube-like structures, called cornicles, protruding from their abdomen. The cornicles secrete a waxy substance that acts as a defense mechanism against predators and environmental conditions. White aphids also have six legs, which they use to crawl around the plant and find suitable feeding spots.
Signs of White Aphid Infestation
While the white aphids themselves may be inconspicuous, their presence leaves behind telltale signs. Look out for curling or distorted leaves, distorted flower buds, and a sticky residue on the foliage. The distorted leaves occur due to the feeding activity of the aphids, as they inject toxic saliva into the plant tissue while extracting sap. This can cause the leaves to curl and become deformed.
Another sign of white aphid infestation is the presence of ants actively crawling around your roses. Ants are often attracted to the honeydew, a sugary substance excreted by the aphids as they feed. The ants "farm" the aphids, protecting them from predators and even moving them to new feeding sites. Therefore, if you notice ants on your roses, it may indicate the presence of white aphids.
It's important to take action if you suspect a white aphid infestation on your roses. These pests reproduce rapidly, and if left unchecked, they can quickly multiply and cause significant damage to your plants. Regular inspection and early intervention are key to preventing the infestation from spreading and minimizing the impact on your beloved roses.
The Life Cycle of White Aphids
Aphid Reproduction and Growth
Understanding the life cycle of white aphids is crucial in combating infestations effectively. Aphids reproduce at an alarming rate, with females capable of giving birth to live young without any need for fertilization. These young aphids, known as nymphs, mature quickly and continue the cycle, resulting in exponential population growth.
When it comes to aphid reproduction, it's fascinating to note that females have the ability to produce both male and female offspring without the involvement of males. This process, known as parthenogenesis, allows them to rapidly increase their population size. The nymphs, which are miniature versions of the adult aphids, undergo several molts as they grow. Each molt is accompanied by the shedding of their exoskeleton, revealing a larger and more developed aphid.
As the nymphs continue to grow, they have a voracious appetite for plant sap, which they obtain by piercing the plant's tissues with their needle-like mouthparts. This feeding behavior can cause significant damage to plants, leading to stunted growth, yellowing leaves, and even the death of the plant if the infestation is severe.
Interestingly, aphids have a mutualistic relationship with ants. The ants feed on the sugary honeydew excreted by the aphids, while the ants provide protection to the aphids from predators. They will even move aphids to new plants when the current plant becomes depleted of nutrients. This symbiotic relationship ensures the survival and proliferation of both species.
Seasonal Patterns of Aphid Infestation
Aphids tend to be more active during the warm spring and summer months when the conditions are ideal for their rapid reproduction. The abundance of food and favorable temperatures allow aphid populations to thrive during this time. However, it is essential to note that aphids can still cause damage to roses throughout the year.
During the colder months, aphids enter a state of dormancy, seeking shelter in protected areas such as cracks in tree bark or leaf litter. This survival strategy allows them to withstand harsh weather conditions and ensures their presence when the weather becomes favorable again.
It is crucial for gardeners and rose enthusiasts to remain vigilant and inspect their roses regularly to catch aphid infestations early. Early detection enables prompt intervention, preventing the aphids from causing extensive damage to the plants. Various methods can be employed to control aphid populations, including natural predators, such as ladybugs and lacewings, as well as organic insecticides.
Additionally, practicing good garden hygiene, such as removing and destroying infested plant parts and providing adequate spacing between plants, can help reduce the chances of aphid infestations.
By understanding the seasonal patterns of aphid infestation and implementing appropriate control measures, gardeners can effectively manage and minimize the impact of these pests on their roses and other plants.
Preventing White Aphid Infestations
Regular Inspection and Maintenance
Prevention is always better than cure when it comes to aphids. Regularly inspect your roses for any signs of aphid activity, such as curling leaves or distorted buds. By catching infestations early, you can take prompt action and reduce the risk of damage to your plants.
Natural Predators of Aphids
Nature has its way of maintaining a balance, and aphids have their fair share of natural enemies. Ladybugs, lacewings, and parasitic wasps are all beneficial insects that feed on aphids. Encouraging the presence of these predators in your garden can help control aphid populations naturally.
Treatment Options for White Aphids on Roses
Organic Methods for Aphid Control
If preventive measures fail and your roses succumb to an aphid infestation, there are still organic methods that can help. Spraying a mixture of water and mild soap onto affected areas can help dislodge and eliminate aphids. Additionally, using neem oil or insecticidal soap can prove effective in controlling these pests without harming beneficial insects.
Chemical Treatments for Severe Infestations
In severe cases where the infestation has spread significantly and threatens the health of your roses, chemical treatments may become necessary. Consult with a professional or visit your local garden center to identify suitable insecticides specifically formulated for white aphids. Always follow the instructions carefully to avoid harming your plants and the environment.
By understanding the world of white aphids and the impact they can have on roses, you will be better equipped to protect your beloved plants from these notorious pests. Remember to stay vigilant, regularly inspect your roses, and take appropriate action at the first sign of trouble. With a little knowledge and care, you can enjoy beautiful and healthy roses for years to come.