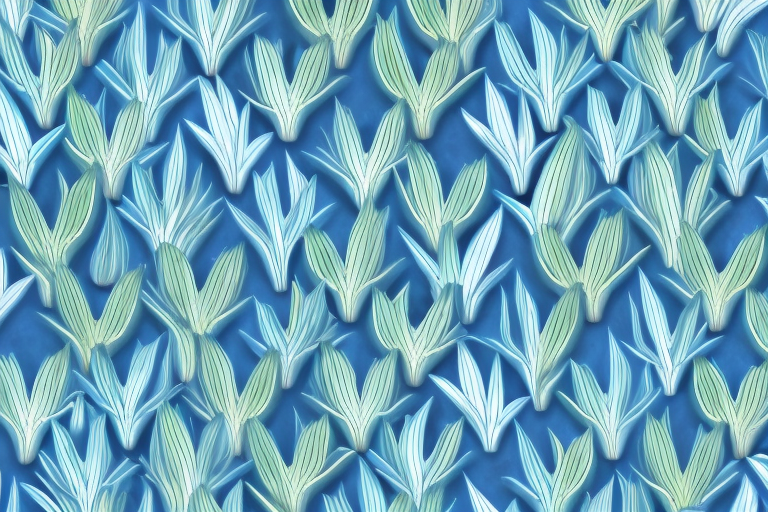 Welcome to the comprehensive guide on Agave Blue Glow Care! In this article, we will explore every aspect of maintaining and nurturing these stunning plants to help you achieve thriving and healthy specimens. Whether you are a seasoned gardener or a beginner, by the end of this article, you will have a deep understanding of Agave Blue Glow care and be ready to create a visually stunning Agave Blue Glow-filled oasis in your garden.
Choosing the Perfect Location for your Agave Blue Glow
When it comes to locating your Agave Blue Glow, it's crucial to consider the plant's natural habitat. These beauties thrive in full sun, but they can also tolerate partial shade. For optimal growth, choose a spot that receives at least six hours of sunlight each day. Additionally, ensure that the chosen area has well-drained soil as Agave Blue Glow plants dislike standing water. In regions with colder climates, placing them in south-facing locations would offer some protection against frost.
Another important factor to consider when choosing the location for your Agave Blue Glow is the space available for the plant to grow. These plants can reach a mature size of up to 2 feet tall and 3 feet wide, so make sure to select a spot that allows for sufficient growth and expansion.
In terms of soil pH, Agave Blue Glow plants prefer slightly acidic to neutral soil. It is recommended to test the soil pH before planting and make any necessary adjustments to ensure the plant's health and vitality. Adding organic matter, such as compost or well-rotted manure, can also improve the soil's fertility and drainage.
Understanding the Watering Needs of Agave Blue Glow
Watering is an essential aspect of Agave Blue Glow care, and getting it right is crucial for their overall health. These plants are drought-tolerant and have low water requirements. When watering, it's important to strike a balance – avoid overwatering, as it can lead to root rot, but also ensure they receive enough moisture to thrive. Allow the soil to dry out completely between waterings and provide a deep soak to encourage deep root growth.
During the winter months, Agave Blue Glow plants enter a dormancy period where they require even less water. Keep the watering to a minimum during this time to prevent any issues.
It's also important to consider the climate and environmental conditions when determining the watering needs of Agave Blue Glow plants. In hot and dry climates, these plants may require more frequent watering to compensate for the increased evaporation rate. On the other hand, in cooler and more humid climates, they may need less frequent watering as the moisture retention in the soil is higher.
The Best Soil Mix for Healthy Agave Blue Glow
Well-draining soil is the key to success when it comes to Agave Blue Glow care. These plants favor a sandy or gravelly soil mix that allows excess moisture to drain away easily. A mixture of cactus potting soil, sand, and perlite would create an ideal growing medium. This combination will ensure adequate drainage and aeration for the roots, preventing any water-related issues.
Sunlight Requirements for Thriving Agave Blue Glow Plants
Agave Blue Glow plants adore the sunshine! As mentioned before, they require a minimum of six hours of direct sunlight daily to thrive. Inadequate sunlight can cause the plant to weaken and become more susceptible to diseases. If you live in an area with limited sunlight, consider using artificial grow lights to supplement their light requirements.
Tips for Propagating Agave Blue Glow Successfully
Propagating Agave Blue Glow can be a rewarding experience, but it requires proper technique and patience. The most common method is through offsets, also known as "pups." Wait until the offset has developed its own root system and then carefully separate it from the mother plant using a clean, sharp knife.
Once separated, allow the offset to callous over for a few days before planting it in a well-draining soil mix. Water sparingly to prevent rotting and observe new growth to ensure successful propagation.
Protecting Your Agave Blue Glow from Frost and Cold Weather
While Agave Blue Glow plants are relatively hardy, they can still be susceptible to frost damage in colder regions. To protect them during winter, consider covering them with blankets or frost cloths during freezing temperatures. In areas with extended periods of freezing weather, it might be best to keep them in containers and move them indoors to a more protected environment until the frost has passed.
Pruning and Trimming Techniques to Maintain the Shape of Agave Blue Glow
Agave Blue Glow plants have an intriguing architectural form, and proper pruning and trimming techniques can help accentuate their beauty. Remove dead leaves regularly to keep the plant looking tidy and to prevent any potential disease issues. When pruning, use sharp and clean pruners to make smooth cuts and avoid damaging the plant. Be cautious of the sharp spines and wear protective gloves to prevent injuries.
Preventing Common Pests and Diseases in Agave Blue Glow Plants
Agave Blue Glow plants are naturally resistant to most pests and diseases. However, they can occasionally be affected by aphids, mealybugs, or scale insects. Regularly inspect your plants for any signs of infestation and act as soon as possible if you notice any. Use organic insecticidal soap or neem oil to treat affected areas, ensuring to follow the manufacturer's instructions carefully.
Fertilizing Tips for Vibrant and Lush Agave Blue Glow
Fertilizing Agave Blue Glow plants is not generally necessary, as they are adapted to thrive in nutrient-poor conditions. However, giving them a boost with a slow-release, low-nitrogen fertilizer in the spring can promote healthy growth. Avoid over-fertilizing, as excessive nutrients can cause the plant to become weak and more susceptible to disease.
Repotting Guide: When and How to Repot Your Agave Blue Glow
Agave Blue Glow plants have a slow growth rate and typically don't require frequent repotting. However, if the plant has outgrown its container or the soil has become compacted, it may be time to repot. Spring or early summer is the best time to repot, allowing the plant to establish itself before the cooler months.
When repotting, choose a container that is only slightly larger than the current one and use a well-draining soil mix. Carefully remove the plant from its original pot, tease out any compacted roots, and place it in the new container, filling in around the roots with fresh soil mix.
Understanding the Growth Cycle of Agave Blue Glow Plants
Agave Blue Glow plants have a unique growth cycle that consists of several stages. They typically start as small rosettes or offsets, gradually developing into larger, more mature plants. Once the plant reaches maturity (which can take several years), it will produce a stalk that shoots up from the center, bearing magnificent blossoms.
After flowering, Agave Blue Glow plants will gradually wither and die back, leaving behind pups or offsets to continue the growth cycle. It's essential to allow the plant to complete its natural life cycle before removing it from the garden or replanting the offsets.
Troubleshooting Common Issues in Agave Blue Glow Care
Despite their resilience, Agave Blue Glow plants can face a few common issues. Overwatering is one of the most common mistakes, which leads to root rot and eventually the death of the plant. Additionally, poor drainage, inadequate sunlight, and lack of airflow can cause stunted growth or leggy, weak plants. Ensuring the proper care and addressing any issues promptly will help your Agave Blue Glow plants thrive.
Enhancing the Aesthetic Appeal of Agave Blue Glow in Landscaping Designs
Agave Blue Glow plants can be the centerpiece of any garden or landscaping design, adding a touch of elegance and striking beauty. Consider using them in rock gardens, xeriscapes, or as focal points in arid-themed landscapes. Their stunning blue-green leaves and architectural form create a visually captivating display that is sure to impress.
Creating a Stunning Container Garden with Agave Blue Glow
Agave Blue Glow plants are excellent candidates for container gardening. Their compact size and slow growth rate make them perfect for patio or balcony gardens. Choose a large container with drainage holes and fill it with a well-draining soil mix. Arrange different-sized Agave Blue Glow plants together to create an eye-catching display, and don't forget to select a container that complements their striking blue-green color.
Companion Planting Ideas for Agave Blue Glow in your Garden
Companion planting Agave Blue Glow plants with other succulents or cacti can create a visually stunning and harmonious garden. Consider pairing them with other drought-tolerant plants such as Echeverias, Sedums, or Aloe Vera. The contrasting textures, forms, and colors will create a dynamic and captivating garden landscape.
Harvesting and Utilizing the Benefits of Mature Agave Blue Glow
While Agave Blue Glow plants are primarily ornamental, they have traditional uses in some cultures. The sap of mature Agave plants can be extracted to make a sweetener called agave nectar, which is an alternative to refined sugar. Additionally, the leaves can be used to create fibers for making textiles or to produce certain alcoholic beverages.
And there you have it! A complete guide to Agave Blue Glow care. By following these tips and tricks, you can ensure your Agave Blue Glow plants will thrive and become the stars of your garden. Remember, observing and understanding the needs of these fascinating plants will lead to a lifetime of enjoyment and admiration. Happy gardening!