Hibiscus Plant Turning Yellow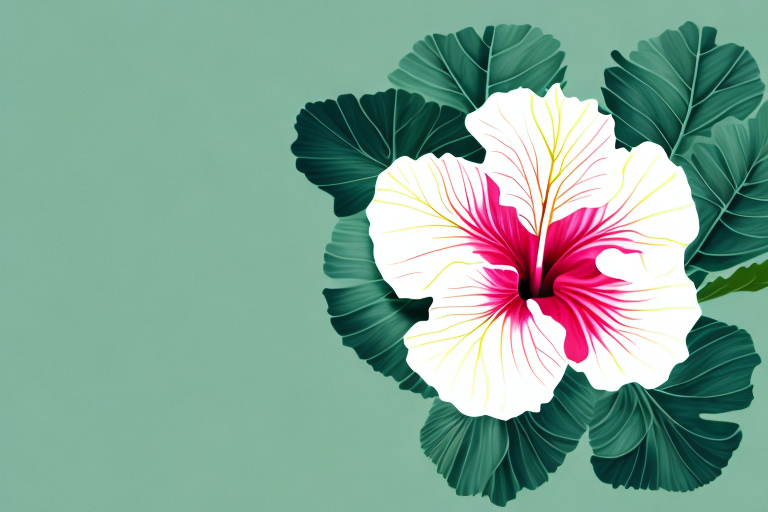 If you start to notice your hibiscus plant turning yellow, don't panic! This common problem can be caused by a variety of factors, but with a little understanding and care, you can revive your yellowing hibiscus back to health. In this article, we will explore the basics of hibiscus care, common causes of yellowing, and effective treatment methods to ensure your hibiscus plants stay vibrant and beautiful.
Understanding the Hibiscus Plant
The Basics of Hibiscus Care
Before we delve into the reasons behind your hibiscus plant turning yellow, let's first understand the fundamental care requirements for these stunning plants. Hibiscus plants prefer a warm climate with plenty of sun, so make sure they are positioned in a spot with at least six hours of direct sunlight each day.
In terms of soil, hibiscus plants thrive in well-draining soil that is slightly acidic. Regular watering is vital for their health, but be cautious not to overwater as this can lead to root rot. Additionally, it's important to fertilize your hibiscus plants every four to six weeks during the growing season to provide them with the necessary nutrients.
Hibiscus plants are known for their large, showy flowers that come in a variety of colors, including red, pink, orange, yellow, and white. These flowers can be single or double-petaled, and some varieties even have ruffled edges. The blooms typically last for one day, but the plant produces new flowers continuously throughout the blooming season, which can last several months.
Aside from their stunning flowers, hibiscus plants also have glossy, dark green leaves that provide an attractive backdrop to the blooms. The leaves are usually oval or lance-shaped and have a slightly serrated edge. Some hibiscus varieties have variegated foliage, adding even more visual interest to the plant.
Common Varieties of Hibiscus Plants
Hibiscus plants come in a wide range of varieties, each with its own unique characteristics. Some popular varieties include the vibrant red 'Chinese hibiscus', the delicate white 'Rose of Sharon', and the exotic 'Hawaiian hibiscus' with its colorful blooms.
By familiarizing yourself with the specific variety you have, you can better understand its individual care requirements and potential yellowing symptoms.
The Chinese hibiscus, also known as Hibiscus rosa-sinensis, is one of the most commonly cultivated hibiscus plants. It features large, showy flowers that can be red, pink, orange, or yellow. The Chinese hibiscus is a tropical plant that thrives in warm climates and requires regular watering and fertilization to maintain its vibrant blooms.
The Rose of Sharon, or Hibiscus syriacus, is a deciduous shrub that produces delicate white flowers with a prominent red or pink center. This hibiscus variety is known for its long blooming season, which typically starts in late summer and can continue until the first frost. The Rose of Sharon is relatively low-maintenance and can tolerate a wide range of soil conditions.
The Hawaiian hibiscus, or Hibiscus brackenridgei, is native to the Hawaiian Islands and is highly regarded for its stunning flowers. This hibiscus variety boasts large, brightly colored blooms in shades of red, orange, yellow, and pink. The Hawaiian hibiscus is a sun-loving plant that requires well-draining soil and regular watering to thrive.
Other popular hibiscus varieties include the 'Fiji hibiscus', which has vibrant red flowers with a yellow center, and the 'Cooperi hibiscus', which features large, double-petaled blooms in shades of pink and white. Each hibiscus variety has its own unique beauty and charm, making them a popular choice among gardeners and plant enthusiasts.
Identifying Yellowing Symptoms in Hibiscus Plants
Hibiscus plants are known for their vibrant and beautiful flowers, but when they start to turn yellow, it can be a cause for concern. Catching the early signs of yellowing is crucial in order to prevent further damage and ensure the plant's overall health.
Early Signs of Yellowing
When observing your hibiscus plant, keep an eye out for pale yellow leaves. These can be a clear indication that something is not right. Additionally, pay attention to the yellow veins that may appear on the leaves. This discoloration can be a sign of nutrient deficiency or a pest infestation.
Another early sign of yellowing to look out for is reduced overall greenness. If you notice that the vibrant green color of the leaves is fading, it may be an indication of an underlying issue that needs attention. This could be due to improper watering, insufficient sunlight, or even a root problem.
Progression of Yellowing in Hibiscus
If left untreated, yellowing in hibiscus plants can worsen and lead to a general decline in their health. The initial pale yellow leaves may become more prominent, spreading throughout the plant. In some cases, the veins of the leaves may start turning brown or black, further indicating the plant's struggle.
As the yellowing progresses, you may also notice stunted growth in your hibiscus plant. This can be particularly disheartening, as hibiscus plants are known for their rapid growth and impressive size. The lack of growth can be attributed to the plant's weakened state, as it struggles to absorb the necessary nutrients from the soil.
In addition to stunted growth, a decrease in flower production is another consequence of yellowing in hibiscus plants. These vibrant flowers are a key attraction for many gardeners, and a decline in their production can be a cause for disappointment. The plant's energy is redirected towards survival rather than flowering, resulting in fewer blossoms.
It is important to note that yellowing in hibiscus plants can have various causes, including nutrient deficiencies, pest infestations, diseases, or environmental factors. Identifying the specific cause of the yellowing is crucial in order to implement the appropriate treatment and restore the plant's health.
In conclusion, yellowing in hibiscus plants should not be ignored. By being vigilant and observing the early signs of yellowing, you can take proactive measures to address the underlying issues and prevent further damage. Remember to provide your hibiscus plants with proper care, including adequate watering, sufficient sunlight, and regular fertilization, to ensure their vibrant and healthy growth.
Common Causes of Yellowing in Hibiscus Plants
Hibiscus plants are known for their vibrant and lush green foliage. However, if you notice yellowing leaves on your hibiscus, it could be an indication of an underlying issue. Let's explore some common causes of yellowing in hibiscus plants and what you can do to address them.
Nutrient Deficiencies
One of the primary causes of yellowing in hibiscus plants is nutrient deficiencies. A lack of essential minerals, such as iron or magnesium, can result in yellow leaves. These minerals play a crucial role in the plant's overall health and vitality. To combat this issue, consider using a balanced fertilizer specifically formulated for hibiscus plants. This will provide the necessary nutrients and help restore the vibrant green color to the leaves. Additionally, adding organic matter to the soil can increase nutrient availability and improve overall plant health.
Overwatering or Underwatering
Overwatering or underwatering your hibiscus plants can also lead to yellowing. Improper watering practices can disrupt the plant's ability to absorb nutrients properly and may cause root rot or dehydration. Finding the right watering balance is crucial for maintaining healthy hibiscus plants. To determine if your hibiscus needs watering, check the soil moisture regularly. Stick your finger into the soil about an inch deep. If it feels dry, it's time to water. If it feels moist, hold off on watering. By monitoring the soil moisture and adjusting your watering practices accordingly, you can prevent yellowing caused by water-related issues.
Pests and Diseases
Various pests and diseases can wreak havoc on hibiscus plants, leading to yellowing leaves and overall weakness. Common culprits include aphids, spider mites, and fungal infections. These pests and diseases can sap the plant's energy and hinder its ability to thrive. Regularly inspect your hibiscus plants for signs of infestation or disease. Look for tiny insects, webbing, or spots on the leaves. If you notice any of these signs, take appropriate measures to control the pests or diseases. This may include using insecticidal soap, neem oil, or other organic treatments. By addressing these issues promptly, you can prevent further damage and promote healthy leaf growth.
Remember, yellowing leaves on hibiscus plants can be a sign of various underlying issues. By understanding the common causes and taking appropriate action, you can help your hibiscus plants regain their vibrant green color and thrive in your garden.
How to Treat a Yellowing Hibiscus Plant
Adjusting Watering Techniques
If you suspect overwatering or underwatering as the cause of your yellowing hibiscus, adjust your watering techniques accordingly. Ensure the soil is well-draining and water deeply but infrequently. Mulching around the base of the plant can also help retain moisture and regulate soil temperature.
Treating Nutrient Deficiencies
If nutrient deficiencies are to blame for the yellowing, consider applying a suitable fertilizer specifically formulated for hibiscus plants. Look for a fertilizer high in iron and magnesium, as these nutrients are essential for healthy leaf color. Be sure to follow the instructions carefully to avoid over-fertilization.
Dealing with Pests and Diseases
To tackle pests and diseases, identify the specific problem and choose an appropriate control method. This may involve using insecticidal soap for aphids, hosing off spider mites, or applying a suitable fungicide for fungal infections. Regularly inspecting your hibiscus plants and taking prompt action is key to successfully managing these issues.
Preventing Future Yellowing in Hibiscus Plants
Regular Care and Maintenance
Prevention is always better than cure. Establish a routine care plan for your hibiscus plants, including regular watering, proper fertilization, and annual pruning. Removing any dead or diseased branches can help improve air circulation and prevent pests and diseases from taking hold.
Monitoring for Early Signs of Trouble
Keep a close eye on your hibiscus plants, regularly checking for any changes in leaf color or overall health. Catching problems early on allows for faster intervention and a higher chance of successful treatment.
Creating an Ideal Environment for Hibiscus Plants
Ensuring your hibiscus plants are in an ideal environment can significantly reduce the risk of yellowing. Provide them with sufficient sunlight, well-draining soil, and protection from extreme weather conditions. Consider using organic matter or compost to enrich the soil and promote healthy growth.
By understanding the basics of hibiscus care, identifying the causes of yellowing, and implementing effective treatment methods, you can confidently revive your yellowing hibiscus plants. Remember to stay vigilant, provide regular care and maintenance, and create an ideal environment for these stunning plants to thrive. With your dedication and a little know-how, your hibiscus plants will be flourishing and blooming in no time.