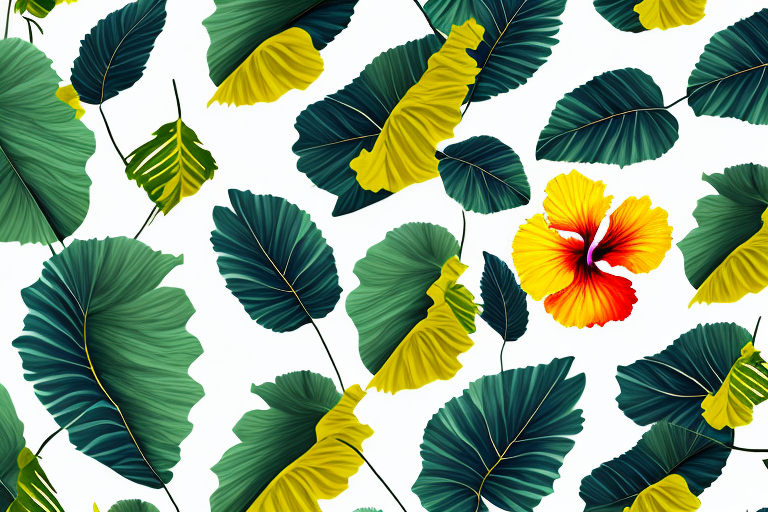 Are your once vibrant hibiscus leaves turning yellow? Don't fret, as we explore the causes, symptoms, and remedies for yellow leaves in hibiscus plants. In this comprehensive guide, we will delve into the various factors that can contribute to the discoloration of your hibiscus leaves, from pests and diseases to environmental factors and nutrient deficiencies. We will also provide you with valuable tips and techniques to prevent yellowing and maintain the lush green foliage you desire.
Causes of Yellow Leaves in Hibiscus Plants
Yellow leaves in hibiscus plants can be attributed to several factors. One of the most common causes is overwatering, which leads to the development of root rot and subsequently, yellowing leaves. On the other hand, underwatering can also be detrimental, causing dehydration and nutrient deficiencies that manifest as yellow foliage. Other factors include poor soil pH, inadequate sunlight exposure, and temperature fluctuations. By understanding these causes, you can better address the condition and ensure the optimal health of your hibiscus plants.
Another factor that can cause yellow leaves in hibiscus plants is nutrient imbalances. When the plant lacks essential nutrients such as nitrogen, iron, or magnesium, it can result in chlorosis, a condition characterized by yellowing of the leaves. This can be addressed by providing the plant with a balanced fertilizer or by amending the soil with organic matter.
Pests and diseases can also contribute to yellow leaves in hibiscus plants. Common pests that attack hibiscus include aphids, whiteflies, and spider mites, which can suck the sap from the leaves and cause them to turn yellow. Fungal diseases such as powdery mildew and leaf spot can also lead to yellowing and browning of the foliage. Regular inspection and appropriate pest control measures can help prevent and manage these issues.
Identifying Yellow Leaves in Hibiscus: Symptoms and Signs
When it comes to identifying yellow leaves in hibiscus plants, it is important to closely observe the symptoms and signs. Yellowing may start at the tips or edges of the leaves, gradually spreading throughout the entire leaf surface. The leaves may also become wilted or droopy, and in severe cases, they may develop brown spots or curl up. It is crucial to distinguish between natural leaf shedding and abnormal yellowing to provide the appropriate care for your hibiscus plants.
In addition to these visible symptoms, it is also important to consider other factors that may contribute to yellowing leaves in hibiscus plants. Environmental factors such as excessive sunlight, inadequate watering, or nutrient deficiencies can also cause yellowing. It is recommended to assess the growing conditions and make necessary adjustments to ensure the overall health of your hibiscus plants.
Common Pests and Diseases that Cause Yellow Leaves in Hibiscus
Pests and diseases can wreak havoc on the health of your hibiscus plants, leading to yellowing of the leaves. Some common culprits include aphids, whiteflies, and spider mites, which suck the sap from the leaves, resulting in yellow spots and discoloration. Fungal infections such as leaf spot disease and powdery mildew can also cause yellow patches and blemishes. By identifying these pests and diseases early on, you can take swift action to prevent further damage to your hibiscus plants.
Nutrient Deficiencies: Understanding the Role of Fertilizers for Healthy Hibiscus Leaves
Proper nutrition is essential for vibrant hibiscus leaves. Nutrient deficiencies, such as nitrogen, iron, or magnesium, can manifest as yellowing foliage. Understanding the role of fertilizers is crucial in providing your hibiscus plants with the necessary nutrients. A balanced fertilizer formulated specifically for hibiscus plants can help replenish the nutrients and promote healthy leaf growth. However, it is important to follow the recommended application rates to prevent overfertilization, which can lead to leaf burn or other complications.
Environmental Factors that Contribute to Yellowing of Hibiscus Leaves
Environmental factors play a significant role in the health of hibiscus leaves. Insufficient sunlight exposure can inhibit photosynthesis, resulting in pale and yellow leaves. Conversely, excessive exposure to direct sunlight can cause sunburn and leaf discoloration. Temperature fluctuations, such as sudden drops or extreme heat, can also stress the plants and contribute to yellowing. By providing the optimal environmental conditions, you can ensure that your hibiscus plants maintain their vibrant green foliage.
Overwatering vs. Underwatering: Effects on Hibiscus Leaf Color
Finding the right balance in watering your hibiscus plants is crucial for maintaining healthy leaf color. Overwatering, which leads to waterlogged soil, deprives the roots of oxygen and can result in yellowing leaves. Underwatering, on the other hand, causes dehydration and nutrient deficiencies. Achieving an optimal watering routine, ensuring proper drainage, and using the finger test to gauge moisture levels in the soil can help prevent yellow leaves caused by improper watering practices.
Pruning Techniques to Maintain Green and Vibrant Hibiscus Leaves
Proper pruning techniques are key to maintaining green and vibrant hibiscus leaves. Regular pruning helps remove dead or diseased leaves, allowing better air circulation and reducing the risk of infections. It also promotes new growth and ensures a compact, bushy shape. By following the appropriate pruning methods, such as using clean and sharp tools and making clean cuts at the right angles, you can optimize the health and beauty of your hibiscus plants' foliage.
How Temperature Fluctuations Affect the Color of Hibiscus Leaves
Hibiscus plants are sensitive to temperature fluctuations, which can impact the color of their leaves. Sudden drops in temperature can cause the leaves to turn yellow, while extreme heat can lead to leaf burn and discoloration. To mitigate the effects of temperature fluctuations, consider providing protection during colder periods and ensuring adequate ventilation during hot spells. By maintaining a stable temperature range, you can help your hibiscus plants thrive and maintain their vibrant leaf color.
Preventive Measures: Tips for Preventing Yellow Leaves in Hibiscus Plants
Prevention is always better than cure, and this holds true for yellow leaves in hibiscus plants. Implementing preventive measures can significantly reduce the likelihood of leaf discoloration. Proper soil preparation, regular monitoring of watering practices, and ensuring appropriate sunlight exposure are essential steps to prevent yellowing. Additionally, practicing good hygiene, such as cleaning tools and regularly inspecting for pests or diseases, can help maintain healthy hibiscus plants with lush green leaves.
Remedies for Yellowing Hibiscus Leaves: Natural and Chemical Solutions
When faced with yellowing hibiscus leaves, various remedies can be implemented to restore the plants' health. Natural solutions, such as neem oil for pest control or foliar applications of diluted compost tea, can effectively address underlying issues. On the other hand, chemical solutions, like iron chelates or specific pesticides, may be required for severe pest or disease infestations. It is important to carefully follow the instructions and consider any potential risks when using chemical remedies.
The Importance of Proper Soil pH for Healthy Hibiscus Leaf Color
Soil pH plays a crucial role in the health and color of hibiscus leaves. The preferred pH range for hibiscus plants is slightly acidic to neutral. An imbalanced pH can inhibit nutrient absorption, leading to yellowing or stunted growth. Conducting a soil test and adjusting the pH accordingly can provide your hibiscus plants with the ideal growing conditions for lush green leaves. Incorporating organic matter, such as compost or peat moss, can also improve soil structure and pH balance.
Sunlight Exposure: Finding the Optimal Amount for Lush Green Hibiscus Leaves
Sunlight exposure is crucial for the growth and color of hibiscus leaves. While these plants thrive in full sunlight, excessive exposure can cause leaf burn and discoloration. Finding the optimal amount of sunlight is essential for ensuring lush green foliage. Providing partial shade during the hottest parts of the day or using shade cloth can help regulate the light intensity and protect your hibiscus plants. Regularly monitoring the leaves for signs of sunlight stress can guide your adjustments to achieve the ideal balance.
Water Quality and Its Impact on the Health of Hibiscus Leaves
The quality of water used to irrigate hibiscus plants can have a significant impact on their health and leaf color. Water with high levels of chlorine or salt can cause leaf burn and yellowing. Rainwater or filtered water is often preferred to minimize the presence of harmful impurities. If tap water is your only option, allowing it to sit overnight can help dissipate chlorine before using it on your hibiscus plants. Remember, providing clean and suitable water is essential for maintaining vibrant, healthy hibiscus leaves.
Leaf Spot Disease in Hibiscus Plants: Causes, Symptoms, and Treatment Options
Leaf spot disease is a common affliction in hibiscus plants that can lead to yellowing leaves. Fungal spores, such as those from the Cercospora or Anthracnose fungi, cause characteristic spots on the leaves, which eventually turn yellow. Prompt identification and treatment are crucial to prevent the spread of the disease and protect the overall health of your hibiscus plants. Fungicides, as well as proper sanitation practices and good airflow, can effectively control leaf spot disease and help restore the vibrancy of your hibiscus leaves.
With the comprehensive knowledge acquired from this guide, you can now confidently navigate the world of yellow leaves in hibiscus plants. Remember, understanding the causes, symptoms, and remedies is the key to maintaining healthy, vibrant foliage. By implementing preventive measures, providing the optimal growing conditions, and promptly addressing any issues that may arise, you can enjoy the lush beauty of your hibiscus plants as they showcase their radiant green leaves.