Imperial Blue Plumbago Care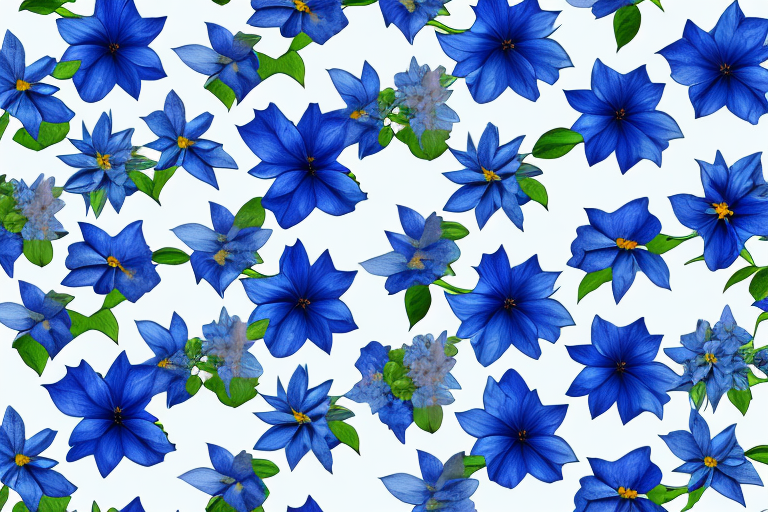 Are you looking to add a touch of vibrant blue to your garden? Look no further than the stunning Imperial Blue Plumbago. This beautiful flowering plant is a favorite among garden enthusiasts for its brilliant blue blossoms and easy-care nature. In this comprehensive guide, we will explore everything you need to know about Imperial Blue Plumbago care, from understanding the plant to troubleshooting common issues and designing a garden around it.
Understanding the Imperial Blue Plumbago Plant
The Imperial Blue Plumbago (Plumbago auriculata 'Imperial Blue') is a versatile perennial shrub native to South Africa. It belongs to the Plumbaginaceae family and is also known as Cape Leadwort. The plant features striking clusters of sky-blue flowers that bloom from late spring to fall, creating a breathtaking display of color in your garden.
With a moderate growth rate, the Imperial Blue Plumbago can reach a height of up to 6 feet and spread up to 8 feet. Its glossy, dark green leaves serve as an attractive backdrop for the vivid blue flowers. Moreover, this plant is a magnet for butterflies and hummingbirds, making it an excellent addition to wildlife gardens.
The Basics of Growing Imperial Blue Plumbago
Growing Imperial Blue Plumbago is a rewarding experience, especially for gardeners who appreciate low-maintenance plants. To ensure its successful growth, here are some essential factors to consider:
Choosing the Right Location for Your Imperial Blue Plumbago
The Imperial Blue Plumbago thrives in full sun, so it's crucial to select a location that receives at least six hours of direct sunlight per day. However, it can tolerate partial shade, but this may result in fewer flowers and slower growth. Avoid planting it in areas prone to strong winds, as this can damage the delicate branches and foliage.
Soil Requirements for Thriving Imperial Blue Plumbago
This plant prefers well-draining soil to prevent waterlogged roots. It is adaptable to various soil types, including sandy or loamy soil. However, it thrives best in fertile soil that is rich in organic matter. Before planting, amend the soil with compost or well-rotted manure to improve its fertility and drainage capabilities.
Watering Tips for Imperial Blue Plumbago
Once established, the Imperial Blue Plumbago is fairly drought-tolerant. However, regular watering is essential during the first year to help the plant establish a strong root system. Water deeply, allowing the soil to dry slightly between waterings. Avoid overwatering, as this can lead to root rot and other issues. During periods of extreme heat and drought, increase the frequency of watering to keep the plant hydrated.
Sunlight Needs: How to Provide Optimal Light for Your Imperial Blue Plumbago
As mentioned earlier, the Imperial Blue Plumbago requires full sun to thrive. Ensure that the plant is exposed to at least six hours of direct sunlight daily. This abundance of sunlight not only promotes healthy growth but also intensifies the color of its striking blue flowers. If planting in a partially shaded area, make sure it still receives a substantial amount of sunlight throughout the day.
Fertilizing Schedule for Healthy Imperial Blue Plumbago Plants
To encourage vigorous growth and abundant flowering, fertilize your Imperial Blue Plumbago regularly. Apply a balanced, slow-release fertilizer in early spring as new growth emerges. Follow the package instructions for the correct amount and method of application. Additionally, a light application of compost or well-rotted manure in spring can provide an organic boost to the plant's nutrient needs.
Pruning and Trimming Techniques to Promote Bushier Growth in Imperial Blue Plumbago
Pruning is essential to maintain the shape and promote bushier growth in your Imperial Blue Plumbago. You can prune the plant in late winter or early spring before new growth begins. Start by removing any dead, damaged, or diseased branches. Additionally, you can trim back the overall size of the plant by cutting back up to one-third of its height. Pruning also helps improve airflow and prevent overcrowding, reducing the risk of pests and diseases.
Dealing with Common Pests and Diseases in Imperial Blue Plumbago
The Imperial Blue Plumbago is generally resilient against pests and diseases. However, it can be occasionally affected by aphids, whiteflies, and spider mites. Monitor your plant regularly for signs of infestation, such as distorted foliage or sticky residue. If necessary, use insecticidal soap or neem oil to control the pests. Additionally, ensure good air circulation by spacing the plants adequately to prevent the development of fungal diseases like powdery mildew.
Propagating Imperial Blue Plumbago: Step-by-Step Guide
If you desire more Imperial Blue Plumbago plants for your garden, propagating them is relatively easy. The most common method is through stem cuttings:
1. Take 4- to 6-inch long stem cuttings from a healthy, mature plant in early spring.2. Remove the lower leaves, leaving a few sets of leaves at the top.3. Dip the base of the cutting in a rooting hormone.4. Plant the cutting in a pot filled with well-draining soil.5. Mist the cutting and cover it loosely with a plastic bag to create a mini greenhouse effect.6. Place the pot in a bright, warm location but away from direct sunlight.7. Keep the soil moist by misting or using a gentle watering technique.8. After several weeks, the cutting should develop roots. You can then transplant it into a larger container or your garden.
Transplanting Tips for Successful Relocation of Your Imperial Blue Plumbago
Whether you want to move your Imperial Blue Plumbago to a different part of your garden or into a larger container, proper transplanting techniques are crucial to minimize stress and maximize success. Follow these steps for a successful transplant:
1. Choose a suitable location with similar sunlight and soil conditions.2. Dig a hole that is slightly larger than the root ball of the plant.3. Carefully lift the plant from its current location, taking care not to damage the roots.4. Place the plant in the prepared hole, ensuring that it sits at the same depth as it did before.5. Backfill the hole with soil, firming it gently around the roots.6. Water thoroughly to settle the soil and help the plant establish in its new location.7. Monitor the plant closely in the following weeks to ensure it adapts well.
Overwintering Strategies: Protecting Your Imperial Blue Plumbago from Cold Temperatures
In areas with frost or freezing temperatures, protecting your Imperial Blue Plumbago during winter is crucial. Follow these steps to minimize potential damage:
1. Before the first frost, cut back the plant to about one-third of its height.2. Apply a layer of mulch around the base of the plant to insulate the roots.3. Cover the plant with frost cloth or burlap to protect it from extreme cold and drying winds.4. Water the plant thoroughly before the first freeze to help it withstand dry winter conditions.5. Monitor the plant during winter, checking for signs of frost damage or pests.
Troubleshooting Common Issues in Imperial Blue Plumbago Care
While the Imperial Blue Plumbago is generally a hardy plant, it can still be susceptible to certain issues. Here are some common problems you may encounter and how to address them:
– Yellowing Leaves: This can indicate overwatering or poor drainage. Adjust your watering schedule and ensure the plant is in well-draining soil.- Lack of Flowers: Insufficient sunlight or pruning at the wrong time can result in limited or no flowering. Ensure the plant receives adequate sunlight, and prune it in late winter or early spring.- Powdery Mildew: High humidity and poor air circulation can lead to powdery mildew. Improve air circulation and, if necessary, use an appropriate fungicide.- Pests: Aphids, whiteflies, and spider mites may occasionally infest your Imperial Blue Plumbago. Use insecticidal soap or neem oil to control the pests.
Enhancing the Aesthetic Appeal of Your Garden with Imperial Blue Plumbago
The stunning blue flowers of the Imperial Blue Plumbago can add a touch of elegance and charm to any garden. Here are a few tips to maximize its visual impact:
– Plant in Mass Groupings: Create a breathtaking display by planting several Imperial Blue Plumbagos together for a mass of vibrant blue.- Combine with Other Colors: Pair the blue flowers with complementary colors like yellow or orange to create a visually striking contrast.- Create a Border: Use the Imperial Blue Plumbago as a border plant along pathways or garden beds to add a pop of color and define the space.- Mix with Evergreens: Combine the blue blossoms with evergreen plants to provide year-round interest and visual variety.
Companion Planting Ideas for Imperial Blue Plumbago
Companion planting is an excellent strategy to maximize the benefits of your Imperial Blue Plumbago. Here are a few plants that pair well with this stunning shrub:
– Salvia: The vivid blue flowers of the Imperial Blue Plumbago complement the vibrant red or purple blooms of various Salvia species.- Lantana: Lantana's colorful clusters of flowers enhance the visual appeal when planted alongside Imperial Blue Plumbago.- Echinacea: The bright hues of Echinacea (also known as Coneflowers) create a lovely contrast with the stunning blue blossoms, attracting both pollinators and admirers.
Using Imperial Blue Plumbago in Container Gardening
The Imperial Blue Plumbago's compact nature and striking blue flowers make it an excellent choice for container gardening. Follow these tips to cultivate this beauty in pots:
– Choose a container with adequate drainage holes to prevent waterlogged roots.- Use a well-draining potting mix enriched with organic matter.- Select a container size that allows for root growth and accommodates the mature size of the plant.- Water the potted Plumbago regularly, ensuring the soil doesn't dry out completely.- Place the container in a location that receives ample sunlight, preferably at least six hours a day.- Fertilize the plant regularly with a balanced, slow-release fertilizer to support healthy growth and flowering.
Creating Beautiful Landscapes with Mass Plantings of Imperial Blue Plumbago
Mass plantings of Imperial Blue Plumbago can transform any landscape into a vision of beauty. Here are some ideas to create visually stunning settings:
– Create a Colorful Backdrop: Plant the Imperial Blue Plumbago against a wall or fence to provide a stunning azure backdrop for other plants in front.- Border Along Walkways: Line your garden paths or walkways with a row of Imperial Blue Plumbago to create a charming border.- Add Height and Structure: Incorporate the Imperial Blue Plumbago in the back or middle of a flower bed or mixed border to provide height and structure to the landscape.- Mix with Native Plants: Combine the Imperial Blue Plumbago with other native flowering plants to create a vibrant and ecologically beneficial garden.
Designing a Butterfly or Hummingbird Garden with Imperial Blue Plumbago
Attracting butterflies and hummingbirds to your garden is a delight for any nature enthusiast. Here's how you can create a butterfly or hummingbird garden using Imperial Blue Plumbago:
– Include Nectar-Rich Flowers: Plant other nectar-rich flowers such as Butterfly Bush (Buddleja), Zinnias, and Lantana to ensure a continuous source of food for butterflies and hummingbirds.- Provide Water Sources: Include a shallow birdbath or install a small water feature with a gently trickling fountain for these winged visitors to drink and bathe.- Add Shelter and Perching Spots: Plant shrubs or trees nearby that provide shelter and perching spots for butterflies and hummingbirds to rest between feedings.- Avoid Chemical Insecticides: Minimize or eliminate the use of chemical insecticides, as they can harm the very creatures you aim to attract.
With these tips and detailed instructions, you can confidently care for your Imperial Blue Plumbago and create a stunning garden that bursts with vibrant blue color. Enjoy the beauty and the wildlife it attracts, and let your garden become a haven of natural wonders.