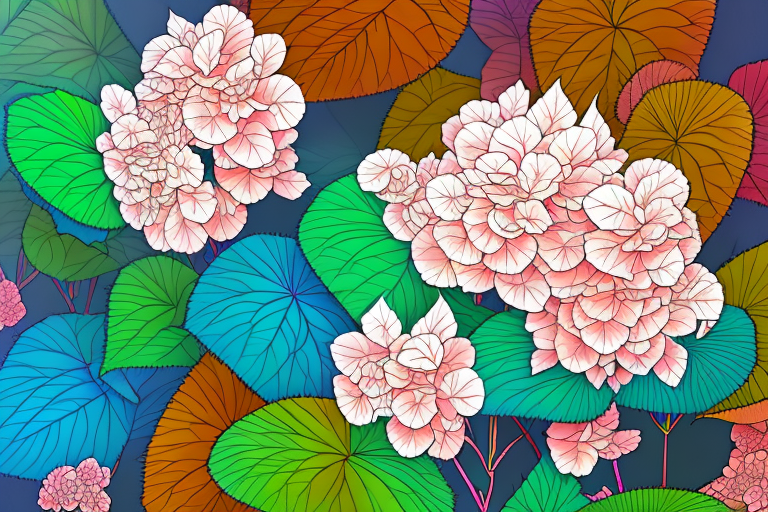 Dragon Begonia is a stunning plant that can bring a touch of exotic beauty to any indoor or outdoor space. With its vibrant colors and unique characteristics, this fascinating plant is sure to be a showstopper in your garden or as a houseplant. In this article, we will explore the ins and outs of Dragon Begonia care, from understanding the plant's origin to essential care guidelines, propagation methods, common problems, and top tips for successful cultivation.
Understanding the Dragon Begonia
The Dragon Begonia, also known as Begonia rex, is a species that hails from the tropical rainforests of India and Southeast Asia. It belongs to the Begoniaceae family and is widely loved for its stunning foliage. The plant boasts large, asymmetrical leaves with fascinating patterns in various shades of green, silver, purple, and red. Each leaf is truly a work of art, making Dragon Begonia a popular choice for plant enthusiasts looking for something visually striking.
When you bring a Dragon Begonia into your home, you are not only bringing in a beautiful plant but also a piece of nature's wonder. The intricate patterns on its leaves resemble the delicate strokes of a painter's brush, creating a mesmerizing display of colors and shapes. Each leaf tells a story of the plant's journey through time, adapting and evolving to survive in the dense rainforests of its native habitat.
Origin and Characteristics of Dragon Begonia
The Dragon Begonia is native to the subtropical and tropical regions of India, Indonesia, and Malaysia. Its natural habitat consists of shaded areas with high humidity levels, often found in the undergrowth of rainforests. These conditions have made the plant highly adaptable to indoor cultivation, where it can thrive as a stunning houseplant.
When you bring a Dragon Begonia into your home, you are not only adding a touch of exotic beauty but also a piece of history. This plant has survived for centuries in its native rainforests, adapting to the ever-changing environment and thriving amidst the lush greenery. By nurturing a Dragon Begonia, you become part of its story, continuing the legacy of this remarkable species.
Different Varieties of Dragon Begonia
There are several cultivars of Dragon Begonia that you can choose from, each offering its own unique characteristics and visual appeal. Some popular varieties include Begonia rex 'Escargot' with its spiral-shaped leaves, Begonia rex 'Fireworks' featuring vibrant red foliage, and Begonia rex 'Tiger Kitten' showcasing striking silver and green patterns.
Each variety of Dragon Begonia is like a different chapter in a book, adding depth and diversity to your plant collection. The 'Escargot' variety, with its spiral-shaped leaves, resembles a delicate snail shell, inviting you to marvel at the wonders of nature's design. 'Fireworks' takes you on a journey of vibrant colors, igniting a spark of joy and excitement in any indoor space. And 'Tiger Kitten' mesmerizes with its silver and green patterns, evoking a sense of tranquility and harmony.
As you explore the world of Dragon Begonias, you'll discover a wide range of varieties, each with its own story to tell. From the bold and dramatic to the subtle and elegant, there is a Dragon Begonia for every plant lover's taste. So, embark on this botanical adventure and let the Dragon Begonia captivate your heart and soul.
Essential Care Guidelines for Dragon Begonia
Providing the right care for your Dragon Begonia is essential to ensure its health and beauty. Let's explore the key factors that contribute to the plant's overall well-being.
Ideal Lighting Conditions
Dragon Begonias thrive in bright, indirect light. Placing them near a north-facing window or a few feet away from an east or west-facing window is usually ideal. Direct sunlight can scorch the delicate foliage, so it's important to avoid exposure to intense rays. If you notice the leaves turning pale, it may be an indication that the plant needs more light. On the other hand, if the leaves become darker or develop brown spots, it might be getting too much light.
Watering Requirements
Proper watering is crucial for the health of your Dragon Begonia. These plants prefer a slightly moist but well-draining soil. It's important to allow the top inch of soil to dry out between waterings to prevent overwatering, which can lead to root rot. A good rule of thumb is to water the plant when the top inch of soil feels dry to the touch. Be sure to water the plant thoroughly, allowing the excess water to drain away. Avoid letting the plant sit in standing water, as this can also cause root rot.
Temperature and Humidity Preferences
Dragon Begonias thrive in warm and humid conditions, similar to their natural rainforest habitat. Average room temperatures between 65°F and 75°F (18°C and 24°C) are ideal for these plants. It's important to keep the humidity levels high, especially in dry indoor environments. You can increase humidity by using a humidifier, placing a tray filled with water near the plant, or misting the leaves regularly. Avoid exposing the plant to cold drafts, as it can be sensitive to temperature fluctuations.
Propagation of Dragon Begonia
Want to expand your collection of Dragon Begonia or share the beauty of this plant with others? Propagation is a great way to do so, and it's relatively easy with a bit of know-how. Let's explore two popular methods of propagating Dragon Begonia.
Propagation through Stem Cuttings
To propagate your Dragon Begonia through stem cuttings, follow these simple steps:
Select a healthy stem with a few leaves attached.
Cut the stem just below a node, making sure the cutting is around 3-4 inches long.
Remove the lower leaves, leaving only a few on the top.
Dip the cut end in rooting hormone (optional) and place it in a moist potting mix.
Mist the cutting regularly and keep it in a warm, bright spot.
In a few weeks, the cutting should develop roots, and you can then transfer it to its own pot.
Propagation through Leaf Cuttings
Another method of propagating your Dragon Begonia is through leaf cuttings. Here's how you can do it:
Select a healthy leaf and make a clean cut at the base, ensuring you have a small section of the petiole intact.
Place the leaf, cut side down, on a moist potting mix.
Make small slits in the leaf veins, being careful not to cut all the way through.
Press the slits into the soil, ensuring the leaf is in contact with the mix.
Mist the leaf and soil regularly, ensuring they remain slightly moist.
After a few weeks, tiny plantlets should emerge from the slits, and you can then transfer them to individual pots.
Common Problems and Solutions in Dragon Begonia Care
Like any other plant, Dragon Begonias can face certain issues that might impact their health and appearance. Let's discuss a few common problems and their solutions.
Overwatering and Root Rot
Overwatering is a common mistake that can lead to root rot in Dragon Begonias. To avoid this, ensure that the plant is not sitting in standing water and allow the top inch of soil to dry out between waterings. If root rot occurs, it's crucial to take immediate action by repotting the plant into fresh, well-draining soil and trimming away any affected roots.
Pest Infestations
Dragon Begonias are generally resistant to pests, but they can occasionally fall victim to common houseplant pests like spider mites, mealybugs, and aphids. Regularly inspect your plant for any signs of infestation, such as webbing, tiny crawling insects, or sticky residue on the leaves. If you notice any pests, treat them with insecticidal soap or neem oil, applied according to the manufacturer's instructions.
Leaf Spot Diseases
Leaf spot diseases, such as powdery mildew and bacterial leaf spot, can affect Dragon Begonias. These diseases usually occur due to high humidity or poor air circulation. To prevent leaf spot, make sure to provide adequate airflow around the plant, avoid overhead watering, and remove any infected leaves promptly. Fungicidal treatments may be necessary if the disease persists.
Tips for Indoor and Outdoor Cultivation of Dragon Begonia
Whether you're growing your Dragon Begonia indoors as a houseplant or outdoors in a garden, there are a few additional tips that can help you achieve success and make your plants thrive.
Potting and Repotting Guidelines
When potting your Dragon Begonia, choose a container that provides good drainage and is slightly larger than the current root ball. Use a well-draining potting mix that retains moisture while allowing excess water to escape. Repot your Dragon Begonia every 1-2 years, preferably in spring, to provide fresh soil and additional space for growth.
Pruning and Maintenance Tips
Regular pruning is essential for maintaining the shape and lushness of your Dragon Begonia. Remove any dead, yellowing, or damaged leaves to promote new growth. Additionally, pinch off the tips of the stems occasionally to encourage bushiness. Regularly wipe the leaves with a damp cloth to remove dust buildup and ensure the plant can photosynthesize efficiently.
Winter Care for Dragon Begonia
During winter, Dragon Begonias may enter a period of dormancy, where their growth slows down. It's important to adjust your care routine accordingly. Reduce watering frequency to prevent overwatering, as the plant requires less moisture during this time. Place the plant away from cold drafts and provide slightly cooler temperatures, around 60°F (15°C), to promote healthy dormancy. Resume regular care and increase watering frequency as spring approaches.
In conclusion, Dragon Begonia care involves understanding the plant's origins, providing essential care guidelines, exploring propagation techniques, troubleshooting common problems, and following top tips for indoor and outdoor cultivation. By following these guidelines, you can enjoy a beautiful and thriving Dragon Begonia that will undoubtedly become the centerpiece of your plant collection or garden. Happy growing!