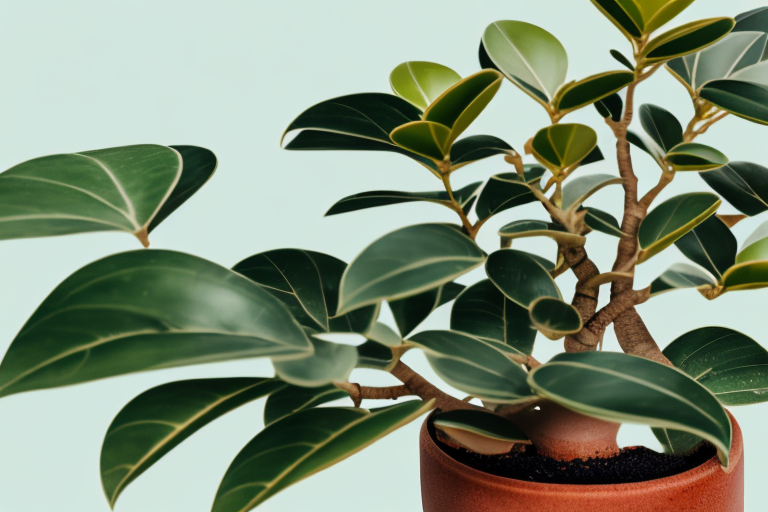 Taking care of your Green Island Ficus is essential for its health and beauty. This resilient plant thrives in the right conditions and can add a touch of natural elegance to any landscape. In this article, we'll explore the understanding, ideal conditions for growth, planting techniques, routine care, and troubleshooting tips for your Green Island Ficus.
Understanding the Green Island Ficus
Before we dive into the care tips, let's take a closer look at the Green Island Ficus itself. Originating from the tropical regions of Asia, this evergreen shrub boasts glossy, dark green leaves and a dense, compact growth habit. Its bushy foliage and ability to withstand various environmental conditions make it highly sought after for landscaping purposes.
Origin and Characteristics of Green Island Ficus
The Green Island Ficus, scientifically known as Ficus microcarpa, is a member of the Moraceae family. It is native to Southeast Asia, including China, Taiwan, and Malaysia. This gorgeous shrub can grow up to 6 feet in height and spread, providing ample coverage.
One of the most fascinating aspects of the Green Island Ficus is its ability to adapt to different climates. In its natural habitat, it thrives in the warm and humid conditions of the tropical regions. However, it has also been successfully cultivated in other parts of the world with varying climates. This adaptability is a testament to the resilience of this remarkable plant.
Aside from its adaptability, the Green Island Ficus also exhibits remarkable longevity. With proper care and maintenance, it can live for several decades, becoming a cherished part of any landscape. Its long lifespan makes it a wise investment for those looking to create a lasting impact in their outdoor spaces.
Importance of Green Island Ficus in Landscaping
The Green Island Ficus is a versatile plant that can be used to create stunning hedges, borders, or as a standalone specimen. Its dense foliage creates a visually appealing backdrop, while also serving as a natural screen to provide privacy. Whether you're looking to create a secluded oasis in your backyard or add structure to your garden, the Green Island Ficus can fulfill your landscaping needs.
One of the key advantages of using the Green Island Ficus in landscaping is its ability to withstand different lighting conditions. While it thrives in full sun, it can also tolerate partial shade, making it a flexible choice for various areas in your garden. This adaptability allows you to incorporate this beautiful shrub into different parts of your landscape design, adding depth and visual interest.
Furthermore, the Green Island Ficus is known for its low-maintenance nature. Once established, it requires minimal pruning and can tolerate periods of drought. This makes it an ideal choice for busy homeowners or those who prefer a low-fuss garden. With its ability to thrive with little intervention, the Green Island Ficus is a reliable and hassle-free addition to any landscape.
Ideal Conditions for Green Island Ficus Growth
Creating the optimal conditions for your Green Island Ficus is crucial to its overall well-being. Let's explore the essential factors to consider when it comes to light requirements, temperature, humidity preferences, and other important aspects that contribute to the healthy growth of this beautiful plant.
Light Requirements
The Green Island Ficus flourishes in bright, indirect light. This means that it thrives when placed near a window where it can receive ample filtered sunlight. While it can tolerate some direct sunlight, prolonged exposure to harsh rays may scorch its foliage. Therefore, it's important to find a balance and avoid placing it in direct sunlight for extended periods of time. By providing the right amount of light, you can ensure that your Green Island Ficus will grow and thrive, showcasing its vibrant green leaves.
Indoor cultivation of the Green Island Ficus is also a popular choice. If you decide to grow it indoors, it's important to choose a location that offers bright, indirect light. This can be achieved by placing it near a window that receives plenty of natural light throughout the day. By doing so, you'll be providing your ficus with the light it needs to flourish and maintain its health.
Temperature and Humidity Preferences
Green Island Ficus thrives in moderate temperatures ranging from 60°F to 85°F (15°C to 29°C). It is important to avoid placing your ficus in areas prone to extreme temperature fluctuations or drafts. Sudden changes in temperature can be stressful for the plant and may affect its growth and overall health. Therefore, it's recommended to find a spot in your home or garden where the temperature remains relatively stable throughout the day.
In addition to temperature, humidity is another crucial factor to consider when it comes to the well-being of your Green Island Ficus. This tropical plant prefers higher humidity levels, similar to the conditions it would experience in its natural habitat. To replicate these conditions, you can mist the foliage regularly or place a tray filled with water nearby. This will help create a more humid microclimate around the plant, providing it with the moisture it needs to thrive.
By paying attention to these important factors – light requirements, temperature, and humidity preferences – you can create an environment that is ideal for the growth of your Green Island Ficus. Providing the optimal conditions will not only enhance the beauty of the plant but also contribute to its overall health and longevity.
Planting Your Green Island Ficus
Now that you have a better understanding of the environmental conditions your Green Island Ficus loves, let's dive into the planting process.
But before we get started, let's take a moment to appreciate the beauty and elegance of the Green Island Ficus. With its glossy, dark green leaves and compact growth habit, this plant is a true showstopper in any indoor or outdoor setting.
Now, let's move on to the first step of planting your Green Island Ficus – choosing the right soil.
Choosing the Right Soil
When it comes to soil, your ficus prefers well-draining and fertile soil. A mixture of peat moss, perlite, and organic compost can provide the ideal balance. Peat moss helps retain moisture while perlite improves drainage, ensuring that your ficus' roots stay healthy and happy.
Organic compost, on the other hand, enriches the soil with essential nutrients, promoting vigorous growth and overall plant health. A well-nourished ficus is more resistant to pests and diseases, so it's definitely worth investing in good quality soil.
Now that you have the perfect soil mixture ready, let's move on to the next step – proper planting techniques.
Proper Planting Techniques
When planting your ficus, it's important to give it the best start possible. Start by selecting a suitable location for your Green Island Ficus. This plant thrives in bright, indirect light, so choose a spot that receives ample sunlight throughout the day. Avoid placing it in direct sunlight, as it can scorch the leaves.
Once you've found the perfect spot, it's time to dig a hole slightly larger than the root ball. This will ensure that your ficus has ample space for growth and development. Use a garden shovel or trowel to carefully dig the hole, taking care not to damage any existing roots or nearby plants.
Now, gently remove the plant from its container, being careful not to disturb the root system too much. If you notice any tightly bound roots, gently loosen them with your fingers to encourage outward growth.
Place the ficus in the hole, making sure that the top of the root ball is level with the soil's surface. This will help prevent the plant from sinking too deeply into the ground, which can lead to waterlogging and root rot.
Once the ficus is in place, it's time to backfill the hole with the soil mixture you prepared earlier. Gently pour the soil around the root ball, making sure to fill any gaps or air pockets. Press down firmly to eliminate any remaining air pockets and provide stability to the plant.
Finally, give your newly planted ficus a good watering to settle the soil. This will help the roots establish themselves and ensure that the plant gets off to a strong start.
Remember to water your Green Island Ficus regularly, allowing the top inch of soil to dry out between waterings. Overwatering can lead to root rot, so it's important to find the right balance.
With proper care and attention, your Green Island Ficus will thrive and become a stunning centerpiece in your home or garden. Enjoy the beauty and benefits this magnificent plant brings to your space!
Routine Care for Green Island Ficus
Now that your ficus is happily settled into its new home, let's discuss the essential care routines to keep it thriving.
Watering Guidelines
Proper watering is crucial to prevent overhydration or dehydration of your Green Island Ficus. The general rule of thumb is to water thoroughly when the top inch of soil feels dry to the touch. Ensure that excess water drains away, keeping the roots from sitting in standing water, which can lead to root rot. Remember, it's better to underwater than overwater your ficus.
Fertilization Needs
To encourage healthy growth, feed your Green Island Ficus with a balanced, water-soluble fertilizer once every month during the growing season. Follow the package instructions for the appropriate dosage, as over-fertilization can cause damage to the plant or lead to excessive foliage growth.
Pruning and Shaping Your Ficus
To maintain the desired shape and size of your ficus, regular pruning is necessary. Trim any dead, damaged, or diseased branches as needed. You can also shape your ficus by selectively trimming branches to create a well-groomed appearance. Remember to use sterilized pruning shears to prevent the spread of diseases.
Troubleshooting Common Problems
Despite your best efforts, issues can arise with your Green Island Ficus. Let's explore some common problems and how to deal with them.
Identifying and Treating Diseases
Yellowing leaves, leaf drop, or the appearance of spots on the foliage can indicate a potential disease issue. Common afflictions include fungal infections and bacterial leaf spot. To combat these problems, ensure proper air circulation around your ficus and avoid overwatering or overcrowding. If the issue persists, consult a professional or your local nursery for specific treatment options.
Dealing with Pests
Green Island Ficus can attract a variety of pests, such as aphids, mealybugs, and spider mites. Regularly inspect your plants for signs of infestation, including sticky residue, webbing, or distorted leaves. Use insecticidal soap or horticultural oil to combat pests, applying as directed. Alternatively, introducing beneficial insects can help control pest populations naturally.
Caring for your Green Island Ficus can be a rewarding experience. With the right conditions, proper care, and timely intervention, your ficus will thrive and bring a touch of natural beauty to your surroundings. Follow the guidelines outlined in this article, and you'll be well on your way to enjoying a flourishing ficus for years to come.