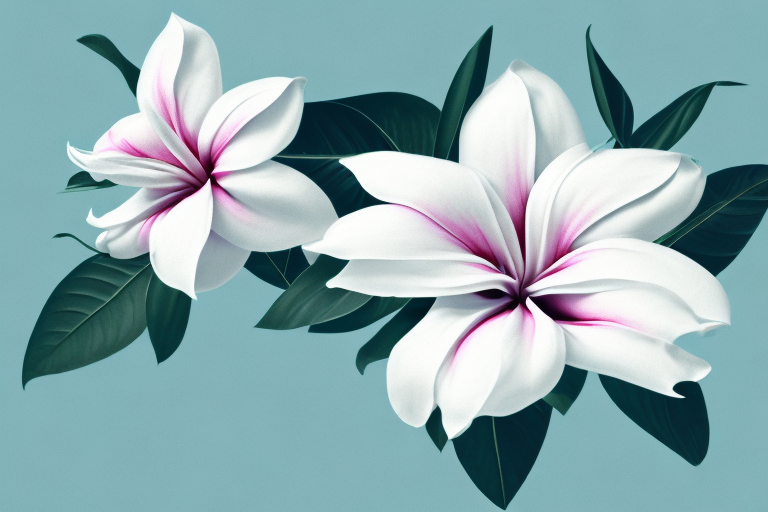 If you're a plant lover or someone who wants to add a touch of beauty to your garden or home, you may have come across the Mandevilla plant. With its vibrant blooms and attractive foliage, the Mandevilla plant has become a popular choice among garden enthusiasts. But amidst all the excitement, one question often arises: Is Mandevilla evergreen?
Understanding the Mandevilla Plant: An Introduction
Before we delve into the evergreen nature of the Mandevilla, let's take a moment to familiarize ourselves with this enchanting plant. The Mandevilla plant, also known as Dipladenia, is a tropical vine native to South America. It is prized for its stunning trumpet-shaped flowers that come in various shades of pink, red, white, and yellow. These blooms, coupled with its glossy dark green leaves, make the Mandevilla plant a showstopper in any garden or indoor setting.
One interesting fact about the Mandevilla plant is that it belongs to the Apocynaceae family, which also includes other popular flowering plants such as oleander and periwinkle. This family is known for its beautiful and fragrant flowers, making the Mandevilla a delightful addition to any floral collection.
In addition to its aesthetic appeal, the Mandevilla plant also has some practical uses. In traditional medicine, certain parts of the plant, such as the leaves and roots, have been used to treat various ailments. It is believed to have anti-inflammatory and analgesic properties, making it useful in relieving pain and reducing swelling.
Exploring the Different Varieties of Mandevilla Plants
When it comes to Mandevilla plants, there is a wide range of captivating varieties to choose from. Each variety brings its own unique charm and characteristics to the table. Whether you prefer the classic pink Mandevilla sanderi, the bright red Mandevilla splendens, or the delicate white Mandevilla boliviensis, there is a Mandevilla plant to suit every taste and preference.
In addition to these popular varieties, there are also lesser-known Mandevilla plants that offer their own distinct beauty. The Mandevilla laxa, also known as Chilean jasmine, features clusters of fragrant white flowers that bloom in late spring. Another unique variety is the Mandevilla amabilis, which boasts stunning yellow flowers with a hint of orange. These lesser-known Mandevilla plants can add a touch of novelty and intrigue to any garden or outdoor space.
The Lifespan of Mandevilla: Is it Evergreen?
Now, let's address the question that brought us here: Is Mandevilla evergreen? The answer is yes and no. In its natural habitat, Mandevilla is indeed an evergreen plant, meaning it retains its lush green foliage all year round. However, in cooler climates or when grown indoors, Mandevilla may experience a period of dormancy during the winter months, leading to some leaf drop. But fret not, as this is a normal part of Mandevilla's growth cycle. With the right care and conditions, it will bounce back to its evergreen glory when the warmer seasons roll around.
It's important to note that Mandevilla's lifespan can vary depending on various factors. On average, Mandevilla plants can live for several years if properly cared for. However, some varieties may have a shorter lifespan, typically lasting around 2-3 years. To ensure the longevity of your Mandevilla, it's crucial to provide it with adequate sunlight, well-draining soil, regular watering, and occasional fertilization. Additionally, pruning and removing any dead or damaged foliage can help promote healthy growth and extend the lifespan of your Mandevilla plant.
Unveiling the Beauty of Evergreen Mandevilla Plants
Now that we've cleared up any confusion about the evergreen nature of Mandevilla, let's appreciate the beauty that these plants bring to our lives. Evergreen Mandevilla plants offer year-round visual appeal with their luscious green leaves, acting as a constant reminder of nature's beauty even during the colder months. The dazzling flowers that Mandevilla produces are like nature's jewels, enhancing the aesthetics of any landscape or living space.
Climate Conditions for Growing Mandevilla: What You Need to Know
If you're considering adding Mandevilla to your garden, it's important to understand the climate conditions necessary for its growth. Mandevilla plants thrive in warm climates, specifically hardiness zones 9 to 11. They require full sun or partial shade to flourish, so make sure to provide them with a spot that receives adequate sunlight throughout the day. If you live in a cooler region, you can still enjoy Mandevilla's beauty by growing it in containers and bringing it indoors during the colder months.
Caring for Evergreen Mandevilla Plants: Essential Tips and Tricks
Proper care is crucial to ensure the longevity and health of your evergreen Mandevilla plants. Provide them with well-draining soil enriched with organic matter and water regularly to keep the soil moist but not waterlogged. Applying a balanced fertilizer every two weeks during the growing season will provide the necessary nutrients for optimal growth. Additionally, you can help stimulate blooming by pinching back new growth and removing any dead or damaged leaves.
The Role of Pruning in Maintaining Evergreen Mandevilla Plants
Pruning plays a vital role in maintaining the overall health and shape of your evergreen Mandevilla plants. It's best to prune them in early spring before new growth begins. Remove any dead, damaged, or weak branches, and shape the plant as desired. This not only keeps your Mandevilla looking tidy but also promotes better air circulation and sunlight penetration, reducing the risk of diseases and encouraging healthy growth.
Troubleshooting Common Issues with Evergreen Mandevilla Plants
Like any plant, evergreen Mandevilla can face certain issues from time to time. One common problem is the presence of pests, such as aphids or spider mites. Regularly inspect your plants and, if necessary, treat them with appropriate insecticides or soaps to keep pests under control. Another issue that may arise is leaf yellowing or leaf drop. This can be a sign of overwatering, underwatering, or nutrient deficiencies. Adjusting your watering schedule and fertilizing appropriately can often resolve these problems.
Enhancing the Growth of Mandevilla: Soil, Water, and Fertilizer Requirements
Mandevilla plants thrive in well-draining soil that is slightly acidic. Combine equal parts of high-quality potting mix, perlite, and peat moss to create an ideal growing medium. Water your Mandevilla consistently, keeping the soil evenly moist, but avoid overwatering to prevent root rot. To boost growth and blooming, use a balanced, water-soluble fertilizer according to the manufacturer's instructions. With the right soil, water, and fertilizer, your Mandevilla will reward you with vigorous growth and abundant blooms.
Utilizing Trellises and Supports for Vertical Growth of Evergreen Mandevilla
One of the most appealing aspects of evergreen Mandevilla plants is their ability to climb and add vertical interest to any garden or space. To encourage upward growth, provide your Mandevilla with a trellis or support structure for it to cling onto. This not only enhances their visual impact but also helps keep the plant organized and prevents it from sprawling on the ground.
Creative Landscaping Ideas with Evergreen Mandevilla Plants
When it comes to incorporating evergreen Mandevilla plants into your landscaping, the possibilities are endless. Use them as a focal point in your garden, allowing their vibrant blooms to captivate visitors. Mix different varieties to create a riot of colors or pair them with other flowering shrubs and plants for a stunning visual display. Hanging baskets and containers are also great options for adding a touch of elegance to your patios or balconies.
Propagation Techniques for Expanding Your Collection of Evergreen Mandevillas
If you're eager to expand your collection of evergreen Mandevilla plants, propagation can be an exciting option. You can propagate Mandevilla through stem cuttings or by layering. Take a healthy stem cutting and place it in a well-draining growing medium. With proper care and the right conditions, the cutting will develop roots and grow into a new plant. Layering involves pinning a low-hanging stem to the ground and allowing it to form roots before separating it from the parent plant.
Combining Colors: Pairing Evergreen Mandevillas with Other Ornamental Plants
To create a visually stunning garden, consider pairing evergreen Mandevillas with other complimentary ornamental plants. The vibrant colors of the Mandevilla flowers can be beautifully contrasted with the soft pastels of roses or the striking foliage of ornamental grasses. Remember to pay attention to factors such as sun exposure and water requirements when choosing companion plants to ensure they thrive together harmoniously.
Container Gardening with Evergreen Mandevillas: A Space-Saving Solution
If you have limited garden space or live in an apartment, container gardening with evergreen Mandevillas is the perfect solution. Opt for large pots or hanging baskets, and select a compact or dwarf variety to fit your space. Ensure proper drainage by adding a layer of stones or a drainage hole, and use a well-draining potting mix. Place your Mandevilla in a spot that receives ample sunlight, and watch as it transforms your balcony or patio into a mini oasis of color and beauty.
So, is Mandevilla evergreen? Ultimately, the answer depends on your climate and growing conditions. While Mandevilla may experience a period of dormancy or leaf drop during colder months or when grown indoors, with the right care and environment, it exhibits its evergreen nature in all its glory. From its stunning flowers to its glossy foliage and versatile growth habits, the evergreen Mandevilla is a captivating addition to any garden or indoor space. With the knowledge and tips shared in this article, you're now equipped to enjoy the beauty of Mandevilla throughout the year and create your own personal garden paradise. Happy gardening!