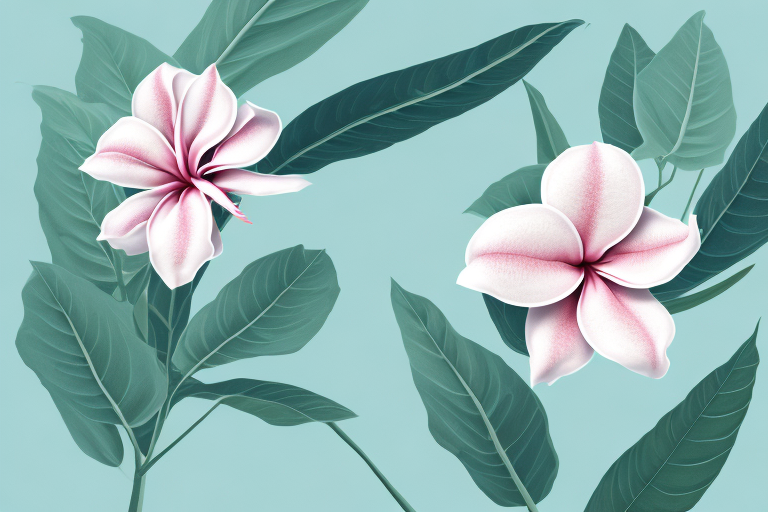 In the world of gardening, there are countless methods and products available to nurture and enhance the growth of plants. One such product that has gained popularity among garden enthusiasts is Epsom salts. While its benefits are widely recognized, the use of Epsom salts on specific plant varieties, such as Mandevilla, requires a deeper understanding. In this article, we will explore the various facets of using Epsom salts on Mandevilla plants, uncovering the advantages, methods, and potential pitfalls associated with this practice.
The Benefits of Using Epsom Salts on Mandevilla Plants
One of the primary advantages of using Epsom salts on Mandevilla plants is the boost it provides to their overall health. Epsom salts, chemically known as magnesium sulfate, contain essential nutrients that Mandevilla plants require for maximum growth and vitality. Magnesium, a key component of Epsom salts, plays a crucial role in chlorophyll production, which is responsible for the plant's lush green foliage.
Furthermore, Epsom salts can aid in root development by improving nutrient absorption. This enhanced ability to uptake nutrients from the soil helps Mandevilla plants withstand stressors such as extreme weather conditions or disease. By ensuring sufficient magnesium levels, Epsom salts promote the plant's resistance and fortify its defense mechanisms against common pathogenic invaders.
Moreover, Epsom salts contribute to the plant's overall vigor and vitality, leading to improved flowering. The increased chlorophyll production resulting from the application of Epsom salts aids in the synthesis of energy-rich compounds, fueling the development of vibrant blooms. The enhanced color and vibrancy of Mandevilla flowers make for a visually stunning display, adding beauty and allure to any garden or landscape.
In addition to its benefits for overall plant health and flowering, using Epsom salts on Mandevilla plants can also help prevent and treat certain nutrient deficiencies. Magnesium deficiency, for example, can cause yellowing of the leaves, stunted growth, and reduced flower production in Mandevilla plants. By providing a readily available source of magnesium, Epsom salts can help correct this deficiency and promote healthy growth and development.
How Epsom Salts Can Improve the Health of Mandevilla Flowers
The health and endurance of Mandevilla flowers are vital factors to consider when using Epsom salts. The magnesium content in Epsom salts helps in preserving the health of flower petals by preventing leaf yellowing, a common issue that can hinder the overall beauty of Mandevilla plants. Additionally, Epsom salts contribute to longer-lasting blooms by strengthening the cell walls of the flowers.
When the cell walls are sturdy and resilient, the petals are less likely to wilt or become damaged. This durability provides Mandevilla flowers with an extended lifespan, ensuring a more rewarding and visually appealing gardening experience for enthusiasts. The use of Epsom salts offers a simple yet effective method of maintaining the health and integrity of Mandevilla flowers, allowing gardeners to enjoy their beauty for extended periods.
In addition to preserving the health of flower petals and strengthening cell walls, Epsom salts also play a role in enhancing the overall color vibrancy of Mandevilla flowers. The magnesium in Epsom salts aids in the production of chlorophyll, which is responsible for the green color in plants. By ensuring an adequate supply of magnesium, Epsom salts help Mandevilla flowers maintain their vibrant hues, making them stand out in any garden or landscape.
Furthermore, Epsom salts can also improve the nutrient uptake of Mandevilla plants. The magnesium and sulfur in Epsom salts facilitate the absorption of essential nutrients from the soil, such as nitrogen, phosphorus, and potassium. This enhanced nutrient uptake promotes healthy growth and development, resulting in stronger stems, more abundant blooms, and overall improved plant vigor.
Understanding the Role of Epsom Salts in Mandevilla Plant Growth
At the core of using Epsom salts on Mandevilla plants lies a fundamental principle—maintaining proper nutrient balance. While the primary focus revolves around magnesium, it is equally important to consider the intricate relationship between this compound and other essential nutrients.
For instance, magnesium is a crucial macronutrient that aids in the absorption and utilization of phosphorous and nitrogen. When these nutrients are well-balanced, Mandevilla plants benefit from optimal growth and development. By ensuring the availability of magnesium through the application of Epsom salts, gardeners can prevent nutrient deficiencies and maintain a harmonious nutrient ratio conducive to robust plant growth.
Moreover, Epsom salts positively influence Mandevilla plant growth by improving the overall availability of nutrients in the soil. This effect is particularly relevant in soils with a pH imbalance or those prone to nutrient leaching. The inclusion of Epsom salts in plant care regimens acts as a buffer, optimizing the nutrient availability and maximizing the plant's potential for abundant growth.
Additionally, Epsom salts can also play a role in enhancing the Mandevilla plant's resistance to certain pests and diseases. The magnesium content in Epsom salts helps strengthen the plant's cell walls, making it more difficult for pests to penetrate and cause damage. Furthermore, magnesium deficiency in plants can make them more susceptible to diseases, so by providing an adequate supply of magnesium through Epsom salt application, gardeners can help bolster the plant's immune system and promote overall plant health.
Step-by-Step Guide: Applying Epsom Salts to Mandevilla Plants
Utilizing Epsom salts effectively on Mandevilla plants requires a user-friendly approach. Here is a step-by-step guide to help you navigate the process:
Ensure that your Mandevilla plant is well-watered prior to applying Epsom salts. This allows for better absorption and prevents potential root damage.
Dissolve one tablespoon of Epsom salts in a gallon of water. Stir the mixture until the salts are fully dissolved.
Pour the Epsom salt solution around the base of the plant, making sure to distribute it evenly.
Monitor the soil moisture to prevent overwatering. It is important to strike a balance to avoid root rot or other moisture-related issues.
Repeat the application every two to four weeks during the growing season. However, adjust the frequency and dosage based on the specific needs of your Mandevilla plants.
The Science Behind Epsom Salt's Effect on Mandevilla Blooms
While Epsom salts have been used for generations in gardening, the scientific explanation behind their impact on Mandevilla blooms provides valuable insights. Magnesium, as the pivotal component of Epsom salts, plays a critical role in photosynthesis—a process that enables plants to convert light into energy.
During photosynthesis, chlorophyll molecules capture light energy, facilitating the production of glucose—a primary energy source for plants. By enhancing chlorophyll production through the application of Epsom salts, the availability of glucose increases, thus providing Mandevilla plants with an ample energy supply. This surplus energy influences the development of larger, more vibrant blooms, promoting an attractive and captivating display.
Common Mistakes to Avoid When Using Epsom Salts on Mandevilla Plants
While using Epsom salts on Mandevilla plants offers numerous benefits, it is important to be aware of common pitfalls that could hinder the desired results. By understanding and avoiding these mistakes, you can ensure the optimal health and growth of your Mandevilla:
Avoid over-fertilization: Although Epsom salts provide essential nutrients, excessive application can disturb the nutrient balance, leading to adverse effects on Mandevilla plants.
Do not solely rely on Epsom salts: While beneficial, Epsom salts should be used in conjunction with a comprehensive fertilization program tailored to Mandevilla plants, considering their specific needs.
Pay attention to soil conditions: Before applying Epsom salts, it is crucial to assess the soil pH and nutrient levels. An imbalanced soil can affect nutrient absorption, rendering Epsom salt applications less effective.
Exploring Different Ways to Use Epsom Salts for Mandevilla Care
Aside from routine applications, there are additional ways to incorporate Epsom salts into your Mandevilla care routine:
Foliar spray: Dissolve Epsom salts in water and apply the solution directly on the leaves of Mandevilla plants. This method allows for rapid nutrient absorption, particularly for plants with known nutrient deficiencies.
Preparation soak: Before transplanting Mandevilla plants, consider soaking the roots in a diluted Epsom salt solution. This procedure enhances root development and promotes the establishment of healthy, vigorous plants.
Compost enhancement: Utilize Epsom salts in compost mixtures to enrich the nutrient content of the organic matter. Mandevilla plants benefit from this nutrient-rich environment during repotting or when top-dressing the soil.
Enhancing the Color and Vibrancy of Mandevilla Flowers with Epsom Salts
If you desire to further intensify the color and vibrancy of your Mandevilla flowers, Epsom salts offer an effective solution. Magnesium, a central component of chlorophyll synthesis, plays an essential role in pigmentation as well. By ensuring optimal magnesium levels through Epsom salt applications, gardeners can enhance the chromatic beauty of their Mandevilla plants.
However, it is important to note that while Epsom salts contribute to vibrant colors, genetics also play a significant role in determining the pigmentation of Mandevilla flowers. Each variety has its inherent color range. By using Epsom salts in conjunction with proper cultivation practices, you can maximize the natural potential of your chosen Mandevilla cultivars.
How Epsom Salts Can Help Prevent Nutrient Deficiencies in Mandevilla Plants
Nutrient deficiencies can hamper the growth and vitality of Mandevilla plants. Fortunately, the strategic use of Epsom salts can help mitigate these issues. As mentioned earlier, magnesium is a key nutrient supplied by Epsom salts.
Mandevilla plants require magnesium for optimal pho