Do Hummingbirds Like Mandevilla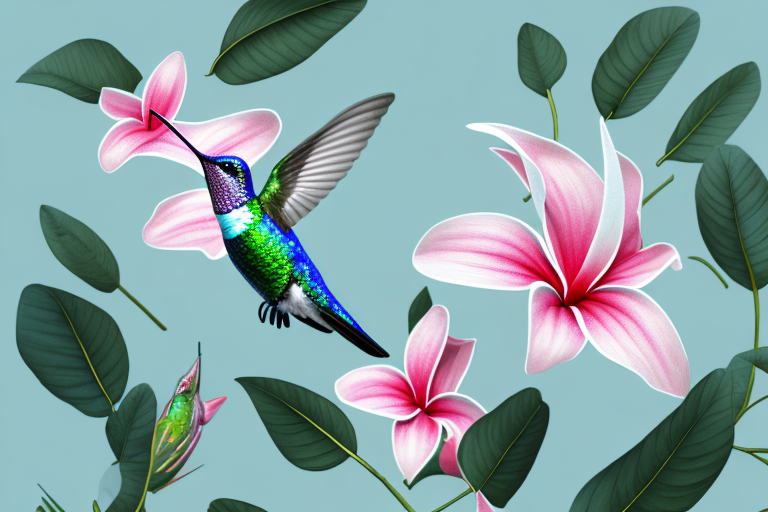 Hummingbirds, those tiny, vibrant creatures with the ability to hover in mid-air, have long been a source of fascination for nature enthusiasts. Their lightning-fast wings and vibrant plumage make them a sight to behold. But did you know that these magnificent birds have a particular affinity for a certain flower? Yes, that's right – hummingbirds simply cannot resist the allure of the beautiful Mandevilla plant.
Understanding the Fascination: Hummingbirds and Mandevilla Plants
There is something almost magical about the connection between hummingbirds and Mandevilla plants. These birds are not just attracted to any flower; they are irresistibly captivated by the vibrant colors and sweet nectar of Mandevilla blooms. It is as if the two were destined to find each other in nature's grand design. But what is it about Mandevilla that makes it so alluring to hummingbirds?
One of the main reasons why Mandevilla plants are so alluring to hummingbirds is their high nectar content. Hummingbirds have a rapid metabolism and need to consume large amounts of nectar to sustain their energy levels. Mandevilla flowers produce copious amounts of nectar, making them a perfect food source for these tiny birds.
The Relationship Between Hummingbirds and Mandevilla: Explained
The relationship between hummingbirds and Mandevilla plants can be explained by a few key factors. First and foremost, these birds are highly attracted to the rich nectar that Mandevilla flowers offer. The sweet, energy-packed nectar serves as a vital source of fuel for their fast-paced lifestyles. Additionally, the shape and structure of Mandevilla blooms are specially adapted to accommodate the long, slender beaks of hummingbirds, making them the perfect fit.
Furthermore, the vibrant colors of Mandevilla flowers play a significant role in attracting hummingbirds. These birds are known to possess an exceptional ability to perceive and distinguish a wide range of colors. The bright hues of Mandevilla blooms act as a visual beacon, drawing hummingbirds from afar and inviting them to indulge in the nectar-filled feast.
Moreover, the relationship between hummingbirds and Mandevilla plants goes beyond just the attraction to nectar and vibrant colors. These birds also play a crucial role in the pollination of Mandevilla flowers. As hummingbirds feed on the nectar, they inadvertently transfer pollen from one flower to another, facilitating the fertilization process. This mutualistic relationship benefits both the hummingbirds, as they obtain food, and the Mandevilla plants, as they ensure their reproduction and survival.
Attracting Hummingbirds: The Mandevilla Connection
If you're a hummingbird enthusiast and wish to attract these delightful creatures to your garden, look no further than the Mandevilla plant. By incorporating Mandevilla into your garden landscape, you create an irresistible paradise for hummingbirds. This connection between Mandevilla and hummingbirds offers a unique opportunity to witness these tiny dynamos up close and personal, as they flit and hover amidst the colorful blooms.
Not only does the Mandevilla plant attract hummingbirds with its vibrant blooms, but it also provides a valuable food source for these energetic birds. The nectar produced by the Mandevilla flowers is rich in sugars, providing the necessary energy for hummingbirds to sustain their rapid wingbeats and high metabolism.
In addition to its attractive qualities for hummingbirds, the Mandevilla plant is also a visually stunning addition to any garden. With its trumpet-shaped flowers in shades of pink, red, and white, the Mandevilla adds a pop of color and elegance to the landscape. Its glossy, dark green leaves provide a lush backdrop for the vibrant blooms, creating a visually appealing focal point in the garden.
How to Create a Hummingbird-Friendly Garden with Mandevilla
Creating a hummingbird-friendly garden with Mandevilla requires careful planning and consideration. Here are a few key steps to get you started:
1. Select the Right Mandevilla Variety: Choose Mandevilla varieties that are known to attract hummingbirds. Opt for those with bright, bold blooms and ample nectar production.
2. Plant in the Right Location: Find a sunny spot in your garden that provides both shelter and ample foraging opportunities for the hummingbirds. Consider placing your Mandevilla near other nectar-rich flowers to create a veritable buffet for these enchanting visitors.
3. Proper Care and Maintenance: Ensure that your Mandevilla plants receive adequate water, sunlight, and nutrients for optimal growth and bloom production. Prune regularly to promote vigorous flowering.
4. Provide Water Sources: Hummingbirds not only need nectar but also rely on water for bathing and hydration. Incorporate birdbaths or shallow water sources in your garden to cater to their needs.
The Color Connection: Why Hummingbirds are Drawn to Mandevilla Flowers
When it comes to attracting hummingbirds, color plays a vital role. Hummingbirds have an innate ability to identify and be drawn to particular hues, namely vibrant shades of red, orange, and pink. The hues of Mandevilla flowers align perfectly with the hummingbirds' color preferences, making them irresistible magnets for these feathered friends.
Planting Mandevilla for Hummingbirds: Tips and Tricks
If you're keen to plant Mandevilla specifically to attract hummingbirds, here are a few tips and tricks to get the most out of your efforts:
1. Opt for Red Varieties: While Mandevilla comes in various colors, hummingbirds are particularly drawn to red flowers. Choose Mandevilla varieties that boast bright red blooms to entice these beautiful creatures.
2. Provide Vertical Support: Hummingbirds are known for their unique feeding behavior, which involves hovering in front of flowers. To facilitate this, provide vertical support for your Mandevilla plants, such as trellises or stakes, allowing the hummingbirds easy access to the flowers.
3. Maintain a Steady Bloom Cycle: To ensure a consistent and reliable food source for hummingbirds, promote a steady bloom cycle in your Mandevilla plants. Proper care, including regular watering and fertilizing, will aid in maintaining a thriving plant with continuous flower production.
The Nectar Quest: Uncovering the Appeal of Mandevilla for Hummingbirds
The appeal of Mandevilla for hummingbirds can be explained by their insatiable quest for nectar. Hummingbirds rely heavily on nectar as a primary source of energy to sustain their high metabolism and constant activity. The nectar-rich flowers of Mandevilla act as a beacon, luring hummingbirds into their sweet embrace and providing them with the sustenance they need to thrive.
Mandevilla Varieties that Attract Hummingbirds: A Comprehensive Guide
If you're looking to explore the wide variety of Mandevilla plants that attract hummingbirds, look no further. Here's a comprehensive guide to some of the best Mandevilla varieties for hummingbird enthusiasts:
1. Mandevilla sanderi: This popular variety boasts vibrant pink or red blooms, making it a favorite among hummingbirds.
2. Mandevilla boliviensis: With its stunning white flowers and exceptional nectar production, this variety is a sure-fire hit with hummingbirds.
3. Mandevilla laxa: Also known as Chilean Jasmine, this variety presents large, trumpet-shaped flowers with a delightful fragrance that proves irresistible to hummingbirds.
Enhancing your Garden with Mandevilla to Attract Hummingbirds
Aside from their ability to attract hummingbirds, Mandevilla plants add a touch of allure and elegance to any garden landscape. Their cascading vines and vibrant blooms create a captivating display that complements both contemporary and traditional garden designs. By incorporating Mandevilla into your garden, you not only invite the charming presence of hummingbirds but also create a visually stunning oasis.
Feeding Habits of Hummingbirds: The Role of Mandevilla Nectar
Hummingbirds possess a unique feeding style that sets them apart from other bird species. These amazing creatures have evolved to feed on the nectar of flowers, relying on the abundant energy it provides. Mandevilla, with its nectar-rich blooms, plays a vital role in sustaining hummingbirds by offering a continuous supply of this sought-after food source. The relationship between hummingbirds and Mandevilla is a harmonious one, benefiting both parties involved.
Creating a Harmonious Habitat: How Mandevilla Supports Hummingbird Conservation
Conservation efforts are crucial to ensuring the survival and well-being of hummingbirds. By planting Mandevilla in your garden, you play a small but significant role in supporting hummingbird conservation. The nectar-rich flowers of Mandevilla not only nourish hummingbirds but also serve as a catalyst for their reproduction and survival. By creating a harmonious habitat that provides a reliable food source, you actively contribute to the preservation of these enchanting birds.
Beyond Nectar: Other Benefits of Mandevilla for Hummingbirds
Mandevilla offers more than just its delectable nectar to hummingbirds. The dense foliage and sprawling vines of Mandevilla plants provide cover and shelter for these birds, protecting them from predators and unfavorable weather conditions. Additionally, the presence of Mandevilla in your garden can attract a variety of insects, which serve as an essential protein source for hungry hummingbirds.
Best Practices for Growing Mandevilla to Attract and Support Hummingbirds
To ensure optimal growth and maximize your chances of attracting and supporting hummingbirds, follow these best practices for growing Mandevilla:
1. Sunlight: Mandevilla thrives in full sunlight, so ensure that it receives at least 6-8 hours of direct sunlight each day.
2. Watering: Keep the soil consistently moist but not overly saturated. Allow the top inch of soil to dry out slightly between watering.
3. Fertilization: Provide a balanced, water-soluble fertilizer every two weeks during the growing season to promote healthy growth and prolific blooms.
4. Pruning: Regularly prune your Mandevilla to maintain its shape and encourage healthy new growth. Pruning also helps to prevent the plant from becoming too dense, allowing hummingbirds easy access to the flowers.
Discovering the Secret Behind the Mutual Attraction: Hummingbirds and Mandevilla
The mutual attraction between hummingbirds and Mandevilla is a wondrous phenomenon that deserves further exploration. While we may never fully understand the intricacies of this interdependent relationship, one thing is certain: these enchanting birds, with their delicate beauty and extraordinary feeding habits, find solace and sustenance among the vibrant blooms of Mandevilla. The next time you witness a hummingbird sipping nectar from a Mandevilla flower, take a moment to appreciate the hidden wonders of nature unfolding before your eyes.