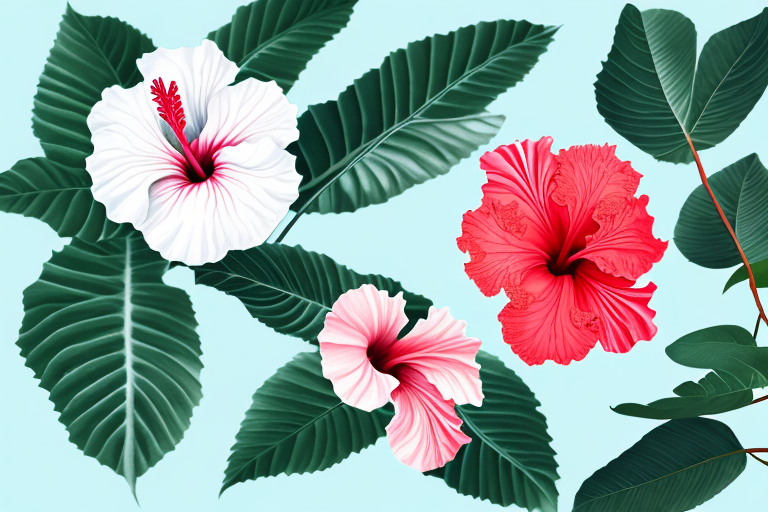 Welcome to the fascinating world of hibiscus and mandevilla! In this article, we will take a deep dive into these beautiful flowers, exploring their mesmerizing characteristics, differences, history, cultivation techniques, and much more. So grab a cup of tea, sit back, and immerse yourself in the captivating world of hibiscus and mandevilla.
The Beauty of Hibiscus and Mandevilla Flowers
Let's start by marveling at the sheer beauty of hibiscus and mandevilla flowers. Hibiscus, with its vibrant and showy blossoms, can be found in an array of colors, from fiery reds and oranges to delicate pinks and whites. These large flowers, often boasting intricate patterns and contrasting centers, are a sight to behold. On the other hand, mandevilla flowers are known for their trumpet-shaped blooms that come in shades of pink, red, white, and yellow, radiating elegance and grace. Whether planted in gardens or potted on balconies, these flowers have the power to enchant anyone who lays eyes on them.
Exploring the Differences Between Hibiscus and Mandevilla Plants
While hibiscus and mandevilla may share a similar allure, they are distinct plants with their own unique features. Hibiscus belongs to the mallow family, and its flowers typically have five showy petals, often forming a trumpet shape. Mandevilla, on the other hand, belongs to the dogbane family and has charming bell-shaped flowers. In terms of growing habits, hibiscus is a perennial plant that thrives in tropical and subtropical climates, whereas mandevilla is a vine that can be grown as an annual in colder regions or as a perennial in warmer climates. It's fascinating to delve into the differences between these two remarkable plants and appreciate their individual traits.
The History and Origin of Hibiscus and Mandevilla
To truly appreciate these remarkable flowers, it's essential to understand their history and origin. Hibiscus has a rich cultural significance, with its origins dating back to ancient civilizations such as Egypt and China. It has been cherished for centuries for its ornamental, medicinal, and culinary uses. Similarly, mandevilla has a captivating history, originating from South and Central America. It was named after a British diplomat and plant enthusiast, Henry Mandeville, who first introduced the plant to Europe. Exploring the historical context of hibiscus and mandevilla deepens our appreciation for their beauty and significance.
Growing Hibiscus and Mandevilla: Tips for a Successful Garden
Are you interested in growing hibiscus and mandevilla in your own garden? We've got you covered with some essential tips! Both hibiscus and mandevilla thrive in well-draining soil and love plenty of sunlight. Ensure your plants receive at least six hours of direct sunlight each day. Additionally, hibiscus prefers a slightly acidic soil pH, while mandevilla appreciates a neutral to slightly alkaline pH. Regular watering, mulching, and fertilizing are also crucial for these plants to flourish. By following these basic guidelines, you can create a thriving garden filled with these gorgeous flowers.
Choosing the Right Varieties of Hibiscus and Mandevilla for Your Garden
When it comes to selecting hibiscus and mandevilla varieties for your garden, the options are vast and exciting. Hibiscus offers a wide range of choices, including tropical hibiscus with its bold and striking colors, hardy hibiscus with its larger-than-life blooms, and miniature hibiscus perfect for container gardens. Similarly, mandevilla offers various cultivars, each with its own unique charm. Whether you prefer the classic pink mandevilla or the vibrant yellow variety, there is a perfect specimen for every garden. Take your time exploring the vast array of options to find the perfect hibiscus and mandevilla varieties that resonate with your gardening vision.
The Best Soil and Sunlight Conditions for Growing Hibiscus and Mandevilla
Knowing the ideal soil and sunlight conditions is vital for the successful growth of hibiscus and mandevilla. Hibiscus thrives in well-draining soil that is rich in organic matter, such as compost or aged manure. It requires full sun exposure to produce an abundance of blooms. Mandevilla, similarly, enjoys well-drained soil and demands at least six hours of direct sunlight each day. By ensuring these ideal growing conditions, you provide the perfect environment for your hibiscus and mandevilla plants to thrive and showcase their radiant beauty.
How to Plant and Care for Hibiscus and Mandevilla: A Step-by-Step Guide
Planting and maintaining hibiscus and mandevilla can be a rewarding experience. To help you get started, we've prepared a step-by-step guide. Begin by selecting healthy plants from reputable nurseries or garden centers. Dig a hole that is slightly larger than the root ball, and gently place the plant into the hole, making sure it is at the same depth as it was in the container. Backfill the hole with soil, and water thoroughly. Regular watering, fertilizing, and pruning will promote healthy growth and abundant flowering. Following these care instructions will keep your hibiscus and mandevilla plants thriving year after year.
Pruning Techniques for Maintaining Healthy Hibiscus and Mandevilla Plants
Pruning plays a crucial role in maintaining the health and appearance of hibiscus and mandevilla plants. Regular pruning helps remove dead or damaged branches, encourages new growth, and shapes the plant. For hibiscus, it's recommended to prune in early spring before new growth appears. Mandevilla benefits from periodic pruning to control its growth and remove any unwanted branches. By employing proper pruning techniques, you can ensure that your hibiscus and mandevilla plants remain healthy and vibrant.
Common Pests and Diseases That Affect Hibiscus and Mandevilla Plants
Like any other plants, hibiscus and mandevilla are susceptible to certain pests and diseases. Keep an eye out for common culprits such as aphids, spider mites, whiteflies, and mealybugs. Regular inspection and early detection can help prevent infestations from spreading. Additionally, hibiscus can be prone to diseases such as leaf spot and root rot, while mandevilla may suffer from powdery mildew. Prompt action, such as appropriate fertilization and proper watering techniques, can aid in maintaining your plants' health and resilience.
How to Propagate Hibiscus and Mandevilla: Methods and Tips
If you want to expand your collection of hibiscus and mandevilla, propagating these plants can be an exciting endeavor. Both hibiscus and mandevilla can be propagated through various methods, including stem cuttings and layering. With some basic knowledge and techniques, you can successfully propagate these plants and enjoy a flourishing garden filled with your favorite varieties. Discover the joy of creating new plants and sharing their beauty with friends and family.
Creating Stunning Landscapes with Hibiscus and Mandevilla: Design Ideas
Imagine a garden that exudes beauty and serenity with the help of hibiscus and mandevilla. These incredible flowers can be used to create stunning landscapes that are sure to impress. Incorporating hibiscus and mandevilla in your garden design enables you to play with colors, heights, and textures. Whether you choose to create an enchanting tropical paradise or a charming cottage garden, the versatility of hibiscus and mandevilla allows for endless possibilities. Let your creativity soar as you design breathtaking landscapes that showcase the beauty of these remarkable flowers.
Using Hibiscus and Mandevilla in Container Gardening: Tips and Tricks
If space is limited, fear not – hibiscus and mandevilla can thrive in containers, too! Container gardening offers versatility and allows you to bring the beauty of these flowers to small balconies, patios, and even windowsills. When opting for container gardening, choose pots with adequate drainage holes and use a well-draining potting mix. Regular watering and fertilizing are essential in maintaining healthy growth. With careful attention to their specific needs, you can enjoy the charm of hibiscus and mandevilla even in compact spaces.
Combining Hibiscus and Mandevilla with Other Plants for a Colorful Garden Display
Enhance the visual impact of your garden by combining hibiscus and mandevilla with other complementary plants. The vibrant hues and graceful forms of these flowers make them ideal companions for various plants. Consider pairing them with foliage plants such as ornamental grasses, cannas, or elephant ears to create a striking contrast. Alternatively, you can create a harmonious color palette by combining them with other flowering plants like bougainvillea or lantana. The possibilities are endless, and by exploring different combinations, you can create a garden display that is truly breathtaking.
The Symbolism of Hibiscus and Mandevilla Flowers in Different Cultures
Hibiscus and mandevilla flowers hold symbolic significance in different cultures across the globe. In many tropical regions, hibiscus is associated with beauty, love, and passion. It is often used in traditional ceremonies, as well as in cosmetics and natural dyes. In some cultures, mandevilla flowers symbolize love, friendship, and the power of perseverance. Exploring the symbolism of these flowers allows us to appreciate their cultural ties and adds an extra layer of fascination to their already captivating allure.
Medicinal Properties of Hibiscus and Mandevilla: Traditional Uses and Modern Research
Beyond their visually appealing qualities, hibiscus and mandevilla have traditionally been used for their medicinal properties. Hibiscus tea, made from the dried petals of this flower, is known for its potential health benefits. It is rich in antioxidants and vitamins, supporting cardiovascular health and promoting overall well-being. Mandevilla, although less researched, has also been used in traditional medicine for its potential healing properties. Modern scientific studies are shedding light on the potential health benefits of these remarkable flowers, adding another dimension to their significance.
Popular Varieties of Hibiscus and Mandevilla: Characteristics, Colors, and Sizes
With numerous varieties available, let's explore some popular choices of hibiscus and mandevilla. Hibiscus lovers can opt for varieties like 'Flamenco', 'Midnight Marvel', or 'Cranberry Crush', each boasting its own unique characteristics and colors. Mandevilla enthusiasts can choose from cultivars such as 'Alice du Pont', 'Aloha Red', or 'Sundaville White', enchanting with their diverse colors and sizes. Explore the traits and features of each variety to find the perfect additions to your garden, allowing you to indulge in the beauty of these captivating flowers all season long.
Benefits of Attracting Pollinators with Hibiscus and Mandevilla in Your Garden
Inviting pollinators such as bees, butterflies, and hummingbirds into your garden is not only visually pleasing but also beneficial for the overall ecosystem. Hibiscus and mandevilla are known to attract these vital pollinators, aiding in the pollination of other plants and ensuring bountiful harvests. By planting these flowers in your garden, you contribute to the preservation of important pollinators and help maintain the delicate balance of nature. Experience the joy of watching these enchanting visitors flutter and buzz around your hibiscus and mandevilla, bringing life and energy to your outdoor sanctuary.
As we conclude this journey through the captivating world of hibiscus and mandevilla, we hope you have gained a deeper appreciation for these remarkable flowers. From their exquisite beauty to their rich history, cultivation techniques, and potential health benefits, hibiscus and mandevilla truly exemplify the wonders of the natural world. So go forth, explore, and create your own little corner of paradise with the breathtaking allure of hibiscus and mandevilla in your garden.