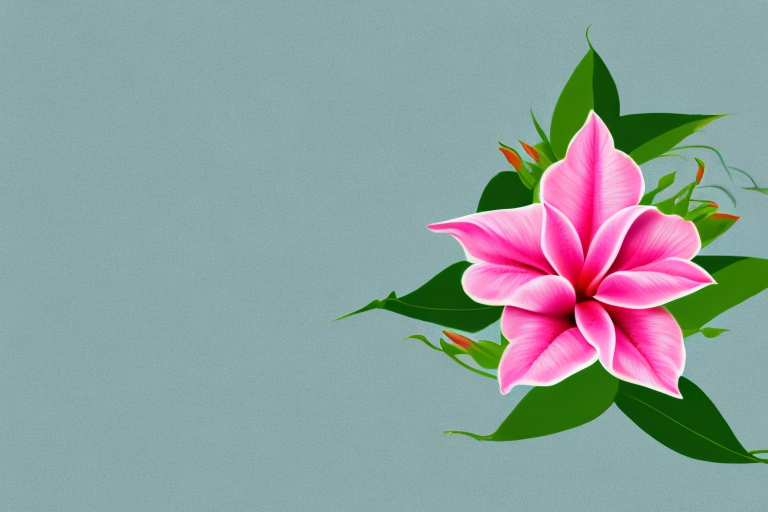 If you're looking to add a touch of beauty and elegance to your garden, growing mandevilla plants on a fence is a perfect choice. The vibrant colors and stunning blossoms of mandevilla plants can transform any plain fence into a captivating focal point. In this article, we will explore the many aspects of growing mandevilla on a fence, from choosing the right fence to troubleshooting common issues.
Choosing the Perfect Fence for Mandevilla Plants
When selecting a fence for your mandevilla plants, there are a few factors to consider. First and foremost, you'll want a fence that provides adequate support for the climbing vines of the mandevilla. A sturdy wooden or metal fence is ideal, as it can easily withstand the weight of the plant. Additionally, consider the height of the fence. Mandevilla plants can grow quite tall, so a taller fence will allow them to reach their full potential.
Furthermore, think about the style of your fence. A visually appealing fence, such as a wrought iron design or a wooden lattice, will complement the beauty of the mandevilla plants and create a stunning backdrop for your garden.
How to Grow Mandevilla on a Fence: A Step-by-Step Guide
Growing mandevilla on a fence requires a bit of preparation and care to ensure successful growth. Follow these steps to grow mandevilla on your fence:
Choose a suitable location for your fence where it will receive at least six hours of direct sunlight per day.
Prepare the soil by adding organic matter such as compost to improve drainage and enrich the soil.
Dig a hole slightly larger than the root ball of your mandevilla plant and place it in the hole. Gently firm the soil around the base of the plant.
Install a trellis or a wire mesh against the fence to provide support for the mandevilla vines as they grow.
Water the plant thoroughly after planting, and keep the soil evenly moist throughout the growing season.
Prune the mandevilla regularly to promote bushier growth and remove any dead or damaged branches.
Fertilize the plant once a month during the growing season using a balanced, water-soluble fertilizer.
Monitor the plant for pests and diseases, and take appropriate action if needed.
The Benefits of Growing Mandevilla on a Fence
Choosing to grow mandevilla on a fence offers several benefits for both the plant and the gardener. Firstly, mandevilla plants are natural climbers, and a fence provides the perfect support system for their growth. By training the vines to climb the fence, you can create a stunning vertical garden that maximizes your limited space and adds visual interest to your outdoor area.
An additional advantage of growing mandevilla on a fence is the privacy it can provide. As the plants grow and their foliage thickens, they create a natural privacy screen, shielding your outdoor space from prying eyes.
Creating a Stunning Vertical Garden with Mandevilla on a Fence
If you're looking to take your mandevilla on a fence to the next level, consider creating a vertical garden. By combining different varieties of mandevilla plants, along with other climbers such as morning glories or clematis, you can create a lush and vibrant display of cascading blooms.
Start by choosing compatible plants that thrive in similar growing conditions. Plant them in large containers filled with well-draining soil and position the containers at the base of your fence. Train the vines to climb the fence and guide them towards the desired areas. Regular pruning and maintenance will help keep the display tidy and well-structured.
Best Types of Fence for Growing Mandevilla Plants
When selecting a fence for growing mandevilla plants, certain types are better suited to their needs. Sturdy wooden fences, such as cedar or redwood, offer natural beauty and durability. They provide ample support for the vines and have a long lifespan.
Alternatively, metal fences, such as wrought iron or aluminum, are also suitable for growing mandevilla. They offer an elegant and timeless look while providing excellent support for the climbing vines.
Regardless of the type of fence you choose, ensure it is properly installed and securely anchored to withstand the weight of the mature mandevilla plants.
Tips for Training Mandevilla to Climb a Fence Successfully
To ensure successful climbing and training of your mandevilla vines on a fence, follow these tips:
Start training the vines when they are young and flexible. Gently guide them towards the desired direction.
Use plant ties or soft twine to secure the vines to the fence, avoiding any damage to the plant.
Regularly check the growth and adjust the positioning of the vines as needed.
Prune the plant regularly to remove any overly long or tangled stems.
Be patient and allow the vines to grow naturally. With time, they will cover the fence and create a stunning display.
Enhancing Your Outdoor Space with Mandevilla on a Fence
In addition to the visual appeal of mandevilla on a fence, this plant also adds a delightful fragrance to your outdoor space. The blossoms of mandevilla plants emit a sweet and intoxicating scent that will enchant anyone who enters your garden.
Consider creating a sitting area near your mandevilla fence to fully enjoy the beauty and fragrance it provides. Add a bench or some outdoor furniture, along with colorful cushions and decorative elements, to create an inviting and relaxing space.
How to Care for Mandevilla Plants Growing on a Fence
Caring for mandevilla plants growing on a fence is relatively straightforward. Follow these care tips to keep your plants healthy and thriving:
Water mandevilla regularly during the growing season, ensuring the soil is evenly moist but not waterlogged.
Apply a balanced, water-soluble fertilizer every four weeks during the growing season to promote healthy growth and abundant blooms.
Prune the plant regularly to remove dead or damaged branches and promote bushier growth.
Monitor the plants for pests and diseases, such as aphids or powdery mildew, and take appropriate action if necessary.
Protect your mandevilla plants during colder months by moving them indoors or providing adequate insulation.
Consider mulching around the base of the plant to help retain moisture and suppress weeds.
Maximizing Limited Space with Mandevilla on a Fence
If you have a small outdoor space or limited gardening area, growing mandevilla on a fence can be a game-changer. By utilizing vertical space, you can create a lush and colorful garden without taking up precious ground space.
Choose a fence with adequate height to allow the mandevilla plants to grow to their full potential. Additionally, consider incorporating hanging baskets or planters at different heights along the fence to add even more dimension to your garden.
Design Ideas for Incorporating Mandevilla Plants into Your Fence
The versatility of mandevilla plants allows for numerous design ideas when incorporating them into your fence. Here are a few creative suggestions:
Plant a row of mandevilla plants along the bottom section of your fence for a stunning border that adds color and interest.
Create a focal point by training a large mandevilla vine to climb up and around a decorative arbor or trellis attached to your fence.
Combine mandevilla plants with other climbing vines, such as jasmine or climbing roses, to create a beautiful tapestry of colors and scents.
Experiment with different planting patterns, such as alternating colors or creating geometric shapes using mandevilla plants, on your fence to add a unique flair.
Troubleshooting Common Issues When Growing Mandevilla on a Fence
While growing mandevilla on a fence is generally a rewarding and enjoyable experience, there can be challenges along the way. Here are some common issues you may encounter and how to address them:
Slow Growth: If your mandevilla plants are showing slow growth, ensure they are receiving adequate sunlight and water. Consider adjusting the positioning of the vines to ensure they are not being shaded or obstructed.
Pest Infestation: Common pests that may affect mandevilla plants include aphids, spider mites, and mealybugs. Treat the infested plants with an appropriate insecticide or use natural remedies such as neem oil or insecticidal soap.
Yellowing Leaves: Yellowing leaves may indicate various issues, including nutrient deficiencies or overwatering. Adjust the watering schedule and feed the plants with a balanced fertilizer to address these problems.
Lack of Blooms: If your mandevilla plants are not blooming as expected, it may be due to insufficient sunlight or lack of pruning. Ensure they are receiving at least six hours of direct sunlight per day, and regularly prune to encourage new growth and blooming.
Winterizing Mandevilla Plants on a Fence: Essential Tips and Tricks
During the colder months, it's essential to protect your mandevilla plants to ensure their survival. Follow these tips for winterizing your mandevilla plants:
Before the first frost, cut back the vines to a manageable length, leaving a few inches of each stem.
Remove any dead or damaged branches and clean up debris around the plant.
Move potted mandevilla plants indoors to a cool, well-lit location, such as a greenhouse or a bright room with a temperature of around 50°F (10°C).
If your mandevilla is planted in the ground, dig it up carefully, ensuring you preserve as much of the root ball as possible. Transfer it to a container and follow the same indoor care instructions.
Water the plant sparingly during winter, allowing the soil to dry slightly between waterings.
Reintroduce the plant to outdoor conditions gradually in early spring, once the risk of frost has passed.
Adding Color and Beauty to Your Yard with Mandevilla on a Fence
With its vibrant colors and captivating blooms, growing mandevilla on a fence is a fantastic way to add color and beauty to your yard. Whether you have a small garden or a vast outdoor space, the versatility and charm of mandevilla plants will undoubtedly enhance your surroundings.
Take the time and care to choose the right fence, provide proper support, and follow the necessary maintenance steps to ensure the healthy growth of your mandevilla plants. With dedication and a touch of creativity, you can create an awe-inspiring display that will be the envy of all your neighbors.
Creative Ways to Use Mandevilla Plants as Privacy Screens on Fences
In addition to their visual appeal and fragrance, mandevilla plants can also serve as excellent privacy screens when grown on fences. Here are a few creative ways to use mandevilla plants for added privacy:
Train the mandevilla vines to climb and cover the entire length of your fence, creating a lush and green barrier that shields your yard from prying eyes.
Combine mandevilla plants with other tall and dense climbers, such as bougainvillea or trumpet vine, to create a multi-layered privacy screen.
Construct a trellis or a series of lattice panels along your fence and plant mandevilla at regular intervals. This will create a wall of foliage that not only provides privacy but also adds beauty and charm to your outdoor space.
Integrate mandevilla plants with evergreen shrubs or tall grasses along your fence line to achieve year-round privacy and a more comprehensive and natural look.
With these creative ideas, you can enjoy the privacy you desire while also adding a splash of color and elegance to your outdoor area.
So, whether you're looking to create a vertical garden, enhance your outdoor space, or add privacy to your yard, growing mandevilla on a fence is an excellent choice. With their stunning blossoms, captivating fragrance, and the ability to transform a simple fence into a masterpiece, mandevilla plants are truly a delight to grow. Start incorporating these plants into your garden and enjoy the beauty they bring.