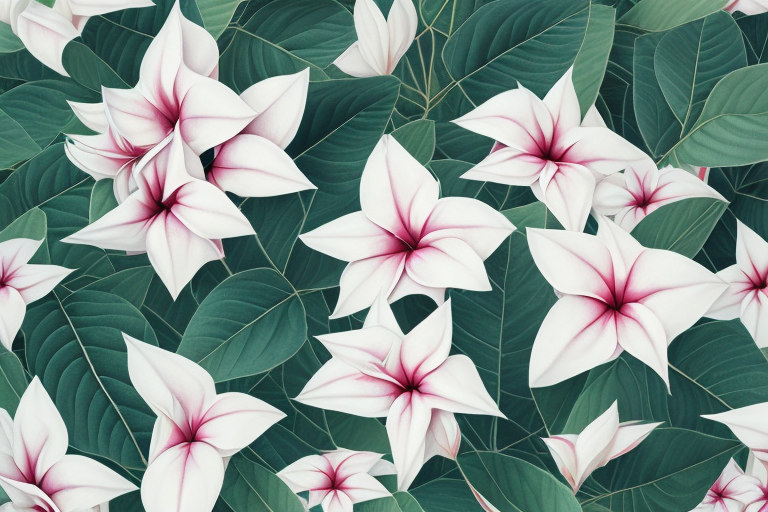 Do you have a Mandevilla plant? Are you noticing changes in its growth pattern? Don't worry, it's likely entering its dormant period. Understanding the dormant phase of Mandevilla plants is crucial for their overall health and growth. In this article, we will explore in detail what dormancy means for these beautiful flowering vines and what you can do to ensure their well-being during this time.
Understanding the Dormancy Period of Mandevilla Plants
Mandevilla plants, like many other perennials, go through a natural dormant phase during certain times of the year. Dormancy is a period of reduced activity where the plant conserves energy and prepares for the upcoming growing season. During this time, you may notice a decrease in foliage growth, flower production, and overall vitality.
For Mandevilla plants, dormancy typically occurs in the winter months, when temperatures drop and daylight hours decrease. It is nature's way of allowing the plant to rest and restore its energy reserves for the more favorable conditions of spring and summer.
During the dormancy period, it is important to adjust your care routine for Mandevilla plants. Since the plant is conserving energy, it requires less water and nutrients. Reduce the frequency of watering and fertilizing to prevent overwatering and nutrient buildup in the soil.
The Importance of Dormancy for Mandevilla Growth
Dormancy plays a vital role in the overall growth and well-being of Mandevilla plants. It allows the plant to conserve energy and allocate resources towards root development and strengthening. By entering a dormant state, Mandevilla plants are better equipped to withstand the environmental challenges posed by colder temperatures and reduced light levels during winter.
Moreover, dormancy helps regulate the plant's internal clock, synchronizing its growth and flowering patterns with the changing seasons. This synchronization ensures that the Mandevilla plant has optimal conditions for growth, blooming, and seed production when the time is right.
During dormancy, Mandevilla plants also undergo important physiological changes. The plant's metabolic rate slows down, reducing the need for water and nutrients. This allows the plant to conserve resources and survive in conditions where these essential elements may be scarce. Additionally, dormancy triggers the production of protective compounds, such as antifreeze proteins, which help the plant tolerate freezing temperatures.
Factors Affecting Mandevilla Dormancy
Several factors can influence the dormancy period of Mandevilla plants. One of the primary factors is temperature. As the temperature drops, Mandevilla plants naturally enter their dormant phase as a response to the change in seasons. Cooler temperatures signal to the plant that it is time to slow down and conserve energy.
Another important factor is the length of daylight hours. As the days shorten, the reduced amount of sunlight acts as a signal for the plant to enter dormancy and conserve energy. This natural response helps Mandevilla plants cope with the lower light levels during winter.
In addition to temperature and light, other environmental factors such as humidity and moisture levels can also impact the dormancy period. Mandevilla plants prefer a slightly drier environment during dormancy, as excessive moisture can lead to root rot or other fungal issues.
Soil conditions also play a role in the dormancy period of Mandevilla plants. Well-draining soil is essential for the plant's health during dormancy. Excessively wet or compacted soil can hinder root growth and lead to root rot. It is important to ensure that the soil is loose and allows for proper drainage.
Furthermore, the availability of nutrients can affect the dormancy period of Mandevilla plants. During dormancy, the plant's metabolic activity slows down, and it requires fewer nutrients. However, it is still important to provide the necessary nutrients to support the plant's overall health. A balanced fertilizer with lower nitrogen levels can be applied sparingly during this period.
Signs to Identify Dormancy in Mandevilla Plants
Recognizing the signs of dormancy in Mandevilla plants is essential for providing the right care during this period. Some common signs that indicate your plant is entering or already in dormancy include:
– Reduced foliage growth and yellowing of leaves
– A decrease or cessation in flower production
– Dropping of leaves or complete leaf loss
– Slowed or halted overall plant growth
– Increased hardiness to withstand lower temperatures
During dormancy, Mandevilla plants may also exhibit changes in their watering needs. As the plant's metabolic activity slows down, it requires less water. It is important to adjust your watering schedule accordingly to prevent overwatering, which can lead to root rot.
In addition, dormancy is a natural part of the plant's growth cycle and is often triggered by changes in light and temperature. Providing a cool and dim environment can help promote dormancy in Mandevilla plants. This can be achieved by moving the plant to a cooler location with reduced exposure to direct sunlight.
How to Prepare Mandevilla for Dormancy
Preparing your Mandevilla plant for dormancy is crucial to ensure its survival and stimulate healthy growth in the following seasons. Here are some steps you can take to ready your plant:
1. Gradually reduce watering: As the season transitions into winter, gradually reduce the frequency and amount of water you give to your Mandevilla plant. The soil should be slightly moist but not saturated.
2. Stop fertilization: Cease fertilizing your plant as it enters dormancy. Fertilizers promote growth and are not necessary during this period. Instead, focus on providing the right environmental conditions.
3. Prune lightly: Before your Mandevilla enters dormancy, trim any dead or damaged foliage. Light pruning will help improve airflow and minimize the risk of fungal diseases. Be careful not to prune too much, as the plant needs some foliage to support its energy production.
4. Provide protection: If you live in an area with harsh winter conditions, consider providing extra protection for your Mandevilla plant. Covering it with burlap or moving it to a sheltered location can shield it from cold winds and frost.
5. Monitor temperature: Keep an eye on the temperature fluctuations during the dormancy period. Mandevilla plants are sensitive to extreme cold and can suffer damage if exposed to freezing temperatures for extended periods. Consider using a thermometer to track the temperature in the area where your plant is located.
Best Practices for Overwintering Mandevilla Plants
If you live in a region with severe winters, you may need to take additional steps to ensure the survival of your Mandevilla plant throughout the dormant period. Here are some best practices for overwintering:
– Move the plant indoors: If possible, move your Mandevilla plant to a protected indoor area, such as a basement or garage. Make sure the plant receives adequate light and maintains a temperature above freezing.
– Provide supplemental lighting: If you cannot move your Mandevilla plant indoors, consider using artificial lights to supplement natural sunlight. Position the lights close to the plant and provide them with around 12-14 hours of light per day.
– Insulate the roots: Place a layer of mulch or straw around the base of the plant to insulate the roots and protect them from extreme cold temperatures. This layer will help retain moisture and prevent rapid temperature fluctuations.
Temperature and Light Requirements During Mandevilla Dormancy
While Mandevilla plants are in their dormant phase, they have different temperature and light requirements compared to their active growth period. Here are some guidelines to follow:
– Temperature: Mandevilla plants prefer temperatures between 50-60°F (10-15°C) during dormancy. Extreme cold can harm the plant, so it's crucial to ensure it does not experience freezing temperatures.
– Light: Mandevilla plants require less light during dormancy. Place them in an area with indirect sunlight or provide them with around 4-6 hours of sunlight per day. Avoid placing them in areas with excess light, as this can disrupt their dormancy period.
Watering and Fertilization Tips for Dormant Mandevilla Plants
Proper watering and fertilization practices are essential throughout the dormant phase to support the health of your Mandevilla plant. Here are some tips to keep in mind:
– Watering: During dormancy, reduce the frequency and amount of water you provide to your Mandevilla plant. Allow the soil to partially dry out between waterings to prevent root rot. The goal is to keep the soil slightly moist, but not saturated.
– Fertilization: Avoid fertilizing your dormant Mandevilla plant. Fertilizers promote growth, and this is not desired during the dormant phase. Wait until the plant starts showing signs of new growth in the spring before resuming regular fertilization.
Protecting Mandevilla from Frost and Cold During Dormancy
As winter sets in, protecting your Mandevilla plant from frost and cold temperatures becomes crucial. Here are some measures you can take to safeguard your plant:
– Mulching: Apply a layer of organic mulch around the base of the plant to protect it from extreme temperature fluctuations. The mulch will insulate the roots and help maintain a more consistent soil temperature.
– Wrapping: If your region experiences freezing temperatures, consider wrapping the plant with burlap or frost cloth to provide an extra layer of insulation. Ensure that the wrap does not touch the foliage directly.
– Sheltering: If possible, move your Mandevilla plant to a protected area such as a greenhouse, porch, or indoors. Providing a sheltered space minimizes the impact of cold winds and extreme temperatures on the plant.
Pruning Techniques for Healthy Mandevilla Growth After Dormancy
After the dormant period, it's essential to prune your Mandevilla plant to stimulate healthy growth and remove any dead or damaged foliage. Here are some pruning techniques to consider: