Mandevilla Deer Resistant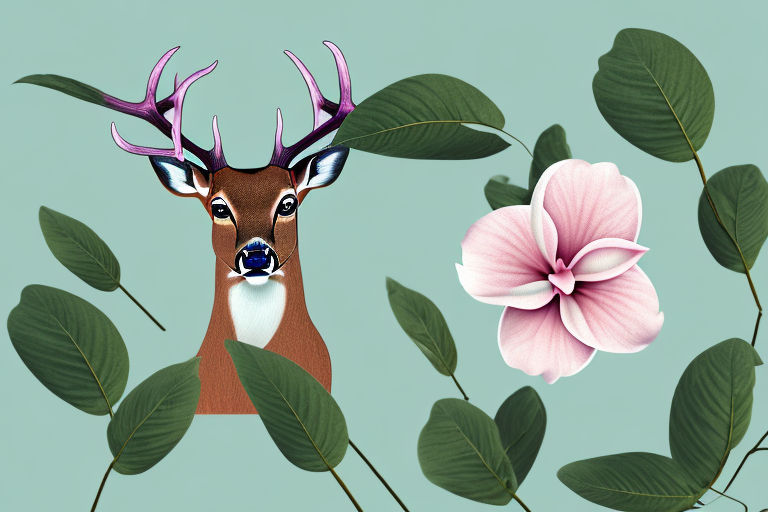 Welcome to the world of Mandevilla! If you're a gardener who loves these beautiful flowering vines but constantly struggles with deer damage, you're in the right place. In this article, we will delve into the topic of Mandevilla deer resistance, providing you with a comprehensive understanding of the threat deer pose to these plants, the importance of deer-resistant plants in your garden, and effective strategies to combat deer damage. So sit back, relax, and let's explore the world of Mandevilla!
Understanding the Threat: Deer Damage to Mandevilla Plants
Deer damage can be a significant concern for Mandevilla enthusiasts. These graceful creatures are notorious for their voracious appetite and have been known to leave a path of destruction in their wake. They can nibble on Mandevilla foliage, chew on tender shoots, and even devour the fragrant flowers, leaving behind a scene of devastation. This not only hampers the aesthetic appeal of your garden but also poses a serious threat to the health and vitality of your Mandevilla plants.
It's important to understand the detrimental effects of deer damage on Mandevilla. When deer feed on the foliage, the plants can become weak and stunted, compromising their ability to produce vibrant blooms. Additionally, the loss of flowers not only diminishes the visual appeal but also reduces the reproduction potential of your Mandevilla plants. To protect your investment and maintain a flourishing Mandevilla collection, it's crucial to adopt effective deer deterrent strategies.
There are several effective deer deterrent strategies that can help protect your Mandevilla plants from damage. One option is to install a physical barrier, such as a fence, around your garden to prevent deer from accessing your plants. Another approach is to use repellents, either commercially available or homemade, that emit odors or tastes that deer find unpleasant. These repellents can be applied directly to the plants or placed around the garden perimeter. Additionally, planting deer-resistant plants alongside your Mandevilla can help divert the deer's attention away from your prized plants. Finally, consider using noise or motion-activated devices, such as sprinklers or ultrasonic devices, to startle and deter deer from entering your garden. By implementing these strategies, you can minimize the risk of deer damage and enjoy a thriving Mandevilla garden.
The Importance of Deer Resistant Plants in Your Garden
Deer-resistant plants play a pivotal role in preserving the beauty and integrity of your garden. By incorporating Mandevilla varieties that are known to be less appealing to deer, you can significantly reduce the risk of damage to your beloved plants. Creating a deer-resistant garden not only ensures the longevity of your Mandevilla collection but also allows you to enjoy the tranquil beauty of your outdoor space without the constant worry of deer-induced devastation.
When choosing plants for a deer-resistant garden, it's essential to consider their characteristics. Mandevilla possesses certain attributes that make it less desirable to browsing deer. Its thick, waxy leaves and slightly bitter taste act as natural deterrents, discouraging these animals from feasting on your treasured plants. Additionally, certain varieties of Mandevilla, such as 'Alice du Pont' and 'Crimson Sun', have been found to be more resistant to deer damage, making them excellent choices for your garden.
Another benefit of incorporating deer-resistant plants in your garden is that it can help maintain the balance of the ecosystem. When deer overpopulate an area and consume all available vegetation, it can disrupt the natural food chain and negatively impact other wildlife species. By planting deer-resistant plants, you are providing alternative food sources for other animals, ensuring a healthier and more diverse ecosystem in your garden.
In addition to their resistance to deer damage, many deer-resistant plants also offer other desirable qualities for your garden. For example, Mandevilla plants are known for their beautiful, showy flowers and their ability to attract pollinators such as bees and butterflies. By choosing deer-resistant plants like Mandevilla, you can enjoy not only their resistance to deer browsing but also their aesthetic appeal and ability to support beneficial pollinators.
Introduction to Mandevilla: A Beautiful and Fragrant Flowering Vine
Before delving deeper into the topic of deer resistance, let's take a moment to appreciate the beauty of Mandevilla. These stunning flowering vines have captivated gardeners with their vibrant blooms and enchanting fragrance. Originating from the tropical regions of South America, Mandevilla is known for its showy flowers that come in a variety of colors, including shades of pink, red, and white. With their trumpet-shaped blossoms and lush green foliage, Mandevilla vines add a touch of elegance and romance to any garden.
Whether you're looking to add vertical interest to a trellis, create a living privacy screen, or enhance the beauty of a patio or balcony, Mandevilla is the perfect choice. With proper care and attention, these versatile vines can thrive in containers or directly in the ground, making them suitable for gardens of all sizes.
In addition to their beauty, Mandevilla vines are also known for their resilience. These plants are highly adaptable and can tolerate a wide range of growing conditions. They can thrive in both full sun and partial shade, making them a versatile choice for various garden settings.
Furthermore, Mandevilla vines are not only visually appealing but also attract pollinators such as bees and butterflies. By planting Mandevilla in your garden, you can create a welcoming habitat for these beneficial insects, contributing to the overall health and biodiversity of your outdoor space.
Identifying Deer Resistant Characteristics in Mandevilla Plants
To effectively combat deer damage, it's crucial to understand the characteristics that make Mandevilla less appealing to these browsing creatures. By identifying and capitalizing on these traits, you can create a defense strategy that works in harmony with nature.
One key attribute of Mandevilla that deters deer is its thick, waxy leaves. These leaves are less palatable to deer, making them less likely to be targeted for a tasty snack. Additionally, the slightly bitter taste of Mandevilla leaves acts as a deterrent, discouraging deer from indulging in them.
Another factor that works in favor of Mandevilla's deer resistance is its growth habit. Mandevilla vines have a vigorous climbing nature, often growing at heights that deer find difficult to reach. By training your Mandevilla vines to grow vertically on trellises or other support structures, you can further reduce the risk of deer damage.
Furthermore, Mandevilla plants produce beautiful, trumpet-shaped flowers that are highly fragrant. The strong scent of these flowers can help mask the natural odors that attract deer, making Mandevilla less appealing to them. The combination of the waxy leaves, bitter taste, and fragrant flowers make Mandevilla a well-rounded choice for those looking to deter deer from their gardens.