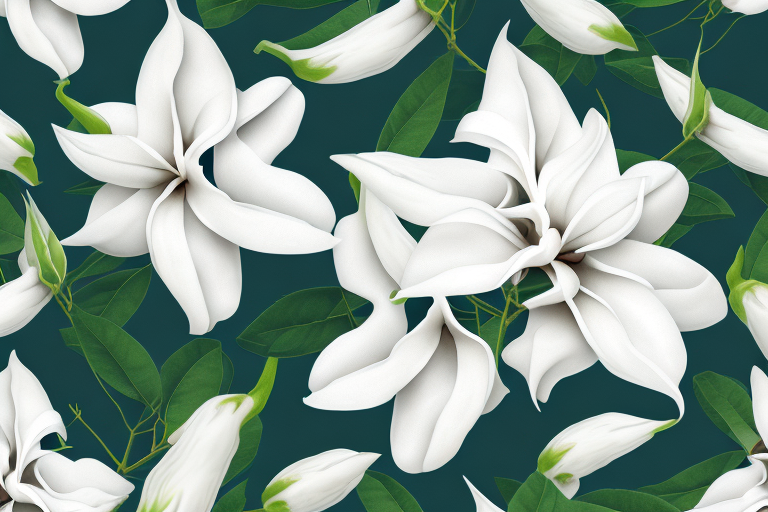 Are you looking to add a touch of elegance to your garden? Look no further than the stunning Bella White Mandevilla. This beautiful flowering plant will captivate you with its eye-catching blossoms and lush green foliage. In this complete guide, we will delve into the world of Bella White Mandevilla, from its origins and characteristics to tips on growing, caring, and enhancing your garden with this exquisite plant. So grab a cup of tea, sit back, and let's embark on this horticultural journey together.
The Beauty of Bella White Mandevilla: A Complete Guide
Prevailing over other varieties, Bella White Mandevilla stands out with its pristine white flowers that bloom profusely throughout the summer. These delicately shaped trumpet-like blossoms add a touch of sophistication to any outdoor space. Their enchanting fragrance will waft through your garden, enticing pollinators such as butterflies and bees.
The lush green foliage of Bella White Mandevilla serves as a backdrop to showcase its elegant flowers. The vine-like growth habit creates a cascading effect, making it the perfect choice for climbing up trellises or adorning hanging baskets with its ethereal beauty. With proper care and attention, your Bella White Mandevilla will reward you with a continuous display of breathtaking blooms.
Understanding the Bella White Mandevilla Plant: Origins and Characteristics
Native to the tropical regions of South America, Bella White Mandevilla thrives in warm and humid climates. It belongs to the Mandevilla genus, which includes several species of flowering vines and shrubs. This evergreen plant is prized for its ability to add a touch of glamour to gardens, patios, and balconies.
The Bella White Mandevilla plant can reach a height of up to 10 feet, with its vines spreading around 3 to 5 feet. Its lance-shaped leaves are glossy and vibrant, providing a lush backdrop to the striking flowers. While the name suggests a pure white color, the blossoms can sometimes display a delicate hint of pink, adding a charming touch of variation to your garden palette.
How to Grow Bella White Mandevilla: A Step-by-Step Guide for Beginners
Growing Bella White Mandevilla is a rewarding experience that even beginners can enjoy. Start by selecting a suitable location where the plant can receive at least six hours of direct sunlight each day. This sun-loving beauty thrives in well-draining soil, enriched with organic matter.
When planting Bella White Mandevilla, ensure that you provide a sturdy support structure such as a trellis or lattice. This will guide its vines and help maintain an organized growth pattern. Remember to water the plant deeply and regularly, allowing the soil to dry out between waterings. This will prevent overwatering and root rot.
Fertilize your Bella White Mandevilla with a balanced liquid fertilizer every two weeks during the growing season. This will provide essential nutrients for healthy growth and abundant blooms. Pruning is essential to maintain the plant's shape and encourage branching. Regularly remove any dead or diseased branches to promote airflow and prevent pest infestations.
Choosing the Right Soil and Sunlight for Bella White Mandevilla
Bella White Mandevilla thrives in well-draining soil that is enriched with organic matter. If your garden soil is heavy or compacted, consider amending it with compost or peat moss to improve its texture and drainage. This will create an ideal environment for the plant's roots to develop and grow.
Regarding sunlight, Bella White Mandevilla craves ample sunshine to bloom in all its glory. Plant it in a location that receives at least six hours of direct sunlight daily. However, be mindful of scorching afternoon sun, particularly in hotter climates. Partial shade during the hottest part of the day can help protect the plant from excessive heat stress.
Watering and Fertilizing Tips for Healthy Bella White Mandevilla Plants
Proper watering is crucial for the health and vitality of Bella White Mandevilla. While it is important to keep the soil consistently moist, avoid overwatering. Water deeply, allowing the soil to dry out slightly between waterings. This will prevent waterlogged conditions that can lead to root rot.
When it comes to fertilizing, Bella White Mandevilla benefits from regular feedings during the growing season. A balanced liquid fertilizer, diluted according to package instructions, should be applied every two weeks. This will provide the plant with the necessary nutrients to support vigorous growth and abundant blooms.
Pruning and Training Techniques for Beautiful Bella White Mandevilla Vines
Pruning is an essential aspect of maintaining the shape and health of Bella White Mandevilla. Begin by removing any dead, damaged, or diseased branches using clean gardening tools. This will promote airflow and prevent the spread of diseases.
To encourage bushier growth, pinch back the tips of the young vines. This will stimulate the development of lateral branches and result in a fuller and more compact plant. Additionally, as your Bella White Mandevilla grows, you can train the vines along a trellis or lattice to create a beautiful display of cascading flowers.
Common Pests and Diseases that Affect Bella White Mandevilla Plants
While Bella White Mandevilla is generally resistant to pests and diseases, there are a few common issues to be aware of. Aphids, mealybugs, and spider mites can occasionally infest the plant, sucking sap from the leaves and causing damage. Regularly inspect the plant for signs of pests and spray with insecticidal soap as needed.
Root rot, caused by overwatering or poorly drained soil, can pose a threat to the health of your Bella White Mandevilla. Ensure proper watering practices and provide well-draining soil to prevent this fungal disease. Leaf spot and powdery mildew are two fungal infections that can be minimized by maintaining good airflow around the plant and avoiding overhead watering.
Enhancing Your Garden with Bella White Mandevilla: Creative Landscaping Ideas
Bella White Mandevilla offers endless possibilities for enhancing your garden with its elegance and charm. Here are a few creative landscaping ideas to inspire you:
Create a romantic archway by training Bella White Mandevilla vines to grow over a metal or wooden arch.
Add a vertical element to your garden by growing Bella White Mandevilla along a wall, trellis, or fence.
Create a stunning focal point by planting Bella White Mandevilla in a large decorative container and placing it on your patio or balcony.
Add a touch of elegance by incorporating Bella White Mandevilla into your existing flower beds or mixed container gardens.
Combine Bella White Mandevilla with other flowering vines, such as climbing roses or morning glories, for a riot of colors and textures.
Using Bella White Mandevilla as a Climbing Vine or Hanging Basket Plant
Bella White Mandevilla's versatility makes it an excellent choice as a climbing vine or a hanging basket plant. When grown as a climbing vine, provide a sturdy support structure such as a trellis or arbor for the vines to cling to. As the plant grows, gently guide the vines along the support, securing them with garden wire or twine if necessary.
For hanging baskets, choose a container with good drainage and fill it with a well-draining potting mix. Plant the Bella White Mandevilla in the center of the basket and allow the vines to cascade over the sides. Regularly prune to maintain the desired shape and prevent overcrowding.
Propagating Bella White Mandevilla: How to Multiply Your Plant Collection
If you simply cannot get enough of Bella White Mandevilla, propagating it will allow you to expand your plant collection. The most common method of propagation is through stem cuttings. Here's how:
Select a healthy stem tip that is approximately 4-6 inches long.
Remove the lower leaves, leaving only a few sets of leaves at the top.
Dip the cut end in a rooting hormone to encourage root development.
Plant the cutting in a small pot filled with a well-draining potting mix and lightly water.
Place the pot in a warm and bright location, out of direct sunlight.
With regular misting and proper care, roots should develop within a few weeks.
Once the cutting has formed a healthy root system, it can be transplanted into a larger container or directly into the garden.
Winter Care for Bella White Mandevilla: Protecting Your Plant from Frost
In colder climates, where freezing temperatures are common, proper winter care is essential for the survival of Bella White Mandevilla. As temperatures start to drop, prepare your plant for winter by taking the following steps:
Cut back the vines to about half their length, removing any dead or diseased branches.
Move the potted plant indoors to a cool, well-lit location, such as a greenhouse, sunroom, or bright windowsill.
Water sparingly throughout the winter, allowing the soil to dry out slightly between waterings.
Monitor the plant for signs of pests or diseases, treating accordingly.
As spring approaches and the danger of frost has passed, gradually reintroduce your Bella White Mandevilla to the outdoors, acclimating it to direct sunlight over the course of a week.
Exploring Different Varieties of the Bella Mandevilla Species
While Bella White Mandevilla is undoubtedly a showstopper, it is just one of the many captivating varieties within the Mandevilla species. Whether you prefer the classic vibrant red of Bella Scarlet, the soft pink hues of Bella Pink, or the warm peach tones of Bella Sunburst, there is a Mandevilla variety to suit every taste and garden style.
So there you have it, a comprehensive guide to Bella White Mandevilla. From its enchanting beauty and care requirements to creative landscaping ideas and propagation tips, we have covered it all. Whether you are a seasoned gardener or just starting your green thumb journey, Bella White Mandevilla is sure to bring elegance and an air of sophistication to your outdoor space. So what are you waiting for? Start planning and let the beauty of Bella White Mandevilla transform your garden into a floral paradise.