Mounding Mandevilla Series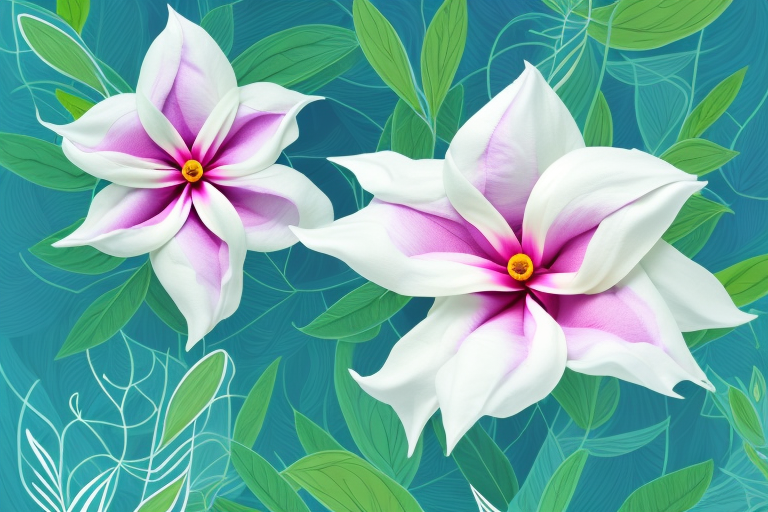 Welcome to our comprehensive guide to the beautiful and versatile Mounding Mandevilla series! In this article, we will explore everything you need to know about growing and caring for these stunning plants. Whether you're a seasoned gardener or a beginner, we've got you covered. So sit back, relax, and let's dive into the world of Mounding Mandevilla!
Introduction to the Mounding Mandevilla Series
If you're looking for a plant that brings vibrant colors and a touch of elegance to your garden, the Mounding Mandevilla series is an excellent choice. These showy flowering plants are known for their cascading growth habit and their ability to add a touch of tropical beauty to any landscape. With their eye-catching blooms and lush, green foliage, Mounding Mandevilla plants are sure to capture the attention of any observer.
One of the reasons why the Mounding Mandevilla series is so popular among gardeners is its versatility. These plants can be grown in a variety of settings, from flower beds and borders to containers and hanging baskets. Whether you have a small balcony or a spacious garden, you can easily incorporate Mounding Mandevilla into your outdoor space to create a stunning display of color and texture.
Benefits of Growing Mounding Mandevilla
The benefits of growing Mounding Mandevilla extend far beyond their visual appeal. These plants are incredibly low maintenance, making them an ideal choice for busy gardeners or those new to gardening. With the right care, Mounding Mandevilla plants are known for their long blooming period, allowing you to enjoy their captivating flowers for months on end.
Furthermore, Mounding Mandevilla is an excellent choice for attracting pollinators such as bees and butterflies to your garden. By providing a rich source of nectar, these plants play a vital role in supporting the local ecosystem and promoting biodiversity. So not only will you be adding beauty to your garden, but you'll also be creating a welcoming habitat for beneficial insects.
Choosing the Right Varieties for Your Garden
When it comes to choosing the right Mounding Mandevilla variety for your garden, you'll be met with an array of options. From vibrant pinks and reds to delicate whites and yellows, these plants offer a wide range of colors to suit your personal taste and preferences.
Before making a decision, consider the size of your garden and the available space for your Mounding Mandevilla plants. Some varieties are more compact, making them well-suited for containers and smaller gardens, while others have a more vigorous growth habit, perfect for larger landscapes. Additionally, take into account the climate in your area, as certain varieties may be more tolerant of heat or cold.
How to Prepare Your Soil for Mounding Mandevilla
Preparing your soil is crucial for the success of your Mounding Mandevilla plants. These beauties prefer well-draining soil that is rich in organic matter. Start by loosening the soil and removing any weeds or debris. Incorporate compost or aged manure to improve the soil's fertility and drainage.
It's also essential to ensure that the pH of your soil is within the optimal range for Mounding Mandevilla. Aim for a slightly acidic to neutral pH, ideally around 6.0 to 7.0. Testing your soil and making necessary adjustments will promote healthy plant growth and vibrant blooms.
The Best Time to Plant Mounding Mandevilla
The best time to plant Mounding Mandevilla depends on your location and climate. These plants thrive in warm temperatures, so it's generally recommended to plant them after the danger of frost has passed and the soil has warmed up.
In regions with mild winters, Mounding Mandevilla can be planted in early spring when the soil temperature reaches around 60°F (15°C) or higher. In colder climates, it's best to wait until late spring or early summer when the risk of frost has significantly decreased.
Essential Tips for Planting and Caring for Mounding Mandevilla
Planting and caring for Mounding Mandevilla requires attention to detail to ensure healthy growth and abundant blooms. Here are some essential tips to keep in mind:
Choose a location that receives at least 6 hours of sunlight per day for optimal flowering.
Provide a sturdy trellis or support structure for climbing varieties.
Water regularly, keeping the soil evenly moist but not waterlogged. Avoid overwatering, as it can lead to root rot.
Apply a balanced fertilizer every 2-4 weeks during the growing season to promote vigorous growth and blooming.
Prune regularly to maintain a neat and compact shape, removing any dead or damaged branches.
Monitor for pests and diseases such as aphids, spider mites, and powdery mildew. Treat any issues promptly to prevent damage to your plants.
Watering and Irrigation Techniques for Mounding Mandevilla
Proper watering is crucial for the health and vitality of your Mounding Mandevilla plants. While these plants require regular moisture, it's important to strike a balance and avoid both underwatering and overwatering.
When watering, aim to keep the soil evenly moist, but not excessively wet. Allow the top inch (2.5 cm) of soil to dry out between waterings to prevent root rot. Mulching the base of your Mounding Mandevilla plants can help retain moisture and regulate soil temperature.
In regions with hot and dry climates, it may be necessary to water more frequently, especially during periods of drought. However, always monitor the soil moisture and adjust your watering schedule accordingly to avoid waterlogging the roots.
Fertilizing Requirements and Schedule for Mounding Mandevilla
Mounding Mandevilla plants benefit from regular fertilization to support healthy growth and abundant blooming. Choose a balanced granular fertilizer with equal amounts of nitrogen, phosphorous, and potassium (NPK) to provide a well-rounded nutrient supply.
Apply the fertilizer every 2-4 weeks during the active growing season, following the manufacturer's instructions for application rates. Water the plants thoroughly after fertilizing to ensure proper nutrient absorption.
Additionally, consider supplementing with a slow-release fertilizer at the beginning of the season to provide a steady supply of nutrients over an extended period.
Pruning and Training Techniques for a Beautiful Mounding Mandevilla Display
Pruning is an essential aspect of Mounding Mandevilla care, as it helps maintain a neat and compact shape while stimulating new growth and blooming. Regular pruning also helps control the size of your plants, preventing them from becoming too sprawling or overgrown.
To prune your Mounding Mandevilla plants, start by removing any dead or damaged branches. Then, trim back any excessive growth or long runners to encourage bushier growth. If you're growing a climbing variety, train the vines onto a trellis or support structure to achieve the desired shape and form.
Pruning is typically done in late winter or early spring before the growing season begins, as well as throughout the season to remove spent blooms and encourage continuous flowering.
Common Pests and Diseases of Mounding Mandevilla and How to Control Them
While Mounding Mandevilla plants are relatively resilient, they can still be susceptible to certain pests and diseases. Being proactive in pest and disease management is key to maintaining the health and vigor of your plants.
Common pests that may affect Mounding Mandevilla include aphids, spider mites, and whiteflies. Regularly inspect your plants for signs of infestation, such as distorted leaves or visible pests, and take prompt action. Treat affected plants with insecticidal soap or a homemade insecticidal spray to deter pests and prevent further damage.
As for diseases, powdery mildew can be a common issue, especially in humid or poorly ventilated conditions. To prevent powdery mildew, ensure good air circulation around your plants, water at the base of the plant to avoid wetting the leaves, and remove any infected foliage immediately.
Overwintering Strategies for Mounding Mandevilla in Cold Climates
While Mounding Mandevilla is generally grown as an annual in colder climates, there are ways to overwinter these plants and enjoy their beauty year after year.
If you live in a region with mild winters, you may be able to overwinter Mounding Mandevilla outdoors. Before the first frost, cut back the plants to about one-third of their original size and mulch the base to protect the roots from freezing temperatures. Additionally, consider wrapping the plants with burlap or covering them with a frost cloth during extreme cold snaps.
For gardeners in colder climates, a popular solution is to bring Mounding Mandevilla indoors during the winter months. Before the first frost, carefully dig up the plants, taking care not to damage the roots, and transplant them into suitable containers. Place the containers in a cool, well-lit area indoors, such as a bright window or a heated greenhouse.
During winter, reduce watering and provide bright, indirect light to help your Mounding Mandevilla plants survive until the spring. Once the threat of frost has passed, you can transplant them back into the garden and resume their regular care routine.
Successful Propagation Methods for Expanding Your Mounding Mandevilla Collection
If you're looking to expand your collection of Mounding Mandevilla plants, there are several successful propagation methods you can try. The most common methods include stem cuttings and layering.
To propagate Mounding Mandevilla from stem cuttings, select a healthy stem and make a clean cut just below a leaf node. Remove any lower leaves to expose the node, then dip the cut end in rooting hormone to encourage root development. Plant the cutting in a well-draining potting mix and keep it moist until roots develop.
Layering is another effective propagation method for Mounding Mandevilla. Bend a low-growing stem to the ground and anchor it with a small stake or weight. Make a small incision in the stem where it touches the soil, then cover the incision with soil or a mix of soil and organic matter. In a few weeks, roots will develop at the point of contact, and you can separate the new plant from the parent plant.
Creative Uses of Mounding Mandevilla in Landscaping Designs
Mounding Mandevilla plants are incredibly versatile and can be used in various landscaping designs to add a touch of beauty and elegance. Here are a few creative ideas to inspire you:
Plant Mounding Mandevilla along fence lines or trellises for a stunning vertical display.
Create a cascading effect by planting Mounding Mandevilla in hanging baskets or elevated containers.
Use Mounding Mandevilla as a groundcover in flower beds or as a focal point in a mixed bedding arrangement.
Add pops of color to your patio or balcony by placing Mounding Mandevilla in decorative pots or window boxes.
Combine Mounding Mandevilla with other flowering plants, such as petunias or geraniums, for a vibrant and diverse garden display.
The possibilities are endless when it comes to incorporating Mounding Mandevilla into your landscaping designs. Let your creativity flourish, and experiment with different combinations and arrangements to create a truly unique and captivating outdoor space.
Inspiring Ideas for Combining Colors and Shapes with Mounding Mandevilla in Containers or Hanging Baskets
If you're looking to create striking and eye-catching displays with Mounding Mandevilla in containers or hanging baskets, consider playing with colors and shapes. Here are a few inspiring ideas to get your creative juices flowing:
Combine vibrant pink Mounding Mandevilla with purple trailing Verbena for a vibrant and contrasting color palette.
Create a soothing and elegant display by pairing white Mounding Mandevilla with blue lobelia or trailing bacopa.
Add a touch of drama with a combination of red Mounding Mandevilla, black sweet potato vine, and orange Calibrachoa.
Create a tropical oasis with a mix of yellow Mounding Mandevilla, purple trailing Lantana, and palm-like Cordyline.
Experiment with different combinations and arrangements to find the perfect mix of colors and shapes that suits your personal style and preferences. Let your imagination run wild, and create stunning displays that will be the envy of your neighborhood.
Showcasing the Beauty of Mounding Mandevilla: Stunning Photos and Design Inspiration
To fully appreciate the beauty and versatility of Mounding Mandevilla, take a moment to browse through stunning photos and design inspiration. These visual representations will help spark your creativity and provide a glimpse into the incredible possibilities when it comes to incorporating Mounding Mandevilla into your garden.
From cascading blooms in vibrant shades to lush, green foliage, Mounding Mandevilla is truly a showstopper. Whether used as a focal point or as part of a larger garden display, these plants add a touch of elegance and charm that is hard to resist.
So go ahead and let the beauty of Mounding Mandevilla inspire you to create a garden that reflects your unique style and showcases the wonders of nature.
In conclusion, the Mounding Mandevilla series offers a world of possibilities for gardeners looking to add a splash of color and grace to their outdoor spaces. With their versatility, low maintenance requirements, and breathtaking blooms, Mounding Mandevilla is a must-have for any gardening enthusiast.
Now that you're armed with the knowledge and inspiration to grow and care for Mounding Mandevilla, it's time to get your hands dirty and embark on a gardening adventure like no other. Happy gardening!