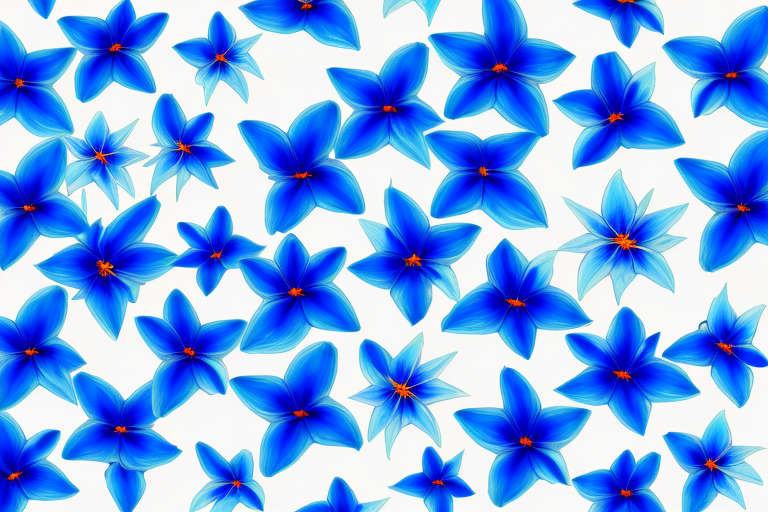 Are you ready to add a pop of stunning blue color to your garden? Look no further than the breathtaking Blue Mandevilla. This enchanting vine is a must-have for any plant lover who wants to create a show-stopping display in their outdoor space. In this comprehensive guide, we will take a closer look at everything you need to know about growing and caring for Blue Mandevilla plants.
The Beautiful Blue Mandevilla: A Guide to Growing and Caring for this Stunning Vine
If you're unfamiliar with Blue Mandevilla, allow us to introduce you to its captivating beauty. This vine is renowned for its striking blue flowers that instantly catch the eye and lend a touch of elegance to any garden. Its vibrant color and lush foliage make it a favorite choice for both amateur gardeners and experienced horticulturists.
When it comes to growing Blue Mandevilla, it's important to understand its needs and preferences. This vine thrives in warm climates and requires a minimum of six hours of direct sunlight daily. Choosing the right location for planting is vital to ensuring the health and growth of your Blue Mandevilla plants. Let's dive into the details.
Exploring the Enchanting World of Blue Mandevilla
Before we delve deeper into the growing and caring process, let's take a moment to appreciate the captivating world of Blue Mandevilla. This plant belongs to the Apocynaceae family and is native to the tropical regions of Central and South America. It is commonly known as the Blue Dipladenia or the Brazilian Jasmine, although it's not of the jasmine genus.
Blue Mandevilla boasts a vigorous climbing habit and can reach impressive heights if given adequate support. Its deep green foliage provides a lush backdrop to the spectacular blue flowers that bloom profusely during the warm months. The trumpet-shaped blossoms feature a slightly waxy texture and radiate a sweet fragrance, attracting pollinators like bees and butterflies to your garden.
A Closer Look at the Characteristics and Features of Blue Mandevilla
To truly understand and appreciate Blue Mandevilla, let's examine its key characteristics and unique features. This vine can develop long, flexible stems that allow it to climb and creep along trellises, fences, and arbors. Its glossy leaves are lanceolate or ovate in shape, with a leathery texture that makes them more resistant to pests and diseases.
However, what truly sets Blue Mandevilla apart are its stunning flowers. These blooms typically measure around three inches in diameter and showcase a hypnotic shade of blue. From deep indigo to vibrant azure, the color range can vary between different cultivars. Some varieties even display delicate streaks or gradients, adding an extra touch of artistry to the already mesmerizing flowers.
Unveiling the History and Origins of Blue Mandevilla
Like every captivating plant, Blue Mandevilla has an intriguing history and origin story. Originally hailing from the tropical regions of Central and South America, it was first discovered in Brazil. The plant was named after Henry Mandeville, a British diplomat, and gardener who collected botanical specimens during his travels in the early 19th century.
Since its discovery, Blue Mandevilla has traveled the world and captured the hearts of many garden enthusiasts. Its striking beauty and ease of cultivation have made it a popular choice in subtropical and tropical regions across the globe. Today, it can be found adorning gardens and landscapes in various countries, injecting a touch of exotic allure to outdoor spaces.
Choosing the Perfect Location: Where to Plant Blue Mandevilla in your Garden
When it comes to successfully growing Blue Mandevilla, location is key. This vine thrives in warm and sunny conditions, making it an ideal choice for gardens in subtropical and tropical regions. If you live in a temperate climate, fear not! With a little extra care and attention, you can still enjoy the beauty of Blue Mandevilla.
The first step is to select a suitable location that receives at least six hours of direct sunlight daily. Blue Mandevilla loves basking in the sun, so find a spot that provides ample light for the vine to thrive. Ideally, the area should also offer some protection from strong winds, as excessive gusts may damage the delicate blossoms or cause the plant to lose its balance when climbing.
Consider planting Blue Mandevilla near a trellis, pergola, or arbor, as these structures offer the support the plant needs to grow and climb. By providing a sturdy foundation, you can help Blue Mandevilla unleash its full potential and create a visually stunning vertical display in your garden.
The Ideal Soil Conditions for Thriving Blue Mandevilla Plants
Blue Mandevilla loves well-draining soil that retains some moisture without becoming waterlogged. The key is to strike the right balance between water retention and proper drainage. Optimal soil composition for this vine includes a mix of garden soil, compost, and perlite or sand to ensure good drainage.
Before planting Blue Mandevilla, it's a good idea to prepare the soil by loosening it and removing any weeds or rocks that may hinder the growth of the plant's roots. You can also amend the soil with organic matter, such as well-rotted manure or compost, to increase its fertility and provide essential nutrients for your Blue Mandevilla.
When it comes to soil pH, Blue Mandevilla prefers slightly acidic to neutral conditions, with a pH range between 6.0 and 7.0. If your soil tends to be too alkaline, you can adjust it by incorporating organic matter or using soil amendments specifically designed for acid-loving plants.
Essential Tips for Watering and Fertilizing Blue Mandevilla
Proper watering and fertilizing are crucial for maintaining the health and vitality of Blue Mandevilla plants. Let's dive into some essential tips to help you keep your vine thriving:
Watering: Blue Mandevilla prefers consistent moisture levels, without the soil becoming overly saturated. As a general guideline, aim to water your plant deeply once or twice a week during dry periods. However, make sure to check the moisture content of the soil before watering, as excessive moisture can lead to root rot and other problems.
Fertilizing: To encourage lush growth and abundant blooms, it's important to provide your Blue Mandevilla with regular fertilization. Use a balanced, slow-release fertilizer formulated for flowering plants. Apply the fertilizer according to the manufacturer's instructions, usually every two to three weeks during the growing season. Be cautious not to over-fertilize, as this can result in excessive vegetative growth and fewer flowers.
Additionally, consider incorporating organic matter, such as compost or well-rotted manure, into the soil when planting. These natural sources of nutrients will gradually release vital elements as they decompose, nourishing your Blue Mandevilla from the roots up.
Pruning Techniques to Promote Healthier Growth of Blue Mandevilla
To keep your Blue Mandevilla healthy and looking its best, regular pruning is essential. Proper pruning helps promote bushier growth, increased flower production, and prevents the plant from becoming too leggy or unmanageable.
The best time to prune Blue Mandevilla is in early spring, just before new growth emerges. Start by removing any dead, diseased, or damaged stems and leaves. These should be cut back to healthy tissue, using clean and sharp pruning shears to prevent the spread of disease.
You can also trim back any excessively long or wayward stems to maintain the desired shape and size of the plant. Make your cuts just above a leaf node or bud, as this will encourage new growth to emerge from below the cut.
Throughout the growing season, remove any spent flowers by snipping them off at the base of the stem. This practice, known as deadheading, not only keeps your Blue Mandevilla looking tidy but also encourages the plant to redirect energy towards producing new flowers.
Protecting Blue Mandevilla from Common Pests and Diseases
While Blue Mandevilla is a hardy and resilient plant, it is not immune to pests and diseases. Common issues that may affect your vine include aphids, spider mites, whiteflies, and fungal infections.
To prevent and control these problems, regularly inspect your Blue Mandevilla for signs of infestation or disease. Early detection is key to successfully managing pests and diseases. If you notice any issues, treat them promptly using organic or chemical control methods, depending on your preferences and the severity of the problem.
Taking preventative measures, such as ensuring good air circulation, avoiding overwatering, and providing proper nutrition, can also help maintain a healthy Blue Mandevilla and reduce the risk of pest and disease attacks.
Propagation Methods: How to Multiply Your Blue Mandevilla Collection
If one Blue Mandevilla is not enough for your garden, fear not! Multiplying your collection is possible through various propagation methods. Let's explore a few techniques to help you expand your Blue Mandevilla family:
Seeds: While growing Blue Mandevilla from seeds is possible, it is a time-consuming process. To collect seeds, allow the spent flowers to mature and dry on the vine. Once the seed pods have turned brown and crack open, carefully collect the seeds and store them in a cool, dry place. Sow the seeds in well-draining soil and provide the necessary warmth and moisture for germination.
Softwood Cuttings: Propagating Blue Mandevilla from softwood cuttings is a popular and reliable method. In late spring or early summer, take cuttings from the tips of the plant's stems. Remove any leaves from the lower portion of the cutting and dip it into a rooting hormone. Plant the cutting in a well-draining soil mix and keep it consistently moist until roots develop.
Air Layering: Air layering is a more advanced propagation technique that involves inducing the stem of a mature Blue Mandevilla plant to produce roots while still attached to the mother plant. Girdle a section of the stem, apply rooting hormone, and wrap it with sphagnum moss or another rooting medium. Secure the moss with plastic wrap and wait for roots to develop. Once roots have emerged, cut the rooted section from the mother plant and plant it in a separate container.
Propagation can be an exciting and rewarding process, allowing you to expand your collection of beloved Blue Mandevilla plants. Experiment with different methods and find the one that works best for you.
Creating Stunning Displays: Using Blue Mandevilla in Landscaping and Container Gardens
Blue Mandevilla's captivating beauty makes it a versatile choice for various gardening styles. Whether you have a spacious garden or a modest balcony, this vine can be incorporated into your landscape or container garden to create stunning displays.
In larger gardens, allow Blue Mandevilla to climb along trellises, arbors, or pergolas. Its vigorous growth habit and stunning blue flowers will add vertical interest and provide a striking focal point in your outdoor space. Pair it with complementary plants, such as white-flowering clematis or purple bougainvillea, to create an enchanting color combination.
If space is limited, you can still enjoy the beauty of Blue Mandevilla by planting it in containers. Choose a large pot with good drainage and fill it with a well-draining soil mix. Place the pot in a sunny location, such as a patio or balcony, and let the vine climb along a trellis or pillar. The trailing stems and vibrant blue flowers will create a cascading display of color and elegance.
Companion Planting: Best Plants to Pair with Blue Mandevilla for a Striking Effect
If you want to elevate the impact of your Blue Mandevilla displays even further, consider companion planting. By strategically pairing Blue Mandevilla with compatible plants, you can create a striking effect that enhances the overall beauty of your garden.
Here are a few excellent companion plants to consider:
Yellow Marigolds: The vivid contrast between the blue flowers of Blue Mandevilla and the bright yellow blooms of marigolds creates a visually stunning display.
Pink Petunias: Pairing Blue Mandevilla with pink petunias adds a touch of romance and creates a soft, harmonious combination of colors.
Red Salvia: The intense red flowers of salvia provide a striking backdrop for the mesmerizing blue of Blue Mandevilla.
The key to successful companion planting is to choose plants with similar sun and water requirements. This ensures that all plants in the combination receive the necessary care and thrive together harmoniously.
Overwintering Strategies: Ensuring the Survival of Blue Mandevilla in Colder Climates
While Blue Mandevilla thrives in warm climates, gardeners in colder regions need not despair. With proper care and planning, you can still enjoy the beauty of this vine, even in areas with frost and freezing temperatures.
If you live in a region where winter conditions are harsh, consider growing Blue Mandevilla as an annual or potted plant. In late fall, before the first frost, cut the vine back to about one-third of its original length. Carefully dig up the plant, ensuring you preserve as much of the root system as possible, and transfer it to a container filled with well-draining soil. Place the potted Blue Mandevilla in a cool, bright location indoors, such as a sunroom or conservatory.
During the winter months, water your potted Blue Mandevilla sparingly, allowing the soil to dry slightly between watering. While the plant may not bloom during this time, it will enter a dormant state, conserving energy for the upcoming growing season. In early spring, when the risk of frost has passed, gradually reintroduce your Blue Mandevilla to outdoor conditions, acclimating it to the sun and gradually increasing watering frequency