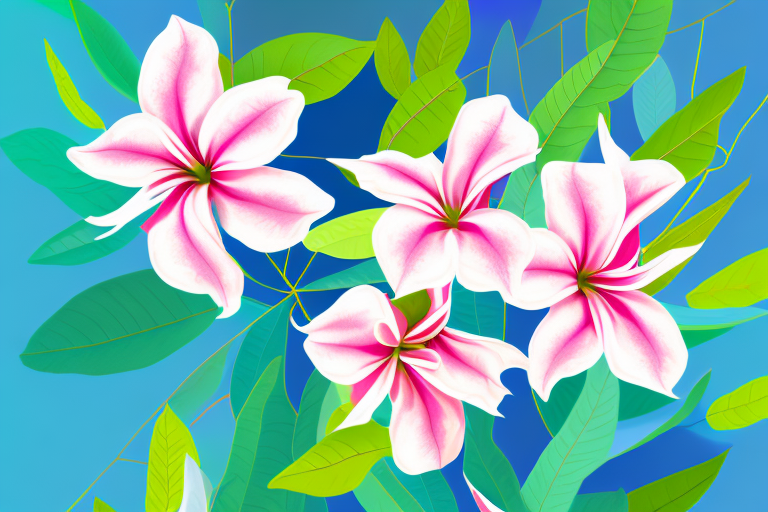 If you're looking for a beautiful and versatile landscaping option, look no further than Mandevilla ground cover. This stunning plant is not only visually appealing but also offers many benefits for your garden design. In this comprehensive guide, we will explore everything you need to know about Mandevilla ground cover, from its plant characteristics to care and maintenance tips. So, grab your gardening gloves and let's get started!
Introduction to Mandevilla Ground Cover: A Beautiful and Versatile Landscaping Option
Mandevilla ground cover is a fantastic addition to any garden. With its vibrant flowers and glossy foliage, it adds a touch of elegance and charm to your outdoor space. Whether you're looking to create a focal point or cover bare ground, Mandevilla ground cover is an excellent choice.
One of the reasons why Mandevilla ground cover is so popular is its versatility. It can be used in various landscape designs, from formal gardens to tropical-inspired settings. It is also well-suited for containers, hanging baskets, and trellises, allowing you to add beauty and color to any space.
Understanding the Basics of Mandevilla Ground Cover: Plant Characteristics and Growth Habits
Before you start planting Mandevilla ground cover, it's essential to understand its plant characteristics and growth habits. Mandevilla is a tropical plant native to South America, and it thrives in warm climates. It prefers full sun to partial shade and well-draining soil.
The foliage of Mandevilla ground cover is glossy and leathery, providing an attractive backdrop for its stunning flowers. Speaking of flowers, Mandevilla ground cover produces large blooms in various colors, including shades of pink, red, white, and yellow. These flowers not only add visual interest but also attract pollinators to your garden.
Choosing the Right Varieties of Mandevilla Ground Cover for Your Landscape
When it comes to choosing the right varieties of Mandevilla ground cover for your landscape, you have several options to consider. Some popular choices include 'Alice Dupont' with its vibrant pink flowers, 'Sun Parasol Giant Red' with its striking red blooms, and 'Boliviensis' with its cascading growth habit.
When selecting varieties, take into account factors such as the size of your space, the amount of sunlight it receives, and your desired color scheme. It's also important to note that some varieties may require more care and maintenance than others.
The Benefits of Using Mandevilla Ground Cover in Your Garden Design
Incorporating Mandevilla ground cover into your garden design offers many benefits. First and foremost, its stunning flowers add a pop of color and visual interest to your outdoor space. Whether you choose a single color or mix and match different varieties, Mandevilla ground cover is sure to make a statement.
Additionally, Mandevilla ground cover is relatively low-maintenance once established. It requires regular watering, especially during dry periods, and benefits from occasional feeding. With proper care, it can thrive throughout the growing season, providing you with a beautiful and vibrant ground cover option.
How to Prepare Your Soil for Planting Mandevilla Ground Cover
Before you plant Mandevilla ground cover, it's crucial to prepare your soil properly. Start by removing any weeds or debris from the area where you plan to plant. Next, loosen the soil using a garden fork or tiller to ensure good drainage.
If your soil is heavy or clay-like, consider adding organic matter such as compost or well-rotted manure. This will improve soil structure and provide essential nutrients for your Mandevilla ground cover. It's also a good idea to perform a soil test to determine if any amendments are needed.
Step-by-Step Guide to Planting Mandevilla Ground Cover Successfully
Now that you have prepared your soil, it's time to plant your Mandevilla ground cover. Follow these steps for successful planting:
Choose a healthy Mandevilla ground cover plant from a reputable nursery.
Dig a hole slightly larger than the root ball of the plant.
Place the plant in the hole, making sure it is level with the surrounding ground.
Backfill the hole with soil, firming it gently around the plant.
Water thoroughly to settle the soil and ensure good root-to-soil contact.
Apply a layer of mulch around the plant to help retain moisture and suppress weeds.
Remember to space your Mandevilla ground cover plants according to their specific growth habits to ensure they have enough room to spread and thrive.
Essential Care and Maintenance Tips for Healthy and Vibrant Mandevilla Ground Cover
Keeping your Mandevilla ground cover healthy and vibrant is relatively easy with proper care and maintenance. Here are some essential tips to follow:
Water regularly, especially during dry spells, to keep the soil evenly moist. Avoid overwatering, as this can lead to root rot.
Feed your Mandevilla ground cover with a balanced fertilizer every four to six weeks during the growing season. This will provide the necessary nutrients for healthy growth and abundant blooms.
Monitor your plants for pests and diseases regularly. Common pests include aphids and spider mites, while common diseases include powdery mildew. Treat any issues promptly to prevent them from spreading.
Prune your Mandevilla ground cover to shape and control its growth. Remove any dead, damaged, or leggy stems, and trim back overly vigorous growth as needed.
Preventing Pests and Diseases in Your Mandevilla Ground Cover: Effective Control Methods
While Mandevilla ground cover is relatively resistant to pests and diseases, it's essential to take preventive measures to keep your plants healthy. Here are some effective control methods:
Regularly inspect your plants for pests and promptly remove any affected leaves or stems. This can help prevent infestations from spreading.
Encourage natural predators such as ladybugs or lacewings to control pest populations. You can attract these beneficial insects by planting a diverse range of flowers and herbs in your garden.
To prevent diseases such as powdery mildew, provide adequate spacing between plants for good air circulation. Also, avoid overhead watering, as this can promote the growth of fungal spores.
Overwintering Mandevilla Ground Cover: Protecting Your Plants from Harsh Winter Conditions
Depending on your climate, you may need to take steps to protect your Mandevilla ground cover from harsh winter conditions. Keep in mind that Mandevilla is a tropical plant and is not frost-tolerant.
If you live in an area with mild winters, you can leave your Mandevilla ground cover in the ground. Apply a thick layer of mulch around the plants to insulate the roots and protect them from freezing temperatures.
In colder regions, you may need to bring your Mandevilla ground cover indoors for the winter. Before the first frost, carefully dig up the plants, taking care not to damage the roots. Place them in containers with well-draining soil and keep them in a cool, dark location until the following spring.
Creative Ways to Incorporate Mandevilla Ground Cover in Various Landscape Designs
Mandevilla ground cover offers endless possibilities for incorporating it into your landscape designs. Here are some creative ideas to inspire you:
Use Mandevilla ground cover to create a vibrant border or edging along pathways or garden beds. Its trailing habit and colorful flowers will add visual interest and definition to your outdoor space.
Plant Mandevilla ground cover near fences, trellises, or pergolas to create a stunning vertical display. You can train the vines to climb and weave through the structure, creating a captivating focal point in your garden.
Add Mandevilla ground cover to hanging baskets or window boxes for a burst of color and texture. Combine different varieties for a truly eye-catching display.
Combining Mandevilla Ground Cover with Other Plants: Companion Planting Ideas
Mandevilla ground cover can be an excellent companion for various other plants. Here are some companion planting ideas:
Pair Mandevilla ground cover with other sun-loving annuals such as petunias, marigolds, or zinnias. The combination of vibrant blooms and lush foliage will create a visually stunning display.
Combine Mandevilla ground cover with ornamental grasses or tropical plants for a lush and tropical-inspired garden design. The contrasting textures and colors will add depth and interest to your landscape.
For a romantic and cottage garden vibe, plant Mandevilla ground cover alongside roses or English lavender. The soft colors and delicate blooms will create a charming and fragrant display.
Inspiring Examples of Stunning Landscapes Enhanced by Mandevilla Ground Cover
If you're still not convinced of the beauty and impact Mandevilla ground cover can bring to your landscape, here are some inspiring examples:
Picture a well-manicured garden with Mandevilla ground cover spilling over terracotta pots, providing a burst of color against a backdrop of lush green foliage.
Imagine a tranquil tropical retreat with Mandevilla ground cover intertwining with palm trees and other exotic plants, creating a lush and vibrant oasis.
Visualize a cottage garden with Mandevilla ground cover climbing a trellis, its flowers peeking through the foliage, adding a touch of whimsy and charm.
Whatever your landscape style, Mandevilla ground cover can elevate your outdoor space and transform it into a stunning and inviting haven.
In conclusion, Mandevilla ground cover is a beautiful and versatile landscaping option that offers numerous benefits. With its vibrant flowers, glossy foliage, and ease of care, it's no wonder why so many gardeners are incorporating this plant into their designs. By understanding its plant characteristics, choosing the right varieties, and following proper care and maintenance techniques, you can enjoy a healthy and vibrant Mandevilla ground cover in your garden. So, go ahead and experiment with this stunning plant, and watch your landscape come alive with color and beauty!