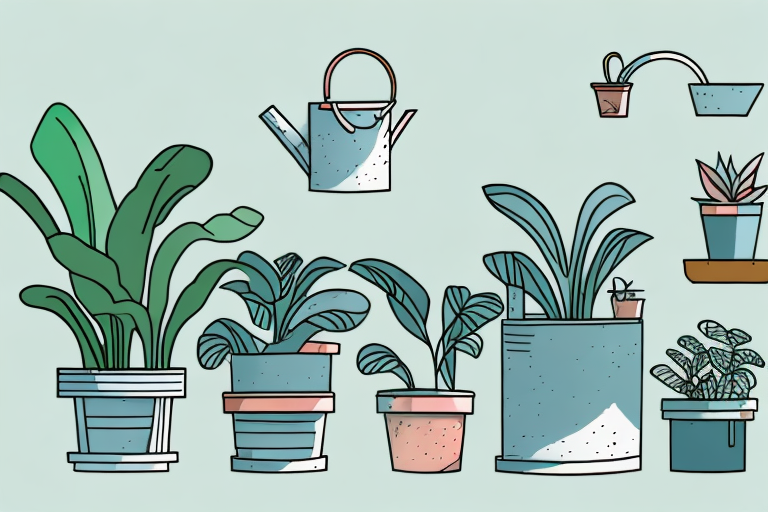 Houseplants can bring life and beauty to any space, but they require proper care to thrive. Whether you're a beginner or a seasoned plant enthusiast, this comprehensive guide will provide you with the knowledge you need to keep your houseplants healthy and vibrant. From choosing the right plant for your space to preventing and treating common pests, we've got you covered. So grab a cup of tea, find a comfy spot, and let's dive into the world of houseplant care.
Choosing the Right Houseplant for Your Space
When it comes to selecting a houseplant, it's essential to consider your space's lighting conditions and size limitations. Some plants thrive in bright, indirect light, while others prefer low-light environments. Additionally, make sure to take into account your home's temperature and humidity levels. If you have limited space, consider compact varieties or plants that can be hung or placed on shelves. Research the specific needs of different houseplants and choose one that suits your lifestyle and preferences.
Understanding Light Requirements for Houseplants
Light is one of the most crucial factors for a plant's growth and overall health. Most houseplants prefer bright, indirect light, as direct sunlight can scorch their leaves. However, there are exceptions, such as succulents and cacti, which thrive in full sun. If you have a low-light area, don't worry. Some houseplants, like snake plants and pothos, can tolerate low-light conditions. Remember to rotate your plants occasionally to ensure all sides receive adequate light.
Watering Techniques for Healthy Houseplants
Proper watering is vital for houseplant care. Overwatering can lead to root rot, while underwatering can cause wilting and stunted growth. The key is to strike a balance. Before watering, check the moisture level of the soil by sticking your finger into the top inch. If it feels dry, it's time to water. Use room-temperature water and pour it slowly and evenly onto the soil until it starts to come out of the drainage holes. Avoid letting your houseplants sit in standing water, as it can promote root rot.
The Importance of Proper Drainage in Houseplant Care
Good drainage is crucial for healthy houseplants. Without proper drainage, excess water can accumulate in the pot, leading to root rot and fungal diseases. When choosing a pot, ensure it has drainage holes at the bottom. If you have a decorative pot without drainage, use a plastic nursery pot with drainage and place it inside the decorative one. This way, you can remove the inner pot for watering and let it drain before placing it back.
Fertilizing Houseplants: Dos and Don'ts
Fertilizing provides essential nutrients that houseplants need to thrive. However, it's important to follow the proper dosing and frequency guidelines. Over-fertilizing can lead to salt buildup in the soil, which can harm the roots. Use a balanced, water-soluble fertilizer and dilute it according to the package instructions. During the active growth period, typically spring and summer, fertilize every two to four weeks. Reduce frequency during the dormant period, usually fall and winter.
Creating the Ideal Humidity Level for Houseplants
Many houseplants originate from tropical regions with high humidity levels. To mimic their natural environment, you can increase humidity around your plants. Grouping plants together creates a mini-humid zone. You can also place a tray filled with water and pebbles near your plants. As the water evaporates, it increases the surrounding humidity. Another option is to use a humidifier to maintain a consistent level of moisture in the air. Monitor the humidity levels with a hygrometer and adjust as necessary.
Temperature Considerations for Different Types of Houseplants
Houseplants have varied temperature preferences, and understanding these requirements will help ensure their well-being. Most houseplants thrive in normal room temperatures, around 65-75°F (18-24°C). However, some plants, like cacti and succulents, prefer warmer conditions, while others, such as peace lilies and ferns, prefer cooler temperatures. Avoid placing your plants near drafts or heat sources like radiators, as sudden temperature fluctuations can stress them.
Repotting Guide: When and How to Repot Your Houseplants
Repotting is essential for houseplant care, as it provides fresh nutrients and a larger growing space. As a general rule, repot your plants every 1-2 years, or when they become root-bound. Signs of root-bound plants include roots coming out of the bottom drainage holes or dense masses of roots. Choose a pot that is slightly larger than the current one and has drainage holes. Gently remove the plant from its old pot, loosen the roots, and place it in the new pot with fresh soil. Water thoroughly and allow the plant to adjust to its new home.
Preventing and Treating Common Pests in Houseplants
Pests can wreak havoc on your houseplants if not addressed promptly. Common pests include aphids, spider mites, mealybugs, and fungus gnats. To prevent infestations, regularly inspect your plants for any signs of pests, such as sticky residue, distorted leaves, or tiny insects. If you spot pests, isolate the affected plant and treat it immediately using appropriate methods such as insecticidal soap, neem oil, or introducing beneficial insects. Regularly wiping the leaves with a damp cloth also helps prevent pest buildup.
Pruning and Shaping Techniques for Beautiful Houseplants
Pruning is a crucial part of houseplant care that helps promote healthy growth and maintain an attractive shape. Regularly remove dead or yellowing leaves, as they can attract pests and spread diseases. If your plant becomes leggy or unruly, you can prune it to encourage bushier growth. Use clean, sharp pruning shears and make cuts just above a leaf node. If your plant has thin, vining stems, consider trimming them back to maintain a compact form. Always ensure your tools are sanitized to prevent the spread of diseases.
Propagating Houseplants: Easy Methods to Expand Your Collection
Propagating houseplants is an exciting way to grow your collection and share your favorite plants with others. There are several methods of propagation, including stem cuttings, leaf cuttings, and division. Stem cuttings involve taking a healthy stem and placing it in water or soil until roots develop. Leaf cuttings are suitable for plants like succulents and begonias, where you can propagate a new plant from a healthy leaf. Division works well for plants with multiple stems or those that naturally produce offsets. Experiment with different propagation techniques and watch your plant family grow.
Dealing with Common Diseases in Houseplants: Prevention and Treatment
Houseplants can occasionally succumb to diseases, such as fungal infections, root rot, or bacterial leaf spots. Prevention is key to keeping your plants healthy. Provide proper air circulation, avoid overwatering, and remove any infected plant debris promptly. If you notice signs of disease, such as discolored or spotted leaves, act quickly. Trim away affected areas and disinfect your tools between cuts to prevent spreading the disease. Applying a fungicide or bactericide may also be necessary in severe cases.
Tips for Choosing the Right Soil Mix for Your Houseplants
Selecting the appropriate soil mix for your houseplants is vital for their overall health and well-being. Most houseplants thrive in well-draining potting mixes that provide adequate moisture retention and aeration. You can purchase pre-made mixes labeled for houseplants or create your own by combining equal parts of peat moss, perlite, and vermiculite. However, keep in mind that certain plants, like orchids and succulents, require specialized soil mixes. Research the specific needs of your houseplants to ensure they are planted in the ideal soil conditions.
Indoor Air Quality Benefits of Having Houseplants at Home
Houseplants not only add beauty to your home but also offer numerous benefits to indoor air quality. They absorb carbon dioxide and release oxygen during photosynthesis, improving air circulation. Certain plants, such as peace lilies and snake plants, can also help filter harmful toxins from the air. Studies have shown that having houseplants indoors can reduce stress, improve cognitive function, and promote a sense of well-being. So, not only are you enhancing your space aesthetically, but you're also creating a healthier environment for yourself.
Low-Maintenance Houseplants: Perfect Choices for Busy Individuals
If you have a busy lifestyle or a knack for forgetting to water your plants, don't worry. There are plenty of low-maintenance houseplants that can withstand occasional neglect. Some popular choices include pothos, snake plants, and ZZ plants. These plants have high drought tolerance and can thrive in various lighting conditions. Additionally, consider self-watering pots or using water-absorbing watering spikes to help regulate soil moisture. With the right low-maintenance houseplants, you can enjoy the beauty and benefits of greenery without the extra fuss.
Popular Types of Low-Light Tolerant Houseplants
Low-light areas can be a challenge for houseplant enthusiasts, but fear not, there are plenty of options. Some popular low-light tolerant houseplants include the snake plant, pothos, peace lily, and ZZ plant. These plants have adapted to survive in dimly lit environments and can still thrive with minimal sunlight. Place them in areas away from windows or in rooms with low natural light. While they may not grow as quickly as in brighter conditions, they will still bring freshness and beauty to your space.
Best Practices for Cleaning and Dusting your Houseplants
Just like any other surface in your home, houseplants can accumulate dust over time. Dust on leaves can block sunlight and hinder photosynthesis. Cleaning your houseplants not only enhances their appearance but also helps keep them healthy. Regularly remove dust by gently wiping the leaves with a slightly damp cloth or using a soft brush. Avoid using cleaning products or leaf shine sprays, as they can clog leaf pores and hinder the plant's natural processes. Make it a habit to give your plants a spa treatment every once in a while, and they'll reward you with their beauty.
Now that you have a comprehensive understanding of houseplant care, it's time to put your knowledge into practice and watch your plants flourish. Remember, every plant is unique, so observe and adjust your care routine based on the specific needs of each plant. With patience, love, and a little green thumb, you'll create a thriving and beautiful indoor garden that brings joy and serenity to your home.