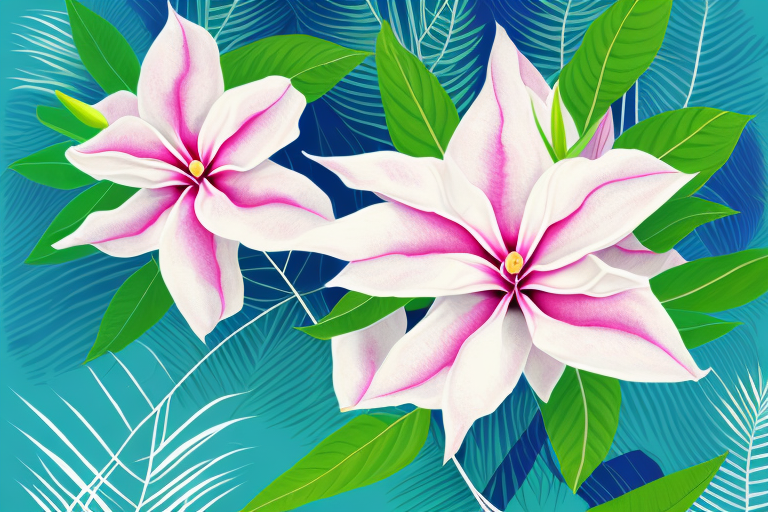 Have you ever considered bringing the beauty of Mandevilla plants indoors? If you have a passion for gardening and a desire to create an enchanting atmosphere in your home, growing Mandevilla indoors might be the perfect endeavor for you. In this comprehensive guide, we will delve into the world of Mandevilla indoor plants, covering everything from selecting the right variety to troubleshooting common issues. Get ready to transform your living space into a lush oasis with these stunning and versatile flowers.
Choosing the Right Mandevilla Variety for Indoor Growing
When it comes to choosing a Mandevilla variety for indoor growing, there are a few key factors to consider. First and foremost, you want to ensure that the variety you select is suitable for indoor cultivation. While most Mandevilla plants are typically grown outdoors, there are specific varieties that thrive in indoor environments. Look for varieties such as 'Dipladenia' or 'Sun Parasol' that are specifically bred for indoor cultivation, as they tend to be more compact and adapt better to the conditions found indoors.
Another crucial aspect to consider is the color of the flowers. Mandevilla plants come in a wide range of vibrant colors, including shades of pink, red, white, and even yellow. Choose a color that complements your indoor decor scheme and brings a touch of natural beauty to your space.
The Benefits of Growing Mandevilla Indoors
There are numerous benefits to growing Mandevilla plants indoors. Firstly, they add a stunning visual element to any room. The vibrant, trumpet-shaped flowers are a feast for the eyes and instantly uplift the ambiance of your living space.
Moreover, cultivating Mandevilla indoors allows you to enjoy their beauty year-round, regardless of the outdoor weather conditions. Whether it's freezing cold or scorching hot outside, your Mandevilla plants will thrive indoors, making them the perfect choice for those living in regions with extreme temperatures.
Furthermore, bringing Mandevilla indoors provides an opportunity for plant enthusiasts to experiment with different design ideas. From hanging baskets cascading with flowers to vertical gardens showcasing climbing varieties, the possibilities are endless. Mandevilla plants allow you to unleash your creativity and bring a touch of natural elegance to every corner of your home.
Essential Tips for Successfully Growing Mandevilla Indoors
While Mandevilla plants are relatively easy to grow, they do require proper care and attention to thrive indoors. Here are some essential tips to ensure your Mandevilla plants reach their full potential:
1. Lighting Requirements: Mandevilla plants thrive in bright, indirect light. Place your indoor Mandevilla near a window that receives ample sunlight, but make sure to protect it from intense, direct sunlight, as it can scorch the foliage. If you have limited natural light, consider using artificial grow lights to supplement the plant's lighting needs.
2. Temperature and Humidity: Mandevilla plants prefer temperatures between 60°F and 80°F (15°C and 26°C). Additionally, they thrive in moderate humidity levels. If your indoor environment tends to be dry, you can increase humidity by using a humidifier or placing a tray filled with water near the plant.
3. Pot and Soil Selection: Choose a well-draining potting mix specifically formulated for tropical plants. The pot should have adequate drainage holes to prevent waterlogging, as excessive moisture can lead to root rot. Select a pot that allows room for the plant's roots to grow and has enough stability to support the Mandevilla as it grows taller.
4. Watering Techniques: Water your indoor Mandevilla thoroughly, allowing the soil to dry slightly between waterings. Avoid overwatering, as it can lead to root rot. Stick your finger into the soil about an inch to check for moisture levels. If it feels dry, it's time to water. It's always better to underwater slightly than to overwater this plant.
5. Fertilizing Practices: Feed your Mandevilla plants with a balanced, water-soluble fertilizer every two weeks during the growing season. Dilute the fertilizer according to the package instructions and apply it directly to the soil. This will provide essential nutrients and help promote healthy growth and abundant blooms.
Pruning and Training Methods for Shaping Your Indoor Mandevilla Plant
Pruning and training your Mandevilla plants is an essential part of maintaining their shape and promoting healthy growth. Here are some pruning techniques to keep in mind:
1. Pinching: Pinching involves removing the growing tips of the plant to encourage bushier growth. Pinch off the tips of each stem just above a leaf node, and new growth will emerge from the remaining nodes.
2. Trimming: Regularly prune any dead or damaged foliage to keep your Mandevilla plants looking their best. Use clean, sharp pruning shears to avoid causing injury to the plant.
3. Training: If you have a climbing Mandevilla variety, provide a trellis or other support structure for the vines to cling onto. Regularly guide the vines to intertwine with the support, ensuring they grow vertically. This will create a visually appealing and space-saving vertical garden effect.
Preventing Common Pests and Diseases in Indoor Mandevilla Plants
While Mandevilla plants are generally resistant to pests and diseases, it's important to stay vigilante and take preventative measures to keep them healthy. Here are some common pests and diseases to watch out for:
1. Aphids: These small, sap-sucking insects can infest Mandevilla plants, causing curled and distorted leaves. Use insecticidal soap or a strong stream of water to remove aphids from the plant.
2. Spider Mites: Spider mites are tiny pests that leave behind tell-tale webbing on the undersides of leaves. Regularly misting your Mandevilla plants can help prevent spider mite infestations.
3. Root Rot: Overwatering and poor drainage can lead to root rot in Mandevilla plants. Ensure proper watering practices and use well-draining soil to prevent this fungal disease.
4. Powdery Mildew: Powdery mildew is a fungal disease that presents as a white powdery coating on the leaves. Maintain adequate air circulation around your Mandevilla plants to prevent its occurrence.
Troubleshooting Common Issues with Indoor Mandevilla Growth
Even the most experienced gardeners may encounter issues with their Mandevilla plants from time to time. Here are some common problems and their solutions to help you troubleshoot any issues that may arise:
1. Yellowing Leaves: Yellowing leaves can be a sign of overwatering or inadequate lighting. Check the soil moisture levels and adjust your watering schedule accordingly. Ensure that your Mandevilla plant is receiving adequate indirect sunlight.
2. Lack of Blooms: If your Mandevilla is not producing flowers, it may be due to insufficient light or lack of proper fertilization. Make sure your plant is receiving enough bright, indirect light and follow a regular fertilization schedule to encourage blooming.
3. Leggy Growth: Leggy growth occurs when the stems of the Mandevilla plant become elongated and weak. This is usually a result of inadequate light. Move your plant to a brighter location or consider supplementing with artificial grow lights to encourage more compact growth.
Propagation Techniques: How to Multiply Your Indoor Mandevilla Collection
If you wish to expand your indoor Mandevilla collection or share this beautiful plant with friends and family, propagation is an excellent option. Here's how you can propagate Mandevilla:
1. Stem Cuttings: Take 4 to 6-inch stem cuttings from a healthy Mandevilla plant. Remove the lower leaves and dip the cut ends in a rooting hormone powder. Plant the cuttings in a well-draining potting mix and keep them in a warm, humid environment. Mist the cuttings regularly to maintain high humidity. After a few weeks, the cuttings should develop roots and can be transplanted into individual pots.
2. Layering: Layering involves bending a low-growing stem until it touches the soil, making sure to wound the stem slightly before burying it in the soil. Anchor the stem down with a small rock or pin it with a bent wire. After a few weeks, the stem will develop roots. Once rooted, you can separate the new plant from the parent Mandevilla and pot it up.
Design Ideas: Incorporating Mandevilla into Your Indoor Décor Scheme
With their vibrant flowers and lush foliage, Mandevilla plants are perfect for enhancing the visual appeal of your indoor space. Here are some design ideas to incorporate Mandevilla into your interior decor scheme:
1. Tabletop Centerpiece: Place a potted Mandevilla as a stunning centerpiece on your dining table or coffee table. Choose a decorative pot that complements your home decor and let the vibrant colors of the flowers be the focal point of the arrangement.
2. Living Wall: Create a captivating living wall by mounting small pots of Mandevilla onto a vertical frame or trellis. This vertical garden will not only add visual interest to your space but also provide a striking backdrop for any room.
3. Hanging Baskets: Hang beautiful cascading varieties of Mandevilla in baskets from the ceiling or hooks. This creates a whimsical and eye-catching display, especially in rooms with high ceilings or small spaces that need a touch of greenery.
4. Climbing Showcase: Train climbing Mandevilla varieties to grow on strings, trellises, or even a decorative ladder in your living room. This stunning display will add height and drama to any space while showcasing the plant's natural trail.
Showcasing the Beauty of Climbing Varieties in Vertical Gardens Indoors
If you are looking to create a unique indoor garden with a touch of vertical elegance, climbing Mandevilla varieties are an excellent choice. Here's how you can showcase their beauty in vertical gardens:
1. Construct a Trellis: Install a trellis or vertical frame against a wall or as a room divider. Plant climbing Mandevilla varieties at the base of the trellis and guide their stems to climb upwards, intertwining with the support structure. As the plants grow, they will create a stunning vertical garden effect.
2. Opt for Containers with Height: Select tall and narrow containers or pots that provide ample vertical space for the Mandevilla plants to climb. Make sure the containers have proper drainage holes and are stable enough to support the growing vines.
3. Regularly Train the Vines: As the Mandevilla plants grow, gently guide the vines to attach to the support structure or trellis. Regularly check for loose or tangled vines and adjust them accordingly to maintain a neat and beautiful vertical garden.
Exploring Different Color Variations of Mandevillas for Indoor Display
One of the fascinating aspects of Mandevilla plants is the wide array of stunning colors they come in. Here are some popular color variations for indoor display:
1. Pink: Pink Mandevillas are a classic choice, adding a touch of romance and femininity to any space. The delicate pink flowers create a soft and visually appealing display.
2. Red: Red Mandevillas are bold and vibrant, making a striking impact. The deep red flowers add a dramatic touch of elegance to any indoor setting.
3. White: White Mandevillas are known for their purity and simplicity. The pristine white flowers create a serene and calming atmosphere in any room.
4. Yellow: Yellow Mandevillas bring a burst of sunshine indoors. Their cheerful and bright blooms instantly uplift the mood and add a pop of color to your living space.
5. Multicolor: There are also Mandevilla varieties available in mixed or multicolor flowers, where each bloom showcases a combination of hues. These unique varieties create a visually stunning display and are sure to be a conversation starter.
Your Indoor Mandevilla Haven
To create your own indoor Mandevilla haven, start by choosing the right variety that suits your preferences and indoor conditions. Provide adequate lighting, temperature, and humidity to ensure your plants thrive. Select the perfect pot and soil, and remember to water and fertilize with care. Prune, train, and troubleshoot as needed, and explore different propagation methods to multiply your collection. With thoughtful design ideas and an eye for color, you can transform your indoor space into a sanctuary of Mandevilla beauty. Enjoy the journey of growing and caring for these magnificent plants, and watch as they bring life and vibrancy to every corner of your home.
So, why wait? Embark on your Mandevilla indoor gardening adventure today and experience the joy of nurturing these captivating plants. Your indoor space will never be the same again.