Mandevilla Leaves Curling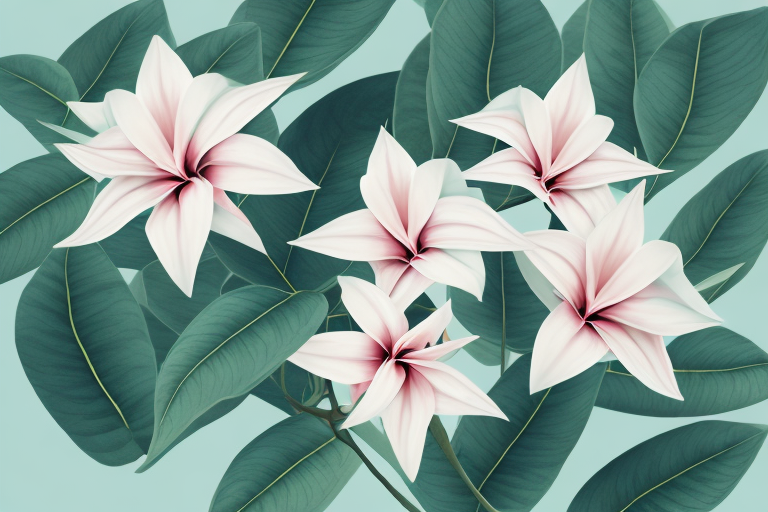 If you've noticed your Mandevilla plant's leaves curling, don't fret! It's a common issue that many gardeners face. In this comprehensive guide, we will explore the various causes of leaf curling in Mandevilla plants, identify the symptoms, and provide you with practical tips and solutions to prevent and treat this problem.
Understanding Mandevilla Plants
Mandevilla plants, also known as Dipladenia, are tropical vines that are prized for their vibrant flowers and glossy foliage. These beautiful plants are often grown in containers or trained to climb on trellises and pergolas. Native to Central and South America, Mandevillas thrive in warm and humid climates, making them popular choices for gardens and outdoor spaces in those regions.
Common Problems with Mandevilla Leaves
While Mandevilla plants are generally low-maintenance, there are a few common problems that can affect the health of their leaves. Leaf curling is one such issue that can be caused by a variety of factors, including environmental conditions, pests, diseases, and nutrient deficiencies. Understanding the underlying causes of leaf curling is essential to effectively treat and prevent this problem.
Causes of Curling Leaves in Mandevilla Plants
Leaf curling in Mandevilla plants can be attributed to several factors. Environmental conditions, such as high temperatures, low humidity, and excessive sun exposure, can cause stress and lead to leaf curling. Overwatering or underwatering can also result in curled leaves. Additionally, pests and diseases, including aphids, spider mites, fungal infections, and viral infections, can cause leaf curling symptoms. Lastly, nutrient deficiencies, particularly in essential minerals like potassium and magnesium, can contribute to leaf curling.
Identifying Leaf Curling Symptoms in Mandevilla
When dealing with leaf curling in Mandevilla plants, it's important to be able to recognize the symptoms. Curled leaves may appear twisted, crinkled, or rolled up. The affected leaves might also exhibit discoloration, such as yellowing or browning. Keep a close eye on your plant and inspect the new growth, as it is more likely to show signs of leaf curling.
Environmental Factors Affecting Mandevilla Leaf Curling
Mandevilla plants thrive in warm and humid environments, similar to their natural habitat in tropical regions. Exposure to high temperatures without adequate humidity can cause stress to the plant, resulting in leaf curling. Additionally, excessive sun exposure can lead to leaf scorching and curling. To prevent these issues, it's important to provide your Mandevilla with the right environmental conditions, including proper shade, humidity levels, and temperature control.
Overwatering and Leaf Curling in Mandevilla Plants
Overwatering is a common mistake that gardeners make, and it can contribute to leaf curling in Mandevilla plants. When the soil remains soggy for extended periods, it can lead to root rot, which affects the overall health of the plant, including leaf development. It's essential to establish a proper watering routine, ensuring that the soil is slightly moist but never waterlogged. Proper drainage is also crucial to prevent water accumulation, which can cause root problems and leaf curling.
Underwatering and Leaf Curling in Mandevilla Plants
On the other hand, underwatering can also cause leaf curling in Mandevilla plants. When the soil becomes too dry, the plant's leaves can wilt and curl as a protective mechanism to reduce water loss. It's important to monitor the moisture levels in the soil and water your Mandevilla thoroughly when the top inch of soil feels dry. Remember to adjust your watering schedule according to the environmental conditions and the specific watering needs of your plant.
Pests and Diseases that Cause Leaf Curling in Mandevilla
Pests and diseases can greatly impact the health of your Mandevilla plant, including causing leaf curling symptoms. Common pests like aphids and spider mites can infest the plant, feeding on its sap and causing deformities and curling in the leaves. Fungal infections, such as powdery mildew and leaf spot, can also lead to leaf curling. Furthermore, viral infections, though less common, can cause severe leaf curling and other abnormalities. Promptly identifying and treating any pest or disease issues is crucial to prevent further damage to your Mandevilla.
Fungal Infections and Leaf Curling in Mandevilla Plants
Fungal infections can be a significant contributor to leaf curling in Mandevilla plants. Common fungal diseases, such as powdery mildew and leaf spot, can cause leaf distortion, discoloration, and curling. These diseases thrive in warm and humid conditions, making tropical environments or excessively watering susceptible to their development. Proper ventilation, reducing humidity levels, and adopting preventive measures like regular inspections and proper sanitation can help avoid fungal infections and subsequent leaf curling.
Viral Infections and Leaf Curling in Mandevilla Plants
While less common, viral infections can also result in severe leaf curling in Mandevilla plants. These infections, transmitted through contaminated soil or insect vectors, can cause stunted growth, mottled or distorted foliage, and curling leaves. Unfortunately, no specific cure exists for viral infections in plants. The best approach is prevention, which involves careful hygiene practices and ensuring a healthy growing environment. In severe cases, it may be necessary to remove and destroy affected plants to prevent further spread.
Nutrient Deficiencies Leading to Leaf Curling in Mandevilla Plants
Mandevilla plants require a balanced supply of essential nutrients for healthy growth and leaf development. Nutrient deficiencies, particularly in vital minerals like potassium and magnesium, can lead to leaf curling symptoms. These deficiencies can arise due to poor soil conditions, inadequate fertilizer application, or imbalances in nutrient availability. Conducting a soil test and providing targeted fertilization can help correct any underlying nutrient deficiencies and prevent leaf curling in Mandevilla plants.
Proper Watering Techniques to Prevent Leaf Curling in Mandevilla
Establishing proper watering practices is crucial in preventing leaf curling in Mandevilla plants. Ensure the soil is well-draining, as waterlogged conditions can lead to root rot and subsequent leaf problems. Water your Mandevilla thoroughly, allowing excess water to drain away, and avoid leaving the plant sitting in standing water. Monitor the soil moisture levels regularly and adjust your watering schedule based on the environmental conditions. Strive to keep the soil consistently moist but not waterlogged.
Tips for Maintaining Optimal Humidity Levels for Mandevilla Plants
Mandevilla plants thrive in humid environments, as they are native to tropical regions. Providing the right humidity levels is crucial for their overall health and can help prevent leaf curling. You can maintain optimal humidity levels by grouping your Mandevilla plants together, placing them on a humidity tray, or using a humidifier. Regularly misting the foliage can also create a humid microclimate around the plants. Additionally, ensuring proper ventilation can help avoid stagnant air, which can contribute to leaf-related issues.
Controlling Pests and Diseases to Prevent Leaf Curling in Mandevilla
Dealing with pests and diseases promptly is essential to prevent leaf curling in Mandevilla plants. Regularly inspect the plant for any signs of infestation or disease development. If pests are present, use organic or chemical methods to control them effectively. Treating fungal infections requires implementing appropriate fungicide treatments. Remember to follow all instructions and precautions when using pesticides or fungicides to protect yourself, your Mandevilla, and the environment.
Organic Remedies for Treating Leaf Curling in Mandevilla Plants
If you prefer organic solutions for treating leaf curling, several remedies can be effective. Neem oil, a natural insecticide and fungicide, can control pests and fungal infections. Insecticidal soap can also be used to manage small pest populations. Additionally, a mixture of baking soda and water can be applied as a preventive or early treatment for fungal diseases. These organic remedies provide relatively safe and eco-friendly alternatives to conventional chemical treatments.
Pruning Techniques to Promote Healthy Leaves on Mandevilla Plants
Pruning plays a vital role in promoting healthy leaf development in Mandevilla plants. Regularly removing dead or damaged foliage helps maintain the overall health and appearance of the plant. By providing adequate airflow and reducing crowding, pruning also helps prevent the development and spread of fungal infections. When pruning, ensure you use clean and sharp tools to avoid damaging the plant. Remember to make cuts just above a leaf node or branching point to encourage healthy regrowth.
Precautions to Take When Transplanting or Repotting Mandevillas to Prevent Leaf Curling
Transplanting or repotting Mandevilla plants can be stressful for them, potentially leading to leaf curling. To minimize this stress and promote successful establishment, it's important to take certain precautions. When transplanting, handle the plant gently and avoid damaging the roots. Use well-draining soil and a suitable-sized container to provide the necessary space for the plant's roots to grow. After transplanting, water the plant thoroughly and place it in a shaded area for a few days to help it recover.
Best Fertilizers for Ensuring Healthy Leaves on Mandevilla Plants
Fertilizing your Mandevilla plants with the right nutrients is crucial for healthy leaf development. Look for a balanced fertilizer specifically formulated for flowering plants and high in phosphorus. Slow-release granular fertilizers are ideal, as they provide a continuous supply of nutrients over an extended period. Additionally, amend the soil with organic matter, such as compost or well-rotted manure, to improve its nutrient content. Ensure you follow the fertilizer manufacturer's instructions and avoid overfertilizing, as it can lead to leaf burn and other problems.
Troubleshooting Common Issues with Mandevillas: A Guide to Fixing Leaf Curling
In this comprehensive guide, we have explored the various causes of leaf curling in Mandevilla plants, identified the symptoms, and provided practical tips and solutions to prevent and treat this problem. By understanding the environmental factors, proper watering techniques, controlling pests and diseases, and ensuring optimal nutrients, you can help your Mandevilla thrive and keep its leaves healthy and vibrant. Remember to monitor your plant closely, provide the necessary care, and make adjustments according to its specific needs. With time and attention, your Mandevilla will reward you with beautiful, uncurled leaves and stunning blooms.