How to Prune a Mandevilla Plant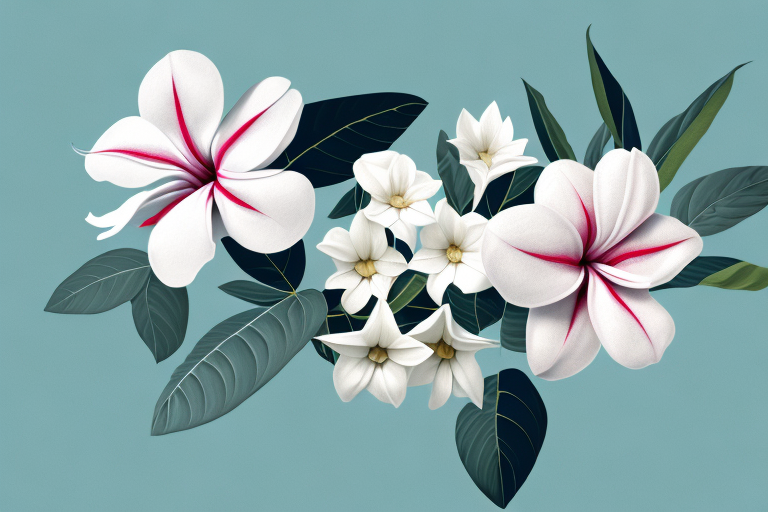 Welcome to our comprehensive guide on how to prune a Mandevilla plant! Mandevilla plants are known for their stunning and vibrant flowers, but to keep them healthy and looking their best, regular pruning is essential. In this article, we will walk you through every aspect of Mandevilla plant pruning, from understanding the basics to troubleshooting common issues. So, grab your gardening gloves and let's get started!
Understanding the Basics of Mandevilla Plant Pruning
Before you grab those pruning shears, it's crucial to understand why pruning is necessary for Mandevilla plants. Pruning helps control the plant's size and shape, promotes healthier growth, removes dead or diseased branches, and encourages a fuller and more abundant flowering. By carefully removing specific branches, you can direct the plant's energy towards areas that need growth and create a more balanced appearance.
When it comes to Mandevilla plant pruning, there are a few essential factors to consider. Firstly, always make sure to use clean and sharp pruning tools to avoid damaging the plant. Secondly, it's important to prune Mandevilla plants at the right time to ensure optimal results. Finally, understanding the different types of Mandevilla plant growth will help you identify which branches to prune and how to shape the plant.
The Importance of Pruning for Mandevilla Plant Health
Pruning plays a vital role in maintaining the overall health of your Mandevilla plant. Regularly removing dead or diseased branches helps prevent the spread of pests or diseases, ensuring the plant remains strong and vibrant. Pruning also allows more airflow and sunlight to reach the plant's interior, reducing the risk of mold or mildew development. By stimulating new growth, pruning encourages the plant to produce more vibrant blooms and keeps it looking lush and vigorous.
When is the Best Time to Prune a Mandevilla Plant?
The timing of Mandevilla plant pruning is crucial for achieving the best results. The ideal time to prune your Mandevilla plant is in early spring, just as the plant begins to show signs of new growth. This window allows the plant to recover quickly and minimizes any potential damage. However, if you notice any dead or damaged branches throughout the year, don't hesitate to prune them immediately to prevent further harm.
Tools and Equipment Needed for Pruning a Mandevilla Plant
Before you start pruning your Mandevilla plant, gather the necessary tools and equipment. You will need a pair of sharp pruning shears, a pair of handheld pruners for smaller branches, and a pair of loppers for thicker branches. It's essential to keep your tools clean to prevent the spread of diseases. A disinfectant solution or rubbing alcohol can be used to wipe down your tools between cuts.
Step-by-Step Guide: Pruning a Mandevilla Plant
Now that you have your tools ready, let's walk through the step-by-step process of pruning a Mandevilla plant:
1. Inspect the plant:
Start by carefully examining your Mandevilla plant. Look for any dead, damaged, or diseased branches. These branches will be your primary focus for pruning.
2. Remove dead and diseased branches:
Using your sharp pruning shears or handheld pruners, make clean cuts just above the healthy portion of the branch. Remove any branches that show signs of pest infestation, disease, or severe damage. Always cut at a slight angle to encourage proper healing.
3. Thin out overcrowded areas:
Avoid overcrowding by selectively removing branches that are growing too close together. This will improve airflow and sunlight penetration, reducing the risk of disease and promoting overall plant health.
4. Shape the plant:
Your Mandevilla plant may require shaping to maintain a neat and balanced appearance. Carefully prune branches to achieve the desired shape, taking care not to remove more than one-third of the plant's overall growth.
5. Maintain regular maintenance pruning:
As your Mandevilla plant continues to grow, regular maintenance pruning will be necessary. Check for any new dead, diseased, or damaged branches regularly, and address them promptly.
Identifying the Different Types of Mandevilla Plant Growth
Understanding the various types of Mandevilla plant growth will help you effectively prune your plant. There are three main types of growth you may encounter:
1. Terminal Growth:
Terminal growth refers to the new shoots and branches that sprout from the tips of the existing branches. These young and tender shoots are highly valuable for shaping your Mandevilla plant.
2. Lateral Growth:
Lateral growth includes branches that grow out from the sides of the main stem. These branches are essential for achieving a fuller and bushier plant.
3. Flowering Growth:
Flowering growth consists of the branches that bear the beautiful blooms. While it's important not to remove all flowering branches, removing spent or weak flowering branches can encourage better flower production.
Top Mistakes to Avoid When Pruning a Mandevilla Plant
Pruning a Mandevilla plant may seem straightforward, but there are a few common mistakes to avoid:
1. Over-pruning:
Avoid removing more than one-third of the plant's overall growth. Removing too much foliage can weaken the plant and inhibit flowering.
2. Improper cutting technique:
Always use clean and sharp pruning tools. Cut at a slight angle just above a healthy bud or branch to promote proper healing.
3. Neglecting regular maintenance pruning:
Regularly inspect your Mandevilla plant for any new dead, diseased, or damaged branches. Promptly address these issues to maintain plant health.
Tips for Properly Shaping a Mandevilla Plant through Pruning
If you want to shape your Mandevilla plant into a specific form, here are some tips to help you achieve the desired outcome:
1. Visualize the desired shape:
Before you start pruning, have a clear vision of how you want your Mandevilla plant to look. This will guide you in making the right pruning decisions.
2. Take it slow:
It's better to remove less than necessary initially and gradually prune more if needed. This approach allows you to correct any shaping mistakes without causing excessive damage to the plant.
3. Regularly step back and assess:
As you shape your Mandevilla plant, frequently step back and evaluate the progress. This will help you identify any areas that need further adjustment.
Enhancing Flowering and Promoting Growth with Correct Pruning Techniques
Proper pruning techniques can enhance the flowering and overall growth of your Mandevilla plant. Follow these tips for optimal results:
1. Encourage branching:
To promote a fuller plant with more flowers, prune the tips of the branches to encourage branching. This will result in more lateral growth, creating a bushier appearance.
2. Deadheading spent flowers:
To encourage continuous blooming, deadhead any spent flowers by removing them carefully. This will redirect the plant's energy towards producing new flowers rather than seed development.
3. Prune after each flowering cycle:
After each flowering cycle, prune your Mandevilla plant lightly. This will remove any weak or diseased branches and stimulate new growth, ensuring a healthy and blooming plant.
How to Deal with Overgrown or Leggy Mandevilla Plants
If you find yourself dealing with an overgrown or leggy Mandevilla plant, don't worry! Here's how you can address this issue:
1. Renewal pruning:
Rather than trying to salvage an excessively overgrown plant, consider renewal pruning. Cut the entire plant back to about one-third of its size, just above a set of healthy buds or branches.
2. Provide support:
If your Mandevilla plant has become leggy, provide some support to help it regain its structure. Install stakes or trellises to encourage upright growth and guide the plant's branches as they grow.
3. Regular maintenance pruning:
Regularly prune your Mandevilla plant to prevent it from becoming overgrown again. By consistently removing dead or diseased branches and shaping the plant, you can maintain a more compact and attractive growth form.
Troubleshooting Common Issues Encountered during Mandevilla Pruning
Pruning a Mandevilla plant can sometimes present challenges. Here are some common issues you may encounter and how to address them:
1. Excessive bleeding:
Some Mandevilla plants, especially those with softer stems, may bleed sap after pruning. While this is generally not harmful, you can minimize bleeding by pruning during the cooler part of the day or using pruning sealants.
2. Slow recovery:
If your Mandevilla plant is slow to recover after pruning, ensure it receives proper sunlight, water, and nutrients. Consider applying a slow-release fertilizer to promote healthy growth and faster recovery.
3. Lack of flowering:
If your Mandevilla plant is not blooming after pruning, evaluate the amount of sunlight it receives. These plants thrive in full sun, so insufficient light may be the culprit. Alternatively, check for any other factors, such as nutrient deficiencies or improper pruning technique, that could be hindering flower production.
The Benefits of Regularly Pruning Your Mandevilla Plant
Regular pruning of your Mandevilla plant offers a multitude of benefits:
1. Healthier plant:
Pruning removes dead or diseased branches, preventing the spread of pests or diseases and maintaining plant health.
2. More vibrant blooms:
By directing energy towards fewer branches, pruning ensures that the plant produces larger, more vibrant flowers.
3. Controlled size and shape:
Pruning allows you to shape your Mandevilla plant to your liking, preventing it from becoming unruly or overpowering in your garden or indoor space.
4. Increased air circulation and light penetration:
By reducing overcrowding, pruning promotes better airflow and sunlight penetration, minimizing the risk of mold or mildew development.
How to Maintain a Healthy and Well-Pruned Mandevilla Plant Year-Round
To keep your Mandevilla plant healthy and well-pruned throughout the year, follow these essential tips:
1. Regularly inspect your plant:
Check your Mandevilla plant for any new signs of pests, diseases, or damage. Address these issues promptly to maintain plant health.
2. Water and feed correctly:
Provide your Mandevilla plant with proper water and nutrients to support healthy growth. Water when the soil feels slightly dry and feed with a balanced fertilizer according to package instructions.
3. Adjust pruning frequency:
During the growing season, your Mandevilla plant may require more frequent pruning to maintain its desired size and shape. Pay attention to any signs of overcrowding or leggy growth and prune accordingly.
4. Provide winter care:
If you live in an area with cold winters, take precautions to protect your Mandevilla plant. Before the first frost, prune the plant back to about one-third of its size and move it indoors to a cool, bright location. Reduce watering and provide adequate humidity to ensure its survival during the winter months.
Alternative Methods and Styles of Pruning for Unique Mandevilla Plants
Mandevilla plants offer various opportunities for unique pruning methods and styles. Here are a few alternative approaches you can explore:
1. Espalier pruning:
Espalier pruning is a technique that involves training the Mandevilla plant to grow flat against a wall or trellis. This method creates a stunning, space-saving display while allowing for better sunlight exposure and air circulation.
2. Topiary pruning:
If you enjoy artistic gardening, consider topiary pruning for your Mandevilla plant. With careful pruning and training, you can transform it into beautiful geometric shapes or intricate designs.
3. Bonsai pruning:
Mandevilla plants can also be pruned and trained as bonsai trees. This ancient Japanese technique creates miniature, ornamental trees that can be displayed indoors or outdoors.
Expert Advice: Insights and Tips from Experienced Gardeners on Mandevilla Pruning
We reached out to experienced gardeners to gather valuable insights and tips on Mandevilla pruning:
1. "Always take your time when pruning a Mandevilla plant. Rushing can lead to mistakes that are difficult to correct." – Jane, Master Gardener
2. "Pruning should be done with purpose and a clear plan in mind. Think about the overall appearance of the plant and how you want it to enhance your garden or space." – Sam, Landscape Designer
3. "Don't be afraid to experiment with different pruning methods or styles. Mandevilla plants are quite forgiving, and you may discover unique and stunning results." – Michelle, Horticulturist
By following the advice of these seasoned gardeners and applying the techniques discussed in this guide, you can confidently prune your Mandevilla plant and enjoy a healthy, beautiful, and blooming addition to your garden or home. Happy pruning!