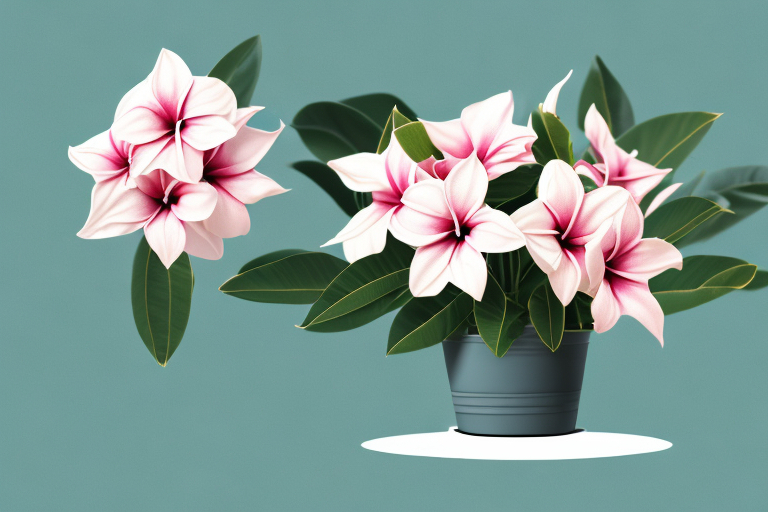 Have you noticed that your beloved Mandevilla plant is not looking its best? Are the leaves wilting, the flowers drooping, and the overall health of the plant declining? It can be disheartening to see a plant you've nurtured and cared for struggling to survive. But fear not, because in this article, we will explore the various symptoms, causes, and remedies for a dying Mandevilla. By the end of this comprehensive guide, you will be equipped with the knowledge and strategies to rescue your fading plant and restore it to its former glory.
Identifying the Symptoms of a Dying Mandevilla Plant
Before we delve into the causes and solutions, it is crucial to first identify the symptoms of a dying Mandevilla plant. Recognizing these signs early on can help you intervene and save your plant from further decline. Some common symptoms include wilting leaves, yellowing foliage, decreased flower production, stunted growth, and an overall weakened appearance. By closely observing your Mandevilla, you can pinpoint the exact issues it is facing and take appropriate action.
In addition to the aforementioned symptoms, another sign of a dying Mandevilla plant is the presence of pests or diseases. Common pests that can infest Mandevilla plants include aphids, spider mites, and whiteflies. These pests can cause damage to the leaves and stems, leading to further deterioration of the plant's health. Similarly, diseases such as powdery mildew or root rot can also contribute to the decline of a Mandevilla plant.
Furthermore, environmental factors can play a significant role in the deterioration of a Mandevilla plant. Excessive exposure to direct sunlight or extreme temperatures can cause stress to the plant, resulting in wilting or scorched leaves. Improper watering practices, such as overwatering or underwatering, can also lead to the decline of a Mandevilla plant. It is important to provide the plant with the appropriate amount of water and ensure proper drainage to prevent waterlogged roots.
Understanding the Causes Behind a Failing Mandevilla
A struggling Mandevilla can be attributed to various factors, and understanding the underlying causes is essential to effectively address the problem. Some of the common culprits include improper watering, inadequate sunlight, nutritional deficiencies, pest infestations, root rot, and even transplant shock. By assessing these factors and identifying the root cause, you can tailor your approach to revive your Mandevilla and provide the specific care it needs.
In addition to these common causes, it is important to note that extreme temperatures can also contribute to the decline of a Mandevilla. Exposure to excessively hot or cold conditions can stress the plant and lead to wilting, leaf discoloration, and overall poor health. It is crucial to provide the Mandevilla with a suitable environment, ensuring it is protected from extreme temperature fluctuations.
Common Mistakes to Avoid When Caring for a Mandevilla
Maintaining a healthy Mandevilla requires proper care and attention. Unfortunately, many gardeners unknowingly make mistakes that can contribute to the decline of their plant. One common mistake is overwatering, which can lead to root rot and other fungal diseases. On the other hand, underwatering can cause stress and dehydration. Additionally, inadequate sunlight, poor nutrition, and lack of pruning can all have detrimental effects on the Mandevilla's well-being. By avoiding these common pitfalls, you can prevent further damage and support the revival of your plant.
Another mistake to avoid when caring for a Mandevilla is using the wrong type of soil. Mandevillas prefer well-draining soil that is rich in organic matter. Using heavy or compacted soil can hinder root growth and lead to poor nutrient absorption. It is recommended to use a mixture of potting soil and perlite or sand to improve drainage. Additionally, it is important to provide proper support for the Mandevilla's climbing vines. Without adequate support, the plant may become tangled or damaged. By using a trellis or stakes, you can help the Mandevilla grow in a healthy and structured manner.
Assessing the Environmental Factors Affecting Your Mandevilla's Health
The environment in which your Mandevilla resides plays a significant role in its overall health. Factors such as temperature, humidity, and air circulation can impact the plant's ability to thrive. Extreme temperatures, high humidity levels, or stagnant air can create an unfavorable environment for your Mandevilla. By assessing these environmental factors and making necessary adjustments, you can create the ideal conditions for your plant to flourish.
Proper Watering Techniques for Reviving a Dying Mandevilla
Watering is a critical aspect of caring for any plant, and Mandevilla is no exception. Proper watering techniques can make all the difference in reviving a dying Mandevilla. It is vital to strike a balance between providing enough moisture for the roots and avoiding waterlogged soil. By watering deeply and allowing the soil to partially dry between waterings, you can prevent root rot and create an optimal environment for your Mandevilla to thrive.
The Importance of Adequate Sunlight for a Healthy Mandevilla Plant
Sunlight is to plants what food is to humans – essential for survival. Adequate sunlight is crucial for a healthy Mandevilla, as it fuels the process of photosynthesis and promotes robust growth. Insufficient sunlight can lead to weak stems, pale leaves, and diminished flower production. By ensuring your Mandevilla receives the right amount of sunlight, you can significantly improve its vitality and overall health.
Nutritional Deficiencies and Solutions for a Dying Mandevilla
Mandevilla plants, like any living organism, require a balanced diet to thrive. Nutritional deficiencies can manifest through various symptoms, such as yellowing leaves and poor growth. To address these issues, it is crucial to provide your Mandevilla with the necessary nutrients. Fertilizers specifically formulated for flowering plants or using organic matter can help replenish the nutrients in the soil and boost the health of your Mandevilla.
Pest Control Strategies to Save Your Fading Mandevilla
Pests can infest your Mandevilla, causing damage and stress to the plant. Common pests that can wreak havoc on your plant include aphids, mealybugs, spider mites, and whiteflies. Implementing effective pest control strategies, such as using insecticidal soap or natural remedies like neem oil, can help eliminate these intruders and protect your Mandevilla from further harm.
Pruning and Trimming Tips to Rejuvenate a Dying Mandevilla
Pruning and trimming are essential maintenance practices that can work wonders for a dying Mandevilla. By removing dead or diseased foliage, you not only improve the plant's appearance but also enhance its overall health. Pruning also encourages better airflow and reduces the risk of pests and diseases. Understanding the proper techniques for pruning and trimming Mandevilla will enable you to rejuvenate your plant and stimulate new growth.
Propagation Methods to Salvage a Sickly Mandevilla Plant
If your Mandevilla plant is severely declining despite your best efforts, propagation can be a last-resort solution to save the genetics of the plant. Propagation involves taking cuttings from healthy parts of the plant and encouraging them to root and grow as new plants. This method allows you to salvage the genetics of your sickly Mandevilla plant and start afresh with a healthier specimen.
Expert Advice on Rescuing a Dying Mandevilla from Root Rot
Root rot is a common problem faced by Mandevilla owners, especially when the plant is overwatered or the soil lacks proper drainage. Root rot can be challenging to deal with, but with expert advice and a proactive approach, you can save your Mandevilla from this detrimental condition. By identifying the signs of root rot and implementing appropriate remedies, you can ensure the plant's root system recovers and regains its vitality.
Exploring Natural Remedies to Revitalize a Fading Mandevilla
In addition to conventional solutions, exploring natural remedies can be an effective way to revitalize your fading Mandevilla. Natural remedies, such as using organic pest control options and providing compost or organic matter for nutrition, can be more environmentally friendly while still promoting the health of your plant. With a bit of research and experimentation, you can find natural remedies that suit your Mandevilla's specific needs.
Troubleshooting Guide: Common Problems Faced by Mandevilla Owners
While Mandevilla plants are generally resilient, they can still encounter various problems that require troubleshooting. From yellowing leaves to lack of flowering, understanding the common problems faced by Mandevilla owners and their solutions will equip you with the knowledge to address these issues promptly. This troubleshooting guide will serve as a valuable resource in identifying and rectifying any problems your Mandevilla may encounter along its journey.
Enhancing Air Circulation to Prevent Decline in Your Mandevilla's Health
Adequate air circulation is crucial for a healthy Mandevilla. Stagnant air can create a breeding ground for pests and diseases, inhibit growth, and compromise the overall well-being of the plant. By implementing strategies to enhance air circulation, such as pruning, avoiding overcrowding, and placing the plant in well-ventilated areas, you can ensure that your Mandevilla enjoys optimal air quality and thrives in a healthy environment.
Overcoming Transplant Shock and Saving Your Ailing Mandevilla
Transplant shock can occur when a Mandevilla plant is moved from one environment to another. This sudden change can stress the plant and result in wilting, leaf drop, or other signs of decline. By taking precautionary measures and providing a smooth transition, you can minimize transplant shock and increase the chances of your Mandevilla surviving and thriving in its new home.
In conclusion, a dying Mandevilla plant can be revived with the right knowledge, care, and attention. By identifying the symptoms, understanding the causes, and implementing the appropriate remedies, you can rescue your fading Mandevilla and bring it back to life. Remember to assess the environmental factors, provide proper watering, sunlight, and nutrition, control pests, prune and trim, and utilize propagation methods when necessary. With these exhaustive strategies and a little patience, your Mandevilla will soon regain its vibrant beauty and continue to bring joy to your garden for years to come.