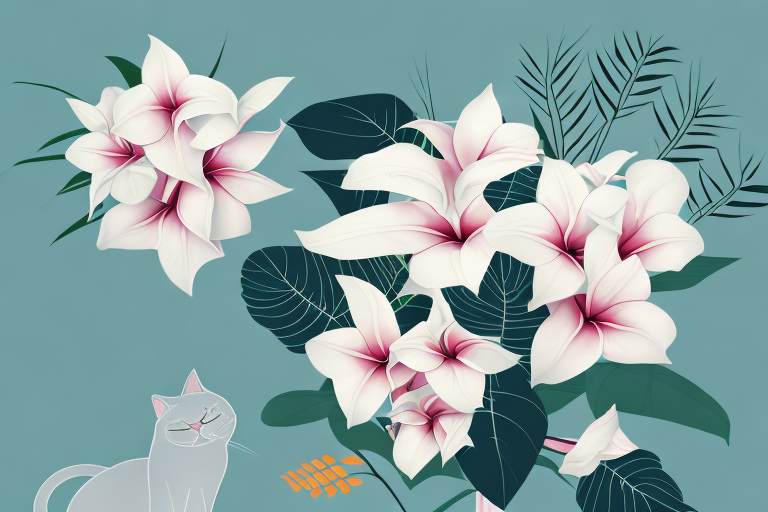 Welcome to our comprehensive guide on the dangers of Mandevilla for cats. In this article, we will delve into the various aspects of Mandevilla toxicity, including symptoms, prevention, treatment, and safe alternatives. By the end of this 10-minute read, you will have a thorough understanding of Mandevilla's effects on cats and how to keep your feline friend safe.
Understanding the Dangers of Mandevilla for Cats
Before we explore the specific risks associated with Mandevilla, let's take a moment to appreciate the beauty of this flowering plant. With its vibrant petals and lush foliage, Mandevilla makes an attractive addition to any garden or household. However, what many pet owners are unaware of is that Mandevilla can pose a serious threat to our beloved feline companions.
When ingested, certain components of the Mandevilla plant can have toxic effects on cats. These effects can range from mild gastrointestinal discomfort to more severe symptoms that may require immediate veterinary attention. This is why it is crucial for cat owners to be aware of the potential dangers and take necessary precautions.
One of the main toxic components of Mandevilla is a group of chemicals called cardiac glycosides. These substances can interfere with the normal functioning of a cat's heart, leading to irregular heart rhythms and potentially life-threatening cardiac issues. In addition to cardiac problems, Mandevilla ingestion can also cause symptoms such as vomiting, diarrhea, drooling, and loss of appetite in cats.
Signs and Symptoms of Mandevilla Toxicity in Cats
If your cat has come into contact with Mandevilla, it is important to watch out for any signs of toxicity. Common symptoms include vomiting, diarrhea, drooling, abdominal pain, lethargy, and decreased appetite. In more severe cases, cats may experience difficulty breathing, tremors, seizures, or even coma.
If you notice any of these symptoms, it is essential to seek veterinary care immediately. The sooner your cat receives treatment, the better the chances of a full recovery. Remember, early intervention can be life-saving.
It is worth noting that the severity of symptoms can vary depending on the amount of Mandevilla ingested and the individual cat's sensitivity. Some cats may only exhibit mild gastrointestinal upset, while others may experience more severe neurological symptoms.
In addition to the physical symptoms mentioned, it is important to be aware of any changes in your cat's behavior. Mandevilla toxicity can cause cats to become disoriented, agitated, or exhibit abnormal movements. If you notice any unusual behavior, it is crucial to consult a veterinarian for further evaluation.
How Does Mandevilla Affect Cats?
To understand how Mandevilla affects cats, it is necessary to identify the specific toxic components of the plant. One of the primary culprits is iridoid glycosides, which can cause gastrointestinal irritation, leading to vomiting and diarrhea.
Ingestion of other parts of the plant, such as the sap or flowers, can result in the release of toxic compounds known as cardiac glycosides. These compounds can disrupt the normal functioning of the heart and potentially lead to cardiac arrest in severe cases.
Common Sources of Mandevilla Exposure for Cats
Cats can come into contact with Mandevilla in various ways. Common sources of exposure include outdoor gardens, potted plants, floral arrangements, or even the presence of Mandevilla in neighborly yards. Curious cats, known for their affinity to explore new things, may nibble on Mandevilla leaves or flowers, unknowingly putting themselves at risk.
It is essential for cat owners to be proactive in creating a safe environment for their pets. Keep an eye out for any Mandevilla plants within reach of your feline friend and take appropriate steps to mitigate the risk of exposure.
Preventing Mandevilla Poisoning in Cats: Tips for Pet Owners
Prevention is always better than cure when it comes to Mandevilla toxicity in cats. Here are some tips to help you protect your furry companion from potential harm:
1. Familiarize yourself with the appearance of Mandevilla plants and ensure they are not present in areas accessible to your cat.
2. If you have Mandevilla as part of your garden or indoor plants, consider keeping them in areas that are completely off-limits to your cat.
3. Provide your cat with alternative safe plants to chew on. Catnip, wheatgrass, and cat-friendly herbs can be excellent substitutes.
4. If you suspect your cat has ingested Mandevilla or any other potentially toxic plant, contact your veterinarian immediately for guidance.
Treating Mandevilla Toxicity in Cats: What You Need to Know
If your cat has been exposed to Mandevilla and is showing signs of toxicity, prompt veterinary care is of utmost importance. Once at the veterinary clinic, the veterinarian may perform several procedures to stabilize your cat and minimize the effects of Mandevilla toxicity.
Treatment strategies may involve inducing vomiting (if ingestion occurred recently), administering activated charcoal to absorb any remaining toxins, intravenous fluids to flush out toxins from the system, and symptomatic support to address specific symptoms exhibited by your cat. In severe cases, hospitalization may be necessary for close monitoring and intensive care.
Emergency Steps to Take if Your Cat Ingests Mandevilla
In the unfortunate event that your cat has ingested Mandevilla, you should take immediate action to help minimize the harm:
1. Remove any remaining plant material from your cat's mouth to prevent further ingestion.
2. Contact your veterinarian or an animal poison control hotline for guidance.
3. Follow the instructions provided by the veterinary professional or poison control specialist regarding inducing vomiting or any necessary first-aid measures.
4. Transport your cat to the nearest veterinary clinic as soon as possible for further evaluation and treatment.
Safe Alternatives to Mandevilla for Cat-Friendly Gardens
Fortunately, there are numerous plant alternatives that can add beauty to your garden while not posing a threat to your cat's health. Some safe options include pet-friendly flowers like marigolds, zinnias, and snapdragons, as well as herbs like mint, lavender, and lemongrass.
By incorporating these safe alternatives into your garden, you can create a beautiful environment for both you and your feline friend to enjoy without worrying about potential toxicity.
Educating Children about the Dangers of Mandevilla for Pets
It is crucial to educate children about the potential dangers of Mandevilla, especially when they interact with pets. Teach them to avoid feeding plants to cats or any other pets, no matter how harmless they may appear. By instilling this knowledge early on, you can help create a safer environment for both children and pets to thrive in.
Case Studies: Real-life Experiences with Mandevilla Toxicity in Cats
Real-life experiences can be eye-opening and help us comprehend the severity of Mandevilla toxicity. Understanding the stories of those who have gone through these challenging situations can serve as a valuable reminder of the dangers posed by this flowering plant. Be sure to familiarize yourself with these case studies, as they can provide you with additional insight and further reinforce the importance of preventing exposure to Mandevilla.
The Importance of Proper Plant Identification to Protect Your Cat's Health
Proper plant identification is an essential skill for any cat owner. By knowing which plants are safe and which can be harmful, you can make informed decisions when it comes to selecting the vegetation in your home or garden. Utilize resources such as plant identification guides, online databases, or consult with local horticulturists to ensure a pet-friendly environment for your cat. Remember, a little extra effort in research can go a long way in safeguarding your feline companion's health.
Understanding the Impact of Different Parts of the Mandevilla Plant on Cats
As mentioned earlier, various parts of the Mandevilla plant can elicit toxic reactions in cats. Understanding which parts pose the greatest risk can help you be more vigilant in preventing exposure. Keep in mind that the flowers, leaves, and sap are particularly concerning, and it is crucial to keep your cat away from any access points where they may come into contact with these potentially toxic components.
Consulting a Veterinarian: What to Expect if Your Cat is Exposed to Mandevilla
If you suspect your cat has been exposed to Mandevilla or any other potentially toxic plant, it is essential to consult with a veterinarian. When you visit the veterinary clinic, the veterinarian will perform a thorough examination of your cat, inquire about the circumstances of exposure, and assess any symptoms present. Based on their evaluation, they will provide you with appropriate advice and treatment options tailored to your cat's specific situation.
Creating a Pet-Safe Environment: Tips for Growing Plants without Endangering Your Cat
To strike a balance between a lush garden and a safe environment for your cat, consider the following tips:
1. Research the toxicity of plants before bringing them into your home or garden.
2. Opt for cat-friendly alternatives or create designated cat-free zones in your garden.
3. Secure potted plants or place them out of reach from your curious cat.
4. Regularly monitor your garden and promptly remove any toxic plants that may pose a risk to your cat's health.
By incorporating these practices into your daily routine, you can enjoy a vibrant garden while ensuring the well-being of your furry companion.
Now that you are armed with knowledge about Mandevilla toxicity in cats, it is your responsibility to take the necessary precautions to keep your feline friend safe. By implementing the preventive measures we discussed and staying alert to any potential signs of exposure, you can ensure that your cat remains happy, healthy, and free from the dangers of Mandevilla.