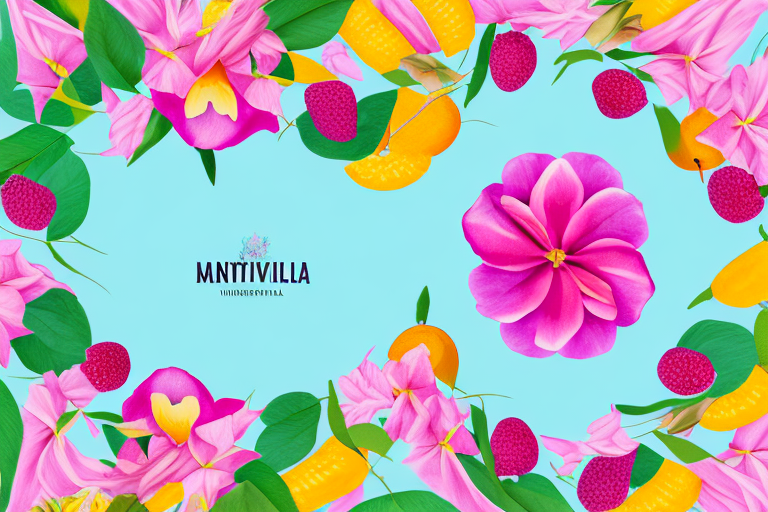 If you're looking for a showstopper among climbing vines, look no further than the beautiful Mandevilla Pink Parfait. With its vibrant pink and white flowers and lush foliage, this plant is sure to be the star of your garden or outdoor space. In this article, we will explore the origins and background of Mandevilla Pink Parfait, understand its characteristics and features, learn how to choose the perfect location for its growth, and delve into the ideal soil conditions for thriving plants. We will also provide essential tips for planting and transplanting, discuss watering and irrigation techniques, explore sunlight requirements, and delve into fertilization techniques. Furthermore, we will explore pruning and training methods, discuss common pests and diseases, explore propagation techniques, discuss creative uses in landscaping and container gardening, and provide a seasonal care guide including winterization and protection tips.
Introducing the Beautiful Mandevilla Pink Parfait: A Showstopper Among Climbing Vines
With its stunning flowers and vigorous growth, the Mandevilla Pink Parfait is truly a showstopper among climbing vines. This evergreen vine features large, trumpet-shaped flowers in a beautiful combination of pink and white. The blooms are plentiful, providing a bold display of color throughout the summer and into autumn. Not only does it add visual interest, but it also attracts pollinators such as butterflies and hummingbirds to your garden. Whether you're looking to add a pop of color to a trellis, arbor, or fence, or create a stunning focal point in a container garden, the Mandevilla Pink Parfait is sure to impress.
The Origins and Background of Mandevilla Pink Parfait: A Brief History
The Mandevilla Pink Parfait is a hybrid cultivar that originated from the Mandevilla species, native to South America. It was developed through careful breeding and selection to enhance its desirable traits, such as its vibrant flowers and climbing habit. The result is a plant that combines the best characteristics of its parent species, resulting in a stunning and versatile vine that is loved by gardeners around the world.
Understanding the Characteristics and Features of Mandevilla Pink Parfait
Mandevilla Pink Parfait is known for its vigorous growth and climbing habit. It can reach heights of up to 10 feet, making it a fantastic choice for covering trellises, arbors, and fences. The glossy, dark green leaves provide a lush backdrop to the vibrant flowers, creating a visually stunning contrast. The trumpet-shaped flowers typically measure around 5 inches in diameter and can last for several weeks, making this vine a long-lasting source of beauty in your garden. Additionally, the Mandevilla Pink Parfait is a low-maintenance plant that requires minimal pruning and care, making it ideal for both beginner and experienced gardeners alike.
How to Choose the Perfect Location for Growing Mandevilla Pink Parfait
Choosing the right location for your Mandevilla Pink Parfait is essential for its growth and overall health. This vine thrives in full sun to partial shade, so it is important to select a location that receives at least 6 hours of direct sunlight per day. It is also important to provide adequate support for the vine to climb, such as a sturdy trellis or an arbor. Additionally, consider the overall climate of your region and ensure that the location you choose offers protection from strong winds, which can damage the delicate flowers and foliage.
The Ideal Soil Conditions for Thriving Mandevilla Pink Parfait Plants
Mandevilla Pink Parfait prefers well-draining soil that is rich in organic matter. Before planting, prepare the soil by incorporating compost or well-rotted manure to improve its fertility and drainage. This will ensure that the roots have access to the necessary nutrients and oxygen for optimal growth. Additionally, the soil pH should be slightly acidic to neutral, with a range of 6.0 to 7.0. Regularly testing the soil pH and making adjustments if necessary will help promote the health and vitality of your Mandevilla Pink Parfait plants.
Essential Tips for Planting and Transplanting Mandevilla Pink Parfait
When it comes to planting Mandevilla Pink Parfait, there are a few essential tips to keep in mind. Firstly, it is best to plant this vine in the spring, once the danger of frost has passed and the soil has warmed up. Dig a hole that is twice as wide and just as deep as the container the plant came in, ensuring that the crown of the plant is level with the soil surface. Backfill the hole with the amended soil, gently firming it around the roots. Water the newly planted vine thoroughly to settle the soil and remove any air pockets. If you are transplanting a mature Mandevilla Pink Parfait, take care to minimize root disturbance by carefully digging around the rootball and transferring it to the new location with minimal disruption.
Watering and Irrigation: Maintaining Optimal Moisture Levels for Mandevilla Pink Parfait
Mandevilla Pink Parfait thrives in moist but well-drained soil. Once established, this vine is moderately drought-tolerant, but it is still important to provide regular watering, especially during hot and dry periods. The key is to maintain consistent moisture levels, avoiding both underwatering and overwatering. Check the soil moisture regularly by inserting your finger into the soil up to the second knuckle. If the top inch of soil feels dry, it's time to water. When watering, aim to thoroughly moisten the soil, allowing the excess water to drain away. Avoid standing water, as it can lead to root rot and other problems.
Sunlight Requirements for Mandevilla Pink Parfait: Providing Adequate Light for Growth
Mandevilla Pink Parfait is a sun-loving vine that requires ample sunlight to thrive. As mentioned earlier, it is important to choose a location that receives at least 6 hours of direct sunlight daily. However, it can also tolerate partial shade, especially in regions with intense afternoon sun. If your chosen location doesn't receive sufficient sunlight, consider pruning nearby trees or shrubs to allow more light to reach your Mandevilla Pink Parfait. Providing the right amount of sunlight will ensure healthy growth, vibrant blooms, and a happy vine.
Fertilization Techniques to Boost the Health and Blooming of Mandevilla Pink Parfait
Mandevilla Pink Parfait benefits from regular fertilization to support its growth and flowering. Start by applying a balanced, slow-release fertilizer in the spring, following the recommended dosage on the label. This will provide a steady supply of nutrients over an extended period. Additionally, you can supplement with liquid fertilizers throughout the growing season to promote continuous blooming. Remember to follow the instructions on the fertilizer packaging and avoid over-fertilization, as this can lead to excessive foliage growth with reduced flower production.
Pruning and Training Methods to Shape and Control Mandevilla Pink Parfait Vines
Pruning is an important aspect of Mandevilla Pink Parfait care, as it helps shape and control the plant's growth. The best time to prune is in late winter or early spring before new growth begins. Start by removing any dead or damaged growth, cutting back to healthy tissue. Next, trim back the vine to maintain the desired shape and size. You can also prune to encourage branching and denser foliage. Use clean and sharp pruning tools to make precise cuts, and disinfect them between cuts to prevent the spread of diseases. By regularly pruning and training your Mandevilla Pink Parfait, you can maintain its health, enhance its appearance, and prevent it from becoming overly invasive.
Common Pests and Diseases That Affect Mandevilla Pink Parfait: Prevention and Treatment
Like any plant, Mandevilla Pink Parfait can be susceptible to pests and diseases. Some common pests that may affect this vine include aphids, mealybugs, whiteflies, and spider mites. Keep a close eye on your plants and take action at the first sign of infestation. You can use insecticidal soap or horticultural oils to control these pests. In terms of diseases, Mandevilla Pink Parfait can be prone to fungal leaf spots and root rot. To prevent these issues, avoid overwatering and provide adequate air circulation. If you notice any signs of disease, such as yellowing leaves or black spots, promptly remove the affected foliage and treat with a fungicide if necessary.
Propagation Techniques: How to Multiply Your Mandevilla Pink Parfait Collection
If you wish to multiply your Mandevilla Pink Parfait collection, there are a few propagation techniques you can try. One of the most common methods is through stem cuttings. This involves taking a 4 to 6-inch cutting from a healthy parent plant, removing the lower leaves, and placing the cutting in a well-draining rooting medium. Keep the cutting moist and warm until roots develop, then transplant it into a pot or the desired location. You can also propagate Mandevilla Pink Parfait through layering or division, depending on your preference and available resources. Experiment with different techniques to expand your collection and share the beauty of this stunning vine with others.
Creative Uses for Mandevilla Pink Parfait in Landscaping and Container Gardening
Mandevilla Pink Parfait's striking flowers and climbing habit make it a versatile plant for various landscaping and container gardening applications. In the landscape, you can train it to climb up trellises, pergolas, or arbors to create a stunning vertical element. It can also be used to provide cover along fences or walls, creating privacy and adding visual interest. In container gardening, plant Mandevilla Pink Parfait in large pots or hanging baskets to bring color and texture to patios, balconies, or porches. Combine it with other trailing or upright plants for a dynamic and eye-catching display. The options are endless, and the beauty of Mandevilla Pink Parfait will undoubtedly enhance any outdoor space.
Inspiring Design Ideas with Mandevilla Pink Parfait: Adding Color to Your Outdoor Space
Looking for some design inspiration to incorporate Mandevilla Pink Parfait into your outdoor space? Here are a few exciting ideas to get you started. Create a romantic and whimsical atmosphere by planting Mandevilla Pink Parfait near seating areas, allowing its elegant blooms to add a touch of enchantment. For a tropical-themed garden, pair this vine with other exotic plants such as palms, ferns, and hibiscus. If you have a pergola or arbor, train Mandevilla Pink Parfait to climb and drape over the structure, creating a shady and inviting retreat. Consider mixing different colors of Mandevilla, such as the classic pink and white combination with the vibrant red or yellow cultivars, to create a bold and eye-catching display. Let your creativity flow and transform your outdoor space into a breathtaking oasis with the help of Mandevilla Pink Parfait.
Seasonal Care Guide for Mandevilla Pink Parfait: Winterization and Protection Tips
When it comes to seasonal care, it is important to provide adequate protection for your Mandevilla Pink Parfait during the winter months, especially if you live in a region with cold temperatures. As the temperatures begin to drop in late fall, gradually reduce watering to allow the plant to enter dormancy. Before the first frost, prune back the vines to about one-third of their length, removing any dead or damaged growth. Next, apply a layer of mulch around the base of the plant to insulate the roots and protect them from freezing. If you are growing Mandevilla Pink Parfait in containers, consider moving them indoors to a cool and well-lit location. Avoid placing them near heat sources or in areas with excessive dryness. By following these winterization and protection tips, you can ensure that your Mandevilla Pink Parfait survives the colder months and regains its vigor when the warmer weather returns.
In conclusion, Mandevilla Pink Parfait is a truly magnificent climbing vine that brings beauty, color, and elegance to any garden or outdoor space. With its stunning flowers, vigorous growth, and low-maintenance nature, it is a favorite among gardeners around the world. By understanding its characteristics, choosing the right location, providing proper care, and implementing creative design ideas, you can enjoy the splendor of Mandevilla Pink Parfait in all its glory. So go ahead, plant this showstopper in your garden and let it transform your outdoor space into a haven of beauty and serenity. Happy gardening!