How Fast Does Mandevilla Grow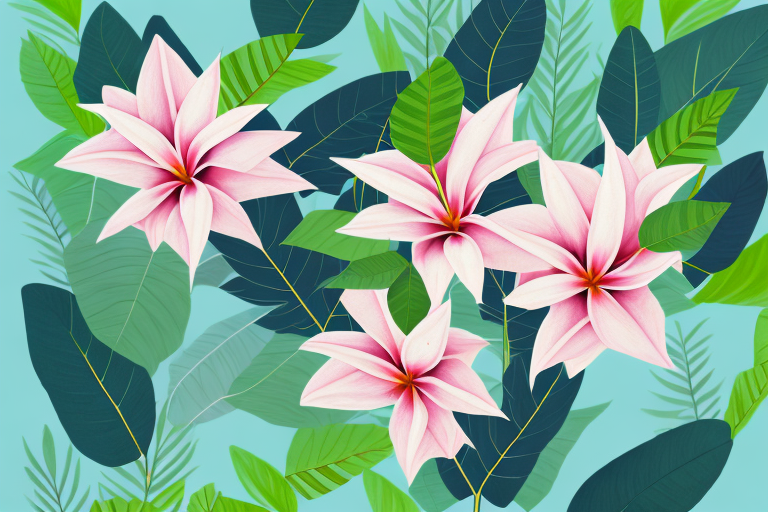 If you're a fan of beautiful and vibrant flowering vines, chances are you've come across the Mandevilla plant. Known for its stunning blooms and lush green foliage, Mandevilla is a popular choice for adding a touch of tropical elegance to any garden or outdoor space. But just how fast does Mandevilla grow? In this article, we'll delve into the growth rate of Mandevilla plants, exploring the factors that affect their speed of growth, different varieties and their growth rates, as well as tips and tricks to accelerate their growth. So let's dive in and uncover the secrets of the Mandevilla's growth!
Understanding the Growth Rate of Mandevilla Plants
Mandevilla plants are known for their relatively fast growth rate, making them a favorite among gardeners who seek quick and impressive results. On average, these vines can grow up to 10 to 15 feet in a single growing season, provided they are given the right conditions and care. However, it's important to note that the growth rate of Mandevilla can vary depending on several factors.
One crucial factor that affects the growth rate of Mandevilla is the variety or cultivar you choose. Mandevilla comes in various species and cultivars, each with its own growth characteristics. Some varieties may have a more vigorous growth habit and can reach their full potential faster, while others may take a bit longer to establish and grow.
Another factor contributing to the growth rate is the growing conditions. Mandevilla thrives in warm, tropical or subtropical climates, where temperatures range between 70 to 90 degrees Fahrenheit. Providing your Mandevilla with the ideal growing conditions, such as ample sunlight, well-draining soil, and regular water, can boost its growth rate significantly.
Factors Affecting the Growth Speed of Mandevilla
In addition to variety and growing conditions, there are several other factors that can impact the speed at which Mandevilla plants grow. Let's take a closer look at these factors:
1. Temperature: Mandevilla plants are highly sensitive to cold temperatures, which can slow down their growth. If you live in a region with chilly winters, you may notice a significant slowdown in growth during the colder months. To ensure optimal growth, it's crucial to protect your Mandevilla from frost and provide appropriate shelter during winter.
2. Sunlight: Sunlight is essential for the growth and development of Mandevilla plants. These vines thrive in full sun or partial shade, receiving at least six hours of direct sunlight per day. Insufficient sunlight can lead to stunted growth and fewer blooms.
3. Water and Fertilizer: Like any other plant, Mandevilla requires regular watering and fertilization to grow at its best. Consistent watering, especially during hot and dry periods, helps to prevent stress and promote healthy growth. Additionally, providing a balanced fertilizer with a higher phosphorus content can encourage prolific blooming and overall plant vigor.
4. Pruning: Pruning plays a crucial role in promoting healthy and rapid Mandevilla growth. Regular pruning helps to remove dead or diseased branches, encourage branching, and shape the plant according to your desired form. Removing spent flowers, known as deadheading, also promotes new blooms and prevents the plant from putting energy into seed production.
5. Pest and Disease Management: Pests and diseases can also hinder the growth of Mandevilla plants. Common pests that attack Mandevilla include spider mites, aphids, and whiteflies. Regularly inspecting your plants for any signs of infestation and taking appropriate measures to control pests will contribute to healthy growth.
By considering and managing these factors, you can ensure your Mandevilla plant grows at its optimal speed, providing you with a lush and blooming masterpiece to enjoy.
Exploring the Different Varieties of Mandevilla and Their Growth Rates
Mandevilla plants come in a variety of species and cultivars, each with its own growth rate and unique characteristics. Let's take a closer look at some popular Mandevilla varieties and their growth rates:
1. Mandevilla sanderi: Also known as the Brazilian jasmine, this variety is one of the most common types of Mandevilla. It is renowned for its vigorous growth habit, climbing up to 10 feet or more in a single season when provided with favorable conditions.
2. Mandevilla boliviensis: This variety features smaller blooms and a slightly slower growth rate compared to Mandevilla sanderi. However, Mandevilla boliviensis compensates with its ability to adapt to a wider range of growing conditions, including cooler temperatures.
3. Mandevilla 'Alice du Pont': Loved for its large and showy pink flowers, this cultivar is a fast grower, reaching heights of around 15 feet. Its robust growth and vibrant blooms make it a popular choice for adding vertical interest and tropical beauty to gardens and landscapes.
4. Mandevilla 'Sun Parasol': This series of hybrid Mandevilla varieties, including 'Sun Parasol Original' and 'Sun Parasol Giant', are renowned for their prolific blooming and compact growth habit. While their growth rate may be slightly slower compared to other varieties, these Mandevillas make up for it with their impressive flower power.
These are just a few examples of Mandevilla varieties, each with its own growth rate and qualities. By selecting the right variety that suits your climate and preferences, you can ensure optimal growth and a stunning display of blooms.
Ideal Growing Conditions for Faster Mandevilla Growth
Providing the ideal growing conditions is essential for maximizing the growth rate of your Mandevilla plant. Here are some tips to help accelerate the growth of your Mandevilla:
1. Sunlight: Mandevilla plants thrive in full sun or partial shade. Place your plant in a location where it receives at least six hours of direct sunlight per day for robust growth and abundant blooms.
2. Temperature: Mandevilla prefers warm temperatures between 70 to 90 degrees Fahrenheit. Protect your plant from cold drafts and frost, as exposure to low temperatures can slow down growth. If you live in a region with cold winters, consider growing Mandevilla as a potted plant that can be brought indoors during the colder months.
3. Soil: Well-draining soil is crucial for the healthy growth of Mandevilla. Choose a high-quality potting mix or amend your garden soil with organic matter to improve drainage. Avoid waterlogged conditions, as they can lead to root rot and hinder growth.
4. Watering: Mandevilla plants prefer consistently moist but not waterlogged soil. Water deeply when the top inch of soil feels dry to the touch, and ensure proper drainage to prevent waterlogging. During hot or dry periods, increase the frequency of watering to prevent stress and promote vigorous growth.
5. Fertilization: Use a balanced fertilizer with a higher phosphorus content, such as a 10-20-10 or 15-30-15 formula, to promote blooming and healthy growth. Apply the fertilizer according to the manufacturer's instructions, typically once every two weeks during the growing season.
6. Trellis or Support: Providing a trellis or support structure for your Mandevilla to climb on will not only enhance its growth but also showcase its beautiful vines and flowers. Install a sturdy trellis, arbor, or pergola that can support the weight of the plant as it grows taller.
By ensuring your Mandevilla receives the optimal growing conditions, you can encourage faster growth and enjoy a stunning display of cascading vines and vibrant flowers!
Tips and Tricks to Accelerate the Growth of Your Mandevilla Plant
If you're looking to speed up the growth of your Mandevilla plant, try incorporating these tips and tricks into your care routine:
1. Provide Support: As Mandevilla is a climbing vine, providing support in the form of a trellis or structure will encourage upward growth. Secure the stems of your Mandevilla to the support structure using plant ties or soft twine to guide its growth.
2. Pinch Back New Growth: To encourage bushier growth, pinch back the tips of young Mandevilla vines. This will stimulate lateral branching and result in a fuller and more compact plant.
3. Increase Humidity: Mandevilla plants appreciate high humidity levels, especially in drier climates. You can increase humidity around your plant by placing a tray filled with water and pebbles near it or using a room humidifier.
4. Consider Root Pruning: If you're growing Mandevilla in a container, root pruning can help stimulate growth. Every two to three years, carefully remove the root ball from the container, trim the roots, and replant in fresh soil. This prevents the plant from becoming root-bound and allows for better nutrient absorption.
5. Apply an Organic Growth Stimulant: Organic growth stimulants, such as seaweed extract or compost tea, can provide your Mandevilla with an extra boost of nutrients and growth-promoting compounds. Follow the instructions on the product label for best results.
6. Maintain Consistent Care: Consistency is key when it comes to promoting rapid growth in Mandevilla. Maintain a regular watering schedule, provide sufficient sunlight, and follow a consistent fertilization routine to ensure optimal plant health and growth.
By implementing these tips and tricks, you can accelerate the growth of your Mandevilla plant and enjoy its lush foliage and vibrant blooms in no time!
The Role of Pruning in Promoting Healthy and Rapid Mandevilla Growth
Pruning is a crucial aspect of Mandevilla care that plays a significant role in promoting healthy and rapid growth. Knowing when and how to prune your Mandevilla plants can help you shape them, manage size, promote blooming, and maintain overall plant health.
One of the key objectives of pruning Mandevilla is to remove dead or dying branches, as well as any diseased or damaged parts. This not only improves the plant's appearance but also prevents the spread of diseases and allows for better air circulation among the foliage.
Another primary objective of pruning is to stimulate branching and encourage denser growth. Mandevilla plants tend to produce long, trailing vines, especially when left unpruned. By selectively pruning the tips of the vines, you promote lateral branching, resulting in a fuller and more compact plant.
Deadheading, the removal of spent blooms, is another crucial aspect of pruning Mandevilla. By removing faded flowers, you prevent the plant from putting energy into seed production, redirecting that energy into new growth and blooming. Deadheading also helps to maintain a neat and tidy appearance.
When pruning your Mandevilla, it's essential to use clean and sharp pruning tools to minimize the risk of injury and disease transmission. Before making any cuts, sterilize your pruners with rubbing alcohol or a bleach solution to ensure cleanliness.
The timing of pruning depends on your specific Mandevilla variety and climate. In general, pruning is best done in early spring before new growth starts. However, if your Mandevilla blooms on old wood, you may need to delay pruning until after the blooming period to avoid removing potential flowers.
Remember, each pruning cut you make should be just above a node or leaf joint. Make clean and slanted cuts to allow water to run off and prevent waterlogging, which can lead to rot.
By incorporating proper pruning techniques into your Mandevilla care routine, you can promote healthy growth, stimulate blooming, and maintain an attractive and well-managed plant.
Fertilization Techniques to Boost the Growth Rate of Mandevilla Vines
Fertilizing your Mandevilla vines is a surefire way to boost their growth rate and promote lush foliage and vibrant blooms. By providing the right nutrients in the appropriate amounts, you can ensure that your Mandevilla receives everything it needs to thrive and reach its full potential. Let's explore some fertilization techniques to supercharge the growth of your Mandevilla:
1. Choose the Right Fertilizer: When it comes to fertilizing Mandevilla, it's essential to select a balanced fertilizer with a higher phosphorus content. Phosphorus is crucial for promoting blooming and root development. Look for a fertilizer with an NPK ratio of 10-20-10 or 15-30-15.
2. Follow the Fertilizer's Instructions: Different fertilizers have varying application rates and schedules. It's important to carefully read and follow the instructions on the fertilizer packaging to ensure that you're applying the correct amount for your Mandevilla.
3. Apply Slow-Release Fertilizer: Slow-release fertilizers provide a steady supply of nutrients over an extended period, reducing the need for frequent applications. Consider using a granular or pelletized slow-release fertilizer formulated for flowering plants. Apply it according to the package instructions, usually once every three to six months.
4. Apply Liquid Fertilizer: Liquid fertilizers can provide quicker results as they are readily available for plant absorption. Use a liquid fertilizer that is specifically formulated for flowering vines or tropical plants. Dilute the fertilizer according to the package instructions and apply it every two to four weeks during the growing season.
5. Incorporate Organic Fertilizers: Organic fertilizers are an excellent option for those who prefer natural and eco-friendly alternatives. Compost, well-rotted manure, and organic plant-based fertilizers can enrich the soil with essential nutrients and improve its overall fertility. Apply organic fertilizers at the start of the growing season, following the recommended application rates.