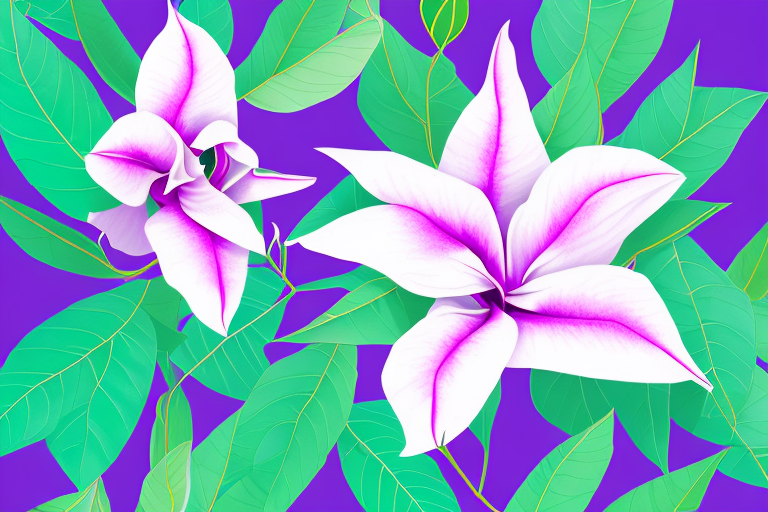 Welcome to the world of the Purple Mandevilla! In this comprehensive guide, we will take you on a journey to explore the rich history, stunning beauty, and expert techniques for growing and caring for these magnificent plants. Whether you are a seasoned gardener or just starting your green thumb journey, this article is packed with all the information you need to cultivate and showcase the captivating varieties of Purple Mandevilla.
Understanding the Purple Mandevilla: A Comprehensive Guide
The Purple Mandevilla, also known as Mandevilla sanderi, is a breathtaking flowering plant that belongs to the family Apocynaceae. Native to the tropical regions of Central and South America, these plants are renowned for their vibrant purple blooms and luscious green foliage. Today, they have gained popularity as ornamental vines and are widely cherished for their ability to add a touch of elegance to any landscape.
The Rich History and Origins of the Purple Mandevilla
The history of the Purple Mandevilla dates back centuries, and traces of its origin can be found in the rainforests of Brazil. These enchanting plants were discovered and classified by German botanist, Ludwig Heinrich Karl Peter von Sander, in the late 19th century. Since then, their popularity has spread across continents, captivating the hearts of gardeners and plant enthusiasts around the world.
Exploring the Stunning Beauty of Purple Mandevilla Flowers
One cannot help but be captivated by the exquisite beauty of Purple Mandevilla flowers. These trumpet-shaped blooms, ranging from deep violet to lavender hues, are truly a sight to behold. Each flower is adorned with delicate petals and a contrasting yellow throat, creating a striking contrast against the backdrop of glossy green leaves. Whether cascading from hanging baskets or climbing trellises, the vibrant colors of these flowers are sure to become the centerpiece of any garden.
Growing and Caring for Purple Mandevilla Plants: Expert Tips
Growing and caring for Purple Mandevilla plants requires a combination of knowledge and dedication. To ensure successful growth, it is crucial to choose the right location that provides ample sunlight and protection from harsh elements. Additionally, understanding the ideal soil conditions and implementing proper watering techniques is essential to promote healthy growth and vibrant blooms. This section will guide you through these expert tips and provide you with the tools you need to cultivate thriving Purple Mandevilla plants.
Choosing the Right Location for Your Purple Mandevilla Plant
When selecting a location for your Purple Mandevilla plant, it's essential to consider its sunlight requirements. These plants thrive in full sun, so choose a spot that receives at least six hours of direct sunlight per day. However, it is important to note that they also appreciate some shade during the hottest part of the day, especially in regions with scorching temperatures.
In terms of temperature, Purple Mandevillas prefer a warm environment with a minimum temperature of 60°F (15°C). They are not frost-tolerant, so if you live in colder regions, it's advisable to grow them in containers that can be moved indoors during the winter months.
Aside from sunlight and temperature, Purple Mandevillas also require protection from strong winds, which can damage their tender vines and foliage. Planting them near a wall or providing them with a protective barrier can help shield them from these elements.
The Ideal Soil Conditions for Thriving Purple Mandevilla Plants
Next, let's dive into the ideal soil conditions for thriving Purple Mandevilla plants. These tropical climbers prefer a well-drained soil that is rich in organic matter. A mix of peat moss, perlite, and compost can create the perfect growing medium. Ensuring good drainage is essential as excess water can lead to root rot, which is detrimental to the health of your plant.
A slightly acidic to neutral pH level ranging from 6.0 to 7.0 is optimal for the Purple Mandevilla. Regularly testing the soil's pH level and amending it as necessary will go a long way in promoting healthy growth and vibrant blooms.
Watering Needs and Techniques for Healthy Purple Mandevillas
Watering is a critical aspect of caring for your Purple Mandevillas. These plants require consistent moisture but dislike soggy conditions. It's important to strike a balance and avoid overwatering, as it can lead to root rot and fungal diseases.
As a general rule, water your Purple Mandevilla thoroughly and let the top inch of soil dry out before watering again. Feel the soil with your finger – if it feels moist, hold off on watering. During periods of intense heat or drought, you may need to increase the frequency of watering, ensuring the soil remains slightly moist.
In addition to regular watering, providing your Purple Mandevilla with humidity can enhance its growth. Spraying the leaves with water or placing a tray filled with water near the plant will help create a humid environment, mimicking their natural habitat.
Pruning and Training Techniques to Enhance the Growth of Your Purple Mandevilla
To enhance the growth and shape of your Purple Mandevilla, pruning and training techniques are essential. Regular pruning helps remove dead or damaged branches, improving overall plant health. As these plants can reach impressive heights, training them to climb on trellises or supports not only adds aesthetic value but also encourages better air circulation and prevents tangled growth.
Start pruning your Purple Mandevilla in early spring when new growth appears. Focus on removing any weak or crossing branches, as well as dead flowers, to promote continuous blooming. Additionally, if your plant starts to become leggy or lacks density, pruning can encourage bushier growth. Ensure you use clean, sharp pruners to prevent the spread of diseases or pests.
Fertilizing Strategies to Promote Vibrant Blooms in Purple Mandevillas
To promote vibrant blooms in your Purple Mandevilla, fertilizing is an essential part of their care routine. During the growing season, from spring to fall, applying a balanced fertilizer every two weeks will provide the necessary nutrients for healthy growth and abundant flowers.
Look for a fertilizer with a balanced N-P-K ratio, such as 10-10-10 or 14-14-14, and follow the package instructions for proper application. Remember to water your plant before fertilizing to prevent root burn, and avoid applying fertilizer during periods of dormancy or when your plant is stressed.
Common Pests and Diseases that Affect Purple Mandevilla Plants: How to Prevent and Treat Them
Like all plants, Purple Mandevillas can fall victim to pests and diseases. The most common pests that affect these plants include aphids, spider mites, and whiteflies. To prevent infestations, regularly inspect your plant for any signs of pests, like small insects, webbing, or yellowing leaves. Applying insecticidal soap or using organic pest control methods can help eliminate these pests and protect the health of your plant.
In terms of diseases, Purple Mandevillas may be susceptible to fungal infections, such as powdery mildew or root rot. To prevent these diseases, ensure proper airflow around your plant by spacing them adequately and avoid overwatering. If you notice signs of disease, promptly remove affected leaves and treat your plant with an appropriate fungicide, following the instructions provided.
Propagating Purple Mandevillas: Step-by-Step Guide to Successful Plant Reproduction
If you wish to propagate your Purple Mandevillas and create additional plants, you can do so through various methods, including stem cuttings and layering. Stem cuttings involve snipping a healthy stem, removing lower leaves, and placing it in a suitable rooting medium. Layering, on the other hand, involves bending a flexible stem to the ground and burying a portion of it, allowing it to develop roots.
Both methods require patience and care, as well as appropriate environmental conditions, such as warmth and humidity. With the right techniques and a bit of TLC, you can successfully propagate your Purple Mandevillas, expanding your collection or sharing the beauty of these plants with fellow gardening enthusiasts.
Creative Landscaping Ideas using Purple Mandevilla as a Focal Point
Besides being stunning as standalone plants, Purple Mandevillas make excellent focal points in creative landscaping designs. Whether you want to create a vibrant entrance by planting them near doorways or use them as vertical accents against walls or fences, these plants will undoubtedly steal the show.
One creative idea is to plant Purple Mandevillas in large containers and position them strategically in your garden or on your patio. By incorporating colorful companion plants and cascading varieties, you can create a stunning display of different heights and textures that will leave your guests in awe. Experiment with different combinations and showcase your artistic flair!
Best Companion Plants to Pair with Your Purple Mandevilla for a Stunning Garden Display
Pairing your Purple Mandevilla with complementary companion plants can elevate the beauty of your garden. Some excellent choices for companion plants include vibrant annuals like petunias, marigolds, and geraniums, which will enhance the vibrant colors of the Purple Mandevilla flowers. Additionally, incorporating foliage plants such as ferns, ornamental grasses, or variegated plants will add texture and contrast to your garden design.
Consider the overall height and growth habit of companion plants to ensure they do not overshadow or overcrowd the Purple Mandevilla. By carefully selecting a variety of plants that thrive in similar conditions, you can create a harmonious and visually stunning garden display.
Overwintering Tips: Protecting Your Purple Mandevilla during Cold Weather Months
While Purple Mandevillas are not cold-hardy, you can still protect them during the winter months and enjoy their beauty year after year. If you live in regions with mild winters, it's possible to overwinter them outdoors by providing proper insulation. Wrapping the base of the plant with burlap and mulching around it will help protect the roots from freezing temperatures.
For colder regions, it's advisable to bring your Purple Mandevilla indoors before the first frost. Choose a location with bright, indirect light, and maintain a temperature between 50°F (10°C) and 60°F (15°C). Reduce watering frequency during the winter months, as the plant will enter a period of dormancy. With these overwintering tips, you can ensure the survival of your Purple Mandevilla and enjoy its beauty for many seasons to come.
Creating Beautiful Hanging Baskets with Cascading Purple Mandevillas
If you want to create a stunning display of cascading flowers, Purple Mandevillas are a perfect choice for hanging baskets. Their long, trailing vines will gracefully spill over the edges, creating a waterfall of vibrant blooms. To achieve this aesthetic, choose compact and cascading varieties like Mandevilla Sun Parasol series.
When planting your cascading Purple Mandevilla in a hanging basket, ensure the basket has proper drainage holes to prevent waterlogging. Use a quality potting mix combined with perlite or vermiculite for optimal drainage. Regularly feed your cascading Mandevilla with a balanced liquid fertilizer to promote continuous blooms, and don't forget to water thoroughly while ensuring that excess water can drain away.
Using Trellises and Supports to Showcase the Climbing Beauty of Purple Mandevillas
If you prefer to showcase the climbing beauty of your Purple Mandevillas, trellises and supports are the perfect accompaniment. These structures not only provide vertical growth support but also create an eye-catching visual impact in your garden.
Choose sturdy trellises or supports that can withstand the weight of the climbing vines. Position them near walls, fences, or pergolas to create an enchanting vertical garden. As the Purple Mandevilla climbs, gently guide the tendrils and vines along the structure, securing them if necessary. With time and care, you will witness the transformation of your climbing Purple Mandevilla into a breathtaking spectacle of nature.
Captivating Varieties of Purple Mandevillas: Which One is Right for You?
The world of Purple Mandevillas offers a diverse range of captivating varieties, each possessing its own unique charm and character. From the classic deep violet blooms of the Mandevilla sanderi, to the enchanting lavender hues of the Mandevilla amabilis, there is a variety to suit every taste and garden style.
Consider factors such as climate, desired plant size, and bloom intensity when choosing the right variety for you. Whether you opt for climbing or cascading varieties, each will add a touch of charm and elegance to your garden. Take the time to explore the different varieties available and select the Purple Mandevilla that resonates with your gardening vision.
As we come to the end of this comprehensive guide to Purple Mandevilla, we hope you feel inspired and equipped with the knowledge to embark on your journey of cultivating and showcasing these magnificent plants. Whether you choose to grow them in hanging baskets, along trellises, or as focal points in your garden, Purple Mandevillas are sure to bring joy and beauty to your outdoor space. With patience, care, and a touch of creativity, your Purple Mandevilla plants will reward you with a stunning display of vibrant flowers that will leave your neighbors green with envy. Happy gardening!