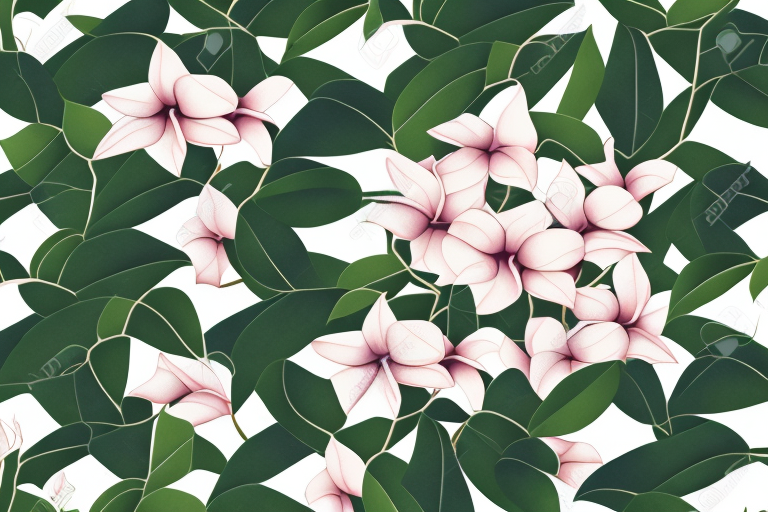 If you're a passionate gardener or flower enthusiast, you may have come across the mesmerizing beauty of the Mandevilla plant. Its striking trumpet-shaped flowers and glossy green leaves make it a popular choice for adding bursts of color to gardens and outdoor spaces. But here's the burning question: Does Mandevilla climb? Let's dive into the fascinating growth habits of this vine-like plant and explore the various factors that determine its climbing abilities.
Understanding the Growth Habits of Mandevilla Plants
Before we delve into Mandevilla's climbing tendencies, it's crucial to understand its overall growth habits. Mandevilla (also known as Dipladenia) is a tropical plant native to Central and South America. As a member of the Apocynaceae family, it shares characteristics with other plants known for their climbing abilities, such as ivy and morning glory.
The typical Mandevilla plant consists of thick, woody stems that twist and turn as they grow. This natural inclination for winding and climbing gives us a glimpse into its potential to scale vertical surfaces. However, it's important to note that not all Mandevilla varieties possess the same climbing capabilities.
The Climbing Abilities of Mandevilla: Fact or Fiction?
There seems to be some confusion surrounding Mandevilla's climbing abilities. Some claim that Mandevilla can climb effortlessly, while others argue that it requires additional support to reach higher elevations. The truth lies somewhere in the middle.
In its natural habitat, Mandevilla plants use their twining stems to latch onto nearby trees, fences, or any available support system. This allows them to climb and reach for sunlight, creating an eye-catching display of cascading flowers. However, when cultivated in urban settings or potted indoors, Mandevilla might struggle to find suitable surfaces to climb on its own.
Exploring the Natural Climbing Tendencies of Mandevilla
While it's true that Mandevilla possesses inherent climbing tendencies, it's crucial to understand that environmental factors play a significant role in whether it will successfully climb or not. In their native habitat, Mandevilla plants thrive in warm, tropical climates with ample sunlight and humidity.
When planted in the right conditions, Mandevilla will naturally manifest its climbing instincts. As the vine grows, its tendrils will search for something to twine around, allowing it to climb effortlessly. This unique adaptability to its surroundings makes it a fantastic addition to gardens with suitable support structures already in place.
Can Mandevilla Be Trained to Climb?
If you're wondering whether you can train Mandevilla to climb in less-than-ideal conditions, the answer is a resounding yes. With a little guidance and the right support system, you can encourage your Mandevilla to scale vertical surfaces and create a stunning focal point.
To train Mandevilla to climb, you'll need to provide it with a sturdy trellis, pergola, or similar structure. As the vine grows, gently guide its stems and tendrils towards the support system. Use soft garden ties or twist ties to secure the plant in place, allowing it to latch on and continue its upward journey.
Choosing the Right Support System for Mandevilla Vines
When selecting a support system for your Mandevilla, it's important to consider its growth habits and potential height. Different Mandevilla varieties can vary in size and climbing abilities, so choose a structure that suits your specific plant.
A sturdy trellis made from metal or wood is an excellent choice for most Mandevilla varieties. The trellis should be at least six feet tall to accommodate the potential height Mandevilla can reach. Alternatively, you can opt for a decorative obelisk or a pergola with ample vertical space for Mandevilla to weave its way up.
Harnessing the Beauty of Mandevilla's Climbing Abilities in Your Garden
Now that you understand the climbing capabilities of Mandevilla, it's time to capitalize on its stunning beauty in your own garden. By providing the right growing conditions and proper support, you can create an enchanting vertical display of vibrant colors.
Consider planting Mandevilla near existing structures, such as fences or walls, that provide a natural support system. This will allow the plant to spread its tendrils and establish a firm grip as it reaches for the sky. As the vine grows, be sure to regularly guide and secure it to the support structure, ensuring its steady ascent.
Tips and Tricks for Training Mandevilla to Climb
Training Mandevilla to climb involves a bit of patience and finesse. Here are a few tips and tricks to help you achieve the best results:
1. Start early: Begin training your Mandevilla to climb as soon as it starts to display its climbing tendencies. This will allow it to establish a strong foundation and ensure a more robust climbing experience.
2. Winding assistance: If your Mandevilla is struggling to wind its tendrils around the support system, gently wrap the vines around and secure them in place. This will encourage the plant to embrace its climbing nature.
3. Pruning for growth: Regularly prune your Mandevilla to enhance its climbing abilities. Trim any dead or weak branches to redirect the plant's energy towards vertical growth.
4. Fertilize wisely: Feed your Mandevilla with a balanced fertilizer to promote healthy growth. However, avoid excessive fertilization, as it can lead to excessive foliage growth at the expense of climbing.
Creating a Stunning Vertical Garden with Mandevilla
Looking to take your gardening game to new heights? Why not create a captivating vertical garden using Mandevilla? With its climbing abilities and vibrant flowers, Mandevilla is an excellent choice for vertical gardening enthusiasts.
To create a stunning vertical garden, combine Mandevilla with other climbing plants such as morning glory, clematis, or climbing roses. The intertwining vines and colorful blooms will create a visual masterpiece that will turn any outdoor space into a botanical oasis.
Enhancing Your Outdoor Space with Climbing Mandevilla Plants
Don't limit your Mandevilla's climbing potential to just the garden. Enhance your outdoor space, be it a balcony, patio, or pergola, with the beauty of climbing Mandevilla plants.
Potted Mandevilla plants can be trained to climb on small trellises or obelisks, allowing you to make the most of limited space. Opt for compact Mandevilla varieties that suit the size of your containers while still providing breathtaking blooms and lovely foliage.
Overcoming Challenges: How to Encourage Mandevilla to Climb in Different Environments
If you live in an area with a colder climate or limited sunlight, you might encounter challenges when encouraging Mandevilla to climb. However, with a few adjustments, you can still enjoy the climbing charm of this tropical beauty.
Consider placing your potted Mandevilla in the sunniest spot available, such as a south-facing window or a sheltered area with maximum sunlight exposure. Supplemental artificial lighting can also help compensate for reduced sunlight during winter months.
In colder climates, it's crucial to protect your Mandevilla from frost. Before the first autumn frost arrives, bring your potted Mandevilla indoors and place it in a suitable location where it can receive ample sunlight and warmth.
Discovering the Versatility of Mandevilla: A Plant that Can Both Climb and Trail
Mandevilla unveils yet another facet of its versatility: It can both climb and trail. Some Mandevilla varieties, such as "Sundenia" and "Sun Parasol," exhibit trailing habits, making them ideal for container plantings, hanging baskets, or cascading over walls and railings.
To showcase Mandevilla's dual nature, experiment with combining climbing and trailing varieties in your garden or patio. This mix will create an enchanting tapestry of Mandevilla's color palette, truly impressing anyone lucky enough to encounter your floral masterpiece.
Showcasing the Vibrant Colors of Climbing Mandevilla Flowers
Now that you're well-versed in Mandevilla's climbing abilities, it's time to explore the breathtaking diversity of its flower colors. Mandevilla flowers come in a plethora of shades, ranging from vibrant pinks, reds, and yellows to delicate whites and pastels. Their trumpet-shaped blooms add a touch of elegance to any outdoor space.
Choose Mandevilla varieties with colors that complement the overall theme of your garden or outdoor area. Plant them alongside other flowering plants or use them as standalone focal points to make their colors truly shine.
Maximizing Limited Space: Growing Mandevilla on Balconies and Patios
Living in a small apartment or having a compact outdoor space doesn't mean you have to forgo the beauty of Mandevilla. With a bit of creativity, you can still enjoy its climbing charm on balconies and patios.
Opt for compact Mandevilla varieties that are specifically bred for container planting. These varieties have the same stunning blooms and climbing abilities but are more suitable for smaller spaces. Plant them in large containers or hanging baskets, allowing their tendrils to cascade gracefully and brighten your outdoor sanctuary.
From Groundcover to Vertical Accent: Unleashing the Climbing Potential of Mandevilla
If you're looking to transform your garden from groundcover to vertical accent, Mandevilla can be the key to unlocking its climbing potential. With its vibrant blooms and trailing or climbing nature, Mandevilla stands out as a versatile plant that adds a touch of elegance to any landscape.
Whether you have a spacious garden, a cozy patio, or a humble balcony, make use of Mandevilla's climbing abilities to create a visual masterpiece. With proper support, care, and a pinch of creativity, your garden will be transformed into a mesmerizing tapestry of colors and climbing vines.
In conclusion, Mandevilla does indeed climb, but it may need a helping hand and suitable support to reach its full potential. Understanding its natural growth habits, training techniques, and the right environments will empower you to harness the captivating beauty of climbing Mandevilla plants in your own outdoor space. So, embark on this botanical journey, and let the vibrant colors and lush foliage of Mandevilla take your garden to new heights!