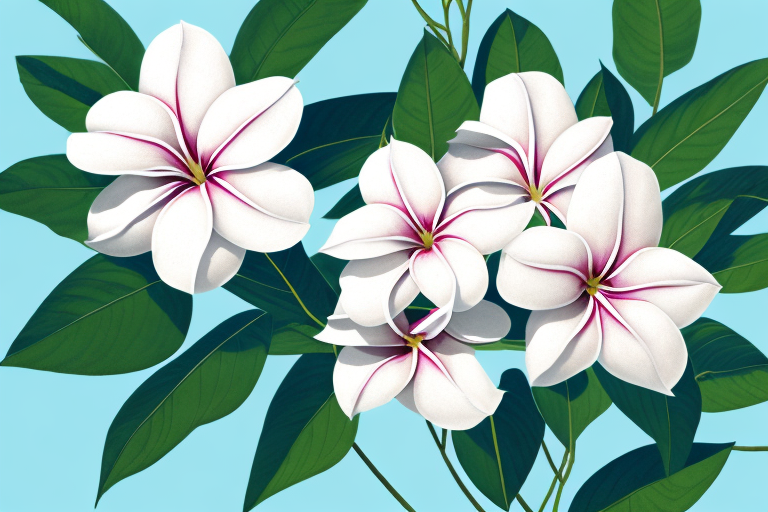 If you're a gardening enthusiast living in Zone 7, you may be wondering if it's possible to grow the stunning Mandevilla plant in your region. Understanding plant hardiness zones is essential when selecting the right plants for your garden. In this article, we will delve into the wonderful world of Mandevilla and explore its compatibility with Zone 7. We'll also provide you with valuable tips and techniques on how to successfully grow and care for Mandevilla in your garden.
Understanding Plant Hardiness Zones
Before we dive into the specifics of growing Mandevilla in Zone 7, let's first understand what plant hardiness zones are. These zones are based on the average annual minimum temperature and help gardeners determine which plants are likely to survive and thrive in their specific region. Zone 7 is characterized by cold winters with average minimum temperatures ranging from 0 to 10 degrees Fahrenheit (-18 to -12 degrees Celsius).
It's crucial to choose plants that are suited to your zone to ensure their longevity and overall health.
What is Mandevilla?
Mandevilla is a tropical vine loved for its vibrant and showy trumpet-shaped flowers, glossy green foliage, and vigorous growth. Native to South and Central America, these stunning climbers can bring a touch of exotic beauty to any garden. The most common species cultivated is Mandevilla × amabilis, also known as Dipladenia.
These versatile plants can be grown in containers, hanging baskets, or trained on trellises and arbors.
Ideal Growing Conditions for Mandevilla
To ensure the success of your Mandevilla in Zone 7, it's essential to provide it with the right growing conditions. Mandevilla thrives in full sun or partial shade, requiring at least 6 hours of direct sunlight each day. This vine prefers well-draining soil that is rich in organic matter.
It's also important to water consistently, keeping the soil evenly moist but not waterlogged.
The Importance of Choosing the Right Zone
Choosing the right zone for your Mandevilla is crucial for its survival and overall health. While some tropical plants may struggle in colder zones, Mandevilla can be successfully cultivated in Zone 7.
Understanding your zone allows you to make informed decisions when selecting plants and taking appropriate measures to protect them from harsh weather conditions.
Overview of Zone 7 Climate
Zone 7 is known for its cold winters, moderate precipitation, and mild summers. The average minimum temperatures range from 0 to 10 degrees Fahrenheit (-18 to -12 degrees Celsius). While the summers are typically warm and conducive to plant growth, the winters can pose a challenge for certain plant species.
However, with proper care and attention, Mandevilla can thrive in this zone, adding a touch of tropical beauty to your garden.
Can Mandevilla Survive in Zone 7?
Mandevilla can indeed survive in Zone 7 with proper care and attention. While it's not a cold-hardy plant, it can tolerate brief periods of freezing temperatures. However, providing protection during the coldest months is crucial to ensure its survival.
Mandevilla can be grown as an annual in Zone 7 or overwintered indoors for continuous enjoyment year after year.
Best Varieties of Mandevilla for Zone 7
When selecting Mandevilla varieties for Zone 7, it's advisable to choose those with greater cold tolerance. Some recommended varieties include 'Alice Du Pont,' 'Crimson Fantasy,' 'Sun Parasol Giant Pink,' and 'Bella Scarlet.'
These cultivars have shown resilience to cool temperatures and are more likely to thrive in Zone 7.
Tips for Growing Mandevilla in Zone 7
Here are some valuable tips to help you succeed in growing Mandevilla in Zone 7:
Plant your Mandevilla in a sheltered location to provide some protection against strong winds.
Consider growing Mandevilla in containers or hanging baskets, making it easier to move indoors during extreme cold snaps.
Mulch around the base of the plant to insulate the roots and protect them from frost.
Water consistently, ensuring the soil remains evenly moist, but avoid overwatering.
Fertilize regularly during the growing season to promote healthy growth and abundant blooms.
Preparing Your Garden for Mandevilla Planting in Zone 7
Prior to planting your Mandevilla in Zone 7, it's important to prepare your garden appropriately:
Choose a location that receives ample sunlight and has well-draining soil.
Amend the soil with compost or organic matter to improve its fertility and drainage.
Remove any weeds or grass to ensure your Mandevilla has the best chance to thrive.
Protecting Mandevilla from Cold Temperatures in Zone 7
Protecting your Mandevilla from cold temperatures is essential for its survival in Zone 7:
Before the first frost, gradually reduce watering and stop fertilizing to allow the plant to enter dormancy.
Prune back the plant to about one-third of its original size to minimize stress during the winter months.
Wrap the base of the plant with burlap or frost protection blankets to shield it from freezing temperatures.
Consider moving potted Mandevilla indoors to a cool, well-lit area during the winter.
Winterizing Mandevilla in Zone 7
To ensure the survival of your Mandevilla during the winter months in Zone 7:
Continue providing minimal water to keep the roots hydrated without promoting new growth.
Avoid exposing your Mandevilla to direct heating sources, as this can cause stress and damage.
Monitor the plant regularly for signs of pests or diseases and take appropriate action if necessary.
Overwintering Techniques for Mandevilla in Zone 7
If you wish to overwinter your Mandevilla indoors in Zone 7:
Before the first frost, inspect the plant for pests and treat if necessary.
Trim back any overgrown or damaged branches, promoting a compact form.
Place the plant in a container filled with well-draining soil and bring it indoors to a cool, bright location.
Water sparingly while the plant is dormant and avoid fertilizing until new growth appears in spring.
Strategies for Successful Mandevilla Care in Zone 7
To ensure successful care for your Mandevilla in Zone 7, consider the following strategies:
Monitor the soil moisture regularly, adjusting watering frequency as needed.
Apply a slow-release granular fertilizer in early spring to provide essential nutrients throughout the growing season.
Check for pests regularly, such as aphids or spider mites, and treat promptly if detected.
Prune any dead, diseased, or overgrown branches to maintain an attractive and healthy plant.
Understanding Frost Dates and Their Impact on Mandevilla in Zone 7
Frost dates play a crucial role in determining the success of growing Mandevilla in Zone 7:
The last spring frost date marks the approximate time when it's safe to move your Mandevilla outdoors without risking damage from freezing temperatures. The first fall frost date indicates when it's necessary to start preparing your Mandevilla for overwintering or bringing it indoors.
Common Pests and Diseases Affecting Mandevilla in Zone 7
While Mandevilla is generally resilient to pests and diseases, certain issues may arise:
Aphids: These small insects can cause damage by sucking sap from the plant. Regularly inspect your Mandevilla for aphids and wash them off with a strong spray of water.
Spider Mites: These tiny pests can result in yellowing leaves and webbing. Use an insecticidal soap or neem oil to control their population.
Fungal Diseases: Mandevilla may be susceptible to fungal diseases such as powdery mildew or leaf spot. Provide good air circulation around the plant and avoid overhead watering to minimize the risk.
Troubleshooting Common Issues with Mandevilla in Zone 7
If you encounter any issues with your Mandevilla in Zone 7, here are some troubleshooting tips:
If your Mandevilla is not blooming, ensure it's receiving adequate sunlight and proper fertilization.
If the leaves are turning yellow, it may indicate overwatering or underwatering. Adjust your watering routine accordingly.
If you notice wilting or drooping leaves, the plant may be underwatered or exposed to overly high temperatures. Increase watering frequency and provide shade during the hottest part of the day.
Pruning and Maintenance Tips for Healthy Mandevilla Plants in Zone 7
Proper pruning and maintenance are essential for keeping your Mandevilla healthy and thriving in Zone 7:
Prune your Mandevilla in early spring before new growth begins. Remove any dead or damaged branches and shape the plant to maintain a desirable form.
Throughout the growing season, remove spent flowers regularly to encourage continuous blooming.
Water and fertilize according to the plant's needs and monitor for any signs of stress or decline.
Enhancing the Beauty of Your Garden with Mandevilla in Zone 7
With their stunning flowers and lush foliage, Mandevilla can add a touch of tropical beauty to your garden in Zone 7. Consider the following ideas to enhance the overall appeal:
Grow Mandevilla on trellises or along fences to create a striking vertical display.
Combine Mandevilla with other flowering plants, such as annuals or perennials, to create vibrant and harmonious plantings.
Plant Mandevilla in large containers and display them on your patio or deck for a stunning focal point.
Creative Uses and Combinations with Mandevilla Plants in Zone 7
Let your imagination run wild when it comes to creative uses and combinations with Mandevilla plants in Zone 7:
Train Mandevilla to climb up arches or pergolas, creating an enchanting entryway to your garden.
Grow Mandevilla alongside other tropical plants like banana trees or cannas for a lush and exotic oasis.
Create stunning hanging baskets filled with cascading Mandevilla and complement them with trailing vines or ivy.
Now armed with this comprehensive knowledge, you can confidently embark on your journey to grow and care for Mandevilla in Zone 7. With the proper attention and precautions, you'll be rewarded with the breathtaking beauty of this tropical vine in your garden year after year.