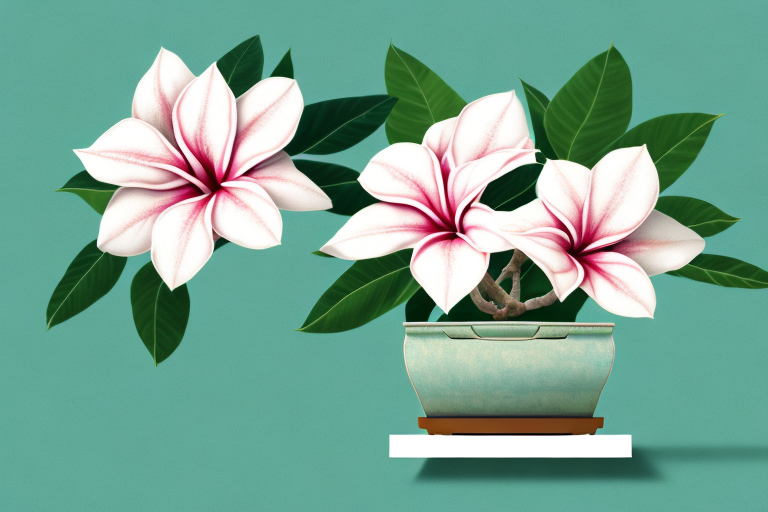 Welcome to the world of Mandevilla Bonsai! If you're passionate about bonsai and are looking to explore new and vibrant varieties, then Mandevilla is a stunning choice. In this comprehensive guide, we will delve into the intricacies of Mandevilla Bonsai care, covering everything from choosing the right species to shaping, pruning, and promoting blooming. So, grab a cup of tea, sit back, and immerse yourself in the beauty of Mandevilla Bonsai.
Choosing the Right Mandevilla Species for Bonsai
When it comes to selecting a Mandevilla for bonsai, you'll have a few options to consider. The most commonly used species for bonsai are the Mandevilla 'Alice Dupont' and the Mandevilla sanderi. Each species has its own unique characteristics, growth habits, and care requirements. Take the time to research and choose the species that best aligns with your vision for your bonsai masterpiece.
Mandevilla 'Alice Dupont' is known for its large, showy flowers and glossy leaves. It is a vigorous grower and responds well to pruning and shaping. On the other hand, Mandevilla sanderi, also known as the Brazilian Jasmine, features smaller flowers but is a more compact plant. It is a favorite among bonsai enthusiasts for its delicate beauty.
Consider the size, growth patterns, and flowering habits of each species when making your selection. Take into account your skill level and the specific environment in which you plan to grow your Mandevilla Bonsai. Once you've made a decision, you're ready to embark on the journey of shaping and pruning your Mandevilla Bonsai.
The Art of Shaping and Pruning Mandevilla Bonsai
Shaping and pruning are fundamental techniques in bonsai cultivation, and they play a crucial role in creating the desired aesthetic. When it comes to Mandevilla Bonsai, you can experiment with different styles, such as formal upright, informal upright, cascade, or semi-cascade. The branches of Mandevilla are naturally flexible, allowing you to explore various shapes and designs.
Pruning is essential to maintain the desired proportion and structure of your Mandevilla Bonsai. Regular pruning will help stimulate new growth and encourage the development of a well-balanced canopy. Be mindful of the natural growth pattern of your chosen species and work with it to create an aesthetically pleasing bonsai.
As you shape and prune your Mandevilla Bonsai, always prioritize the health and vitality of the plant. Remove any dead, damaged, or crossing branches to allow air circulation and prevent the onset of pests and diseases. Remember, shaping a Mandevilla Bonsai is a gradual process that requires patience and a keen eye for detail.
Essential Tools and Supplies for Mandevilla Bonsai Care
To embark on your Mandevilla Bonsai journey, you'll need a few essential tools and supplies. Having the right equipment will make your bonsai care routine more efficient and enjoyable. Here's a list of must-have tools for Mandevilla Bonsai care:
Bonsai shears/scissors: Essential for precise pruning, shaping, and thinning of branches and foliage.
Bonsai wire: Used for wiring branches to guide their growth and create the desired shape.
Bonsai soil: Opt for a well-draining soil mix specifically formulated for bonsai cultivation.
Bonsai pot: Choose a shallow pot with adequate drainage holes to accommodate the root system and promote healthy growth.
Bonsai fertilizer: Look for a balanced, slow-release fertilizer designed for bonsai trees to provide essential nutrients.
Watering can: Use a watering can with a narrow spout to deliver a gentle, controlled flow of water.
Root rake: Ideal for loosening and untangling the root system during repotting.
Bonsai training wire: Used to shape and guide branches into the desired position.
Having these tools and supplies readily available will set you up for success in your Mandevilla Bonsai care journey. Investing in high-quality tools will ensure precision, durability, and ease of use.
Understanding the Specific Needs of Mandevilla Bonsai
Now that you have chosen your Mandevilla species and acquired the necessary tools, it's time to dive deeper into the specific needs of this captivating tree. Understanding its preferences will help you provide the best care possible.
Light: Mandevilla Bonsai thrives in bright, indirect light. Place your bonsai near a west or south-facing window where it can receive ample sunlight without being exposed to intense, direct rays. If you're growing your bonsai indoors, you may need to supplement natural light with fluorescent grow lights.
Temperature and Humidity: Mandevilla Bonsai prefers warm temperatures between 65-80°F (18-27°C) and moderate humidity levels. Avoid exposing your bonsai to extreme temperature fluctuations or drafts, as they can adversely affect its growth and overall health.
Watering: As with any bonsai, proper watering is key to maintaining a healthy Mandevilla. Water your bonsai when the top inch of soil feels slightly dry to the touch. Ensure thorough watering, allowing the excess water to drain completely from the pot. Avoid waterlogging, as it can lead to root rot.
Fertilizing: Mandevilla Bonsai benefits from regular fertilization during the growing season. Use a balanced, slow-release organic fertilizer formulated specifically for bonsai trees. Follow the manufacturer's instructions for the appropriate dosage and frequency of application.
By providing the optimal environment and meeting the specific care requirements of your Mandevilla Bonsai, you'll be rewarded with a healthy, vibrant tree that flourishes year-round.
Step-by-Step Guide to Creating a Mandevilla Bonsai from Scratch
Creating a Mandevilla Bonsai from scratch is an exciting and rewarding process. While it requires patience and dedication, the end result will be a bonsai that reflects your personal touch and style. Here's a step-by-step guide to get you started on your bonsai journey:
1. Selecting the Specimen: Choose a healthy Mandevilla sapling or young plant with desirable characteristics such as straight trunk and well-spaced branches.
2. Pruning and Shaping: Begin by pruning away any unwanted branches and foliage, focusing on creating a desired shape and structure. Use wire to gently guide branches into position.
3. Repotting: Carefully remove the Mandevilla from its nursery container and trim the roots. Repot the tree into a bonsai pot filled with well-draining soil mix.
4. Watering and Fertilizing: Ensure proper watering and regularly fertilize your Mandevilla Bonsai to promote healthy growth and strengthen its root system.
5. Training and Further Pruning: As your bonsai matures, continue shaping and training it by using wire and selective pruning. Be patient and allow the tree to develop gradually over time.
Remember, creating a Mandevilla Bonsai is a continuous process, as it requires ongoing care and maintenance. Enjoy the journey, and with each passing year, watch your bonsai grow and flourish.
Tips for Repotting and Root Pruning Mandevilla Bonsai
Repotting is an essential part of Mandevilla Bonsai care, allowing you to refresh the soil, address root health issues, and promote optimal growth. Here are some tips to guide you through the repotting process:
1. Timing: Repot your Mandevilla Bonsai in early spring, just as new growth emerges. This allows the tree to recover quickly and take advantage of the favorable growing season.
2. Choosing the Right Pot: Select a bonsai pot that is slightly larger than the current pot to allow room for the root system to grow. Ensure the pot has adequate drainage holes to prevent waterlogging.
3. Preparing the Tree: Carefully remove the tree from its current pot, gently untangle the roots, and trim any overgrown or damaged roots. Be cautious not to disturb the root ball excessively.
4. Root Pruning: Trim about one-third of the root mass, focusing on removing any circling or tangling roots. This encourages the development of a strong, healthy root system.
5. Repotting the Tree: Place a layer of fresh bonsai soil in the new pot, position the tree, and backfill with soil, ensuring the roots are adequately covered. Gently tamp the soil to remove any air pockets.
After repotting, provide sufficient water to help settle the soil around the roots. Place your newly repotted Mandevilla Bonsai in a shaded area initially to reduce stress and allow it to acclimate to its new environment.
Common Pests and Diseases to Watch Out for in Mandevilla Bonsai
While Mandevilla Bonsai is generally resistant to pests and diseases, it is essential to remain vigilant and address any issues promptly. Here are some common pests and diseases that may affect your Mandevilla Bonsai:
1. Aphids: These tiny insects feed on the sap of the plant, causing curled leaves and stunted growth. Use insecticidal soap or neem oil to control aphids.
2. Spider Mites: These tiny pests thrive in dry environments and can cause yellowing leaves and webbing. Regularly mist your Mandevilla Bonsai to increase humidity and wash away any spider mites.
3. Fungal Diseases: Excessive moisture or poor air circulation can lead to fungal diseases such as powdery mildew or black spot. Remove affected leaves, improve ventilation, and use fungicidal sprays if necessary.
Inspect your Mandevilla Bonsai regularly for any signs of pests or diseases. Early detection will simplify the treatment process and minimize any potential damage. Remember to quarantine any infected plants to prevent the spread of pests or diseases to other bonsai in your collection.
Maintaining the Ideal Temperature and Humidity for Healthy Mandevilla Bonsai
Providing the optimal temperature and humidity levels for your Mandevilla Bonsai is essential for its overall health and vigor. Here are some tips to ensure an ideal environment:
1. Temperature: Mandevilla Bonsai thrives in warm climates, ideally between 65-80°F (18-27°C) during the day and around 60°F (15°C) at night. Protect your bonsai from extreme temperature fluctuations, drafts, and frost.
2. Humidity: Mandevilla Bonsai prefers moderate humidity levels. Increase humidity by placing a humidity tray with water near your bonsai or misting the foliage regularly. Avoid misting when temperatures are low to prevent the formation of ice crystals.
3. Ventilation: Ensure proper air circulation around your bonsai to prevent the onset of diseases and promote healthy growth. Avoid placing your Mandevilla Bonsai in areas with stagnant air, such as near heating or cooling vents.
By maintaining a stable and suitable microclimate for your Mandevilla Bonsai, you'll provide the perfect conditions for it to thrive and display its full potential.
How to Water and Fertilize Mandevilla Bonsai Properly
Proper watering and fertilization are essential components of Mandevilla Bonsai care. Understanding the right techniques will ensure your bonsai receives the necessary nutrients and moisture for optimal growth. Here are some guidelines to follow:
Watering:
– Check the moisture level in the soil by inserting a wooden chopstick or your finger about an inch deep. If it feels slightly dry, it's time to water your Mandevilla Bonsai.
– Water thoroughly until the excess water drains out from the drainage holes. This ensures that water reaches the entire root system.
– Avoid waterlogging, as it can lead to root rot. Ensure proper drainage and remove any excess water from the saucer or tray.
Fertilizing:
– Use a balanced, slow-release organic fertilizer specifically formulated for bonsai trees. Follow the manufacturer's instructions for the appropriate dosage and frequency of application.
– Apply fertilizer during the growing season, approximately every four to six weeks. Reduce or eliminate fertilization during the dormant period.
– Avoid over-fertilizing, as it can lead to salt build-up in the soil, causing root burn and other complications. Always err on the side of caution when applying fertilizer.
By adhering to proper watering and fertilization practices, you'll provide your Mandevilla Bonsai with the essential elements it needs to thrive, resulting in a healthy and beautiful tree.
Overcoming Challenges in Styling and Training Mandevilla Bonsai
Styling and training a Mandevilla Bonsai can present various challenges, but with the right approach and techniques, you can overcome them and achieve the desired aesthetic. Here are some tips to help you:
1. Plan and Visualize: Before you begin any shaping or training, take time to sketch your vision and develop a plan. Visualize the future form of your Mandevilla Bonsai, considering its growth habits and unique characteristics.
2. Patience and Gradual Approach: Shaping and training a Mandevilla Bonsai is a gradual process. Avoid applying excessive pressure or stress on the tree. Remember, it takes time for a bonsai to develop and mature into the desired form.
3. Use of Wiring: Wiring is a technique commonly used in bonsai to guide and shape branches. When wiring your Mandevilla Bonsai, be gentle to avoid damaging the bark. Remove the wire once the branch retains the desired shape to prevent wire bite.
4