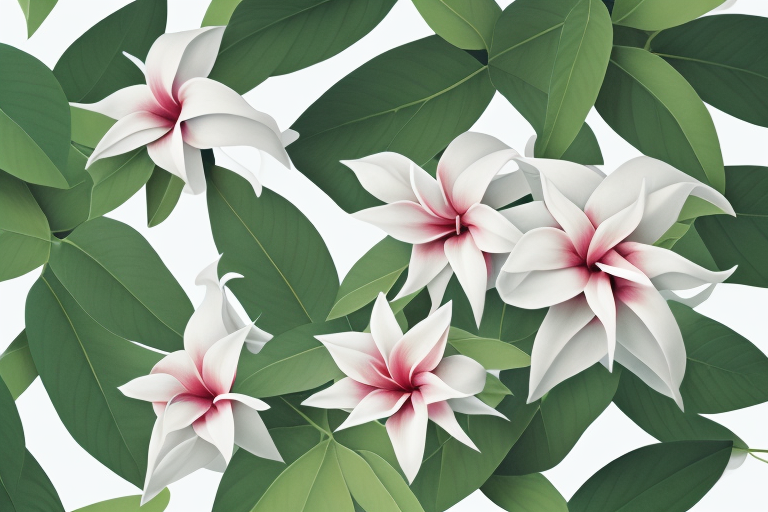 Are you looking to add a touch of elegance and beauty to your outdoor space? Look no further than the stunning Mandevilla plant. With its vibrant blooms and lush foliage, this tropical vine is the perfect choice for creating a breathtaking display. And what better way to showcase this beauty than with a carefully chosen trellis? In this article, we will explore a wide range of Mandevilla trellis ideas that will help you make the most of your garden and create a stunning focal point.
Choosing the Right Trellis for Your Mandevilla Plant
The first step in creating a stunning Mandevilla display is choosing the right trellis. The trellis not only provides support for the vine but also acts as a decorative element in your garden. When selecting a trellis, consider the size and growth habit of your Mandevilla plant. A sturdy trellis is essential as the Mandevilla vine can grow quite tall and heavy. Opt for materials like metal or wood that can withstand the weight of the plant and the elements. Additionally, choose a trellis design that complements the style of your garden and enhances the overall aesthetic appeal.
Enhancing Your Outdoor Space with a Mandevilla Trellis
A Mandevilla trellis not only provides support for the plant but also adds vertical interest to your garden. Place the trellis against a bare wall, fence, or even free-standing in the garden to create a focal point. As the Mandevilla vine grows, it will beautifully weave its way around the trellis, creating an eye-catching display. You can also use trellises as dividers or screens to create privacy in your outdoor space. Consider placing trellises strategically to block unsightly views or create separate areas in your garden.
Creative Ways to Use Trellises with Mandevilla Plants
When it comes to using trellises with Mandevilla plants, the possibilities are endless. Get creative and think outside the box to make a unique statement in your garden. One idea is to use multiple trellises of various heights and designs to create a visually stunning display. Another innovative idea is to incorporate trellises into existing garden structures, such as pergolas or arbors, to create a harmonious and cohesive look. You can even experiment with different trellis shapes, like arches or pyramids, to add a touch of whimsy to your garden.
Types of Trellises That Complement Mandevilla Vines
When it comes to selecting a trellis for your Mandevilla plant, the options are wide-ranging. Consider the style and theme of your garden to choose a trellis that complements your overall design aesthetic. For a traditional look, opt for a classic wooden trellis with intricate details. Or, if you prefer a contemporary feel, go for a sleek and modern metal trellis. Bamboo trellises can add a touch of natural and tropical charm to your outdoor space. Whichever type of trellis you choose, ensure that it is sturdy and able to support the weight of the Mandevilla plant as it grows.
DIY Mandevilla Trellis Ideas for Every Gardener
If you have a knack for DIY projects, why not try building your own Mandevilla trellis? Not only will it be a fun and rewarding endeavor, but it will also allow you to create a trellis that perfectly suits your needs. Consider using materials like PVC pipes, wire mesh, or even repurposed items like ladders or wooden pallets. There are numerous online tutorials and step-by-step guides available to help you through the process. Get creative, unleash your inner gardener, and build a unique Mandevilla trellis that will showcase your plant in style.
Maximizing Vertical Space in Your Garden with Mandevilla Trellises
One of the greatest advantages of using trellises with Mandevilla plants is the ability to maximize your garden's vertical space. By training the vine to grow vertically, you can create a stunning display without taking up a lot of ground space. This is particularly useful if you have a small garden or want to make the most of limited planting areas. Trellises allow you to grow Mandevillas against walls, fences, or even in containers, making them an excellent choice for both large and small gardens.
Stylish and Functional Mandevilla Trellis Designs
A Mandevilla trellis is not only a functional support system for your plant, but it can also be a stylish addition to your outdoor space. Consider trellis designs that feature intricate patterns or unique shapes to add visual interest to your garden. Opting for a trellis with multiple sections or layers can create a dynamic and eye-catching display. You can even paint your trellis in a color that complements the blooms of your Mandevilla plant for a cohesive and harmonious look. Remember, a stylish trellis design can elevate the overall appeal of your garden and make a lasting impression.
Best Materials for Building a Sturdy Mandevilla Trellis
When building a Mandevilla trellis, it is important to choose materials that are not only aesthetically pleasing but also sturdy and durable. The trellis must be able to withstand the weight of the vine as it grows and the environmental elements it will be exposed to. Some popular materials for building sturdy trellises are metal, such as wrought iron or stainless steel, and pressure-treated wood. These materials offer both durability and strength while adding a touch of elegance to your garden. Consider your climate and specific needs when selecting the best material for your Mandevilla trellis.
How to Install a Trellis for Your Mandevilla Plant
Installing a trellis for your Mandevilla plant is a straightforward process that requires careful planning and proper execution. Begin by selecting the location for your trellis, considering factors like sunlight exposure and visibility. Ensure that the trellis is securely anchored to the ground or firmly attached to a wall or fence. As the Mandevilla grows, gently guide its tendrils onto the trellis, aiding it in attaching itself naturally. Regularly inspect the trellis and make any necessary adjustments to ensure proper support and growth of your Mandevilla plant.
Tips for Training and Pruning Mandevilla Vines on a Trellis
Training and pruning Mandevilla vines on a trellis are essential steps to ensure healthy growth and a visually appealing display. To train the vine, gently guide its tendrils onto the trellis, encouraging it to climb and weave through the support structure. As the Mandevilla grows, prune any unwanted or overcrowded growth to maintain an open and airy appearance. Regularly remove dead or damaged branches to promote new growth and enhance the overall health of the plant. With proper training and pruning, your Mandevilla plant will flourish and create a captivating display on its trellis.
Incorporating Mandevilla Vines into Existing Garden Structures with Trellises
If you already have existing garden structures such as pergolas, arbors, or fences, you can easily incorporate Mandevilla vines into these structures using trellises. Attach the trellis securely to the structure, providing ample support for the growing vine. Guide the Mandevilla tendrils towards and along the trellis, allowing the plant to naturally intertwine with the existing structure. This will create a seamless and organic look, enhancing the aesthetic appeal of your garden while maximizing vertical space.
Creating a Stunning Focal Point with a Mandevilla Trellis
A Mandevilla trellis has the power to create a stunning focal point in your outdoor space. Whether it's placed against a bare wall, positioned in the center of a garden bed, or used to frame an entrance, a well-designed trellis can instantly draw attention and add beauty to your garden. Make sure to choose a trellis that is proportionate to the size of your space and complements the overall design. By strategically placing the trellis and training the Mandevilla vine, you can create a breathtaking focal point that will impress and delight visitors.
Using Colorful Flowers to Accentuate Your Mandevilla Trellis
While the vibrant blooms of the Mandevilla plant are a sight to behold on their own, you can enhance their beauty by using complementary flowers to accentuate your trellis. Consider planting colorful annuals or perennials around the base of your trellis to create a stunning backdrop for the Mandevilla vines. Choose flowers that bloom at different times throughout the year to ensure a continuous and ever-changing display of colors. By combining the captivating blooms of the Mandevilla with other flowers, you can create a truly mesmerizing and enchanting garden.
Seasonal Care and Maintenance for Mandevillas on Trellises
Proper care and maintenance are crucial for the healthy growth and longevity of your Mandevilla plant on a trellis. During the growing season, ensure the vine receives adequate water and sunlight to promote vigorous growth and abundant blooms. Regularly check the trellis for any signs of damage or instability and make any necessary repairs or reinforcements. As the temperature drops, protect your Mandevilla from frost by moving it indoors or providing adequate insulation. Prune the plant in late winter or early spring to remove any dead or damaged growth and encourage new shoots. With proper care, your Mandevilla on a trellis will thrive year after year.
As you can see, the possibilities are endless when it comes to Mandevilla trellis ideas. Whether you choose a pre-made trellis or decide to embark on a DIY project, the key is to select a design that suits your personal taste and enhances the beauty of your garden. With proper care and maintenance, your Mandevilla vine will flourish on its trellis and create a stunning focal point that will leave a lasting impression. So, get creative, unleash your inner gardener, and transform your outdoor space with these Mandevilla trellis ideas.