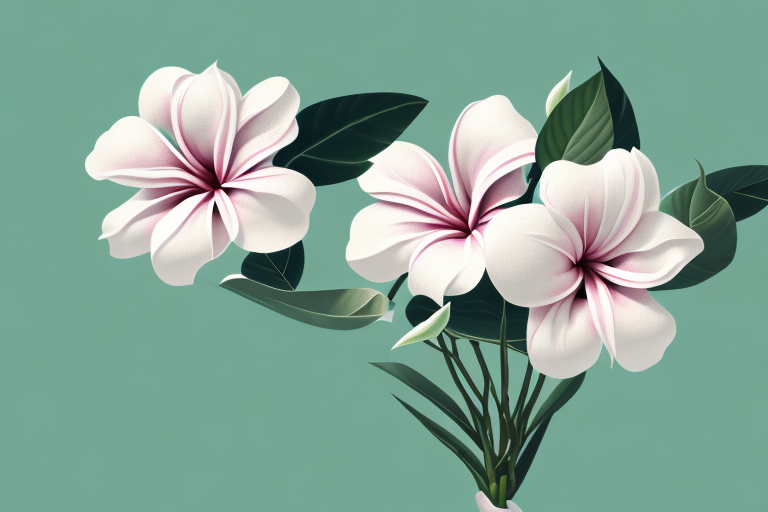 Creating a stunning Mandevilla topiary can bring a touch of elegance and beauty to any garden or outdoor space. If you're new to the world of topiaries or just curious about how to incorporate a Mandevilla variety into your garden, you've come to the right place. In this comprehensive guide, we will explore everything you need to know about Mandevilla topiaries, from their history and origins to maintenance tips and creative design ideas. So, grab your gardening gloves and let's dive in!
What is a Mandevilla Topiary?
A Mandevilla topiary is a carefully pruned and trained Mandevilla vine that is shaped into a desired form, often resembling a tree or geometric design. Topiaries add a touch of artistry and sophistication to outdoor spaces, making them a popular choice among garden enthusiasts. The vibrant, trumpet-shaped flowers of Mandevilla plants make them an excellent candidate for creating visually stunning topiaries.
By applying specific pruning and training techniques, Mandevilla vines can be manipulated to grow in various shapes and sizes. From classic cone or ball shapes to more intricate designs, the possibilities are endless when it comes to Mandevilla topiaries.
To create a Mandevilla topiary, you'll need to choose the right Mandevilla variety, gather essential tools and materials, and follow a step-by-step guide. Let's explore each step in detail.
Choosing the right Mandevilla variety is an important first step in creating a successful topiary. Different varieties of Mandevilla have different growth habits and flower colors, so it's essential to select a variety that suits your desired design and aesthetic. Some popular Mandevilla varieties for topiaries include 'Alice du Pont' with its large pink flowers, 'Crimson Fantasy' with its deep red blooms, and 'Sun Parasol Giant White' with its pure white flowers.
The History and Origins of Mandevilla Topiary
The art of topiary dates back centuries, with evidence of its existence in ancient Rome and Greece. The practice involves sculpting living plants into decorative shapes, providing a unique way to showcase nature's beauty. While topiaries were traditionally created using bushes and hedges, the use of flowering vines like Mandevilla in topiary design has gained popularity in recent years.
Mandevilla, also known as Dipladenia, is native to the tropical regions of Central and South America. These climbing plants were introduced to Europe in the 19th century and have since become a beloved addition to gardens worldwide. The versatility of Mandevilla vines, coupled with their stunning blooms, makes them an ideal candidate for topiary creations.
The art of Mandevilla topiary allows gardeners to combine their passion for horticulture with their creative instincts, resulting in unique and eye-catching outdoor displays. The centuries-long history of topiary, combined with the allure of Mandevilla vines, creates a perfect harmony between tradition and innovation.
In addition to their aesthetic appeal, Mandevilla vines also offer practical benefits in topiary design. These vines are known for their vigorous growth and ability to cover large areas quickly. This makes them an excellent choice for creating intricate and elaborate topiary shapes, as they can easily be trained and shaped to fit the desired design. Furthermore, Mandevilla vines are relatively low-maintenance, requiring minimal pruning and care compared to other topiary plants. This makes them a popular choice for both experienced gardeners and beginners looking to experiment with topiary art.
Choosing the Right Mandevilla Variety for Topiary
Choosing the right Mandevilla variety is crucial when it comes to creating a successful topiary. Different Mandevilla varieties have varying growth habits, flower colors, and foliage characteristics. To ensure a harmonious and visually appealing topiary, consider the following factors when selecting a Mandevilla variety:
Growth Habit: Determine whether the Mandevilla variety you choose has a bushy or vine-like growth habit. Some Mandevilla cultivars are naturally more compact and bushy, making them easier to shape into topiaries. On the other hand, more vigorous vine varieties may require additional training and support to maintain the desired shape.
Flower Color: The color of Mandevilla flowers can vary from bright pink and red to creamy white and yellow. Consider the color scheme of your garden and choose a variety that will complement the overall aesthetic. Remember, the vibrant flowers of Mandevilla will be the focal point of your topiary design, so choose wisely to make a bold statement!
Foliage Characteristics: Alongside their vivid blooms, Mandevilla varieties also offer different foliage colors and textures. Some have glossy, dark green leaves, while others showcase variegated or bronze-toned foliage. Choose a variety with foliage that will add an extra dimension to your topiary design, enhancing its visual appeal.
Once you've considered these factors, research different Mandevilla varieties and consult with local nurseries or gardening experts to find the perfect match for your topiary project. Remember, the right choice of Mandevilla variety will serve as the foundation for your breathtaking topiary creation!
Climate Suitability: Another important factor to consider when choosing a Mandevilla variety for topiary is its climate suitability. Mandevillas are tropical plants that thrive in warm and humid conditions. If you live in a region with cold winters or a climate that is not conducive to tropical plants, you may need to select a Mandevilla variety that is more cold-hardy or consider growing it as an annual.
Maintenance Requirements: Different Mandevilla varieties may have varying maintenance requirements. Some varieties may be more disease-resistant or have a higher tolerance for pests, while others may require more frequent pruning or fertilization. Consider your gardening skills and the amount of time you are willing to dedicate to maintaining your topiary when selecting a Mandevilla variety.
Essential Tools and Materials for Creating a Mandevilla Topiary
To embark on your journey of creating a Mandevilla topiary, it's essential to gather the right tools and materials. Having the proper equipment will not only make the process smoother but also ensure the health and vitality of your Mandevilla plant. Here's a list of must-have tools and materials:
Pruning shears: Pruning shears are essential for precise and clean cuts when pruning and shaping your Mandevilla. Invest in a high-quality pair of pruning shears that will serve you well throughout the topiary creation process.
Gardening gloves:
Gardening gloves are an important accessory to have when working with your Mandevilla topiary. They provide protection for your hands against thorns, prickly stems, and any potential irritants that may be present in the soil or plant. Look for gloves that are durable, comfortable, and provide a good grip to ensure your safety and ease of handling while working on your topiary.