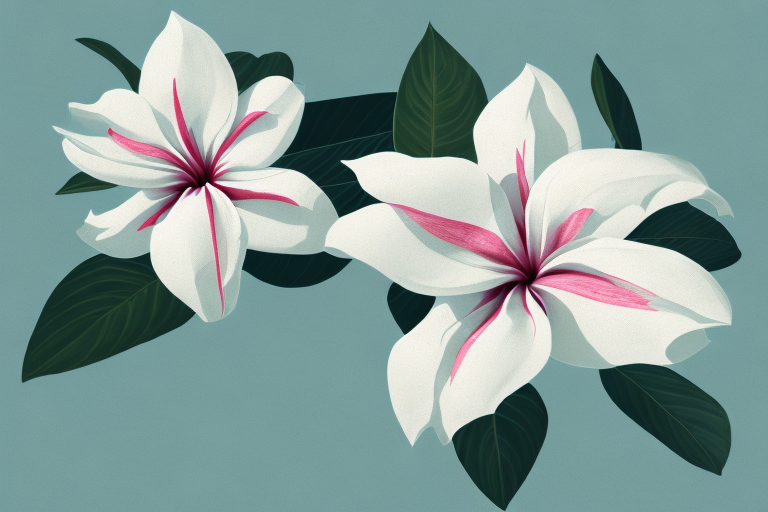 If you're a gardening enthusiast in Texas, you may have come across the stunningly beautiful mandevilla plant. With its vibrant flowers and lush foliage, mandevilla is a favorite choice for adding a dash of tropical flair to Texan gardens. In this article, we will explore everything you need to know about growing and caring for mandevilla in the Lone Star State.
Introduction to Mandevilla Plants
Before we delve into the specifics of growing mandevilla in Texas, let's get acquainted with this lovely plant. Belonging to the Apocynaceae family, mandevilla is native to Central and South America. It is a vining plant that can climb up trellises, fences, and pergolas, creating a visually captivating landscape. With its trumpet-shaped flowers in shades of pink, red, white, and yellow, mandevilla is a sight to behold.
The History and Origin of Mandevilla
The history and origin of mandevilla trace back to the tropical regions of South America. Named after Henry Mandeville, a British diplomat and gardener in Argentina, this plant made its way into European gardens in the late 19th century. Its remarkable beauty and adaptability soon captivated gardeners worldwide, including those in the diverse climates of Texas.
Climate and Growing Conditions for Mandevilla in Texas
In order to thrive, mandevilla requires a warm and tropical climate, making it a perfect fit for most parts of Texas. While it can handle some colder temperatures, it is best grown in USDA hardiness zones 9 to 11. The hot and dry summers of Texas suit mandevilla's sun-loving nature, as long as it is provided with adequate shade during the hottest parts of the day.
When it comes to soil, mandevilla prefers well-draining and slightly acidic soil. Texan gardeners can amend their existing soil with organic matter such as compost, peat moss, or well-rotted manure to improve its fertility and drainage. This will ensure healthy growth and an abundance of blooms.
Choosing the Right Variety of Mandevilla for Texas Gardens
With a wide range of mandevilla varieties available, it's essential to choose the right one for your Texas garden. When selecting a variety, consider factors such as color preferences, desired height, and the intended purpose of the plant (e.g., climbing vine or potted specimen).
Certain varieties, such as 'Alice du Pont' and 'Crimson Fantasy,' are known for their vigorous growth and profusion of flowers, making them excellent choices for climbers. On the other hand, compact varieties like 'Sun Parasol' series are well-suited for containers or small spaces.
Planting and Care Instructions for Mandevilla in Texas
Now that you've chosen your mandevilla variety, it's time to get your hands dirty and plant it in your Texan garden. The ideal time to plant mandevilla is in late spring when the risk of frost has passed and the soil has warmed up.
Before planting, ensure you have a sturdy trellis, arbor, or other support structure in place for the vine to climb onto. Dig a hole that is twice as wide and deep as the root ball of your mandevilla and gently place the plant in the hole. Backfill the hole with soil, ensuring the crown of the plant is slightly above ground level to prevent rot.
Water your newly planted mandevilla thoroughly and keep the soil consistently moist but not waterlogged. As the plant establishes its root system, regular watering will be necessary, especially during dry spells. Apply a layer of organic mulch around the base of the plant to help retain moisture and suppress weed growth. Remember to allow adequate air circulation around the stems and leaves to prevent fungal diseases.
When it comes to fertilizing mandevilla, a balanced slow-release fertilizer applied in early spring will provide the necessary nutrients for healthy growth. Follow the instructions on the fertilizer package and avoid overfertilization, as it can lead to excessive foliage growth at the expense of blooms.
Best Locations and Soil Preparation for Growing Mandevilla in Texas
Mandevilla thrives in full sun to partial shade, making it important to choose the right location in your Texas garden. Select a spot with at least six hours of direct sunlight daily. However, during scorching summer afternoons, mandevilla may benefit from dappled shade or some protection to prevent leaf scorch.
Prior to planting, prepare the soil by removing any weeds, rocks, or debris. Loosen the soil with a garden fork or tiller and incorporate organic matter to improve its structure and fertility. This step will ensure optimal root growth and nutrient uptake, setting the stage for a healthy and vigorous mandevilla plant.
Watering and Fertilizing Tips for Healthy Mandevilla Plants in Texas
Proper watering and fertilization are crucial for the health and vitality of your mandevilla plants in Texas. As mentioned earlier, keep the soil consistently moist but not overly wet. Aim to provide about one inch of water per week, adjusting the frequency based on weather conditions and the plant's water requirements.
When it comes to fertilizing, a balanced slow-release fertilizer with an NPK ratio of 10-10-10 or 14-14-14 can be applied every four to six weeks during the growing season. Alternatively, you can use a liquid fertilizer diluted according to the manufacturer's instructions and apply it every two to three weeks. Always follow the recommended dosage to avoid fertilizer burn.
Common Pests and Diseases that Affect Mandevilla in Texas
While mandevilla is generally a hardy plant, it can be vulnerable to certain pests and diseases. Two common pests that may trouble mandevilla in Texas are aphids and spider mites. These tiny creatures feed on the plant's juices, causing distorted growth and yellowing leaves.
To combat these pests, regularly inspect your mandevilla for signs of infestation. If detected early, a strong spray of water or an insecticidal soap solution can help control the population. Additionally, maintaining good plant hygiene and avoiding overcrowding can prevent the spread of pests.
As for diseases, root rot can be a concern if the soil is excessively waterlogged. To prevent this, ensure proper drainage and avoid overwatering. Fungal diseases such as powdery mildew and leaf spot can also occur, especially in humid conditions. Applying a fungicide labeled for mandevilla can help protect against these diseases.
Pruning Techniques to Maintain the Shape and Health of Mandevilla Plants in Texas
Regular pruning is essential for keeping mandevilla plants in Texas looking their best and maintaining their overall health. Pruning can help control the size of the vine, remove any dead or diseased parts, and encourage better airflow, reducing the risk of fungal issues.
In late winter or early spring, when the vine is dormant, prune back any leggy or excessive growth. Remove any dead or damaged branches, as well as any crossing or rubbing stems. Aim for an open and airy structure that allows sunlight to penetrate throughout the plant.
Throughout the growing season, you can also pinch back the tips of the vines to promote branching and encourage more flowers. Use clean and sharp pruning shears to make clean cuts and sanitize them between each cut to prevent the spread of diseases.
Propagation Methods for Expanding Your Mandevilla Collection in Texas
If you're eager to expand your mandevilla collection in Texas, there are several propagation methods you can try. One common method is stem cuttings, which involves taking a 4-6 inch cutting from a healthy, non-flowering stem. Remove the lower leaves, dip the cut end in a rooting hormone, and place the cutting in a well-draining potting mix. Keep the soil consistently moist and provide bottom heat to encourage root development.
Another method is layering, where you select a low-hanging stem and bury a portion of it in the soil, leaving the tip exposed. After a period of time, new roots will develop, and the layer can be cut away from the parent plant and potted up.
Using Mandevilla as a Beautiful Climbing Vine in Texan Landscapes
One of the most alluring ways to showcase mandevilla in Texan landscapes is by allowing it to climb and create a vertical statement. Whether you have a trellis, pergola, or fence, mandevilla's vigorous growth habit will quickly scale its way up and create a stunning living wall of flowers.
Consider planting mandevilla near a seating area or along the fence to provide a burst of color and a touch of tropical appeal. Remember to provide secure support for the vine to cling onto, ensuring it has a sturdy structure to climb.
Creating Stunning Container Gardens with Mandevilla in Texas
If you have limited space or simply want to add a pop of color to your patio or balcony, mandevilla is an excellent choice for container gardens in Texas. Its compact varieties make it easy to grow in pots and hanging baskets, providing a striking focal point wherever they are placed.
When selecting a container, choose one that is at least 12-16 inches in diameter and has drainage holes. Fill the container with a well-draining potting mix, and plant your mandevilla at the same depth as its previous container. Place the pot in a location that receives adequate sunlight and water it regularly, ensuring the soil doesn't dry out.
Incorporating Mandevilla into Native Texan Flower Beds and Borders
Mandevilla can also be incorporated into native Texan flower beds and borders, adding a touch of exotic beauty amidst the local flora. Its vibrant flowers create a striking contrast when planted alongside native grasses, perennials, and shrubs.
Consider creating an eye-catching display by pairing mandevilla with plants like salvia, lantana, yarrow, or butterfly bush. The combination of native and tropical elements will create a unique and dynamic landscape, attracting both people and pollinators.
Enhancing the Beauty of Patios and Outdoor Spaces with Potted Mandevillas in Texas
Patios and outdoor gathering spaces in Texas are the perfect locations for showcasing potted mandevillas. Whether placed on tables, along the edges of the space, or hung from pergolas, potted mandevillas can transform any outdoor area into a vibrant and inviting oasis.
Choose decorative pots or baskets that complement your outdoor decor and fill them with a well-draining potting mix. Depending on the variety, mandevillas may require additional support, such as a stake or trellis, to prevent them from toppling over as they grow. Regularly deadhead spent blooms to encourage continuous flowering throughout the season.
Companion Planting Ideas to Complement Your Mandevillas in a Texan Garden
Companion planting is a great way to create harmonious and visually appealing combinations in your Texan garden. By selecting the right plant combinations, you can enhance the beauty and overall health of your mandevillas.
For a vibrant display, consider planting mandevilla alongside other sun-loving plants such as agapanthus, pentas, zinnias, or cannas. These plants will not only complement the color palette but also provide a diverse array of shapes and textures.
Overwintering Strategies for Protecting Mandevillas from Cold Temperatures in Texas
While mandevilla thrives in warm climates, the chilly winters in certain regions of Texas may pose a challenge. To protect your mandevillas from cold temperatures, you have a few options.
If you have mandevilla in containers, you can bring them indoors when the temperatures drop below 50°F. Place them in a well-lit, cool location, such as a sunroom or a bright window, and reduce watering to prevent overwatering during the dormant period.
For in-ground mandevillas, you can apply a thick layer of mulch around the base of the plant to insulate the roots. Additionally, cover the entire plant with a frost cloth or old bedsheets when freezing temperatures are expected.
Troubleshooting Common Issues with Mandevillas in Texas Gardens
While mandevillas can generally thrive in Texan gardens, they may encounter a few common issues along the way. One such issue is inadequate flowering, which can be caused by excessive pruning, insufficient sunlight, or nutrient deficiencies.
If you notice your mandevilla isn't blooming as abundantly as expected, adjust the pruning regimen, ensure it receives adequate sunlight, and provide balanced fertilization. With these corrective measures, you'll soon have your mandevilla bursting with beautiful blooms once again.
Another issue that may arise is yellowing leaves, which can be a sign of overwatering, nutrient imbalances, or pest infestations. Always monitor the moisture levels of the soil, ensure proper nutrition, and promptly address any pest problems to keep your mandevilla looking healthy and vibrant.
In conclusion, growing mandevilla in Texas can be a rewarding experience for both seasoned gardeners and beginners alike. With the right care, attention, and understanding of its specific requirements, mandevilla can thrive and showcase its remarkable beauty in Texan landscapes. So, bring a touch of the tropics to your garden and let mandevilla enchant you with its vibrant colors and delightful fragrance.