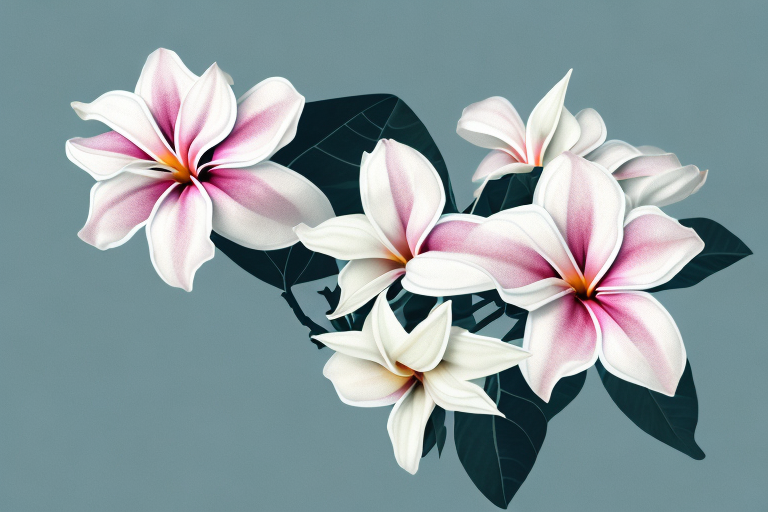 If you are a dog owner, you know how important it is to ensure the safety of your furry companion. From choosing the right food to creating a dog-friendly environment, every decision you make has an impact on your dog's well-being. When it comes to gardening, it's essential to be aware of any plants that could potentially pose a danger to dogs. In this article, we will explore the topic of mandevilla and its safety for our beloved four-legged friends.
Understanding the Mandevilla Plant
Before delving into the safety aspects, let's take a moment to understand the mandevilla plant itself. Native to South America, mandevilla is a popular flowering vine known for its vibrant blooms and lush foliage. This tropical plant is often cultivated in gardens and can add a touch of beauty to any outdoor space. It's essential to recognize mandevilla plants to ensure you can identify them and take appropriate precautions around your dog.
Mandevilla plants belong to the Apocynaceae family, which also includes other well-known plants like oleander and periwinkle. They are typically climbers, with long, twining stems that can reach up to 10 feet in length. The leaves of the mandevilla plant are glossy and dark green, providing an attractive backdrop to the showy flowers.
One of the most striking features of the mandevilla plant is its flowers. They come in a variety of colors, including shades of pink, red, white, and yellow. The flowers are trumpet-shaped and can grow up to 4 inches in diameter. They bloom profusely during the warmer months, attracting pollinators like bees and butterflies.
The Potential Dangers of Mandevilla for Dogs
While mandevilla plants can be a stunning addition to your garden, it's crucial to recognize that they could pose potential dangers to our canine companions. Like several other plants, certain parts of the mandevilla plant contain substances that are toxic to dogs. These toxins can have adverse effects on a dog's health if ingested or even if there is prolonged exposure to the plant.
One of the main toxic substances found in mandevilla plants is called saponins. Saponins are naturally occurring chemicals that can cause gastrointestinal upset in dogs. Symptoms of saponin poisoning may include vomiting, diarrhea, and abdominal pain. In severe cases, saponin ingestion can lead to dehydration and electrolyte imbalances, which may require veterinary intervention.
In addition to saponins, mandevilla plants also contain compounds called cardiac glycosides. These compounds can have a negative impact on a dog's heart function if ingested. Dogs that have ingested mandevilla leaves or flowers containing cardiac glycosides may experience symptoms such as irregular heart rhythm, weakness, and difficulty breathing. It is important to seek immediate veterinary care if you suspect your dog has ingested any part of a mandevilla plant.
Identifying Mandevilla Poisoning in Dogs
In order to ensure your dog's safety, you must be able to identify the signs of mandevilla poisoning. If your dog has come into contact with the mandevilla plant or has ingested any part of it, you should remain vigilant for any symptoms that may arise. Common indicators of mandevilla toxicity in dogs could include gastrointestinal distress, vomiting, diarrhea, abdominal pain, drooling, or even more severe symptoms such as difficulty breathing or even seizures.
If you suspect that your dog has been poisoned by mandevilla, it is important to seek immediate veterinary care. The veterinarian may perform a physical examination and run diagnostic tests to confirm the poisoning. Treatment for mandevilla poisoning in dogs may include inducing vomiting, administering activated charcoal to absorb any remaining toxins, providing supportive care such as intravenous fluids, and monitoring the dog closely for any complications. Remember, prevention is key, so it is best to keep your dog away from mandevilla plants to avoid any potential poisoning incidents.
Symptoms and Signs of Mandevilla Toxicity in Dogs
The symptoms and signs of mandevilla toxicity in dogs can vary depending on the amount of exposure and the individual dog's sensitivity. Some dogs may exhibit mild symptoms, while others may experience more severe reactions. It's important to monitor your dog closely and seek veterinary attention if you notice any unusual behavior or physical distress.
Common symptoms of mandevilla toxicity in dogs include gastrointestinal upset such as vomiting, diarrhea, and loss of appetite. Additionally, dogs may experience excessive drooling, difficulty breathing, and increased heart rate. In severe cases, muscle tremors, seizures, and even coma can occur. It's crucial to remember that every dog may react differently to mandevilla toxicity, and some may not show any symptoms at all. If you suspect your dog has ingested mandevilla or is showing any signs of toxicity, contact your veterinarian immediately for proper diagnosis and treatment.
Immediate Steps to Take if Your Dog Ingests Mandevilla
If you suspect that your dog has ingested any part of the mandevilla plant, it is crucial to act quickly. The first step is to remove your dog from the plant and the immediate area. Contact your veterinarian immediately and provide them with all the relevant information, such as the amount of the plant ingested, the time of ingestion, and any observed symptoms. The veterinarian will be able to guide you through the next steps and may ask you to bring your dog in for an examination.
Are All Parts of the Mandevilla Plant Toxic to Dogs?
It's important to note that not all parts of the mandevilla plant are toxic to dogs. While the entire plant should be considered potentially dangerous, certain parts like the leaves and flowers contain higher concentrations of toxic substances. However, to err on the side of caution, it is best to prevent your dog from any contact with the mandevilla plant altogether.
Safe Alternatives to Mandevilla for Dog-Friendly Gardens
If you are looking for beautiful alternatives to the mandevilla plant for your dog-friendly garden, there are numerous options available. Consider plants such as petunias, marigolds, zinnias, or phlox, which can add color and vibrancy to your outdoor space without posing a risk to your furry friend's health.
Precautions for Dog Owners with Mandevilla Plants at Home
If you already have mandevilla plants or are planning to introduce them into your garden, it's vital to take certain precautions to ensure your dog's safety. Ensure that your dog does not have access to the plants by using barriers or fencing around the area. Additionally, regularly inspect the garden for fallen leaves or flowers, and promptly remove them to prevent accidental ingestion by your dog.
How to Keep Dogs Away from Mandevilla Plants
If you are concerned about your dog's curiosity around your mandevilla plants, there are various strategies you can employ to keep them away. Consider using natural deterrents such as citrus peels or vinegar, as dogs often dislike the smell of these substances. Alternatively, you can train your dog to stay away from the plants by using positive reinforcement techniques.
Pet-Friendly Landscaping: Choosing Plants That Are Safe for Dogs
Creating a pet-friendly garden not only ensures your dog's safety but also enhances their overall well-being. When planning your landscape, it's essential to choose plants that are known to be safe for dogs. Research dog-friendly plant species and incorporate them into your garden design. By doing so, you can create a beautiful outdoor space that both you and your dog can enjoy.
Common Misconceptions About Mandevilla and Canine Safety
There are several misconceptions surrounding mandevilla and its safety for dogs. Some people may believe that the plant is entirely harmless, while others may label it as extremely toxic. It's crucial to rely on accurate information and consult with professionals, such as veterinarians or horticulturists, to ensure you have an informed perspective on the topic.
Expert Advice on Creating a Pet-Safe Garden with Mandevillas
To gain expert advice on creating a pet-safe garden that includes mandevilla plants, it's recommended to consult with horticulturists who have experience with such plant species. They can guide you on proper care, placement, and precautions to take to ensure a safe environment for your dog.
Understanding the Effects of Mandevilla Poisoning on Dogs' Health
The effects of mandevilla poisoning can vary depending on the level of exposure and the individual dog's reaction. Ingesting or being exposed to the toxins in the mandevilla plant can lead to gastrointestinal upset, dehydration, organ damage, and in severe cases, it can even be life-threatening. Recognizing the potential consequences underscores the importance of taking proactive measures to keep your dog safe.
How to Provide First Aid for Dogs Exposed to Mandevilla Toxins
If your dog has been exposed to mandevilla toxins and professional veterinary care is not immediately available, there are a few steps you can take to provide first aid. These include rinsing your dog's mouth with water to remove any plant residue, offering them small amounts of water to drink, and monitoring their condition closely until you can seek appropriate medical help.
As responsible dog owners, it is our duty to ensure the safety and well-being of our beloved four-legged friends. While the mandevilla plant can be visually appealing, it's important to be aware of its potential dangers to dogs. By understanding the risks, taking necessary precautions, and choosing dog-friendly alternatives, we can create a beautiful and safe garden for our furry companions to enjoy alongside us.